Facebook Image Size – Easy to Use Size-Chart for Images, Videos and More
This post was last updated on June 18th, 2023 at 01:02 pm
A Facebook linked image size or post photo size is 1200 x 630 px. With about 2.9 billion monthly users, Facebook is the largest social platform online. That's why entrepreneurs and digital marketers are venturing into Facebook advertising. It's one of the best ways to try out your social media marketing strategies.
Social media images can quickly get the attention of active users and help you build your audience. Since there are many images you can post on Facebook, it's easy to get overwhelmed by the different photo sizes required. Fortunately, you can learn about the ideal image size for your Facebook images in this post.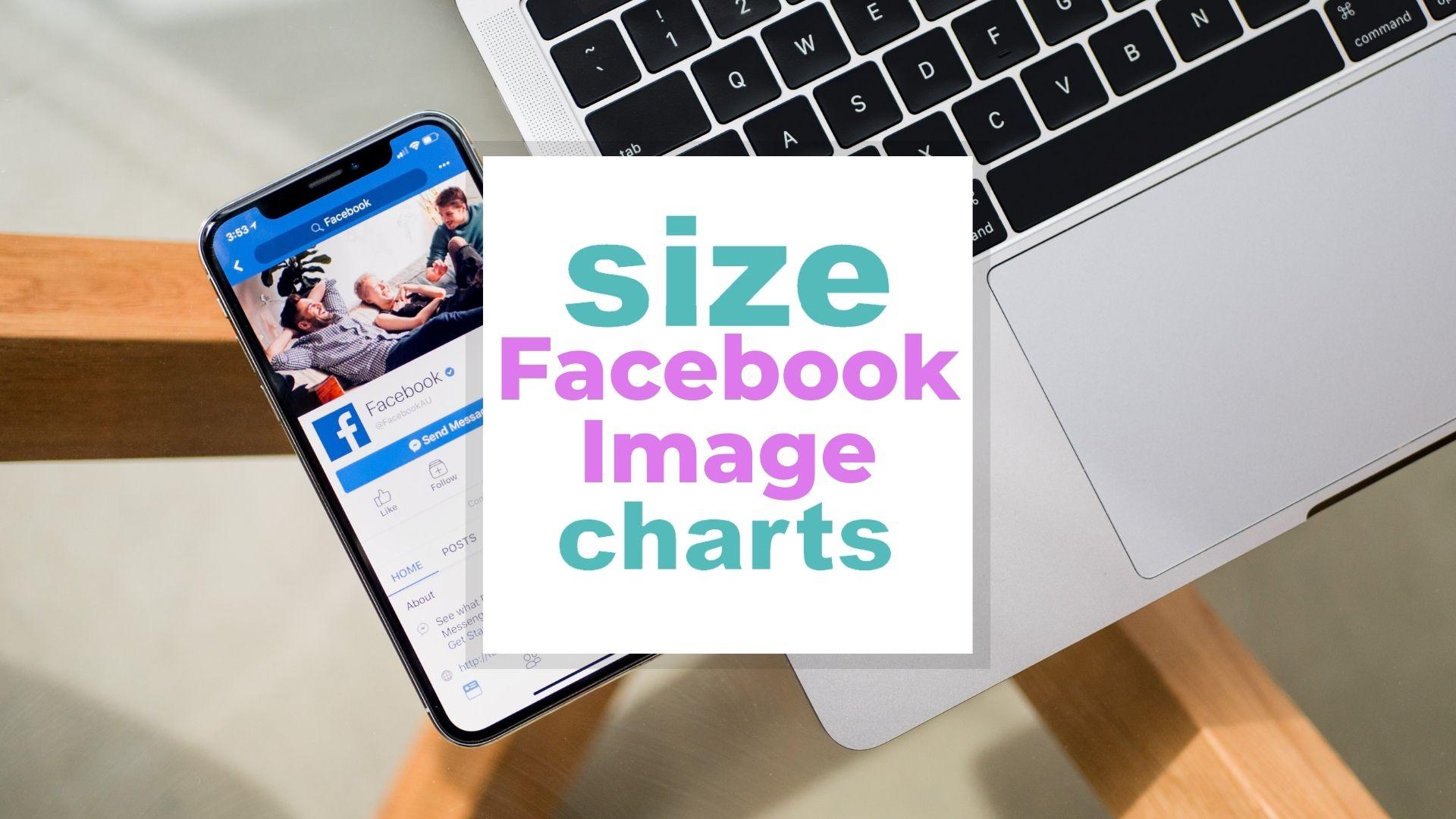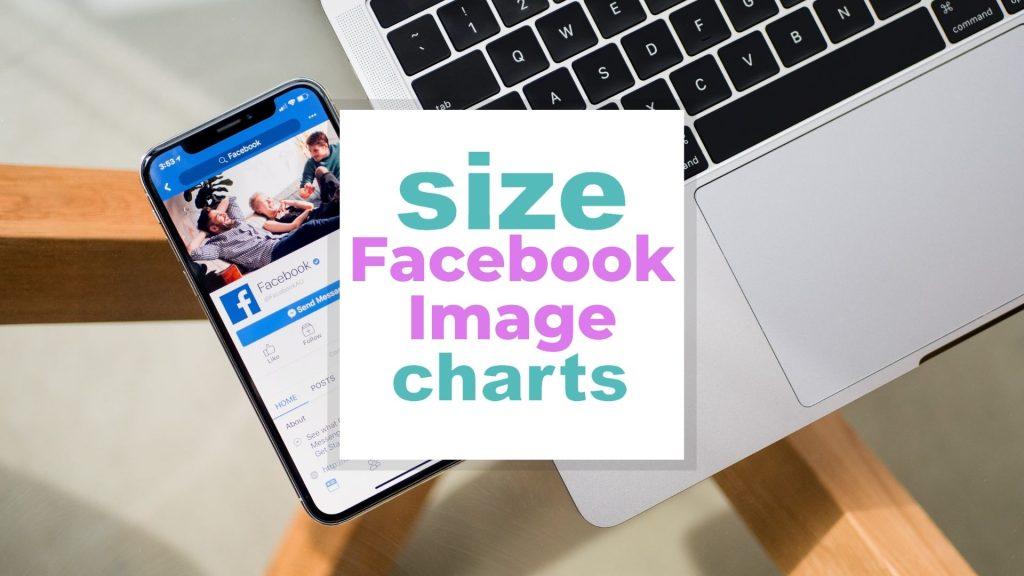 Looking for Instagram image sizes, Twitter image sizes, twitch sizes, Youtube banner sizes, TikTok Sizes, discord sizes, Etsy size, Snapchat ads size.? check the links of the digital size charts. Looking for specific questions on facebook image sizing? Go directly to the FAQ section of this page
With the right size, you can create a lasting impression with your followers and build brand loyalty. Let's begin! As screen sizes are also important, check the iPhone size charts, iPad sizes, Samsung size charts in the links.
Table of Content of Facebook Image Size Guide
Facebook Image Size Guide
Here is an overview of the size requirements for every type of image you can upload to Facebook.
| | | |
| --- | --- | --- |
| Image Type | Size | Aspect Ratio |
| Facebook Profile Picture | 400 x 400 px | 1:1 |
| Facebook Event Cover Photo | 1920 x 1005 px | 1.91:1 |
| Facebook Group Cover Photo | 1920 x 1005 px | 1.91:1 |
| Facebook Business Page Cover | 1200 x 674 px | 16:9 |
| Facebook Profile Cover Photo | 1125 x 633 px | 2.7:1 |
| Facebook Photo Post | 1200 x 630 px | 1.91:1 |
| Facebook Video Post | 1280 x 720 px | 16:9 |
| Facebook Linked Image | 1200 x 630 px | 1.91:1 |
| Facebook Stories | 1080 x 1920 px | 9:16 |
| Facebook "Our Story" Cover | 1200 x 445 px | 2.7:1 |
| Facebook Ad (Carousel) | 1080 x 1080 px | 1:1 |
| Facebook Ad (Single Image) | 1200 x 628 px | 1.91:1 |
| Facebook Catalog Image | 1080 x 1080 | 1:1 |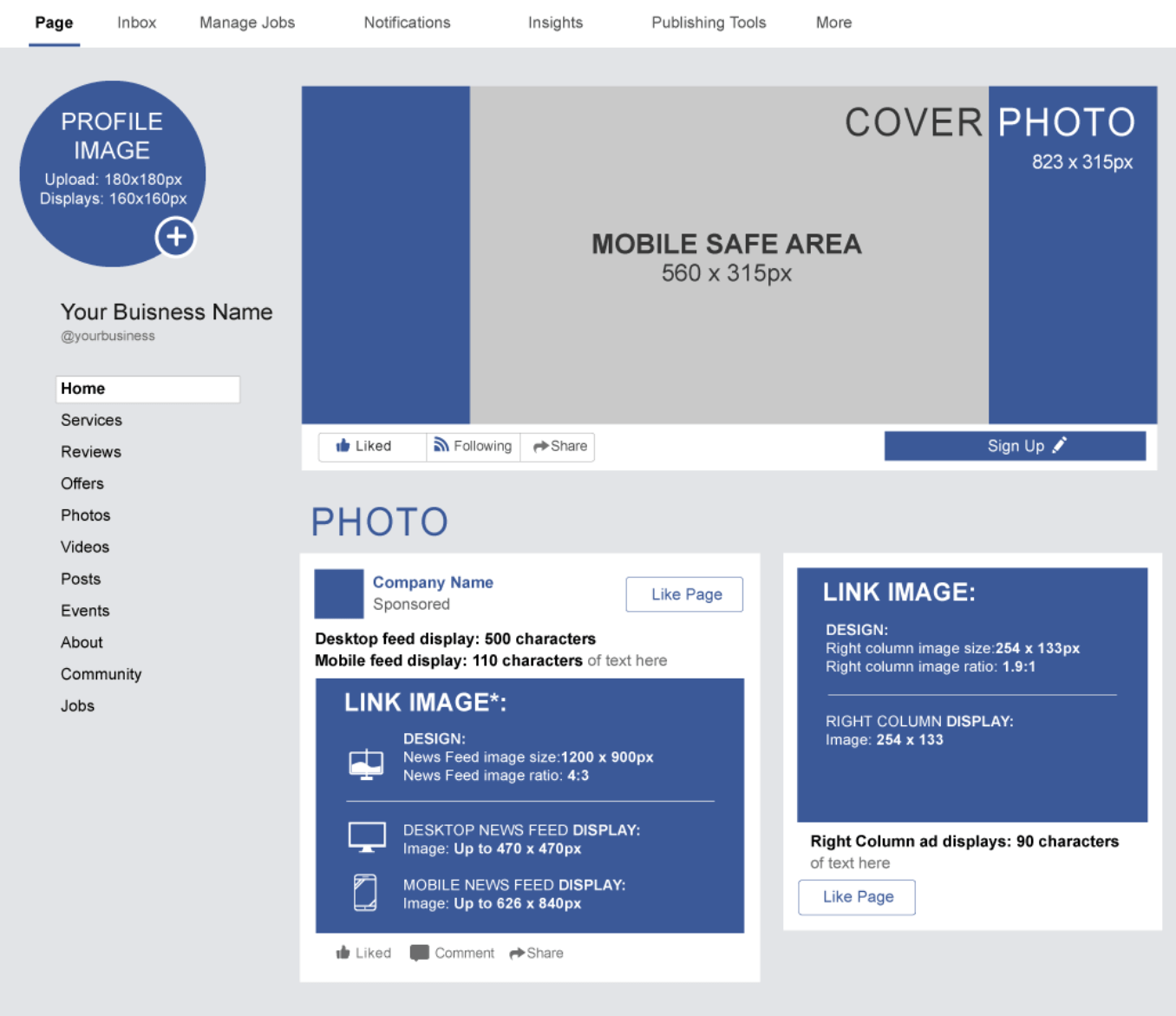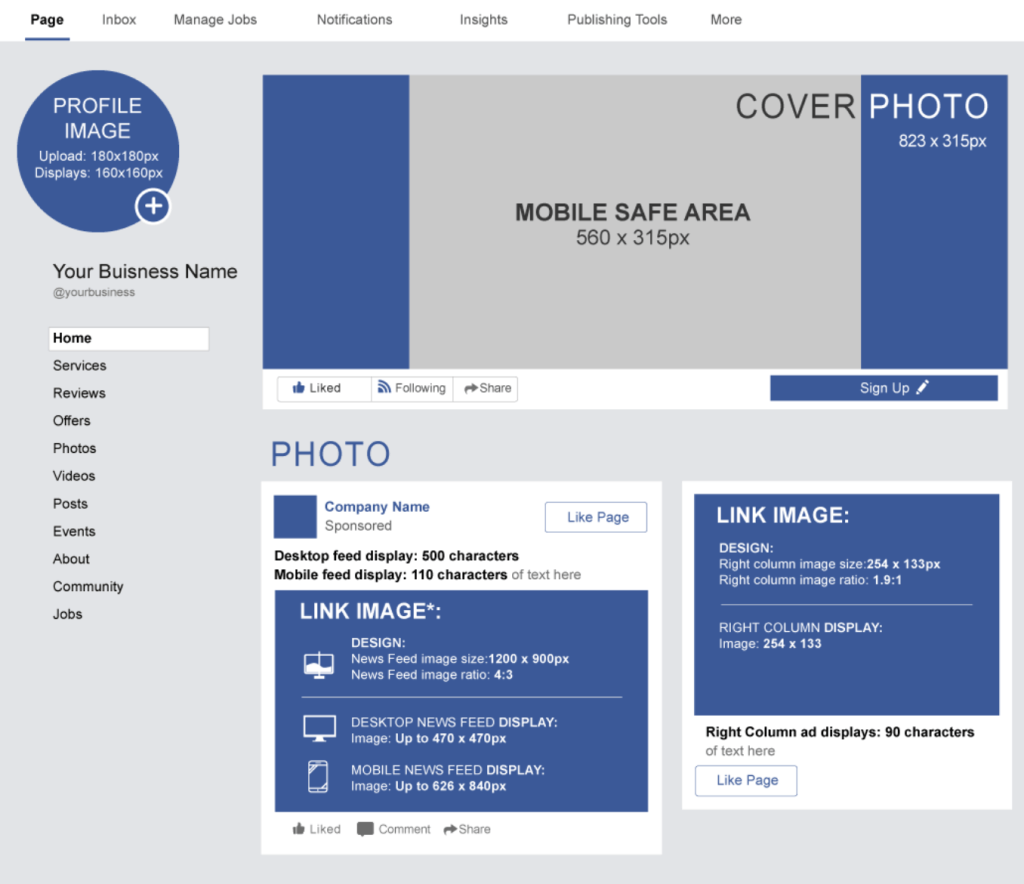 How to Choose the Right Facebook Image Size
There are different types of images you can upload to Facebook. Unfortunately, there isn't a universal way of determining the correct size for your Facebook photos. So, let's discuss each image type in this section.
1. Facebook profile picture
Your profile photo is the image that will represent your brand or business throughout your interactions on Facebook. It's the avatar that appears next to your name when you release posts, make comments, or get mentioned.
It's essential to choose the right size photo for your profile because the quality of your picture can determine how the audience responds to your posts. The ideal size is 400 x 400 pixels, whether it's your personal profile or a business page profile photo. This will ensure your image looks great on mobile devices and desktops.
Once you upload your profile picture, it'll appear to your audience in the following dimensions:
170 x 170 px for desktops
128 x 128 px for smartphones
36 x 36 px on features phones
You should know that Facebook displays profile pictures in a circle meaning the areas around your corners will be cropped. As such, you should ensure that the crucial parts of your image are in the center. If you use your logo as the profile image, you should resize it to ensure the necessary parts aren't cropped out. A JPG or PNG file will be an acceptable format for personal and business profile images.
2. Facebook event cover photo
If you have an upcoming event that you'd like to promote on Facebook, you can launch it on the platform. A Facebook event banner is the perfect tool for providing the information your audience needs about the event. That's why using an event banner is a great way of building interest in your followers.
The recommended size for an event cover photo is 1200 x 628 pixels at an aspect ratio of 1.91:1. Unfortunately, your image can still stretch depending on the device a follower is using. Larger images are better when it comes to choosing a cover image. If you want an ideal size, try 1920 x 1005 pixels for the event banner image.
3. Facebook group cover photo
Facebook groups are the best way to connect and interact with people who have an interest in your brand, ideas, products, or services. If you have a Facebook group, your cover photo will provide a way to get the attention of new followers while showing what you are about.
This image type also has an aspect ratio of 1.91:1, and the recommended size is 1640 x 856 px. At this size, the bottom part of your image will appear cropped on smartphones which the majority of Facebook members use. With this in mind, we advise that you use 1920 x 1005 pixels as the size for your image. Plus, you should ensure the essential parts of the photo are closer to the center.
4. Facebook business page cover photo
If you are opening up a Facebook account for your business, you don't have to use a personal account. Instead, you'll set up a business page that will allow you to improve sales and brand awareness on Facebook. That's why it's important to get every aspect of your cover image size right.
Your image will appear in different dimensions according to the devices your audience is using. The minimum size for your business page header photos is 820 x 360 pixels, but you can go up to 1200 x 674 pixels if you want.
5. Personal cover photo
For those with personal Facebook accounts, cover photos are still an option. Also known as your header image, it will extend on top of your page and appear as the background image of your profile picture. You can use your cover photo to show people who you are, what you stand for, or anything you deem important.
The ideal size for your cover photo is 1125 x 633 pixels at an aspect ratio of 2.7:1. If this isn't possible, don't worry because the minimum size requirement is 851 x 315 pixels.
6. Facebook post image
When it comes to your Facebook posts, you'll have more flexibility in terms of size. Your images will be resized to a width of 500 pixels regardless of the dimensions. The photo can be in portrait, landscape, or square form.
The minimum size you can use for Facebook image posts is 600 x 315 pixels, while the ideal size is 1200 x 630 pixels if you want fast load times. It'll also ensure the picture doesn't experience pixelation or distortion even on different devices. For a square photo, you can use 1080 x 1080 pixels.
7. Facebook video posts
Videos provide an easy way to showcase your story, ideas, products, or brand. Facebook video ads are great for increasing leads, and you can upload them in various dimensions. If you are sharing a landscape-oriented video, the ideal size is 1280 x 720 pixels, while a portrait-oriented video should be 720 x 1280 pixels.
The video formats you can upload on Facebook are MOV and MP4. It shouldn't be longer than 120 minutes, but shorter videos are more impactful. The maximum file size limit is 8 GB.
8. Facebook link images
Sometimes, you'll want to post images linked to a website or landing page. In that case, you'll need a Facebook link image. The best size for these images is 1200 x 630 pixels. This size will work well across different platforms, including LinkedIn and Twitter. It'll be easier to post such images on all your accounts on different networks for consistency.
9. Facebook story images
The recommended image size for photos you upload using the story feature is 1080 x 1920 pixels. Your image will fill the entire screen for followers using a smartphone, so you should use the best resolution possible. If you add text, ensure it's in a central position on the image to ensure it's easy for your viewers to see.
10. Our story cover image
The "Our Story" feature is exclusive to Facebook business pages, and it allows users to add more information about the company or organization, similar to an About Us page. You can add a cover photo to this section at a size of 1200 x 445 pixels. The height is set as a standard, but you could go all the way to 672 pixels wide.
11. Facebook Ad sizes
There are different types of ads you can run on Facebook, and each has its size requirements. We'll list these details below:
Carousel ads – 1080 x 1080 px
Single-image ads – 1200 x 628 px
Video ads – At least 1080 x 1080 px
Collection ads – 1080 x 1080 px
You can learn more about Facebook ads in this post.
Facebook image size for ads explained
12. Facebook catalog images
The minimum size for catalog images is 500 x 500 px, but you can go as large as 1024 x 1024 px for better clarity.
Facebook image size explained
How to Use Facebook Images
Using images to promote your brand, ideas, and products on different social media networks isn't a straightforward task. Learn how to get the most out of Facebook images in this section.
1. Attention-grabbing visuals
When uploading images to any social network, you need to ensure they can draw the attention of your target audience. The average Facebook user spends about 8 seconds on each post. So if you want an advantage over your competition, you should ensure you deliver high-quality images that capture the focus of your followers.
2. Show what you have to offer
The best part about images is that they summarize things you would have said in a thousand words. You don't have to use words for what you can explain with a simple image. That's why Facebook images provide an excellent way to show what your business is all about.
You can post images of customers using your products or clients enjoying your services. Such visuals can help create a sense of trust and credibility with your audience.
3. Avoid too much text
When using images, you can reduce the use of text. It can be overwhelming for your followers to read long passages of content below an image. They'll probably succumb to the temptation of scrolling to the next post. As such, you should keep texts minimal.
4. Use consistent graphics
The color palette and design graphics you use should be uniform across different platforms. You can use the same cover photo and profile picture, and since the ideal image sizes could be similar, it'll be easier to upload them.
5. Upload multiple images
You don't have to limit yourself to a single image. If you have products that require different angles to be understood, you can post several pictures to give your audience a comprehensive picture. Anything from 2-10 images will suffice.
Frequently Asked Questions on facebook image size
What is the square image size for Facebook?
A square image for a Facebook post should measure 1200 x 1200 pixels. 1080 x 1080 pixels is also a popular alternative.
What is the Facebook aspect ratio?
The aspect ratio for most Facebook images is 1.91:1. For square photos, the ratio is 1:1.
What is Facebook video size?
The ideal Facebook video size is 1280 x 720 pixels.
How to upload the correct facebook video size (4K) explained
Conclusion
Facebook is the largest social media platform, and it's a great place to launch a social media campaign. One of the best ways to improve engagement, build brand awareness, and generate sales is using Facebook photos. There is a wide variety of images you can upload to Facebook to get your message out there.
If you get the right size for your images, you can easily get the attention of users on Facebook. Using accurate image dimensions in addition to using beautiful designs will make your account a magnet for your target audience. Having a schedule to upload images on Facebook is a great way to ensure your social media campaign gets the results you want.
For more information on Facebook size, leave any questions in the section below.
Picture in this post by Timothy Hales Bennett on Unsplash
Related Screen and digital size charts