Coros Watch Sizes
COROS Wearables Inc is a multinational company focusing on making wearables imbued with high-performance sports technology. It makes GPS watches and fitness trackers for those dedicated to an active outdoor lifestyle. The watches are designed to give you every advantage you need to thrive regardless of your environment (skip straight to the Coros Watch Sizes).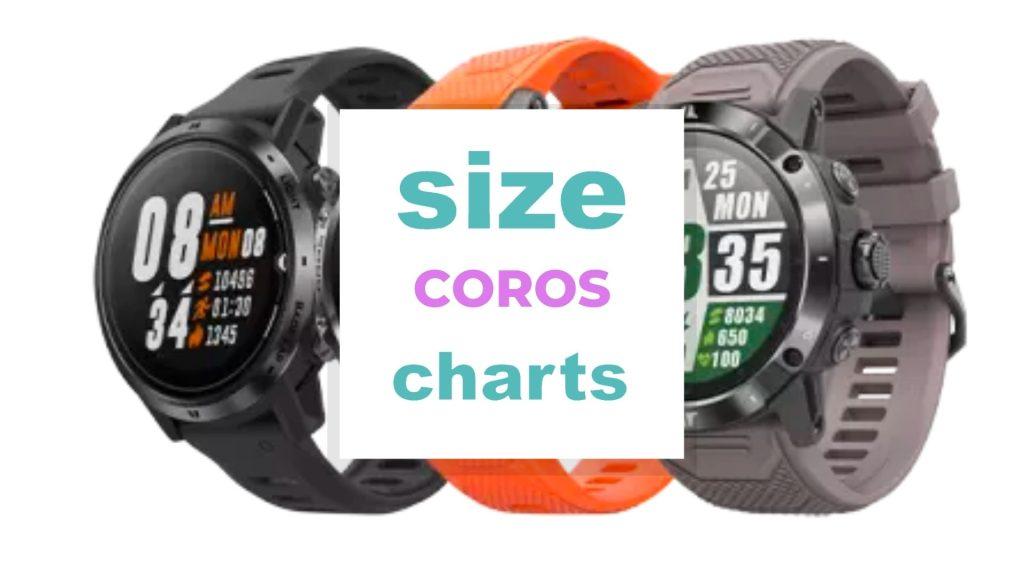 There are different watches available from COROS, and it can be hard to know which one is the right size for you. This post will discuss COROS watch sizes and other details to help you choose the best watch for your needs. 
Let's begin!
Jump right into the Frequently Asked Questions
Related: Apple Watch size and dimension: all Apple Watch series explained
Coros Watch Sizes Table of Contents
COROS Watch Comparison Charts
Related: Suunto Watch Size Charts
| | | | | | | |
| --- | --- | --- | --- | --- | --- | --- |
| COROS Watch | COROS PACE 2 | COROS APEX 42mm | COROS APEX 46mm | COROS APEX Pro | COROS VERTIX | COROS VERTIX 2 |
| Dimensions | 42 x 42 x 11.7 mm | 42 x 42 x 11.75 mm | 46 x 46 x 11.9 mm | 47 x 47 x 13.4 mm | 47 x 47 x 15.6 mm | 50.3 x 50.3 x 15.7 mm |
| Weight (w/ silicone band) | 35 g – 36 g | 49 g | 55.3 g | 59 g | 76 g | 89 g |
| Weight (w/ nylon band) | 29 g – 30 g | 38 g | 45 g | 49 g | 63 g | 72 g |
| Display | 1.2 Inch | 1.1 Inch | 1.2 Inch | 1.2 Inch | 1.2 Inch | 1.4 Inch |
| Resolution | 240 x 240 px | 218 x 218 px | 240 x 240 px | 240 x 240 px | 240 x 240 px | 280 x 280 px |
| Display Type | Always-On Memory LCD | Always-On Memory LCD | Always-On Memory LCD | Touch Screen Always-On Memory LCD | Touch Screen Always-On Memory LCD | Touch Screen Always-On Memory LCD |
| Screen Material | Corning Glass | Sapphire Glass | Sapphire Glass | Sapphire Glass | Diamond-like Coating Sapphire Glass | Diamond-like Coating Sapphire Glass |
| Bezel Material | Fibre Reinforced Polymer | Grade 5 Titanium Alloy | Grade 5 Titanium Alloy | Grade 5 Titanium Alloy Coating | Grade 5 Titanium Alloy   | Grade 5 Titanium Alloy with PVD |
| Cover Material | Fibre Reinforced Polymer | Aluminum | Aluminum | Aluminum | Titanium Alloy | Titanium Alloy with PVD Coating |
| Band Material | Silicone/Nylon | Silicone/Nylon | Silicone/Nylon | Silicone/Nylon | Silicone/Nylon | Silicone/Nylon |
| Band Width | 20 mm | 20 mm | 22 mm | 22mm | 22mm | 26mm |
| Band Installation | Quick Release | Quick Release | Quick Release | Quick Release | Quick Fit | Quick Fit |
| Bluetooth Connectivity | Yes | Yes | Yes | Yes | Yes | Yes |
| Water Resistance | 5 ATM (50 m) | 10 ATM (100 m) | 10 ATM (100 m) | 10 ATM (100 m) | 15 ATM (150 m) | 10 ATM (100 m) |
| Working Temperature | -4°F to 140°F (-20°C to 60°C) | 14°F to 140°F (-10°C to 60°C) | 14°F to 140°F (-10°C to 60°C) | 14°F to 140°F (-10°C to 60°C) | -4°F to 140°F (-20°C to 60°C) | -22°F to 122°F (-30°C to 50°C) |
| Storage Temperature | -4°F to 149°F (-20°C to 65°C) | -4°F to 149°F (-20°C to 65°C) | -4°F to 149°F (-20°C to 65°C) | -4°F to 158°F (-20°C to 70°C) | -22°F to 158°F (-30°C to 70°C) | -22°F to 140°F (-30°C to 60°C) |
| Battery Life (Ultra Max GPS) | 60 Hours | 60 Hours | 70 Hours | 75 Hours | 110 Hours | 240 Hours |
| Battery Life (Standard Full GPS and QZSS) | 30 Hours | 25 Hours | 35 Hours | 40 Hours | 60 Hours | 140 Hours |
| Battery Life (Regular Use) | 20 Days | 24 Days | 30 Days | 30 Days | 45 Days | 60 Days |
| Charging Time | Less than 2 Hours | Less than 2 Hours | Less than 2 Hours | Less than 2 Hours | Less than 2 Hours | Less than 2 Hours |
COROS Watch Band Size Chart
| | |
| --- | --- |
| Watch Band Size/Name | Compatible watches |
| 20mm | PACE 2, APEX 42mm |
| 22mm | APEX 46mm, APEX Pro |
| 22mm (VERTIX) | VERTIX 1 |
| 26mm | VERTIX 2 |
How to Choose the Best COROS Watch
Related: Pixel Watch Size Charts and Specs
There are a bunch of different COROS GPS watches to consider when shopping. This section will discuss each COROS model to help you make a sound buying decision. 
1. COROS PACE 2
Your performance as an athlete can be affected by your overall weight. Everything you wear during the competition will serve to make or break your execution. That's one of the reasons why the COROS Pace 2 was designed as the lightest watch of its time. 
When paired with a nylon strap, this GPS watch weighs about 29 grams making it essentially weightless on your wrist. It's built to provide everything you need without slowing you down so that you can be the best at what you do. Check out the COROS PACE 2 Eliud Kipchoge Edition.
This smartwatch has a powerful processor that surpasses the capabilities of the original PACE model. It also has more RAM and storage to accommodate all your training data without fail. The digital dial provides the information you need in a moment, thanks to the easy-to-use design. As such, you can access your training plans, tracking profiles, and more on a convenient screen size of 1.2 inches.
In terms of battery life, this watch has an extended battery life allowing you 30 hours of use on regular GPS mode. The UltraMax function cuts the battery consumption in half to enable the charge to last even longer. With 20 days of daily use, you don't have to get anxious if you accidentally leave your charger behind. 
You can now continue your training through the night, thanks to Night Mode. This function keeps the backlight on until an hour after the sun rises. You can also turn it off after completing your workout. It's bright enough to comfortably read in the dark and doesn't drain your battery. 
This watch can track a variety of activities on land and in the water. It's a versatile choice that's great for athletes who engage in multiple sports. It even has several sports modes to help you accurately keep track of your performance in a specific activity. 
2. COROS APEX
The COROS APEX comes in two sizes; 42 mm and 46 mm. They have the same features, but the larger size offers more when it comes to battery life. Let's make a quick comparison below. 
The APEX 46 mm offers:
35 hours on Normal GPS Mode
70 hours on UltraMax GPS Mode
30 days of regular use
On the other hand, the APEX 42 mm offers:
25 hours on Normal GPS Mode
60 hours on UltraMax GPS Mode
24 days of regular use
This watch has a great aesthetic that makes it easy to transition from your workplace to training. There are different colors to let you pick one that matches your style. This watch can boost your performance and endure any environment thanks to the titanium alloy, stainless steel bezels, nylon or silicone straps, and sapphire glass screen.
Ease of use is a critical feature of a running watch. That's why the controls on the COROS APEX are designed to be as straightforward as possible. Unlike watches with traditional buttons, the APEX features a digital dial that lets you control what you see even in the middle of your workout without interrupting your rhythm. 
APEX is among the best multisport watches on the market because it's loaded with various metrics to help you track your abilities during training. For instance, you can manage fatigue better and reduce recovery time thanks to the fatigue and recovery metrics. These tools will give you the information you need to improve and even become one of the best athletes in your field. 
When it comes to directions, there's no better watch to have than the COROS APEX. It has Breadcrumb Navigation capabilities which is a cool feature that provides accurate navigation and real-time information about where you are. Additionally, the watch delivers alerts when you go off-trail to help you get back on course as soon as possible. 
If you download the COROS app, you can create your own workout plan in addition to the ones you get from Training Mode. This ensures you can maximize your exercise time without over-the-top strategies. 
3. COROS APEX Pro
Equipped with a titanium bezel, sapphire glass screen, and 10 atmospheres of water resistance, the COROS APEX Pro is a great pick for multisport training. It's the perfect GPS watch for adventurous athletes and fitness enthusiasts. It has a 40-hour battery life allowing you to go further on your trail run without switching to UltraMaxMode to conserve power. 
It has additional features compared to the original APEX model. One of these features is Altitude Mode which provides altitude acclimation assistance. This means the watch will inform you when you climb to a new altitude. As a result, you can maintain optimal blood-oxygen levels during mountain climbs. 
In terms of navigation, this watch has one of the most advanced technologies. It features three modes: Landscape, Topo, and Hybrid. This allows you to view landscape and topographical maps as well as a combination of the two. Since it has offline mapping, you can track your path even without GPS. 
4. COROS VERTIX
If you need a watch that can perform even under extreme conditions, the COROS VERTIX is the answer. It has a titanium frame and sapphire glass with a diamond-like coating making it a durable choice. So you can keep your training schedule even when the weather seems inconvenient. The screen has a scratch-proof performance which means you don't need to worry about scratches making your screen illegible. 
On a full charge, this watch can last up to 60 hours when in full-GPS mode. If you switch to UltraMax Mode, you can extend this to 150 hours of use, allowing you to go three times longer than you could. If you aren't using GPS, this watch can keep going for 45 days before it requires charging. 
When venturing into wet environments, this GPS watch is the best you can have because it has a 150-meter waterproof rating. This makes it a reliable choice for water sports that require navigation. While it's built to last, this watch has a weight of 54 grams, making it easy to wear on your wrist for hours at a time despite its physical size. 
Like the APEX Pro, the VERTIX also has Altitude Mode for daily acclimatization evaluations. This means that the watch will let you know when it's safe to climb higher and when you should start getting back down to retain optimum blood oxygen. This watch also has industry-leading performance in low temperatures, which is why it's great for skiing, snowboarding, and similar sports.  
5. COROS VERTIX 2
GPS watches aren't just for athletes, and the COROS VERTIX 2 is proof of that. This GPS adventure watch is designed to make your adventures more exciting by giving you all the data you need to go further than ever before. Are you ready to take your escapades to the next level?
The VERTIX 2 allows you to access five different satellite systems simultaneously. It also provides Dual Frequency satellite communication, a feature you can only find in aviation products. Whether you are navigating a path in the forest, city, or mountains, this GPS watch has the accuracy you need to stay on the right path.
With a 1.4-inch screen, this GPS watch has a high resolution and displays more information than other COROS watches. You can look at a maximum of 8 data fields on a page so that your key metrics are just a glance away. 
The COROS VERTIX 2 also has remarkable battery life compared to other GPS watches. When using full GPS tracking, this watch can last up to 140 hours which is more than twice what you get in the COROS VERTIX. This means it's your safest bet when you want a GPS watch that can track longer than any other. 
This watch shows offline global mapping in three different modes. It comes with a global Landscape map, and you can download Topo maps from the COROS website. With 32 GB of storage, you can trust that this watch can bear it all. 
Learn more about different types of Coros Watches
What Makes a Great GPS Sports Watch
Related: Apple Watch 8 Size Guide vs Other Apple Watch series, Gucci Watch Size Chart
Now that we've covered the different COROS GPS watches, we'll quickly discuss what to look for in a sports watch to ensure you make a solid investment. 
1. Fitness Tracking
One of the main reasons people get a sports watch is to keep track of their activities. Accurate tracking of your performance in any activity is critical to improving and becoming the best. That's why most fitness watches also provide an advanced training analysis function.
Of course, you can see the analysis better when you pair your watch with a fitness app or third-party apps on your smartphone. 
Some of the sports that COROS watches track include:
open water swimming
riding bikes
cross-country skiing
backcountry skiing
trail running
In addition to these, COROS watches also track health-related information. The data is useful in evaluating your performance in relation to your overall goal.
Some of the functions these watches offer include:
advanced sleep tracking
heart rate monitoring
blood oxygen tracking and more
2. Navigation Features
Something else to keep your eye out for is navigation capabilities. Your watch should work like a standard GPS device and provide a map of your location and track.
Sports watches with advanced navigation features allow you to view your surroundings, even offline. 
Some watches can provide a simple line on a blank background, but premium options can include topographic maps with more details. GPS capabilities can help ensure you are on the right track, especially when in places you haven't explored before. 
3. Sports Watch Sensors
GPS watches use a variety of sensors to detect and inform you of changes in your body or the environment. That's why some watches have a compass that can help you find your way even in forests and mountains.
If you are heading to places with unpredictable weather, you should get a watch with additional sensors for detecting changes in the atmosphere. A watch with weather forecasting capabilities can be a lifesaver in areas with extreme weather. 
The COROS VERTIX 2 can even detect changes in altitude to tell you whether you still have enough oxygen to keep going up. If the air gets too thin, the watch will give you an alert so that you can start the climb down. 
4. Long Battery Life
It's important for GPS watches to have a high-quality battery that lasts hours before they need to recharge. Imagine a scenario where you are trailing in the jungle, and the watch you rely on for navigation and direction powers down. If you don't have a way to charge it, you could end up stuck for a long while. 
Watches with a long battery life allow you to keep training without the fear of the battery running out of juice. Watches with GPS functions use up power faster than standard fitness watches.
So, you should ensure the watch you buy has a longer battery life even when GPS is enabled. 
5. Light Weight
Sports watches come with many technologies and functions. However, these advantages shouldn't come at the cost of a lightweight design.
Exceptional performance in sports requires the athlete to be as light as possible. As such, if the watch feels heavy on your wrist, it could probably affect your execution. 
Watch this Coros and Garmin watches comparison (video)
Frequently Asked Questions
1. What size is the COROS watch PACE 2?
The COROS PACE 2 has a case diameter of 42 mm. 
2. What is the difference between COROS watch Apex and APEX Pro?
The APEX Pro has a longer battery life and some additional features. 
3. How long does COROS watch last?
COROS watches have a rugged build that ensures they can last for years with proper maintenance. 
4. What is the smallest COROS watch?
The COROS APEX and PACE 2 are the smallest, with a case size of 42 mm. 
5. What is the biggest COROS watch?
The VERTIX 2 is the largest COROS watch with a 50.3 mm case. 
6. What size is the COROS watch VERTIX?
The COROS VERTIX measures 47 mm across. 
7. Is the COROS VERTIX the same size as the VERTIX 2?
No, it's not. The VERTIX is 47mm, while the VERTIX 2 is 50.3 mm. 
Conclusion
COROS is an industry-leading company specializing in GPS wearables. There are several options to choose from if you need a reliable sports to watch. The best way to choose is to understand what each watch line offers and go from there. Rest assured, you can count on COROS to have a watch that meets your outdoor needs.
If you have questions about COROS watch sizes, leave them below!
Picture in this post is from Running Shoes Guru
Related to Coros Watch Sizes