Seiko Watch Sizes
This post was last updated on September 5th, 2023 at 08:58 am
Seiko is a Japanese company that makes watches, clocks, and electronic devices, among other things. It was founded in 1881 and has been instrumental in watch technology's evolution. You probably know that there's a good watch for you in the many lines available in this brand. However, you'll need to do some recon to find the right fit (skip straight to the Seiko Watch Sizes).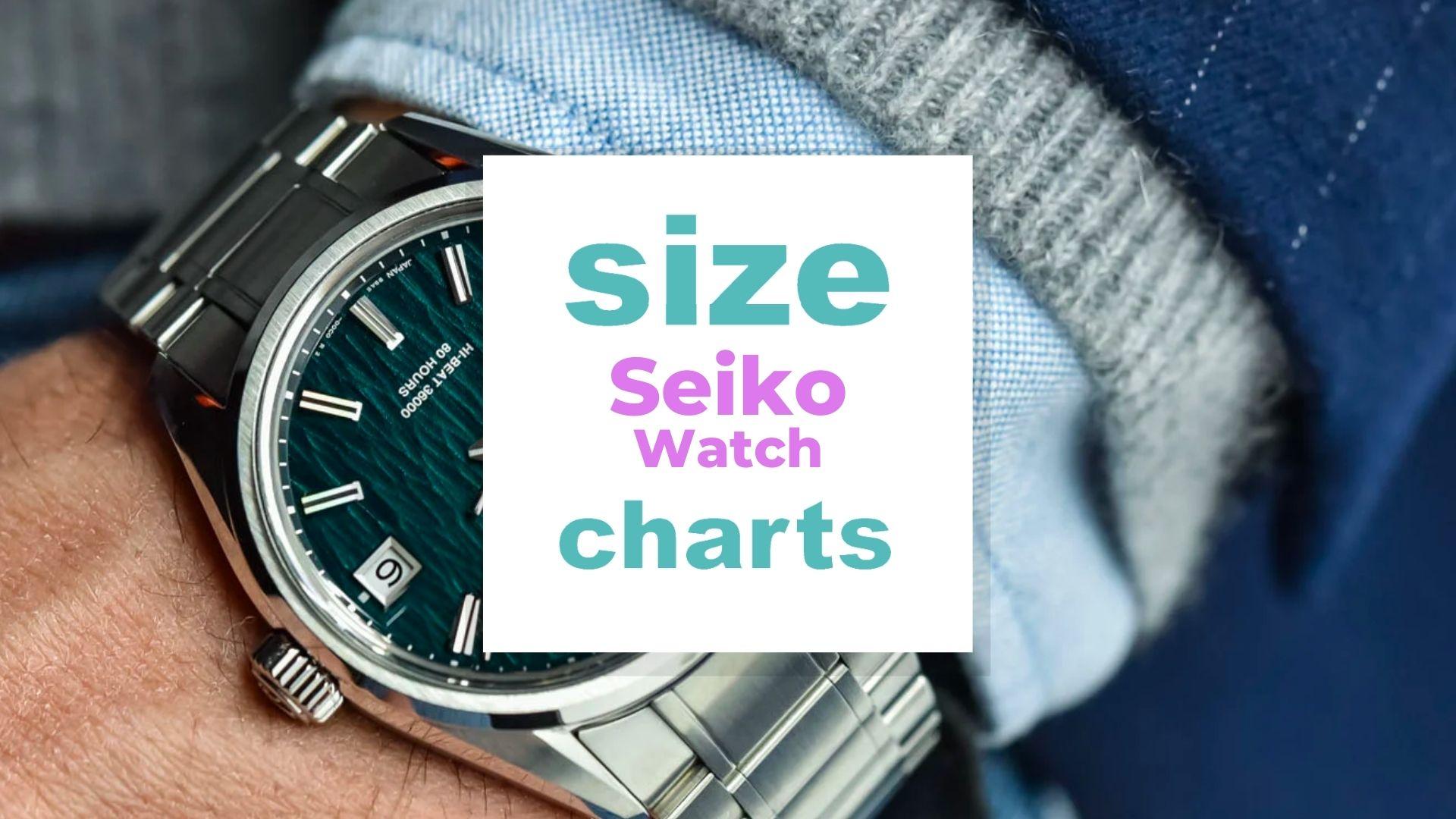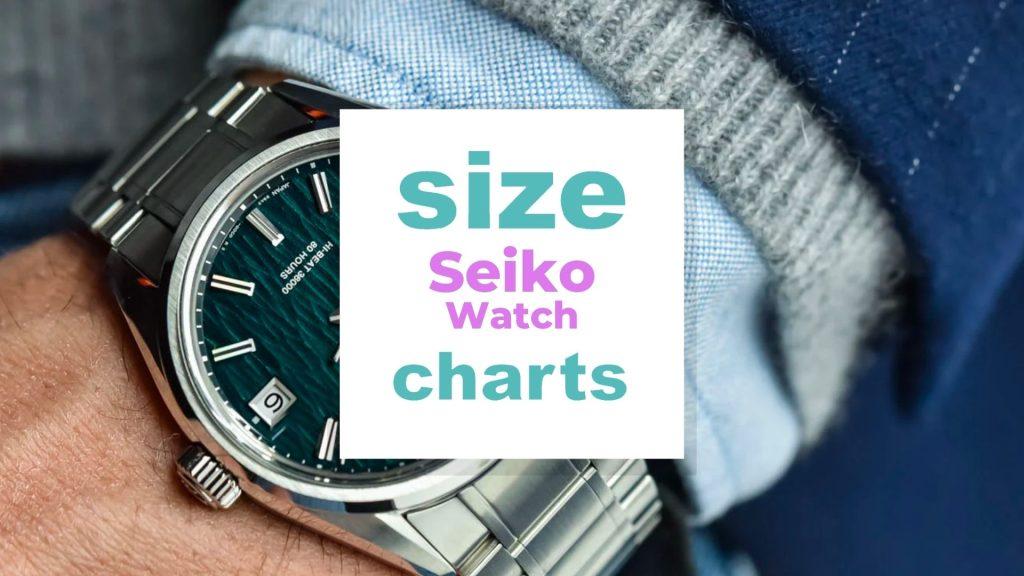 This post discusses everything you need to know about Seiko watch sizes to ensure you find the right match.
Let's get started!
Jump Right into the Frequently Asked Questions
Related: Watch size: Which watch size fits my wrist size?, Apple Watch Size and Dimensions, Bracelet Size Chart
Seiko Watch Sizes Table of Contents
Seiko Watch Size Charts
Seiko Women's Watch Size Chart
Related: Tissot Watch Sizes
| | | | | |
| --- | --- | --- | --- | --- |
| Seiko Watch Band 19mm – 20mm | Watch Lug Width | Watch Case Diameter | Spring bars distance | Watch thickness |
| Seiko 5 SNK809 | 18mm | 38mm | 43mm | 11mm |
| Seiko SLA017 | 19mm | 40mm | 44mm | 14mm |
| Seiko Alpinist | 20mm | 38mm | 43mm | 12mm |
| Seiko SARB033 | 20mm | 37mm | 40mm | 12mm |
| Seiko Sumo | 20mm | 45mm | 47mm | 14mm |
| Seiko MM300 | 20mm | 44mm | 45mm | 15mm |
| Seiko SKX013 | 20mm | 37mm | 41mm | 13mm |
| Seiko SKX023 | 20mm | 37mm | 41mm | 12mm |
| Seiko Cocktail Time Power Reserve | 20mm | 40mm | 45mm | 15mm |
| Seiko Solar Chrono | 20mm | 43mm | 46mm | 14mm |
| Seiko Monster | 20mm | 47mm | 45mm | 13mm |
| Seiko MM200 | 20mm | 41mm | 43mm | 13mm |
| Seiko 62MAS Reissue | 20mm | 43mm | 45mm | 14mm |
| Seiko 63MAS | 20mm | 43mm | 40mm | 13mm |
| Seiko Mini Turtle | 20mm | 39mm | 40mm | 13mm |
| Seiko 5 40mm | 20mm | 38mm | 40mm | 12mm |
Seiko Men's Watch Size Chart
Related: Patek Philippe Watch Sizes
| | | | | |
| --- | --- | --- | --- | --- |
| Seiko Watch Band 21mm – 24mm | Watch Lug Width | Watch Case Diameter | Spring bars distance | Watch thickness |
| Seiko Pilot Flightmaster | 21mm | 42mm | 44mm | 12mm |
| Seiko SKX007 | 22mm | 41mm | 43mm | 14mm |
| Seiko SRP777 Turtle | 22mm | 42mm | 45mm | 13mm |
| Seiko Samurai | 22mm | 44mm | 46mm | 13mm |
| Seiko Tuna SBBN013 | 22mm | 49mm | 36mm | 16mm |
| Seiko Tuna SBBN039 | 22mm | 47mm | 42mm | 16mm |
| Seiko Tuna SBDB009 | 22mm | 49mm | 44mm | 17mm |
| Seiko Tuna SBDX016 | 22mm | 53mm | 40mm | 17mm |
| Seiko Tuna SRPA82K1 | 22mm | 52mm | 46mm | 13mm |
| Seiko Atlas SKZ209J1 | 22mm | 42mm | 46mm | 14mm |
| Seiko 5 Sports SRPD (42.5mm) | 22mm | 41mm | 41mm | 13mm |
| Seiko SNZF17 Sea Urchin | 22mm | 41mm | 46mm | 13mm |
| Seiko Recraft SRPC13 Blue | 22mm | 43mm | 36mm | 14mm |
| Seiko Kinetic PADI SUN065 | 24mm | 50mm | 48mm | 15mm |
What to Consider When Choosing a Seiko Watch Case Size
Related: Cartier Watch Sizes for Men and Women, Watch size: Which watch size fits my wrist size?
The ideal watch case size depends on several factors that we'll discuss in this section. So, let's find out what case size is perfect for your wrist.
1. Lug-to-Lug Distance
The lugs of your watch refer to the ends of the watch where you attach the straps or bracelets. Be careful not to confuse this with the lug width, the distance across one side of the lug. Your lug-to-lug distance is important because it tells you the size of a watch head that can comfortably fit on your wrist.
People with a narrow wrist size can easily end up with a watch that overwhelms both ends of the wrist. This makes the watch look oversized and takes away from the elegance a watch can provide. Your wrist shape is another factor to keep in mind because those with flat wrists have a wider surface for watches than those with rounder wrists.
The lug-to-lug distance doesn't automatically match the watch case size. A small watch case can have a large lug-to-lug distance, and bulky watches can have a small lug-to-lug distance.
2. Flat vs. Curved Lugs
The next thing is the shape of your watch lugs. This will affect the appearance of the watch on your wrist. The flat lugs will most likely work in your favor if you have a wide wrist because the entire watch head will sit perfectly on your wrist.
On the other hand, a curved lug is a better fit for narrow wrists. This is because the ends of the lugs will "hug" the shape of your wrist, making the watch look more fitting. If the lugs go beyond your wrist, there'll be some space, making the watch lose.
3. The Hour Markers Circle Size
The perfect watch size for you also depends on the size of the hour markers circle on the watch. You could have a physically large watch, but if your hour makers circle is small, you'll subconsciously perceive the watch to be smaller. Check out the different types of hour marker circles here.
Your hour marker circle size is the distance between the hour mark on one side of the face of your watch to the hour mark on the opposite end. If the lug-to-lug distance is ideal and you choose an hour makers circle that matches your wrist, your watch will wear flawlessly.
4. Watch the Bezel
One of the things that reduce the hour markers circle on larger watches is the bezel. A bezel reduces the space available for the hour makers circle, making the face of your watch seem smaller. So, if you love larger visuals, a watch without a bezel will give you what you seek.
Sports watches will mostly come with a bezel, so you'll have to choose whether this will work for you or if a dress watch could be a better option. Dress watches can have a bezel, but they'll be smaller than what you see on sports watches. Chronographs and dive watches also feature a bezel that serves a functional purpose.
5. The Chapter Ring
The chapter ring is a bezel that's inside of the watch rather than outside. Like the hour makers circle, the chapter ring is under the crystal. It provides the functionality of a bezel but allows you to enjoy a larger crystal on your watch. So if you need a bezel and also want your watch face to look as big as possible, a chapter ring is the solution.
Pilot watches have great chapter rings that look sophisticated in a good way. Hiking watches also have a chapter ring that offers a compass which can be useful when you are out in the wilderness.
6. Dial Color
The color of the dial is another aspect that affects the size of your watch. If the dial color contrasts the overall color of your watch, it'll look smaller than a watch whose dial color is the same.
Take a silver watch with a light dial; for instance, it'll look larger than it would if it had a dark dial.
7. Case Thickness
The last factor affecting the ideal watch size is the thickness of the watch case. Generally speaking, a thicker case is more visible than a thin one. Quartz watches and mechanical watches come with a thin case in most cases.
Of course, the case thickness also affects the weight of the watch. So, if you'd like something lighter on your hand, a thin case watch is better.
Check out this video to learn more about Seiko Watches
The Best Seiko Watch for You
Related: Rolex Size Charts and Sizing Guide, Gucci Watch Size Chart
Seiko has several watch collections, each made for a specific customer base and a certain price range. To find out where you fit, we'll discuss these watch lines to tell you the best option.
1. Seiko Credor
The Credor line is specifically for watches made using precious metals. It's quite similar to Grand Seiko but has unique aesthetics, enamel dials, and exceptional functionality.
An example of a watch from this line is the Credor Eichi II which boasts a platinum case, 60-hour power reserve, and water resistance to a depth of 30 m.
2. Grand Seiko
This is another collection of watches that are made for those looking for premium-grade timepieces. This category further breaks into several watch lines, including Sport, Heritage, Masterpiece, and Elegance.
The Masterpiece line offers the most high-end options in these classifications. With hand-finished movements and accenting jewelry, you can certainly find something special in this Seiko watch line.
Grand Seiko Elegance has gold, steel, titanium, and platinum watch cases that are highly polished and decorated with engraved dials. There are occasional "limited editions" to keep an eye out for in this line as well.
Grand Seiko Sports watches are high-performance yet luxurious options that can compete with Rolex models without the hefty price. Some watches in this line provide GMT options if you need to keep track of time zones.
3. Seiko Prospex
The Prospex line is where to get watches with professional specifications. It mostly includes dive watches that differ in price and design.
The Prospex Divers line has numerous options, some of which are expensive, but you can still find an affordable price in the collection. These watches have great water resistance to ensure they perform well underwater.
If you want something you can wear on the ground, the Prospex LX series has sports watches ideal for land, sea, or air. You can rest assured these Seiko watches will deliver a great performance wherever you go.
4. Seiko Presage
Presage watches are great if you want a high-performance dress watch. There's a variety of styles available, allowing you to choose anything from retro to modern watches.
Every so often, there'll be some limited editions that will have high-end features resembling the Seiko Grand line.
5. Seiko Recraft
Seiko Recraft watches strike a balance between classic designs and modern timepieces. You can use them for fashion purposes since they can go well with a variety of outfits.
They also offer mechanical or automatic movement to ensure you can get the mechanism you prefer.
6. Seiko 5 Sports
This line dates back to the 1960s and offers an automatic winding, durability, water resistance, and more. You can find great mechanical watches from this line with more features than they had in the past.
The watches are comfortable to wear, accurate, and stylish to a luxurious degree.
7. Seiko Astron
The Astron line was a natural competitor of the Swiss watch industry thanks to a unique watch movement called the Astron. This line delivers impeccable time accuracy thanks to GPS connectivity, and the watches are also solar-powered.
An example of an Astron model watch is the 5x series which offers dual time. This allows you to keep track of two time zones simultaneously. With a water resistance of up to 200 meters, you can rest assured this watch can hold up well in a deep dive.
8. Seiko Coutura
If you are a green energy enthusiast, you'll be glad to know that there's a dedicated watch line for you. Coutura watches are solar-powered and therefore use the energy of the sun to keep the watch hands ticking.
This line also offers super-accurate timekeeping and an aesthetically pleasing appearance. It can be adorned with precious stones like diamonds or have unique patterns.
9. Seiko Diamond Collection
If you want a timepiece with diamonds, there's a whole collection to explore. Plus, they offer great value for the price they have compared to other luxury watch brands.
Any of these Seiko watch models will help you stand out in a classy way.
10. Seiko Core Range
This watch line is popular all around the world. It offers numerous designs and styles, ensuring there's something suitable for everyone.
Frequently Asked Questions
1. What size are Seiko watches?
Seiko watches come in a variety of sizes for men and women.
2. What size is the Seiko watch 5?
The Seiko 5 Sports watch line features a case size of 42.5 mm.
3. What do the numbers on a Seiko watch mean?
The serial number on Seiko watches represents the month and year of manufacture and a unique production number.
4. How many Seiko watch models are there?
Seiko has several brands and watches lines, each with multiple watch models. This means there are hundreds, if not more, of Seiko watch models on the market.
5. What size is the Seiko Watch SKX007?
The Seiko SKX007 has a case size of 41 mm.
6. How many mm is the Seiko 5?
The Seiko 5 watches have a 42.5 mm case.
7. What is the biggest Seiko watch?
The Seiko Kinetic PADI SUN065 is the largest option measuring 50 mm.
8. What is the smallest Seiko watch?
The Seiko SKX013 measures 37 mm and is the smallest watch in the brand.
Conclusion
Seiko is a great place to get everything from high-end luxury timepieces to casual dress watches. There are many options in size, color, shape, and design. You can find a line that suits your needs and look for an option that fits your budget from there.
Please drop any questions about Seiko watch sizes in the section below.
Picture in this post is by Paul Cuoco on Unsplash
Related to Seiko Watch Sizes