Watch size: Which watch size fits my wrist size?
This post was last updated on September 3rd, 2023 at 10:02 pm
A stylish watch stands or falls with the right watch size. Finding a watch that fits perfectly does, however, involve a number of points. Discover which points you should pay attention to when purchasing the right men's or woman's watch.
Which watch size fits my wrist?
If we look at the thickness, width, watch case, functions and material of watches, we can determine that no two watches are the same. According to collectors, there are no fewer than 10 watches that men must own. But how do you know which watch is right for you? That has everything to do with the right watch size.
Your watch case steals the show
The watch case is perhaps the most important part of your watch. Here you not only see the time, but this is also the most striking part. With your watch case you can radiate confidence and determine your own style. Your watch case should be in good proportion to your wrist. Not too big, but not too small either. It is useful to know that (most) watch cases are between 38 and 46 mm in size.
Measure wrist size for your watch size
Time needed: 2 minutes
Use of Measuring tape or paper

Start with a flexible measuring tape or strip of paper.

Wrap the tape or the strip of paper around your arm

Wrap it where your watch band would usually sit. The ideal position is just below the wrist bone. (towards your elbow)

Only for when you're using paper

When using a strip of paper, take a pen and mark the point where the end meets itself.

Unwrap the paper and lay it flat next to a ruler,

when using a measuring tape it will tell you the dimension rightaway

Note your Wrist dimension

Chose your size in the Size charts of your favourite Watch
A wrist of 14-16cm, is very thin, 16-17cm is a slender wrist, 17cm-18cm is a medium wrist and above 18cm is a thick wrist
To calculate your own watch size, it is best to measure your own wrist. If you have a circumference between 15 and 18 cm, go for a watch case between 34 and 40 mm. These cabinets usually have a thickness of 7 mm. If your wrist circumference is 19 cm or larger, go for a watch case between 42 and 46 mm. These usually have a thickness of 9 mm or greater.
Are you a fan of a slightly more refined style? Then it is certainly possible to enrich your wide wrist with a narrow watch. However, you should keep in mind that this rule does not apply the other way around. You should never wear a watch that is too large on a narrow wrist.
You'll need to measure your wrist. If your wrist is 6 to 7 inches in circumference, you should typically go with 38mm, 40mm and 42mm watch cases. If your wrist circumference is 7.5 to 8 inches, you should be looking at 44mm to 46mm watch cases. These recommendations are based on the modern trend of larger timepieces.
Knowing your wrist size is also important when ordering your watch so you can make sure the strap fits and the bracelet is sized properly.
Watch Sizing Chart
Wrist length cm
Wrist length inches
Watch size
Case Diameter
Watch size
Case Thickness
General Watch Size
13 cm
5″ inches
29 mm
9 mm
First Watch for Kids
14 cm
5.5″ inches
32 – 33 mm
10 mm
Extra Small / Big Kids
15 cm
6″ inches
34 mm
12 mm
Small
16.5 cm
6.5″ inches
34 – 38 mm
12 mm
Midsize / Medium
17.5 cm
7″ inches
39 – 42 mm
12 mm
Standard
19 cm
7.5 " inches
43 – 46 mm
14 mm
XL / Oversized
20 cm
8″ inches
> 47 mm
15 mm
XXL
Watch Size Chart by for kids, men and women. Thickness is a general indication and will differ by model/brand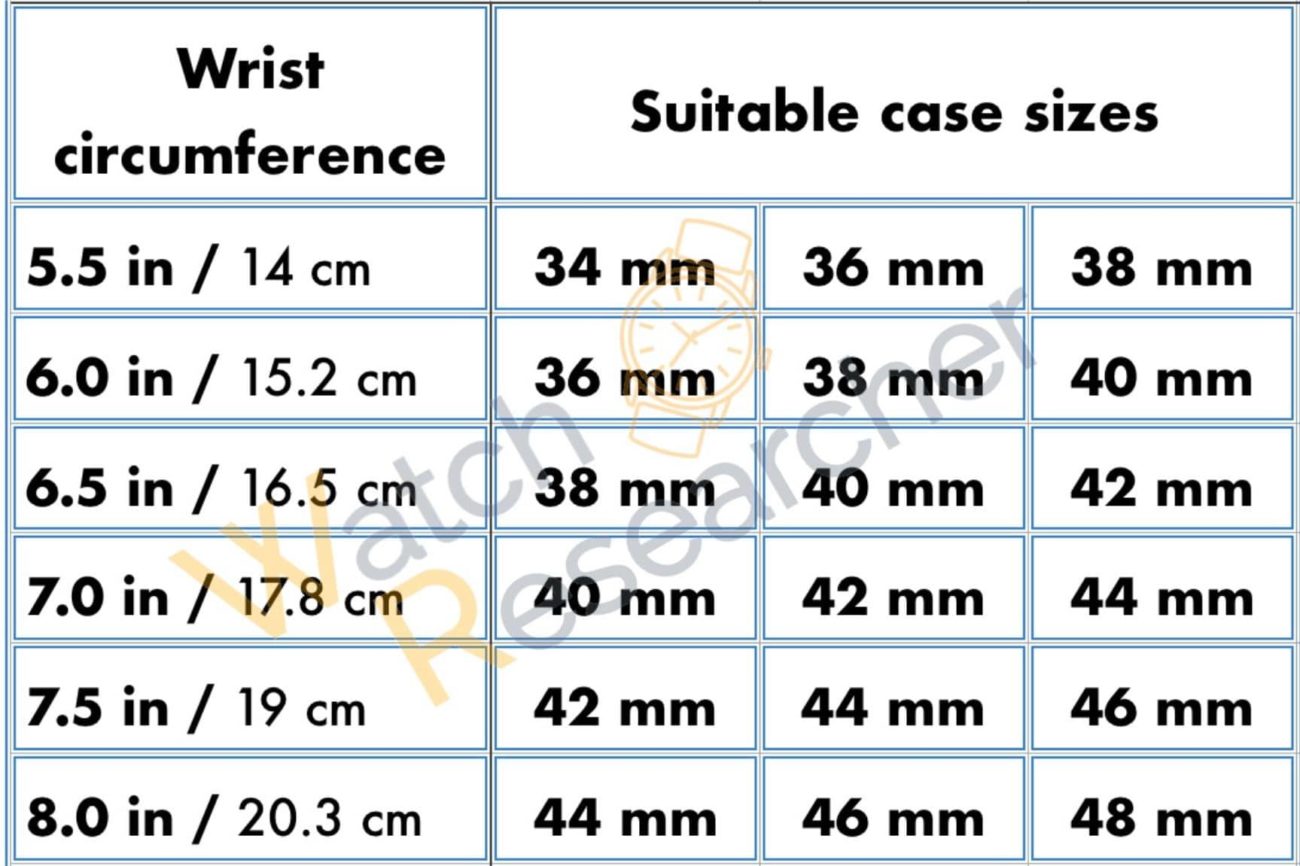 What's my watch Size
as a rule of thumbe
Looking for a great looking ring to match your watch and need Ring sizing advice? Check our page here
How to Measure your Ring you can find here
The material and width of your watch strap
Your watch strap is also important to find the right watch for your style and wrist. The width of your watch strap is often half the size of your watch case. So if it is 42 mm, your watch strap is 21 mm. Furthermore, you are completely free in the material you choose. Do you choose a classic model? Or are you going for a retro model or sporty one? Rate the five different watch strap types to see which one best suits your taste.
By Gender
Watch Case Diameter Size by Gender
Gender
Case Diameter
mm.
cm.
in.
Women's Size
22
2.20
0.87
24
2.40
0.94
26
2.60
1.02
28
2.80
1.10
30
3.00
1.18
32
3.20
1.26
34
3.40
1.34
36
3.60
1.42
Men's Size
38
3.80
1.50
40
4.00
1.57
42
4.20
1.65
44
4.40
1.73
46
4.60
1.81
48
4.80
1.89
50
5.00
1.97
52
5.20
2.05
54
5.40
2.13
56
5.60
2.20
Watch sizing explained (video)
The picture in this post is by Mister Mister at Pexels.com
Source: Watchresearcher.com (https://www.watchresearcher.com/watch-size-chart/)
Source: Prestigetime/com (https://www.prestigetime.com/blog/watch-size-guide.html)
Watch Sizing Charts