Privacy Policy
This post was last updated on July 31st, 2023 at 07:27 pm
Privacy Policy & Cookies: Safeguarding Your Privacy at Size-Charts.com
At size-charts.com, we highly value the privacy of our visitors. Our team understands the significance of maintaining confidentiality, and we want to provide you with clear insights into the types of personal information we collect and receive when you visit our website and how we utilize this information.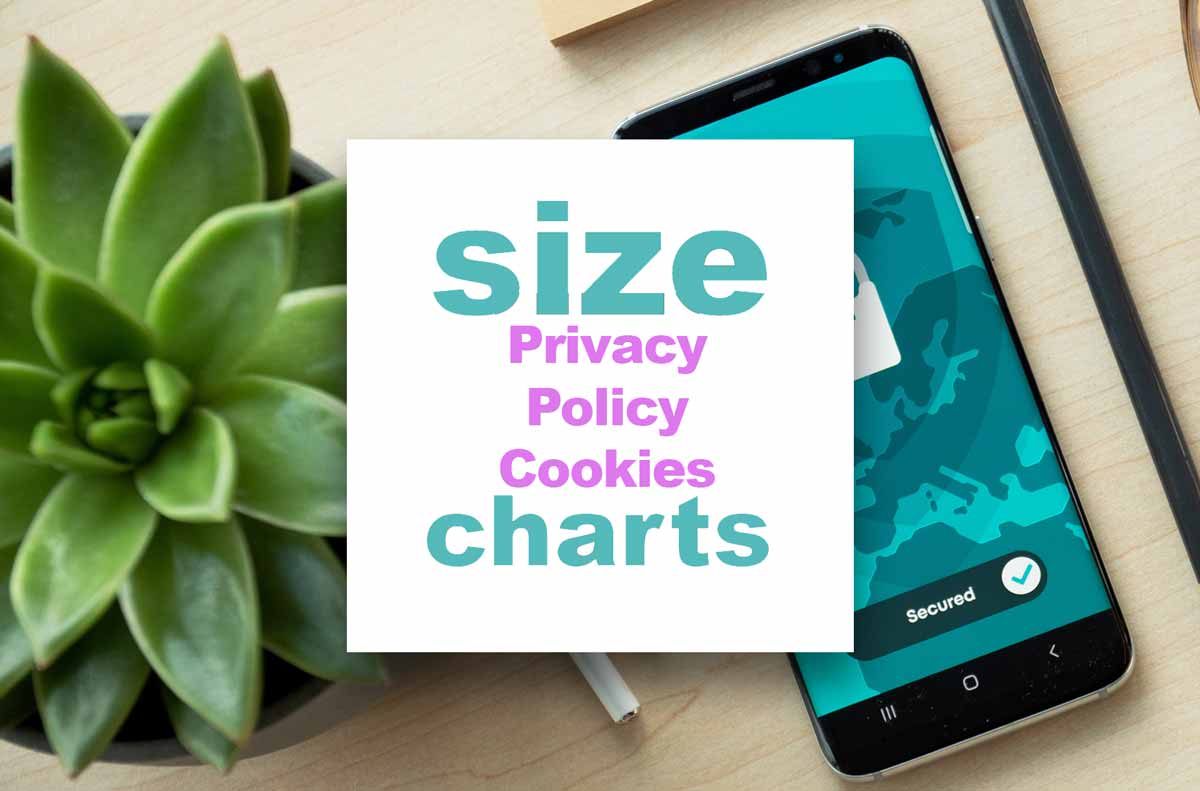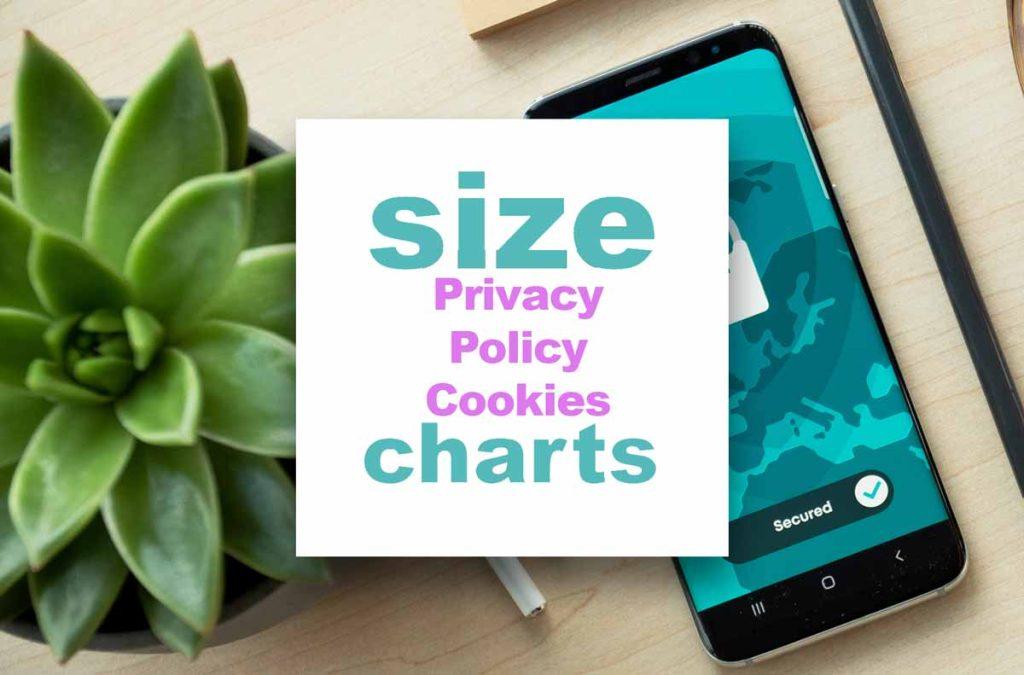 Who we are
Our website address is: http://size-charts.com.
Contact Us:
If you have any questions or requests regarding your personal data or our privacy policy, please feel free to contact us at the following address:
Email:
.
Address and Phone number:
21352 SAWYER SQ ASHBURN VA 20147-4729 USA
Phone: +1 571 723 6572
For press inquiries, email us at .
We value your privacy and strive to address any concerns or inquiries you may have promptly and transparently.
By optimizing our privacy policy and adhering to best practices, we aim to provide a secure and trustworthy browsing experience for all visitors to Size-Charts.com.
What personal data we collect and why we collect it
Comments
When visitors leave comments on the site, we collect the data shown in the comments form and the visitor's IP address and browser user agent string to help spam detection.
An anonymized string created from your email address (also called a hash) may be provided to the Gravatar service to see if you are using it. The Gravatar service privacy policy is available here: https://automattic.com/privacy/. After approval of your comment, your profile picture is visible to the public in the context of your comment.
Media
If you upload images to the website, you should avoid uploading images with embedded location data (EXIF GPS) included. Visitors can download and extract any location data from images on the website.
Contact forms
At Size-Charts.com, we never request personal data from our users. Our website does not involve sales, forms, login areas, or newsletters. The sole data present on our website is collected through cookies or any data shared when using the provided commenting tools (such as Facebook Comments, Pinterest pins).
Cookies
If you leave a comment on our site you may opt-in to saving your name, email address and website in cookies. These are for your convenience so you do not have to fill in your details again when you leave another comment. These cookies will last for one year.
If you visit our login page, we will set a temporary cookie to determine if your browser accepts cookies. This cookie contains no personal data and is discarded when you close your browser.
When you log in, we will set up several cookies to save your login information and screen display choices. Login cookies last two days, and screen options cookies last a year. If you select "Remember Me", your login will persist for two weeks. If you log out of your account, the login cookies will be removed.
If you edit or publish an article, an additional cookie will be saved in your browser. This cookie includes no personal data and indicates the post ID of the article you just edited. It expires after 1 day.
Embedded content from other websites
Articles on this site may include embedded content (e.g. videos, images, articles, etc.). Embedded content from other websites behaves exactly as if the visitor has visited the other website.
These websites may collect data about you, use cookies, embed additional third-party tracking, and monitor your interaction with that embedded content, including tracking your interaction with the embedded content if you have an account and are logged in to that website.
Third-Party Cookies:
Certain trusted third parties have access to data collected on Size-Charts.com through cookies. Here are the details regarding third-party cookies:
Google AdSense:
We collaborate with Google to deliver ads to our users. Using advertising cookies, Google and its partners can present ads tailored to our users' interests based on their visits to SizeChart.com and other websites on the internet. Please visit Google's Ads Settings to adjust your ad settings or opt out of personalized advertising. To opt out of personalized advertising via third-party vendors, visit YourAdChoices.com. We recommend that our users familiarize themselves with Google's information usage from Size-Charts.com and other partner sites. For more information, refer to Google's Privacy & Terms.
Google Analytics:
Size-Charts.com employs Google Analytics, a reputable and widely used analytics solution, to gain insights into how people interact with our website. Google Analytics achieves this by tracking various information, including the duration of user visits, the specific pages they navigate, the websites that refer them to Size-Charts.com, and other aggregated data. To provide this information, Google Analytics employs cookies.
Mediavine Programmatic Advertising (Ver 1.1)
The Website works with Mediavine to manage third-party interest-based advertising appearing on the Website. Mediavine serves content and advertisements when you visit the Website, which may use first and third-party cookies. A cookie is a small text file which is sent to your computer or mobile device (referred to in this policy as a "device") by the web server so that a website can remember some information about your browsing activity on the Website.
First party cookies are created by the website that you are visiting. A third-party cookie is frequently used in behavioral advertising and analytics and is created by a domain other than the website you are visiting. Third-party cookies, tags, pixels, beacons and other similar technologies (collectively, "Tags") may be placed on the Website to monitor interaction with advertising content and to target and optimize advertising. Each internet browser has functionality so that you can block both first and third-party cookies and clear your browser's cache. The "help" feature of the menu bar on most browsers will tell you how to stop accepting new cookies, how to receive notification of new cookies, how to disable existing cookies and how to clear your browser's cache. For more information about cookies and how to disable them, you can consult the information at All About Cookies.
Without cookies you may not be able to take full advantage of the Website content and features. Please note that rejecting cookies does not mean that you will no longer see ads when you visit our Site. In the event you opt-out, you will still see non-personalized advertisements on the Website.
The Website collects the following data using a cookie when serving personalized ads:
IP Address
Operating System type
Operating System version
Device Type
Language of the website
Web browser type
Email (in hashed form)
Mediavine Partners (companies listed below with whom Mediavine shares data) may also use this data to link to other end user information the partner has independently collected to deliver targeted advertisements. Mediavine Partners may also separately collect data about end users from other sources, such as advertising IDs or pixels, and link that data to data collected from Mediavine publishers in order to provide interest-based advertising across your online experience, including devices, browsers and apps. This data includes usage data, cookie information, device information, information about interactions between users and advertisements and websites, geolocation data, traffic data, and information about a visitor's referral source to a particular website. Mediavine Partners may also create unique IDs to create audience segments, which are used to provide targeted advertising.
If you would like more information about this practice and to know your choices to opt-in or opt-out of this data collection, please visit National Advertising Initiative opt out page. You may also visit Digital Advertising Alliance website and Network Advertising Initiative website to learn more information about interest-based advertising. You may download the AppChoices app at Digital Advertising Alliance's AppChoices app to opt out in connection with mobile apps, or use the platform controls on your mobile device to opt out.
For specific information about Mediavine Partners, the data each collects and their data collection and privacy policies, please visit Mediavine Partners.
Facebook:
On Size-Charts.com, we incorporate Facebook Comments and Facebook Like-buttons. For these third-party technologies to function optimally, Facebook may utilize cookies and collect data about Size-Charts.com users.
Pinterest Data Collection:
In addition to the aforementioned third-party cookies, we would like to inform you about data collection carried out by Pinterest when you visit Size-Charts.com. Pinterest may utilize cookies and similar technologies to gather information about Size-Charts.com users for various purposes, such as personalization and advertising. These cookies enable Pinterest to provide relevant content, recommendations, and ads tailored to your interests.
Please note that the collection and usage of data by Pinterest are subject to their own privacy policies and terms. We encourage you to familiarize yourself with Pinterest's practices by referring to their Privacy Policy and Terms of Service.
At Size-Charts.com, we do not have direct control over Pinterest's data collection or the information they gather. However, we strive to collaborate with trusted partners and adhere to privacy standards to protect your personal information to the best of our abilities.
Should you have any questions or concerns regarding Pinterest's data collection practices or any other aspect of our privacy policy, please don't hesitate to contact us using the details below.
We are committed to safeguarding your privacy and providing transparency in how your information is handled on SizeChart.com.
Who we share your data with
Data Collection and Cookie Usage:
We utilize cookies primarily for analytics purposes. This enables us to gain valuable insights into how and when our users navigate Size-Charts.com, thereby enhancing the areas of our website that we believe our users find valuable. Additionally, third-party partners and we employ cookies for advertising purposes on SizeChart.com, which includes displaying personalized ads.
At Size-Charts.com, we never request personal data from our users. Our website does not involve sales, forms, login areas, or newsletters. The sole data present on our website is collected through cookies or any data shared when using the provided commenting tools (such as Facebook Comments, Pinterest pins).
How long we retain your data
If you leave a comment, the comment and its metadata are retained indefinitely. This is so we can automatically recognize and approve any follow-up comments instead of holding them in a moderation queue.
For users that register on our website (if any), we also store the personal information they provide in their user profile. All users can see, edit, or delete their personal information at any time (except they cannot change their username). Website administrators can also see and edit that information.
What rights you have over your data
If you have an account on this site, or have left comments, you can request to receive an exported file of the personal data we hold about you, including any data you provided. You can also request that we erase any personal data we hold about you. This does not include any data we must keep for administrative, legal, or security purposes.
Your Rights:
In accordance with GDPR regulations, you possess certain rights regarding your Personal Information. The following rights apply to the Personal Data we collect:
Right to Privacy Policy Consent Revocation: As a user of Size-Charts.com, you can revoke the consent you granted through our privacy policy at any time. To withdraw your consent, please click here.
Right to Be Informed: You have the right to know how your Personal Data is handled. Our Privacy Policy aims to provide you with the necessary information.
Right of Access: You can access and review the Personal Data we hold about you. Upon your request, we will promptly provide this information.
Right of Rectification: If the Personal Data we possess about you is inaccurate or incomplete, you can request its correction or completion.
Right to Erasure: Sometimes referred to as 'the right to be forgotten,' you can request the deletion of the personal data we hold about you. We will promptly and securely erase this data upon your request without further inquiries.
Right to Restrict Processing: You can request to cease processing your data instead of deleting it. We will honor this request and ensure that your data is no longer processed.
Right to Data Portability: Upon your request, we will provide your Personal Data in a commonly used and machine-readable format, allowing you to transfer it to another organization if desired.
Right to Object: You can object to processing your Personal Data if you believe it is not in your best interest. We will carefully review your objection and assess the validity of your concerns.
Right to Lodge a Complaint: If you wish to express a grievance regarding our data handling practices, you have the right to complain with a supervisory authority.
Where we send your data
Visitor comments may be checked through an automated spam detection service.
Contact information
If you have any questions or requests regarding your personal data or our privacy policy, please feel free to contact us at the following address:
Email:
.
Address and Phone number:
21352 SAWYER SQ ASHBURN VA 20147-4729 USA
Phone: +1 571 723 6572
For press inquiries, email us at .
We value your privacy and strive to address any concerns or inquiries you may have promptly and transparently.
By optimizing our privacy policy and adhering to best practices, we aim to provide a secure and trustworthy browsing experience for all visitors to Size-Charts.com.
Additional information
How we protect your data
At our size-chart website, we prioritize the security of your data by implementing industry-standard measures to safeguard against unauthorized access, misuse, or disclosure.
We employ secure encryption protocols to protect your personal information and ensure its confidentiality during transmission.
Our dedicated team regularly monitors and updates our security systems to maintain the integrity and privacy of your data while you utilize our size-chart services.
What data breach procedures we have in place
In the event of a data breach, we have robust procedures to promptly identify and mitigate any potential risks to your personal information.
Our team maintains a comprehensive incident response plan that includes immediate containment, investigation, and notification procedures to address any breach effectively.
We work diligently to continually enhance our security measures and stay up-to-date with industry best practices to minimize the likelihood of data breaches and protect your information.
What automated decision making and/or profiling we do with user data
Our size-chart website does not engage in automated decision making or profiling using user data.
We prioritize transparency and user control, ensuring that your data is not used for any automated decision-making processes that may impact your rights or choices.
Our focus is on providing accurate size-chart information and empowering users to make informed decisions based on their preferences and individual needs.
Industry regulatory disclosure requirements
As a website dedicated to size charts, we are committed to complying with industry regulatory disclosure requirements.
We strive to provide accurate and reliable information in accordance with applicable regulations and standards.
Our size charts are intended to assist users in making informed decisions regarding clothing and other related products.
While we make every effort to ensure the accuracy of our size charts, it's important to note that individual brands and manufacturers may have variations in sizing standards.
We recommend referring to the specific brand's official sizing information and consulting with their guidelines to ensure the best fit for your needs.
Picture in this page is by Dan Nelson on Unsplash