Swatch Size Charts
Swatches come in a variety of product sizes. All the sizes shown here are average measurements of standard sizes of the watch case direct from the factory. There is a wide range of individual custom sizes for many models. The difference between custom size and standard size usually comes as a result of little changes to the case (skip straight to the Swatch Size Charts).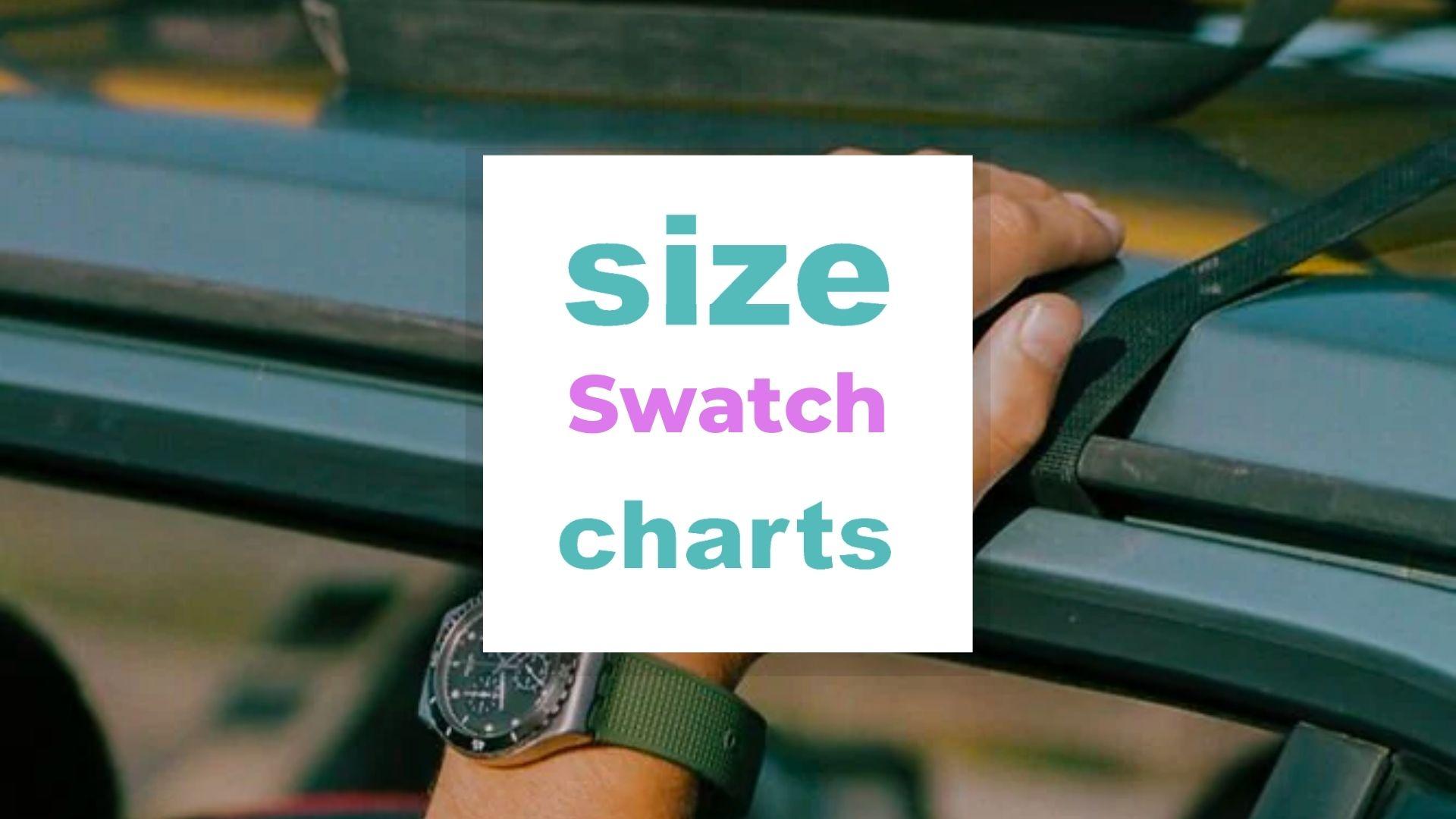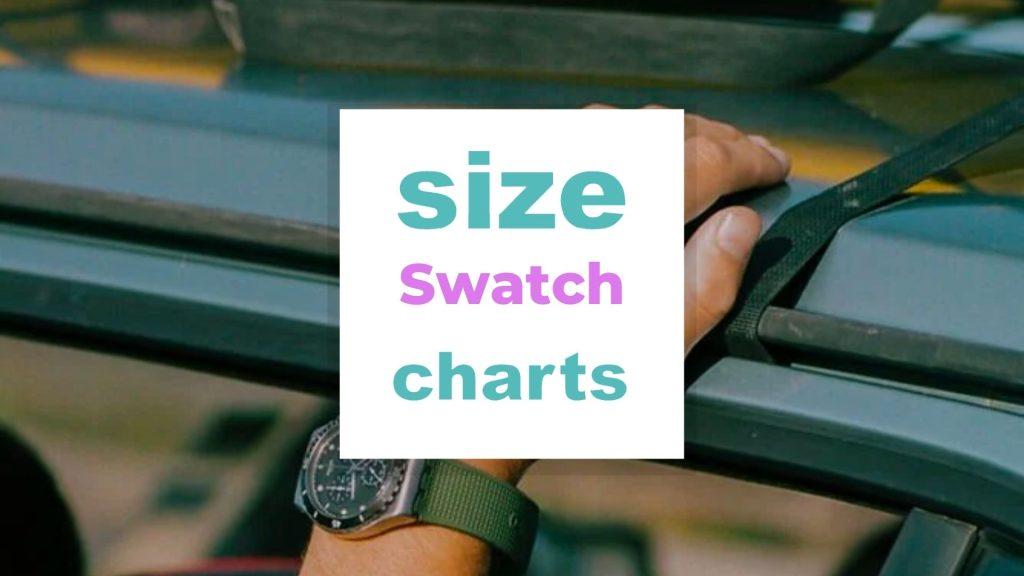 Wearing the wrong size wristwatch has a few disadvantages, let us just mention the two most common ones:
1. Wrist lesion: If the watch is too tight, chances are high that the watch will most likely squeeze your wrist tightly and leave a dent on the said wrist. In severe cases, the functions of the hand might be affected by the tightly squeezed wrist. This is usually a result of blood circulation being constricted.
2. Physical hazard: Just as a small size is a problem, a big size is also a risk. Too loose and the watch would dance around the wrist. This makes it easy for the watch to get caught in things. Clothing, skin hair, furniture, and even equipment suddenly become dangerous when you are wearing a watch that is too loose.
But maybe you are not here for strap size, maybe you just want to know the display size. Either way, this article is good for you. And just like strap size, display size also has its pros and cons when it comes to sizes.
You don't want to wear a watch that is so large, your wrist can literally feel the weight. You are not supposed to know that a watch is on your wrist unless you give the watch your attention. The other side of things is a watch so small you have to pay too much attention to the face every time you check your watch.
Jump right into the Frequently Asked Questions
Related: Watch size: Which watch size fits my wrist size?, Apple Watch Size and Dimensions, Bracelet Size Chart
Swatch Size Charts Table of Contents
Size Chart For Flik Flak
Related: Longines Watch Sizes
Flik Flak is a series of products designed for children. These Swatch watches are aimed at consumers with an age range of 3 to 13 years. As children's watches, they come with editable color settings as part of the default custom options.
| | |
| --- | --- |
| Watch age range | Watch Size (mm) |
| 3 – 6 | 22 – 30 |
| 5 – 7 | 30.5 – 31.5 |
| 8 – 13 | 32 – 35 |
Size Chart For Swatch Watches
Related: Omega Size Charts of Watches
The size of watches is the diameter measurement of the display sizes. The measurement is always in metric sizing and average measurements are always above 25 mm. In the charts below, the sizes are put up against the display variant names
As a finished project, the custom product variant is always larger than the stock product variants. If the customization is only in color or engraving, then the sizing might be identical, but the proper gauge Swatch can be a fraction of inches wide when compared to its alternate.. A custom color Swatch has no reason to be a different size.
| | |
| --- | --- |
| Watch Model | Watch size (mm) |
| Big Bolds | 47 |
| Chrono Plastic | 42 |
| Diaphane | 42 |
| Gents | 34 |
| Irony Big | 36 |
| Irony Chrono | 39 |
| Irony Chrono Automatic | 43 |
| Irony Lady  | 25 |
| Irony Medium | 32 |
| Jelly In Jelly | 38 |
| Master Chrono | 41 |
| New Gent | 41 |
| Original Gent | 33 |
| Original Turnover | 29 |
| Skin | 34 |
| Skin Chrono | 37 |
| Retrograde |  42 |
Size Chart For Recommended Wrist Size
Related: Nautica Watch Sizes and Specifications
Swatch does not make their strap dimensions public nor print them in their product descriptions. However, watchmakers have accurate size recommendations based on the exact measurement of watch display sizes.
| | | |
| --- | --- | --- |
| Wrist Size (In) | Wrist Size (mm) | Watch Size |
| Less than 6 | Less than 150 | 34 – 36 |
| 6 – 7 | 150 – 190 | 38 – 42 |
| 7.5 and above | 195 and above | 44 and above |
Check out this video to see the Swatch watches collection
Frequently Asked Questions
Is watch size important?
Size availability decides how big everything will be. More sizes being available means that the watch can have larger hook sizes and bigger needle sizes.
A bigger size hook or needle isn't necessarily better than smaller ones but they sit better and more easily on a larger wrist.
How do I know the size of my Swatch watch?
Take an accurate measurement of the farthest point of the outer edges of the face of the watch. You might use a handy size conversion chart to determine the size wrist that the watch best suits.
Whatever you do, don't eyeball the size of your watch by using the image size in online pictures.
What is the smallest Swatch watch?
If we consider the size in stock dimensions, the smallest item on the Swatch product listing is the Original Turnover, then the Irony Lady, and then Irony Medium.
What is the biggest Swatch watch?
Considering the size in stock dimensions, the largest Swatch is the Irony Chrono Automatic. Slightly smaller in size are the Chrono Plastic, the Retrograde, and the Diaphane.
Which size is the best for a Swatch watch?
There is no size that is the "best" among the stock sizes. The average size is meant for the range of wrist sizes and this is one more reason why a proper product size Swatch is important.
How many MMs is a Swatch?
There are many models of Swatch and therefore many different measurements. Check the charts to know the size of the specific model you have in mind.
How do I know what size Swatch strap I need?
Much to customer frustration Swatch does not provide any form of strap dimensions to the public. If you need to know the length of the strap, then we recommend that you measure around your wrist and then buy straps that are about the same size as your wrists.
If you are more interested in strap Width then we recommend that you scout the internet for illustration tools such as the hook gauge tool. These tools can shed some light on the strap width of most of the models.
Conclusion
To improve customer satisfaction Swatch provides a team with access to customer uploads. This team can help with customer complaints, inquiries, suggestions, etc. In case you need additional information, don't hesitate to visit Swatch's official avenue for customers.
We know that a chronometer will fit you, but please leave a comment and share the article before you go watch shopping.
Picture in this post is by Analia Baggiano on Unsplash
Related to Swatch Size Charts