Amazon Kindle Size by model (size charts included)
This post was last updated on January 31st, 2023 at 09:50 pm
This guide will explain the different Kindle e-readers (Amazon Kindle Paperwhite, Kindle Oasis, or Kindle Fire). Precisely, we shall focus on Amazon Kindle size. The Amazon Kindles are practically the same size, but there are differences: The Kindle weighs 5.56 ounces and has dimensions of 6.2″ x 4.3″ x 0.32″ (157.8 x 108.6 x 8 mm) (158g). It is smaller and lighter than the normal edition of the Kindle Paperwhite, which measures 6.9 x 4.9 x 0.32 inches (174 x 125 x 8.1 mm) and weighs 7.23 ounces (205g).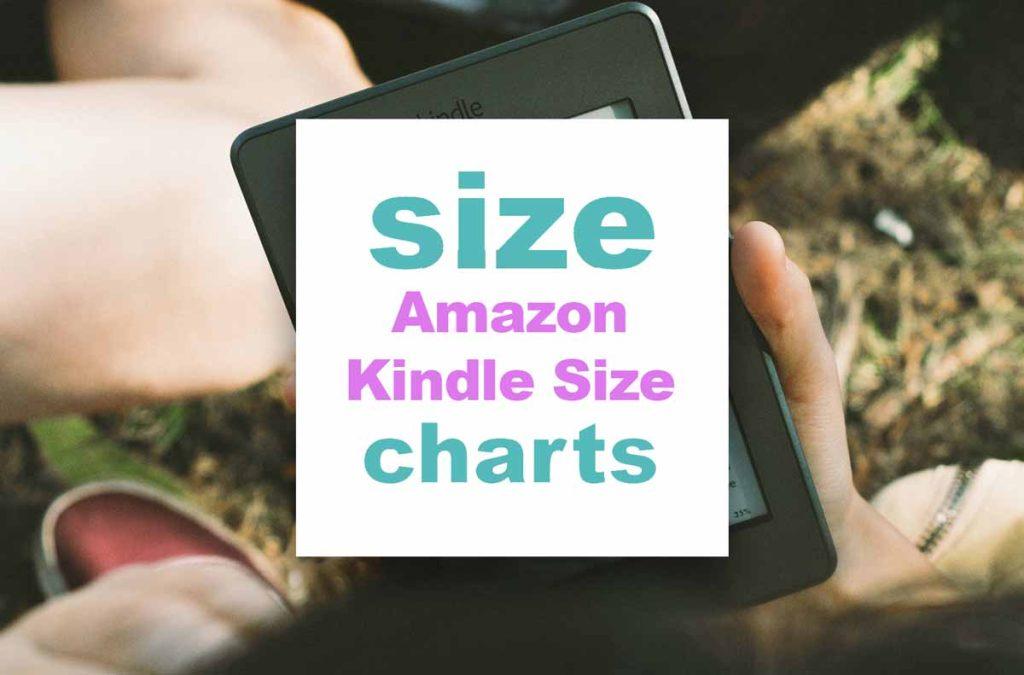 Jump immediately to the FAQ section of this page
What is Amazon Kindle? 
Amazon Kindle refers to gadgets designed and distributed by Amazon and is used as Kindle e-readers. The e-readers have smaller to larger screens, longer battery life, screen resolution, and different sizes.  
Why is it good to check Amazon Kindle Size? 
Ideally, Kindle e-readers are meant to make reading easier for both kids and adults. Choosing the correct size of the Kindle digital devices with extra storage will make reading easier. Always ensure you are comfortable with the screen display of the Kindle e-book reader. A perfect size Kindle will ensure a great reading experience and help you increase your reading daily. Amazon Kindle has made reading digital content easier like ever before. 
Kindle Sizes Comparison
All of the Kindles are around the same size, except the Kindle Fire, which is larger. The comparison chart for Kindle sizes is below:
Kindle – 6.2″ x 4.3″ x 0.32″
Kindle Paperwhite – 6.9″ x 4.9″ x 0.32″
Kindle Oasis – 6.3″ x 5.6″ x 0.3″
Kindle Fire – 9.73″ x 6.53″ x 0.36″
Amazon Kindle Size Chart  
This Amazon Kindle Comparison Chart contains current and previous generation of Amazon Tablets and Amazon e-book readers. Ideally, this is to help you choose the best Kindle. 
In the size chart, we have the latest tablets Kindle Paperwhite, Kindle Fire HDX 8.9″, and Kindle Fire HDX all this in the fifth and fourth generation Kindle. We also have past generations of Kindle; Kindle DX Graphite, 2nd and 3rd generation, Kindle Touch, and more. 
We have the Kindle type height, width, screen size dimensions in inches and millimeters and weight in ounces and grams. The screen display size varies from a larger 6.8-inch display to a 9.7-Inch display.
Get yourself a Amazon Kindle
Kindle Size Comparison table with all types in inches, mm, weight and screen size
Amazon Kindle sizing explained
How to Choose the Right Kindle Size 
Choosing the right Kindle size isn't always easy. However, there are a few factors that you need to consider before deciding on the type of Kindle to purchase from the Kindle store. 
Storage size. 
You need that extra storage if you have thousands of books and audiobooks to study. Amazon Kindle and Kindle Paperwhite storage space range from 4 GB to 32 GB. If the kindle e-book reader has an allowance for expandable storage, that could be a great exclusive feature. Select the Kindle that suits you best. 
Screen display size. 
The inch screen display size range from a 6-inch screen to a 9.7-inch screen for Kindle Keyboard (3Gen) WiFi + 3G and Kindle DX (2Gen) Graphite respectively. The 6-inch screen works perfectly for kids and requires a kid-friendly cover to protect the Kindle from breaking. The larger screen display works perfectly for adults or persons with eyesight problems. 
Screen resolution. 
There is a wide range of screen resolutions to choose from. For example, Kindle Paperwhite's (2021) screen resolution is 1600 * 1200 px or (294 pixels per inch) and Kindle's (2021) screen resolution is 1448 * 1072 px or (300 pixels per inch). 
The best Kindle Size for you
Ideally, it is difficult to determine the best Kindle size for yourself. You are solely responsible for selecting the Kindle e-reader that works for you. However, here are a few other factors to consider. 
1. Battery-life 
2. Built-in speakers capability
3. Water resistance 
4. Bluetooth feature. 
There are other exclusive features such as color and fabric covers. 
Frequently Asked Questions on Kindle Dimensions
Are kindles all the same size?
Yes, all three generations of paperwhite have exactly the same size with the same button layout. Useful for cases as any paperwhite case fits all paperwhites, past and present. The 6 inch measurement refers to screen size only, measured on the diagonal from one corner to the opposite corner. The Kindle weighs 5.56 ounces and has dimensions of 6.2″ x 4.3″ x 0.32″ (157.8 x 108.6 x 8 mm) (158g). It is smaller and lighter than the normal edition of the Kindle Paperwhite, which measures 6.9 x 4.9 x 0.32 inches (174 x 125 x 8.1 mm) and weighs 7.23 ounces (205g).
What Kindle size is the biggest?
Amazon Kindle Oasis is the biggest, with a 7-inch display. The Kindle Oasis is intended to be the best reading device because it is bigger and better. This edition includes all the main features and has a 7-inch display, making it larger than any other Kindle device.
Which models of the Kindle Paperwhite are the same size?
The Paperwhite's three models have the same size and button configuration. Cases are helpful since any Paperwhite case fits all Paperwhites, both old and new. The new Kindle Paperwhite's screen is roughly 5.5 inches tall and 4.1 inches broad, compared to the old Paperwhite's display which is around 4.75 inches tall and 3.55 inches wide.
Conclusion 
To wrap up, we have different Kindle e-readers with different sizes. We have a detailed Amazon Kindle size chart above. It is always not advisable to purchase a Kindle device without conducting size research. Desist from choosing the cheapest option without considering the feature that the Kindle device comes along with. Kindle device sales on international markets and black market online are rampant. Use our Kindle size chart to learn more. 
If you enjoyed reading this article, please don't hesitate to leave a comment below! 
Picture by Maarten van den Heuvel on Unsplash
Related screen size charts