3D Printer Size Chart and Specifications
A 3D printer is a rectangular or square machine that produces 3D objects from different materials. Designers start by modeling objects in a 3D program and send them to 3D printers (skip straight to the 3D Printer Size Chart).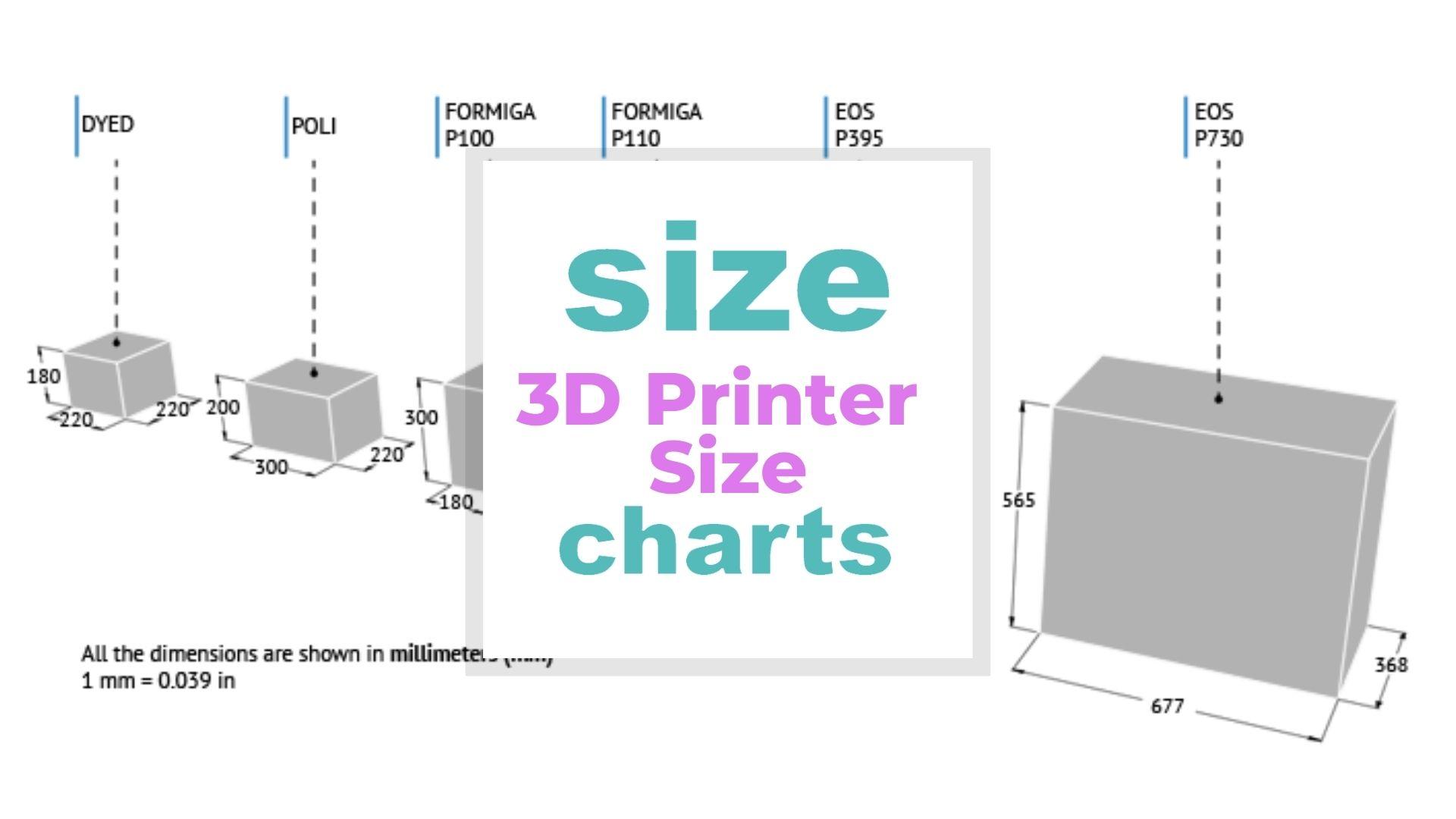 The 3D printing process involves lacerating the objects into layers and printing from the base to the top of the physical object. Large-format 3D printers usually leverage PLA, PVA, and ABS filaments, depending on the machine you acquire.
They are popular in schools, design offices, and homes for creative individuals. 
Jump right into the Frequently Asked Questions
Related: TV Screen Size Chart, Samsung Tab Size Chart, Apple iPad Size Chart, Apple iPhone Size Chart
3D Printer Size Table of Contents
Why should you get the right 3D printer size?
Related: Computer Monitor Size Chart: Which Size is the Best?
With the wide range of 3D printers in the market, you may decide to settle for any of the machines, especially if it is your first time purchasing such devices.

Unfortunately, blind purchases often lead to disappointments which are detrimental to businesses.
Thanks to our definitive guide it helps you explore the different size requirements for 3D printing processes and the perfect machine sizes for 3D print jobs. You can get the ideal printer size to print bed or vehicle parts. 
To learn more about large-format 3D printing requirements, read on!
3D Printer Size Chart
Related: Resolution Size Chart And Difference From Screen Size
Maximum 3D Prints Size Chart
Related: TV Screen Size Chart
| | |
| --- | --- |
| Plastic Polyamide | Dimensions |
| DYED | 22.0 x 22.0 x 22.0 cm 8.7 x 8.7 x 8.7 in |
| POLI | 30.0 x 22.0 x 20.0 cm 11.8 x 8.7 x 7.9 in |
| FORMIGA P100 | 18.0 x 18.0 x 30.0 cm 7.1 x 7.1 x 11.8 in |
| FORMIGA P10 | 18.0 x 18.0 x 33.0 cm 7.1 x 7.1 x 13.0 in |
| EOS P395 | 28.0 x 28.0 x 58.0 cm 11.0 x 11.0 x 22.8 in |
| EOS P930 | 36.8 x 67.7 x 56.5 cm 14.5 x 26.7 x 22.2 in |
Large Format Printing Technologies Size Chart
Related: iPhone 13 Screen Size Chart: Dimensions vs other iphone models, iPhone 12 screen size chart with dimensions and size comparison, iPhone 14 size chart, screen dimensions and size comparison
| | |
| --- | --- |
| Large Format | Measurements |
| FDM | 30 x 25 x 30 cm 12 x 9.8 x 11.8 in |
| SLA | 30.0 x 33.5 x 20 cm 13.2 x 7.9 x 11.8 in |
| SLS | 32 x 16.5 x 16.5 cm 12.6 x 6.3 x 6.3 in |
Recommended Min Wall Thickness
Related: Apple View VR Size and dimensions of Apple's first VR Headset
| | |
| --- | --- |
| 3D Printing Technology | Min Measurements |
| FDM | 0.08 cm 0.03 in |
| SLA/DLP | 0.05 cm 0.02 in |
| SLS | 0.07 cm 0.03 in |
| Material jetting | 0.1 cm 0.04 in |
| Binder jetting | 0.2 cm 0.1 in |
| DMLS/SLM | 0.04 cm 0.02 in |
3D Printer Build Size
Related: Samsung Headset Size Guide and Specs, Fat Shark Headset Size Guide by Model
| | |
| --- | --- |
| 3D Printer  | Build Measurements |
| FDM | 90.0 x 60.0 x 90.0 cm 35.4 x 23.6 x 35.4 in |
| SLA/DLP | 150.0 x 75.0 x 50.0 cm 59.1 x 29.5 x 19.7 in |
| Material jetting | 100.0 x 80.0 x 50.0 cm 39.4 x 31.5 x 19.7 in |
| Binder jetting | 180.0 x 100.0 x 70.0 cm 70.9 x 39.4 x 27.6 in |
| SLS | 75.0 x 55.0 x 55.0 cm 29.5 x 21.7 x 21.7 in |
| DMLS/SLM | 50.0 x 28.0 x 36.0 cm 19.7 x 11.0 x 14.1 in |
How to Choose the Right 3D Printer Size
Related: Xbox Size Chart, VR Headsets Size, a full guide for standalone, phone, thetered models
Obtaining the right 3D printer can be challenging since there is so much to consider; hence you may need professional guidance to avoid buying what you don't need.
Below are the things you should consider to get the best 3D printer size for your printing jobs.
1. Unibody Parts
Some designers know how to print objects in parts, which can be time-consuming and cumbersome.

But thanks to 3D printing technologies, they ensure you make the best out of any object, whether furniture or architectural elements. 
Hence, it's essential to consider the size of the objects you will be fabricating so you can have an easy 3D printing process. Moreover, this will produce excellent results, appealing to your clients.
2. Development Speed
So, what print size will you be focusing on?

3D printing machines usually process objects faster compared to traditional methods. This method works for every element, whether the physical object is small or large.
The process does not require setup processes; hence big prototypes are easy to print. In addition, it utilizes laceration actions to ensure the printing consumes less time, unlike when you have to disassemble different parts of the object for printing.
3. Weight Reduction
Most large objects are made from wood, metal, and molten plastics. The 3D printing process prints these prototypes on plastic, making them lighter.

Moreover, the 3D printing technologies allow manufacturers to adjust the density infill of the objects. 
This process also allows designers to fabricate the large prototypes as a single unit. Hence, they reduce weight as they don't need fasteners like nuts.
4. Design Freedom
The right 3D printer should offer unlimited freedom to design your objects per the client's requirements or your concept models.

In contrast, traditional printing methods don't allow you to perform certain designs, including complex lattices and internal channels. 
Large objects such as furniture demand complex designs, making large 3D printers the ideal machines for print jobs. So, whether you want to fabricate a bed or automotive, don't hesitate to grab a 3D printer!
5. Function
Are you a hobbyist or a company owner?
Depending on the purpose you want to accomplish with the printer, you should get a size that can perform the task exceptionally. Think about it; with a small 3D printer, you cannot complete print jobs on large prototypes. 
And if you do, you may take much time, and the process will also be cumbersome. This machine can work best if you are a hobbyist trying out things with different elements in your house or home office. 
You can evaluate the wide variety and their printing size limitations. For instance, the DYED has a maximum size of 180 mm x 220 mm x 220 mm, while an EOS P730 offers you 677 mm x 368 mm x 565 mm dimensions.
Evaluating this will help you choose a printer size that fits your needs like a glove.
6. Durability 
Before grabbing that new or large open-frame printer, you must confirm that it can serve the purpose for a prolonged period. Remember, you don't want to waste your money as a business; you need to make good investment decisions.
Hence, get professional help, whether it means paying for consultation or getting help from a close friend with the necessary knowledge.
This will help you avoid making expensive purchases only for you to enjoy service for a short while.
7. Spare Parts Availability
Visiting one shop after another while searching for spare parts can be frustrating. Once you confirm the printer is top-quality and has a good maximum print size, you need to ensure it can be easily repaired in case of an unlikely occurrence. 
You need to ensure that business won't go to a halt just because the printer broke down.
Purchase a top-quality 3D closed-frame printer whose spare parts are accessible anytime and anywhere. This will save you time, allowing your business to keep operating regardless of the setbacks.
8. Returns
Making quality prints is a great way to attract clients to your company. However, if the machine can only perform a limited number of print jobs, it means you can only fulfill a specific number of customer orders.
This may limit you from maximizing your revenue and net profits. Hence, it's vital to evaluate how much a machine can handle before grabbing it. Here are some top 3D printers you can check for large-scale production.
Learn more about 3D Print Sizes and Different Types (video)
Frequently Asked Questions
What is the size of a 3D printer?
The size of 3D printers varies, depending on the machine you purchase. For instance, Dremel D320 measures 15.7 in by 19.1 in by 13.2 in or 48.5 cm by 39.9 cm by 33.5 cm, while the EOS 290 is 250 cm x 130 cm x 219 cm or 98.4 in x 51.2 in x 86.2 in.
Here are more machines and their dimensions:
Dremel 3D40 Flex 3D Printer – 16 in by 20.25 in by 15.5 in
Formlabs Form 3D Printer – 20.9 in by 15.9 in by 14.8 in
MakerBot Replicator+ 3D Printer – 16.2 in by 20.8 in by 17.4 in
Ultimaker S5 Pro Bundle 3D Printer – 47.1 in by 19.5 in
MakerBot Replicator Z18 3D Printer – 33.9 in by 19.4 in by 22.2 in
What is the biggest size a 3D printer can print?
The largest size a 3D printer can fabricate is 400 mm by 400 mm by 800 mm. This is the size of the Big-40 printer, making it the tallest volume of all printers. 
How much room does a 3D printer need?
Each printer has different measurements, meaning you need specific room dimensions to accommodate every 3D printer.
For instance, if you purchase a Dremel D320, which measures 15.7 in by 19.1 in by 13.2 in, you will require a room above these measurements.
You just have to leave enough space for easy movement and working.
How big of an item can a 3D printer make?
Mid-range large-format printers usually print physical objects of up to 30 by 25 by 30 cm, while some go to a maximum of 40 by 40 by 80 cm.
Can I put my 3D printer in my closet?
Yes, you can place your 3D printer in the closet. However, you must take some measures to ensure that the machine operates properly. An enclosure will preserve hot air, minimizing the chances of getting ABS print warps.
Can you 3D print overnight?
Printing 3D objects overnight is risky since the process is unobserved, which is unsafe. Therefore, most manufacturers and professionals recommend that you don't print overnight.
And while you can take risk-reduction steps, you don't eliminate the danger entirely. So, it's better to do the print jobs during the day for optimum safety or have someone monitor the process at night. 
How long can a 3D printer run?
A 3D printer can run for 24 hours, 35 hours, or even 200 hours, depending on the make of your machine. Generally, there is no specific time limit for 3D printers for most popular 3D printers.
Conclusion
Finding a fast and durable 3D printer is a great accomplishment for most printing companies. These machines offer top-quality large-format 3D printing products, boosting your business growth and customer retention.
They also help you achieve much in less time, saving you time and money. So, whether you want to print a 25 or 35-cm tall object, you can find the appropriate 3D printer for your print jobs. Moreover, depending on the object you are printing, you can choose from different material options. 
And suppose you get stuck settling for one of the top digital models, don't hesitate to ask for help in the comments below. Our professionals will guide you to purchase a suitable one for your function.
Picture in this post is by Xiaole Tao on Unsplash
Related to 3D Printer Size Chart