Apple iPhone Size Chart
This post was last updated on November 17th, 2022 at 05:23 pm
This apple iPhone size chart provides info on screen size, screen resolution, phone dimensions and weight of all iPhone models ever made. Apple has many iPhone versions, and they all come in different physical outlooks and sizes. Apple has always made small-sized phones about 4 inches to slightly below 7 inches. The larger phones of about 6-6.8 inches are the most recent ones.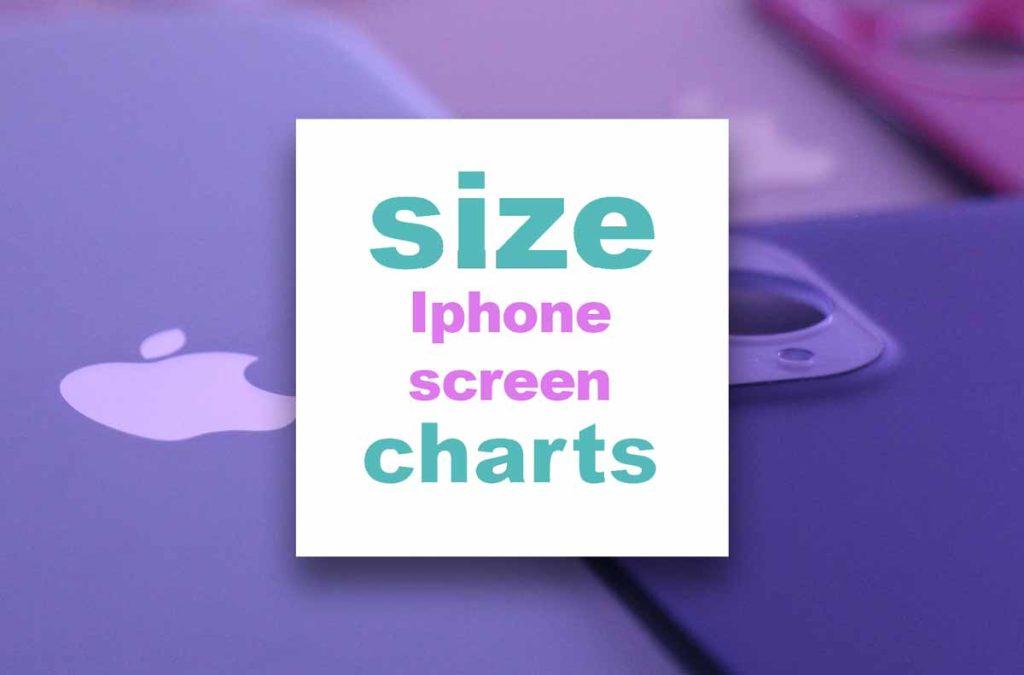 Depending on a person's preference, the size does not affect the quality but varies as per a person's needs. Therefore, an overview of the different iPhone Screen sizes on an Apple iPhone size chart enables easy comparison of the available phones. The iPhone sizes can help you buy the correct accessories like phone covers or screen protectors (iPhone screen protector sizes are reviewed here)
An extended Apple Ipad Size Chart you can find here , Imac 24 inch screen size chart you can find here
Find all Apple Watch sizes here!
Apple iPhone Screen Sizes Table of Content
How to Measure Your Apple iPhone Screen Size.
The screen size does not affect the quality of an iPhone, but it is important to note a few parameters like the iPhone display size, which is the measure of the diagonals of the phone screen in inches. Another consideration is the iPhone screen size(points), which is the size the device uses for coordinates, and it is useful when using CSS and JavaScript. iPhone rendered pixels are the complete number of pixels rendered, and it is the value when the multiplier is applied to the screen size in points. Finally, the iPhone physical pixel is the resolution of the screen.
If you have a specific question on Iphone sizes, check the faq section
Top 3 iPhones selected by size-charts.com
Unlocked
128 GB
Pacific Blue
6.7 inches
Unlocked
64 GB
Red
5.4 inches
Unlocked
128 GB
Red
6.1 Inches
The Apple iPhone Screen Sizes Chart
A preview of the iPhone 14 sizes you can find here
Related: Iphone 12 Pro size, Iphone 12 size, Iphone 12 mini size
Apple didn't use to offer many different iPhone sizes, but offers now Iphones, going from under 4 inches to almost 7 inches. However, the desired sizes are better suited to different people and to different use cases. So to get the right size iPhone, we list down each iPhone screen, and what type of user they're best working for.
iPhone sizing explained
Top 3 iPhones selected by size-charts.com
Image
Product
Features
Price

6.1-inch Super Retina XDR display
Cinematic mode 
Pro camera system with new 12MP Telephoto, Wide, and Ultra Wide cameras

Check Prices on Amazon

6.1-inch Super Retina XDR display
Cinematic mode
Advanced dual-camera system with 12MP Wide and Ultra Wide cameras

Check Prices on Amazon
iPhone Screen Resolution and Sizes
Apple iPhone Screen Resolution is expressed in Physical Widht-Height and Logical Width-Height. Physical pixels are the actual number of pixels in a device's screen. Logical pixels are defined as the number of physical pixels in an iPhone screen divided by the CSS pixel ratio (or CSS Scale Factor), and logical pixels are what you see when you look at iPhone Screen (and more importantly, what your browser sees)
Get yourself an iPhone
Recommended Retailers which offer iPhones, selected by Size-Charts
FAQ on Apple iPhone Size Charts
How do you calculate screen size?
You can easily measure the screen size of an Iphone taking the length from one corner of the screen to the opposite diagonal. A ruler is used for measurement in inches. A printable ruler you can download here
Why are Apple iPhones smaller in size?
Apple prefers the small and thin outlook for single-handed use; however, there is a preference for large phones, but Apple maintains the smaller size in their phones as a trademark. Apple Iphone does offer bigger size phones named MAX like iPhone 13 PRO MAX. Apple phones have remained smaller compared to the other competitor phone companies.
What is the best resolution for an iPhone?
The best Resolution is very user and case specific. As an example, iPhone 11 and 11 Pro are good for shooting videos and taking photos. The two iPhones give images that are truer to life compared to other phones. The iPhone can record at 720p, 1080p and 4K resolutions. 4K resolution is the best choice for the absolute best video image quality. If you are concerned about phone storage, the recommended is 1080p or even 720p. Check all iPhone screen resolutions in the above Size Chart
What is the best iPhone size?
iPhones initially did not have a significant variation in sizes, but lately, they vary from below 4 inches to about 7 inches. The iPhone XR to the most recent iPhone 12 (size 6-6.7 inches) are unsuitable for one-hand operation but are suitable for providing a large view. 5-6inches is smaller in size and thus provides easy single-handed operation. 3-5 inches are mostly the old iPhones, and they use LCD, which makes them inferior to the latest iPhones.
Why is Apple moving to a 4-inch phone again?
The iPhone SE is a 4 inch phone and is intended for people who prefer the smaller-sized iPhone. The development enables the clients to have an up-to-date phone that suits their small-sized phone preference. Apple still produces the larger phones like the iPhone 12 pro max, but their price is too high compared to the iPhone SE, which costs about $500. Thus, it enables an easy transition for people using cheap android phones to apple.
How is the AMOLED screen different from the one already on the iPhone?
AMOLED stands for Active-Matrix Organic Light Emitting Diode. The LCD screens have a backlight, but the AMOLED does not. AMOLED screens are thinner and provide vivid images than the actual hues in LCD. Also, it saves power since there is no backlight, but it is less visible in light compared to LCD due to the backlight. The technology of the screen doesn't affect the iPhone Size though.
What is the screen size for iPhone 12 pro?
iPhone 12 pro has a display screen of 6.1 inches, resolution of 1170× 2532 pixels, and view port density of 390×844 pixels
What iPhone has a 6.1-inch screen?
iPhone 12 Pro and iPhone 13 Pro have a 6.1-inch all-screen Super Retina XDR display. The screen size and screen protector or iPhone cases are the same for both iPhone 12 and 13 Pro.
What is the iPhone screen size ratio?
A current iPhone has a 19.5:9 aspect ratio, whereas an iPad has a 4:3 aspect ratio. Although you can scale your photos to fit the screen, you must scale them equally on the horizontal and vertical axes, which is why the aspect ratio is crucial. If not, the photos appear warped.
What iPhone has a 6.7-inch screen?
iPhone 14 Plus, iPhone 13 Pro Max and iPhone 12 Pro Max come in a 6.7 inches screen diagonal size.
Samsung Galaxy phone size, Google Pixel 6a Size,
Picture in this post by cottonbro via Pexels.
Discover more Screen Size Charts