Apple Watch 8 Size Guide vs Other Apple Watch Series
This post was last updated on March 22nd, 2023 at 08:48 pm
With so many people already buying Apple Watches, there's no doubt that series 8 will be a hit (skip straight to the Apple Watch Series 8 Size & Specs Chart).

Apple is also said to be working on a new feature that allows users to take ECG readings without wearing a chest strap. While Apple has not confirmed any of these rumors, it's safe to say that the Series 8 will be an iterative update to the existing Apple Watch line.

So this article is all about what we know so far about the upcoming watch. Read on!
While The Apple Watch Series 8 is still months away from its launch, this next Apple smartwatch is already the talk of the town.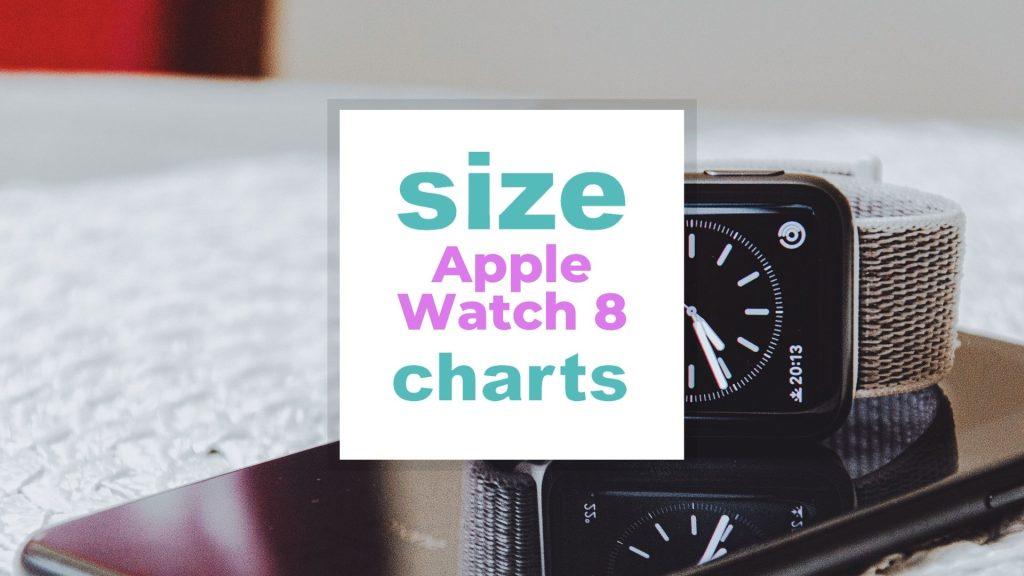 Apple Watch Series 8 Size Summary
Weight: 35g
Material: Aluminum
Shape: Rectangle
Size: 1.77 in 45mm
Resolution: 454 x 380 pixels
RAM/Inbuilt Memory: 1 GB/32 GB
Screen: Color OLED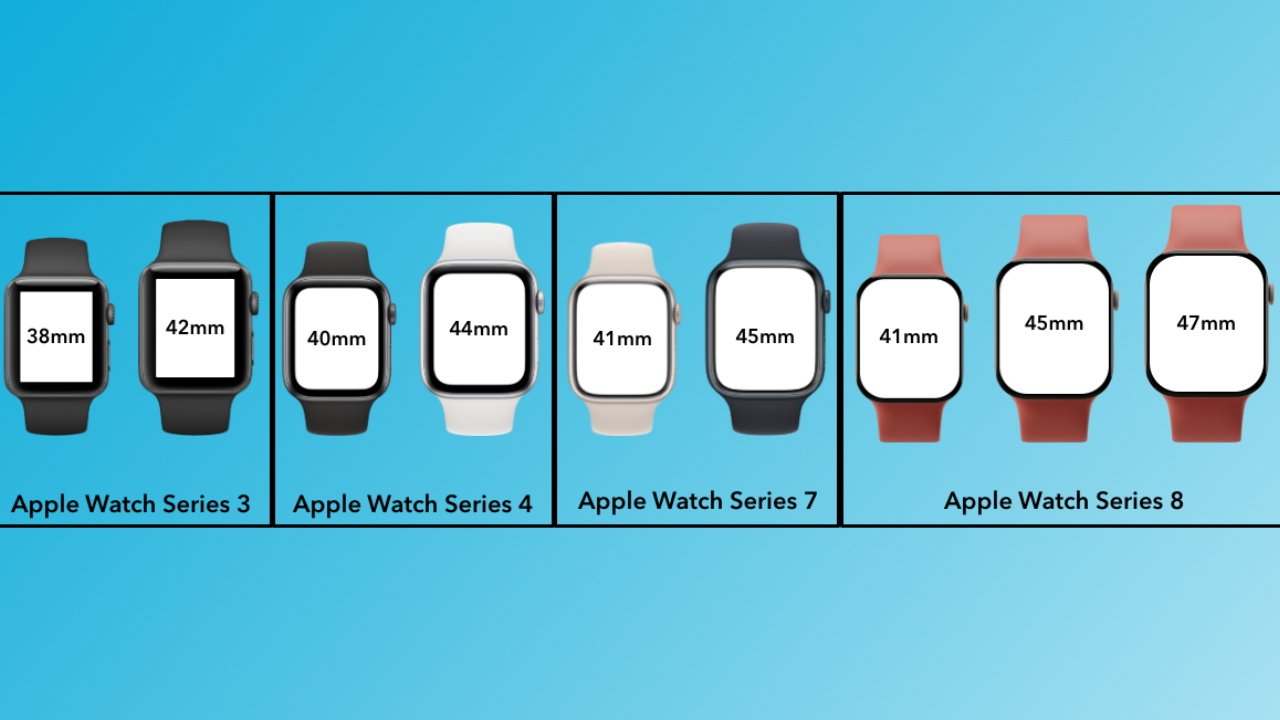 Related: Apple Watch size and dimension: all Apple Watch series explained, Apple View VR Size and dimensions of Apple's first VR Headset, Apple iPhone Size Chart
Apple Watch 8 Table of Contents

Apple Watch Series 8 Screen Size
The Series 8 will come with a bigger display than the Series 7. This year, Apple increased the size of its two models from 40mm to 41mm and 44mm to 45mm.
The larger model has a 1.9-inch screen, up from the 1.78-inch screen of the predecessor, and the new watches also boast slimmer bezels. Leaks still don't specify the display size.

Nevertheless, given that the Series 7 is the first model to have a bigger display in three years, it is best to take the rumor with a grain of salt.

Apple also has not revealed the position of the 3rd variant in the lineup. Previously, Apple has also sold 42mm and 38mm watches.

Size Options
Apple could add a third size to the existing 41mm and 45mm options for the Apple Watch Series 8 to make it available in three rather than just two sizes.
Comparison to other releases
| | | | | |
| --- | --- | --- | --- | --- |
| Feature | Series 8 | Series 7 | Series 6 | Series 5 |
| Dimensions (cm) | 45 x 38 x 10.7 mm | 45 x 38 x 10.7 mm | 44 x 38 x 10.4 mm | 44 x 38 x 10.7 mm |
| Dimensions (in) | (1.77 x 1.50 x 0.42 in) | (1.77 x 1.50 x 0.42 in) | (1.73 x 1.50 x 0.41 in) | (1.73 x 1.50 x 0.42 in) |
| Weight | 35 g | 42.3 g (41mm), 51.5 g (45mm) | 47.1 g | 47.8 g |
| Size | 1.61 in | 1.9 inches | 1.78 inches | 1.78 inches |
| Resolution | 454 x 380 pixels | 484 x 396 pixels | 448 x 368 pixels | 448 x 368 pixels |
| Chipset | Apple S8 | Apple S7 | Apple S6 | Apple S5 |
| Battery | Li-Ion 315 mAh | Li-Ion 309 mAh | Li-Ion 303.8 mAh | Li-Po 296 mAh |
An easy start to the guide – the Wrist wearable Apple will launch this year will almost certainly be called Apple Watch Series 8. Nine models have been released till now, and only two (The cheaper Apple Watch SE, and the original Apple Watch) don't have their names derived from the word "Series" and a number.

Coming to SE, however, we may possibly get a second or even a third model released with a different name alongside Series 8. In addition to a second-gen SE, there are possibilities for "Apple Watch Pro".

Multiple rumors about Apple Watch Pro have been going around in recent months. They are not as far-fetched as you may think.

Apple release schedules are quite regimented, especially regarding Apple Watches. Even when the pandemic was at its peak that delayed the iPhone release till October, Apple still released the Watch Series 6 in September 2020, as it has been doing in the past years. The dedication appeared to be the same with the release of the Apple Watch Series 7.

Even though the Apple Watch Series 7 was not released until mid-October amid rumored production issues, the wristwatch was still unveiled alongside the iPad and iPhone in September 2021.

Although we don't have any specific date for Series 8 release, Bloomberg's Mark Gurman predicts that the year 2022 is going to be the biggest in Apple Watch history with 3 Apple Watch models scheduled for launch sometime during the second half of 2022; Series 8, Apple Watch SE variant, and a new Extreme Edition Apple Watch.
Apple Watch Series 8 Size Introduction (video)

Apple Watch Series 8 Design
Apple Watch Series 7 was not exactly what we imagined it before the release. It arrived in a bigger display, faster charging, and some new colors, though otherwise, it's the same as the Apple Watch Series 6, from sensors to the chip.

Before Apple Watch Series 7 was released, multiple rumors were suggesting that Apple is developing a new design that will have flat edges just like the iPad Pro and iPhone 13's flat edges, but now, everyone knows that these rumors were lies. 

As per the current rumors, the Apple Watch Series 2022 may have a flat display and a similar design. There is a "high chance" that the Series 8 will feature a flat front glass display.

If this somehow happens, the new Apple Watch Series could have the flat-edged style design that was rumored initially for the Series 7.
Perhaps a more radical suggestion is that Apple could introduce a completely new Watch model this year. It has been claimed that along with Series 8 and the updated Watch SE, the Cupertino company also plans to release a unique 'rugged' Apple Watch editing made with sports lovers in mind. According to reports from Bloomberg, this stronger Watch will reportedly have a rugged design featuring a protective casing and impact shock resistance, just like a G-Shock Watch. We would love to see how this Watch will go practically, and how it'll differ from the aesthetic of a typical Apple Watch.
Apple Watch Series 8 Price Rumors
Most people having their eye on Series 8 are curious to find out the Apple Watch Series 8 size and price. All rumored information about the Series 8 screen size is discussed above, so now, the price for it is discussed.

At this stage, there has not been any official announcement from Apple on the price of Series 8, and no reliable leaks are regarding the price either.

However, like the yearly release cycle being the same, we expect the base model of the Series 8 to start at the same pricing as Series 4 to 7: $399 (US).

If Apple launches a lower-cost Watch SE 2 with the Series 8, it's probably going to cost $279, just like the first edition.
Conclusion
So, what do you think? Will you be buying the new Apple watch when it comes out? We'd love to hear your thoughts in the comments section below. And if you have any questions about the size or other features of the upcoming watch, don't hesitate to ask. We hope this article was helpful and we can't wait to see what new features Series 8 has in store!
Picture in this post is by Luke Chesser on Unsplash
Related to Apple Watch Series 8 Size Guide