Summer Dress Plus Size Fitting Guide for Maxi Women
This post was last updated on March 22nd, 2023 at 08:54 pm
When most people imagine the everyday wardrobe of plus-size casual dresses, they usually picture a flowy summer dress like a boho dress. Little do we know that casual summer dresses can come in any cool style. While the boho dress is one of the most popular summer styles due to its aesthetic appeal and ease of use, it is not the only possibility (skip straight to the summer dress plus size chart).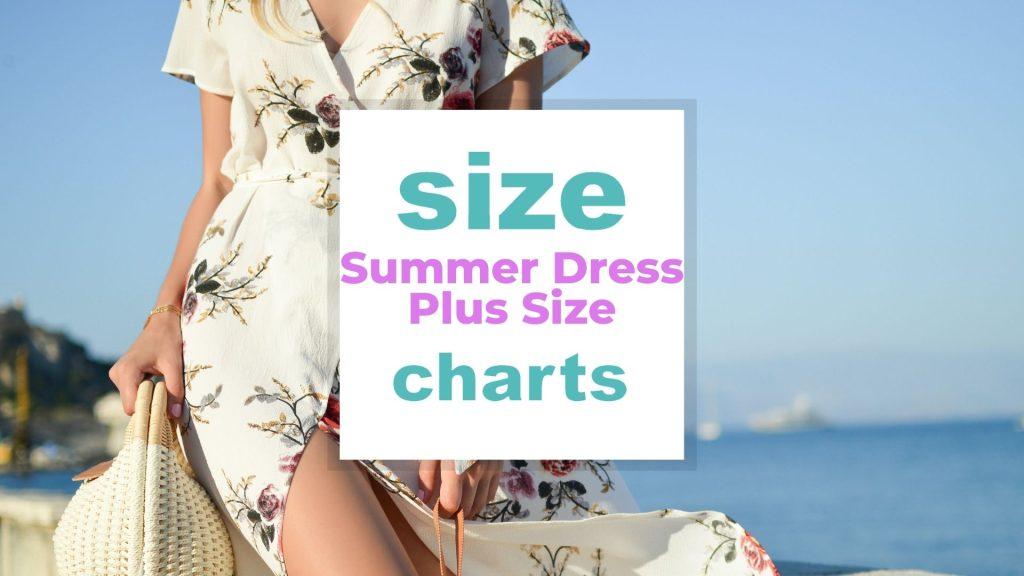 Jump right to the Frequently Asked Questions
Related: Plus size Intimates Size Chart for your lingerie, Bra plus size chart, Sexy Lingerie Plus Size Chart for Women, Prom Dresses Plus Size Chart for an important night-out!, Dress Plus Size Chart and Fitting Guide for curvy women
Table of content of Summer dress plus size charts
What are summer dresses?
Related: Homecoming Dress Plus Size Guide for girl's on a night out!, Plus Size Corsets Sizing Guide
A sundress or summer dress is an informal or casual dress intended to be worn in warm weather, typically in a lightweight fabric, most commonly cotton, and usually loose-fitting. It is commonly a bodice-style sleeveless dress, typically with a wide neckline and thin shoulder straps, and may be backless. A sundress is typically worn without a layering top and is not usually worn over a blouse, sweater, t-shirt, or with leggings.
Killer summer dresses range from casual summer outfits such as boho and cable-knit dresses to chic ones like flared jeans and denim dresses. Any woman with a bust of more than 36 inches (91 cm), a waist of more than 28 inches (71 cm), and a hip of more than 38 inches (97 cm) is a bonafide member of the plus-sized beauty. In fact, she needs a combination of any two of the measurements above.
Summer Dresses Haul for Plus-size Women (video)
Why is knowing the right size important?
Related: Plus Size Charts And Styling Guide, Costume Plus Size Fitting Guide, and Tips for men and women
There is no consistency across labels in dress sizing. What is an"8" in one label may be a "10" or a "12" in another. Sizing in women's clothing is almost arbitrary and mostly meaningless. When buying any type of clothing, always size up. If you don't properly fit into any size, always buy the next bigger size. It's not that you won't lose weight or eventually fit into the smaller size, but the larger size is the better investment.
Size Chart For Summer Dress Plus Size
Related: How to Measure Your Body for Clothing Sizes
In the fashion industry, plus size is identified as sizes 18 and over, or sizes 1X-6X, and extended sizes as 7X and up. Plus sizes are sizes 14W – 24W. Super sizes and extended sizes are used interchangeably for sizes 26W and above. Sometimes the size 26W is included in the plus size.
A relatively new alternative term for plus size (or large size) gaining consumer and editorial favor is curvy. In current media use, while curvy can appear less offensive, it appears to associate with a younger style of dressing than plus size or larger size when used as a general reference term.
In case you ever come across the word "curvy", it doesn't necessarily mean the body shape has to be curvaceous.
| | | | | | | | | |
| --- | --- | --- | --- | --- | --- | --- | --- | --- |
| Labeled Size | US Size | UK Size | Bust (In) | Waist (In) | Hips (In) | Bust (Cm) | Waist (Cm) | Hips (Cm) |
| L | 14-16 | 16-18 | 37-40 | 28-31 | 39-41 | 93-102 | 71-79 | 99-104 |
| XL | 16-18 | 18-20 | 38-41 | 29-32 | 40-42 | 97-104 | 74-81 | 101-107 |
| 1X | 18-20 | 20-22 | 39-42 | 31-34 | 41-44 | 99-107 | 79-87 | 104-112 |
| 2X | 20-22 | 22-24 | 42-45 | 34-37 | 44-47 | 107-114 | 87-94 | 112-119 |
| 3X | 22-24 | 24-26 | 45-48 | 37-40 | 47-50 | 114-122 | 94-102 | 119-127 |
| 4X | 24-26 | 26-28 | 48-51 | 40-43 | 50-53 | 122-130 | 102-109 | 127-135 |
| 5X | 26-28 | 30-32 | 51-54 | 43-46 | 53-56 | 130-137 | 109-117 | 135-142 |
| 6X | 28-30 | 32-34 | 54-57 | 46-49 | 56-59 | 137-145 | 117-124 | 142-150 |
How to Choose the Right Women's Plus Size Summer dress
How do I know my size in a plus-sized summer dress?
Related: How to Measure Your Body for Clothing Sizes
Proper sizing is critical when purchasing summer dresses to ensure that it is not too tight or loose, but just for comfort and sexiness. You will need the following items to measure yourself for a plus-size garment:
A measuring tape
A full-length mirror
A well-fitting pants
The bust size, waist size, and hip size are the three most crucial clothing measures.
The Bust Size
Measure the widest region of your chest with the measuring tape around your back at band level. To avoid measurement errors, make sure the measuring tape is parallel to the ground.
Take a deep breath in and out and check that the tape is securely fastened to your body; it should not be excessively tight or fall off. In inches, round up to the next whole number.
The Waist Size
In the position where your pants are generally worn, measure around your body. Make sure your measuring tape is level with the ground. Another method is to take the circumference of a pair of well-fitting jeans' waistline.
The Hips Size
Remove your clothing, place your feet together, and snugly wrap a soft measuring tape around the broadest part of your hips. Your hip measurement is where the end of the tape meets the remaining length. To achieve the most exact measurements, you may need a full-length mirror.
Plus-sized Summer Wardrobe
Related: Plus Size Coats Sizing Guide for men and women, White dress plus size guide, Wedding Dress Plus Size Guide And Fitting Tips, Mother of the bride plus size dress size charts
A bunch of summer dresses makes for great plus-size casual mini dresses. Good plus size dresses for cool summer nights include the babydoll mini dresses and the classic t-shirt dress. Other options for a cute summer mini dress include the bodycon mini dress, the shoulder mini dress, and the plus-size tie knot t-shirt dress. 
A classy outfit for summer includes the classic plus-size black dresses and embroidery-related accessory offers such as the green lace dress. These curve dresses are usually the first choice among plus-size evening dresses.
An exotic option for a beautiful outfit ranges from a cute outfit (something childish) to more fit dresses (something more erotic and "adult"). Allow us to just mention some contemporary trends from the casual wardrobe of the typical plus-size fashionista. The plus-size flowy leopard dress, the bodycon dress, even the t-shirt dress, and a pair of waisted shorts can be worn in an exotic manner. The belted skater dress, the plus-size maxi dress with pockets, the figure-hugging curve dress, and the plus-size chiffon print dress. 
Floral print sleeveless dresses can be in the form of either flowy or fitted plus-size dresses. A front-runner in the sleeveless family is the plus-size spaghetti strap dress. If you need something more clingy, the essential-clinch-waist Allegrace plus-size wrap dress and plus-size ruffle dress are both great options for the plus-size woman.
Summer Dress Plus Size Inspiration (video)
Frequently Asked Questions
What is the best summer dress for a plus-size apple shape?
The perfect summer dress for a plus-size woman with an apple-shaped body is usually an asymmetrical dress with bold patterns or floral patterns, usually in various colors.
An A-line dress, floral ruffle wrap dress, empire-line dresses, and bias-cut styles are also great summer dresses for women.
Any combination of styles that takes attention away from the mid-riff by visually lifting the bust makes a good casual dress.
Does an asymmetrical plus-size summer dress look good?
Yes and No. You have to consider your body shape. Asymmetrical summer dresses are good for any plus-size woman only when you add other pieces of attire such as active hair accessories.
What size is the summer dress plus size 6X?
A dress size of 6X is the same as size 36 or size 3XL. It is made for a woman with a bust of 50 to 60 inches and a length of 54 inches.
Conclusion
Plus-size dresses are a versatile piece of fashion in the United States and the world as a whole. Several shop outfits are available in the plus size cutout trend. Several shops offer an introductory discount per customer to new customers and offer associate discounts for buying a specific number of items.
Cute summer dresses are easier to find than you think, leave a comment and share the article, it might help you gain additional discounts as you buy in larger numbers.
Related Articles Summer Dress Plus Size