Tops Plus Size Chart and Styling Ideas for Curvy Women
This post was last updated on September 3rd, 2023 at 04:19 pm
A top is an item of clothing that covers at least the chest, but which usually covers most of the upper human body between the neck and the waistline. The bottom of tops can be as short as mid-torso, or as long as mid-thigh. Common types of tops are t-shirts, blouses, and shirts (skip straight to the tops plus size chart).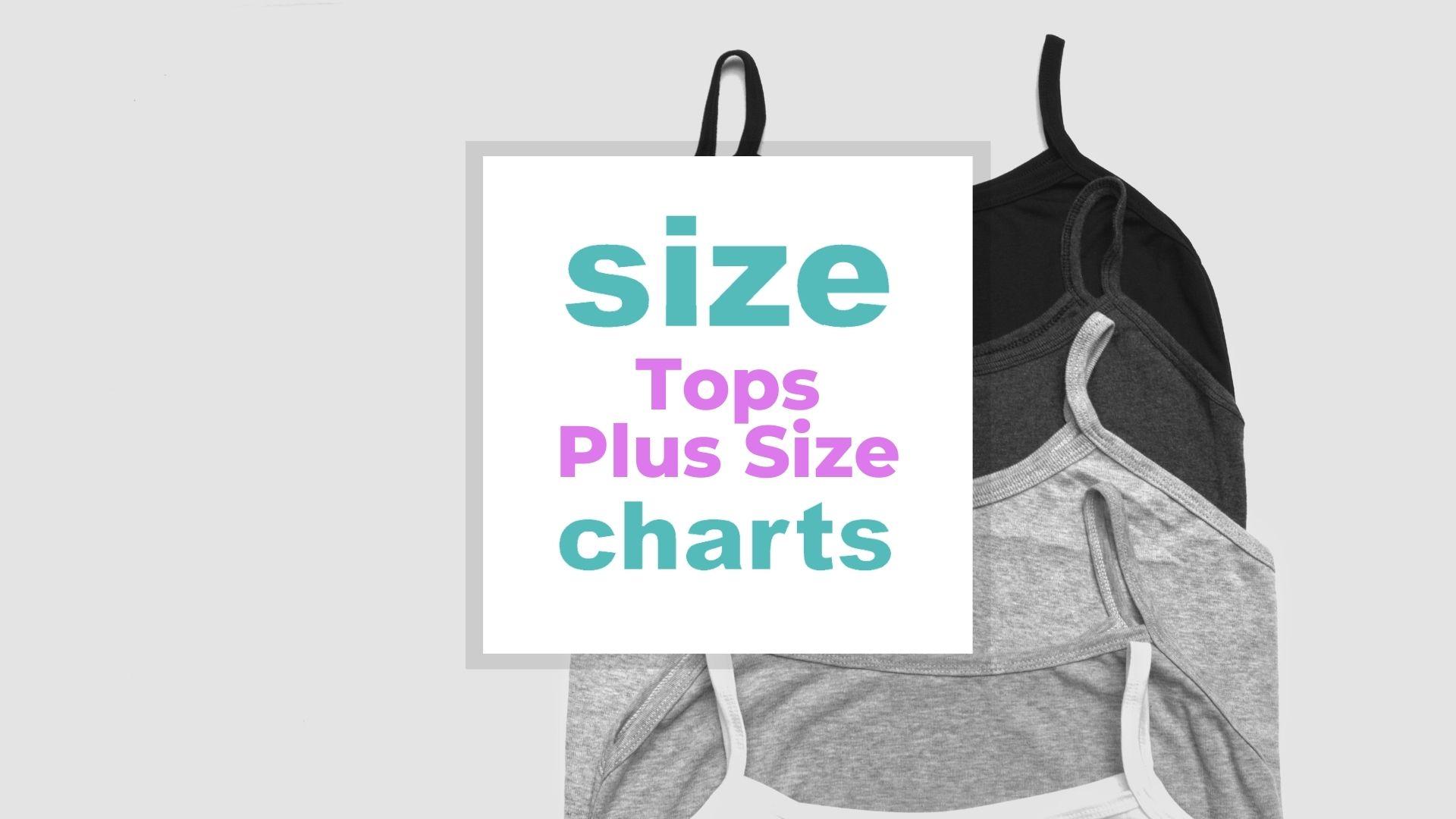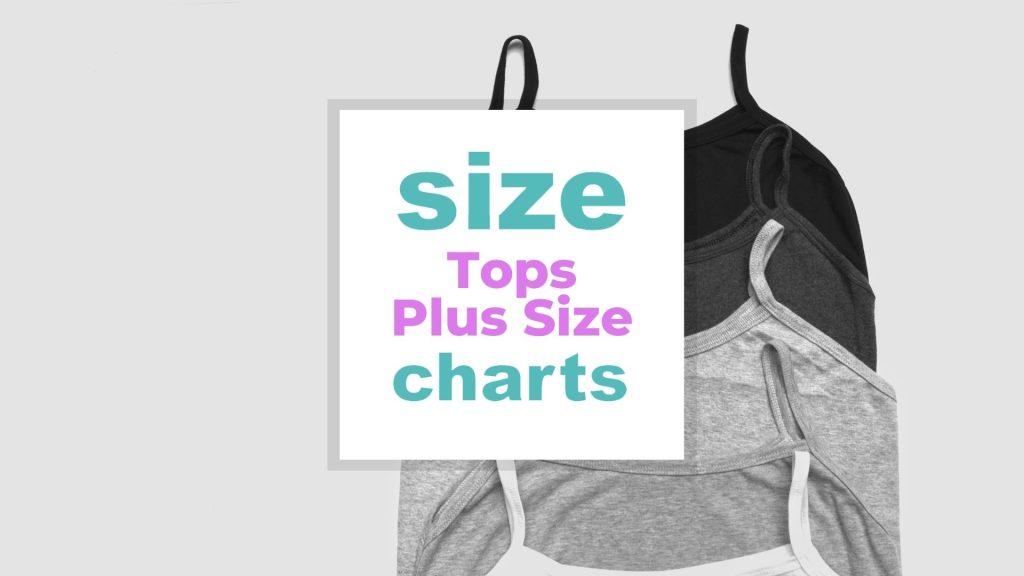 Skip straight to the Frequently Asked Questions
Related: Plus size Intimates Size Chart for your lingerie, Bra plus size chart, Sexy Lingerie Plus Size Chart for Women, Prom Dresses Plus Size Chart for an important night-out! Dress Plus Size Chart and Fitting Guide
Tops Plus Size Table of Content
What are plus-size tops?
A plus-size top is any top proportioned specifically for people above the average clothing size. The term's application varies, but in the fashion industry, plus size is identified as sizes 18 and over, or sizes 1X-6X, and "extended size" as 7X and up.
Why is the right size top important?
Related: Homecoming Dress Plus Size Guide for girl's on a night out!, Plus Size Corsets Sizing Guide, Swimwear Plus Size Fitting Guide for kids, men and women, Plus Size Jeans Size and Fitting Guide for men and women
There's nothing wrong with wearing tight clothes, no matter your body shape. But while clothes that hug your body can look and feel great, too-tight clothing can have some negative health effects.
Clothes can hug the body and still feel comfortable. But when they start to cause physical discomfort, you've likely reached the realm of "too tight."
Common issues that crop up when wearing an overly tight top include irritation and pain. Tight-fitting plus-size going-out tops have the capacity, when 'too tight,' to put additional stress on the stomach and intestines. Tight clothing can cause a type of spinal nerve compression.
Loose tops on the hand have another set of problems. Loose-fitting plus-size blouses are rather large and will not fit tightly on your body.
Straining to compensate for loose tops may increase your risk of developing a repetitive stress injury. Loose plus-size shirts are also more accident prone because there is just all that extra garment.
An overly large flare sleeve or angel sleeve is easier to catch fire, or get caught in things ranging from door handles to furniture.
Size Chart For Plus-size Tops
Related: Plus Size Charts And Styling Guide, Costume Plus Size Fitting Guide, and Tips for men and women
Sizes that fall under plus-size are as follows, with body measurements in inches and centimeters
| | | | | | |
| --- | --- | --- | --- | --- | --- |
| International Size | US Size | Bust (In) | Waist (In) | Bust (Cm) | Waist (Cm) |
| L | 12/14 | 38-42 | 32-35 | 96-106 | 81-93 |
| XL | 16/18 | 42-45 | 35-38 | 106-115 | 93-101 |
| XXL | 20 | 46-48 | 39-40 | 116-122 | 101-104 |
| 1X | 14W/16W | 42-45 | 34-36 | 106-114 | 86-91 |
| 2X | 18W/20W | 45-49 | 36-41 | 114-124 | 91-104 |
| 3X | 22W/24W | 49-53 | 41-47 | 124-134 | 104-119 |
| 4X | 26W | 53-55 | 45-49 | 134-140 | 114-124 |
How To Choose The Right Plus-size Top
Related: White dress plus size guide, Wedding Dress Plus Size Guide And Fitting Tips, Mother of the bride plus size dress size charts
Measure yourself and then follow your instincts. Once you have the right size measurements, the rest is easy to do. The daily wardrobe of any plus-size woman depends on her favorite styles. Favorite styles are influenced by body shape and individual styles of clothing. Let's begin with body shape.
Inverted triangle shapes are the focus of many diverse-owned brands. Calvin Klein and MSK Plus sizes are favorite brands among these types of women. Cold shoulder tops (half shoulder/single sleeve) and crew neck tank tops look great on this shape, thanks to broader shoulders.
Rectangle shapes and apple shapes have the most eligible items. Once again Calvin Klein comes to the rescue with a wide variety of plus size halters and a well-tailored Calvin KleinPlus size solid side. The Calvin KleinPlus size high-low button tops with different types of combo sleeves have been a great success and are well preferred among these selections of women.
Moving on to style, personal style is easier to deal with because you just have to buy whatever you like. Popular major styles include tank tops. Essential tank styles that you must try out include the neck swing tank, pleated challis tank, race back tank, and halter tank with side slits. Crewneck Tank Plus Size Croft & Barrow is a good day shop to start your tank top shopping. There are even promo codes for a qualifying purchase.
Apart from the shape of the top, another styling element of tops is how they enter the body or how the body enters them. Simply put, the neck is important. In this segment, crewneck & v-neck styles are popular. Other choices include a flutter sleeve v-neck floral top and a flutter sleeve v-neck tee.
The next thing to consider is the sleeves. Popular sleeve styles include the bell mess sleeve, the asym hem elbow sleeve, and the flutter sleeve too with lace.
If one were to go free spirit and experiment with a mixture of all factors, they would arrive at some interesting tops. Popular tops that mix a bit of everything together include the knot detail blouse, scoop neck elbow sleeve tee, Jona long sleeve silk blend blouse, the CollectionPlus PonchoTop, the CoPlus size tie-dye top, and even the Calvin Klein plus size animal-print logo hooded accessory offers.
Here's some inspiration for plus-size outfits (video)
How To Measure For A Plus-size Top
Related: How to Measure Your Body for Clothing Sizes
When it comes to plus size tops, it is only important that the garments fit your torso and bust and also of great importance that the sleeve length is correct.
Bust: Measure the circumference around the body over the fullest part of your chest. A healthy woman's chest is the largest part where her breasts are the largest and her ribs are the widest. Make sure the measuring tape is parallel with the floor all the way around.
Waist: Measure the circumference around the body at your natural waistline. Your waistline is the narrowest/slimmest part of your torso.
Arm/sleeve length: Measure from the back of your neck. Measure via your shoulder and elbow. Stop at wherever you want the sleeve to stop. This is your sleeve length. Note that another person best measures sleeve length.
More tips on how to measure yourself for plus-size clothing
Frequently Asked Questions
Are there plus-size tops with bras?
Yes, there are. The most popular of these are camisoles with a built-in bra for larger sizes. Plus-size tank tops are also popular.
Can plus-size tops be worn at Christmas or at a wedding?
Yes, they can. Plus-size tops can be worn at all types of events. Events ranging from jovial and casual to seasonal and formal can all be attended by tops and not necessarily dresses or gowns.
Conclusion
Use a regular size chart up to size XL. After that, our Plus Size Chart found below is the right size chart! Plus size 1X is slightly larger than a "regular" XL. In the United States, the sizes are split into two; a slightly smaller one and a slightly larger one. We have put both the smaller and larger sizes side by side.
Picture in this post by Mikelya Fournier on Unsplash
Related to Tops Plus Size Chart