Dress Plus Size Chart and Fitting Guide for Curvy Women
This post was last updated on March 17th, 2023 at 08:35 pm
Whether you're searching for a professional dress for your next interview, a great trendy dress for a date, or a casual sunshine dress for a day out with friends, finding the correct dress can be difficult. Even when designers get their sizes right, they make the mistake of thinking all women of size have the same shape, which makes it difficult for slim women in sizes 8-10 to find the correct dress (skip straight to the dress plus size chart).
Plus-size women, on the other hand, have an even harder time finding the appropriate dress because most designers don't take them into account when designing outfits. As a result, plus-size ladies must settle with less stylish or flattering outfits.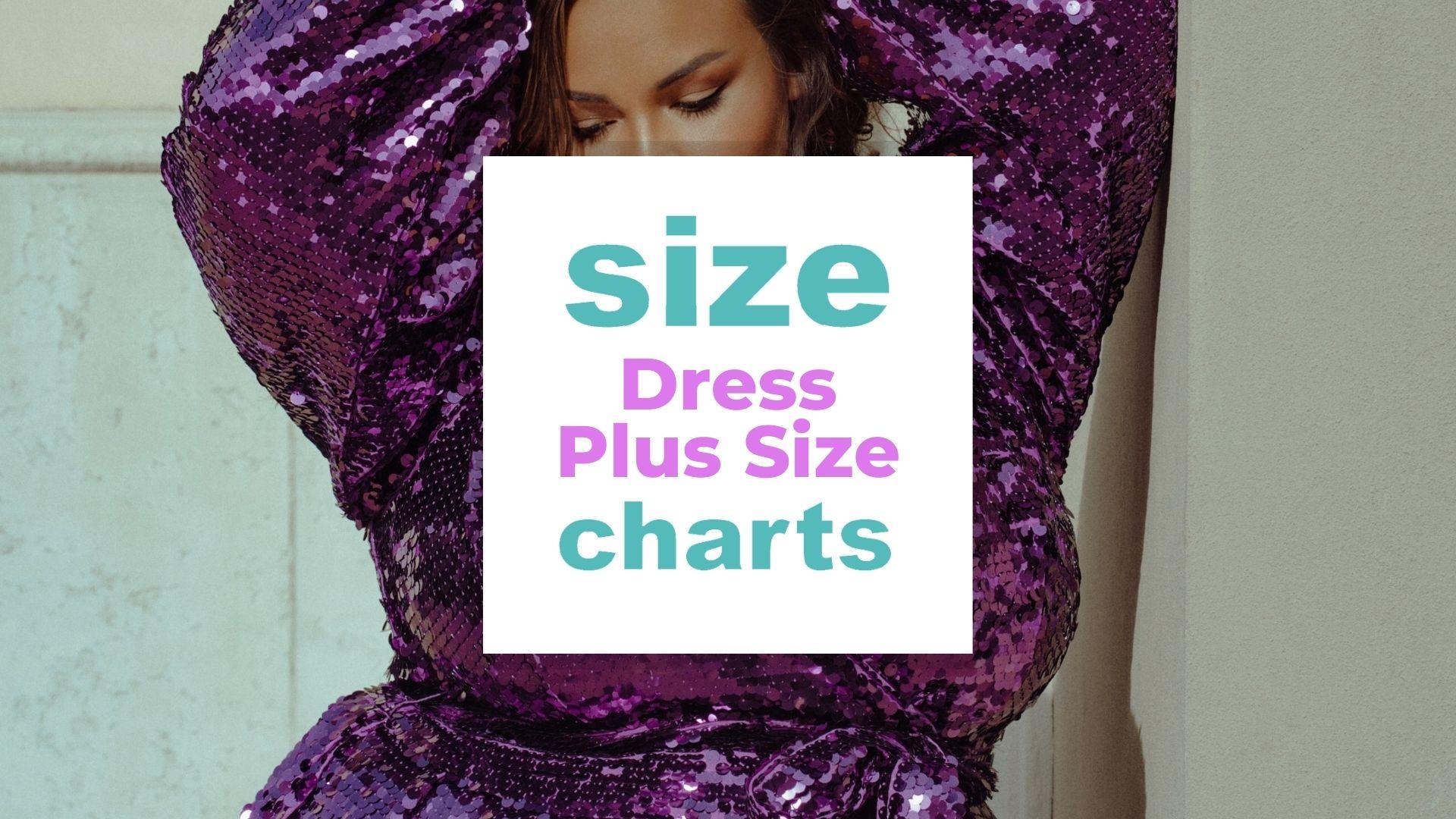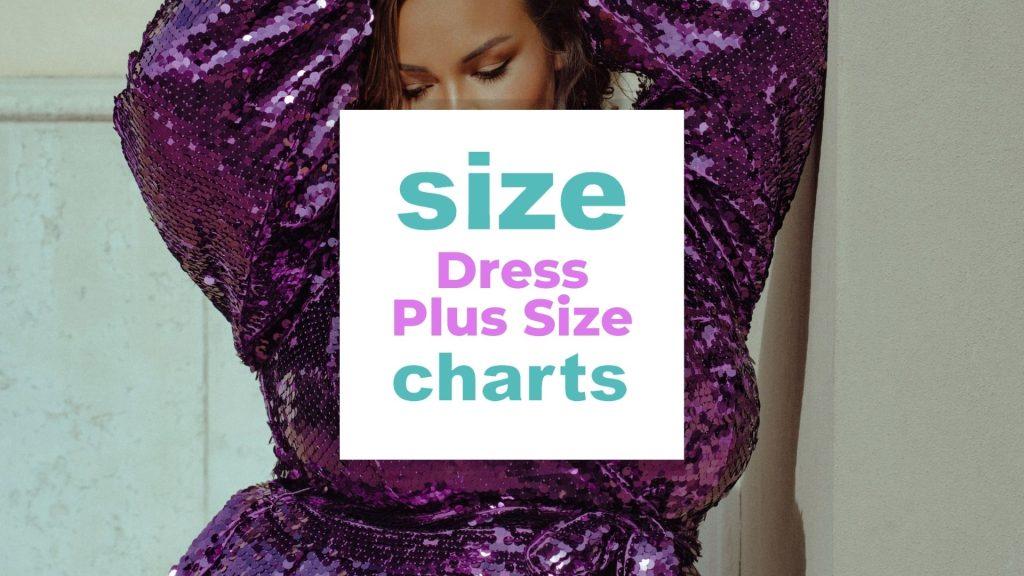 Related: Plus size Intimates Size Chart for your lingerie, Bra plus size chart, Sexy Lingerie Plus Size Chart for Women, Prom Dresses Plus Size Chart for an important night-out!
Dress Plus Size Table of Contents
Why is a plus size chart important?
Related: Homecoming Dress Plus Size Guide for girl's on a night out!, Plus Size Corsets Sizing Guide
Designers have recently recognized this significant gap in fashion and have begun to create plus-size dresses, with more plus-size dress retailers opening every day.
Nonetheless, because there are no conventional sizing recommendations for plus size ladies, finding the proper size dress (formal dress, flare dress, midi dress, ruched maxi dress, halter mini dress, black dress, Angel Sleeve chiffon midi dress, Salma tunic dress, stylishly maternity maxi dress, frill hem plain dress, or bodycon midi dress) can be challenging. Most stores and designers don't take the time to assure proper sizing, making it difficult for women to figure out what size dress is right for them.
A size chart is useful for assisting plus-size ladies in selecting the suitable size dress based on their own body measurements rather than relying on the dress retailer. It is especially crucial when purchasing gowns online because it relieves the burden of having to return garments that are the wrong size after purchase.
A dress size chart is included in this article. It also has some commonly asked questions and instructions on utilizing the chart by taking your body measurements.
Plus Size Dress Chart
Related: Plus Size Charts And Styling Guide, Costume Plus Size Fitting Guide, and Tips for men and women
| | | | | |
| --- | --- | --- | --- | --- |
| International Sizing | US Sizing | BUST (in, cm) | WAIST (in, cm) | HIPS (in, cm) |
| L | 10W | 37.5″ 95cm | 32″ 81cm | 39″ 99cm |
| XL | 12W | 39.5″ 100.3cm | 34″ 86cm | 42″ 107cm |
| 1X | 14W | 41.5″ 105cm | 36″ 91cm | 44″ 112cm |
| 1X | 16W | 44″ 112cm | 38″ 97cm | 46″ 117cm |
| 2X | 18W | 46.5″ 118cm | 40″ 102cm | 48″ 122cm |
| 2X | 20W | 49″ 124cm | 42″ 107cm | 50″ 127cm |
| 3X | 22W | 51″ 130 | 44″ 112cm | 52″ 132cm |
| 3X | 24W | 53″ 135 | 46″ 117cm | 54″ 137cm |
How to Choose the Right Size Dress
Related: How to Measure Your Body for Clothing Sizes
When buying clothes, it's important to have the perfect size so it's not too tight or loose, but just for comfort and fitting. To measure oneself for a plus-size dress, you'll need the following items:
A tape measure
Mirror with full length
Pants that are well-fitting
The bust size, waist size, and hip size are the three most crucial clothing measures.
The Bust Size
Measure the largest part of your chest with the measuring tape across your back at band level. Make sure the measuring tape is parallel to the ground to avoid measurement errors.
Check sure the tape is securely connected to your body by taking a deep breath in and out; it should not be too tight or fall off. Round up to the next entire number in inches.
The Waist Size
Measure around your body in the position where your pants are usually worn. Ensure that your measuring tape is parallel to the ground. Another option is to measure the circumference of the waistband of a pair of well-fitting jeans.
The Hips Size
Remove your clothes, stand with your feet together, and wrap a soft measuring tape over the widest region of your hips. Where the end of the tape meets the remaining length is your hip measurement. A full-length mirror may be required to obtain the most precise measurements.
More related to how to measure plus size body (video)
Can you rent a plus-size dress?
Related: Plus Size Coats Sizing Guide for men and women
Yes, you can rent a plus-size flattering dress from a business online or in person. Some rental shops specialize in certain types of dresses. However, most retailers that rent out plus-size dresses tend to rent out formal clothes (such as an evening dress in various comfortable dress styles) for parties and wedding dresses.
You can also rent a plus-size casual dress (such as a floral dress, a floral ruffle wrap dress, a full-length maxi dress, a hutch ruffle wrap maxi dress, a halter neck maxi dress, or a halter corset midi dress) and even corporate gowns for business gatherings.
Get inspired with this style guide for plus-size women (video)
Are there plus-size wedding dresses?
While it is general knowledge that wedding gowns run two sizes smaller than your regular size, numerous stores provide plus-size wedding gowns for plus-size brides.
However, it is always crucial to conduct your homework because some wedding stores are known for exclusively selling dresses for slim brides, and doing your research ahead of time will save you time and effort.
Related: White dress plus size guide, Wedding Dress Plus Size Guide And Fitting Tips, Mother of the bride plus size dress size charts
Conclusion
Hopefully, this article was informative. Remember that the easiest way to determine your exact size is to take your measurements.
Many women believe that looking fashionable is crucial because it enhances their confidence whether they are attending a casual, corporate, or formal occasion. As a result, it's no surprise that plus-size women find it aggravating when they can't find the correct dress size for them and have to settle with less fashionable gowns that fit.
Plus size women may now find attractive plus size gowns for any occasion, thanks to an increasing number of designers branching out into plus size fashion. However, the lack of a standardized guide for plus-size women might sometimes be a hindrance.
Fortunately, the size chart above can assist you in finding the perfect plus-size dress. The article also included tips on how to take accurate body measurements and answers to frequently asked questions about plus-size dresses on the internet.
Please contact us in the space below with any additional questions or inquiries, and we will respond as quickly as possible.
Picture in this post by Alekon Pictures on Unsplash
Related Articles