White dress plus size guide
The all-white dress is a great way to catch the attention. This type of plus-size dress is available in a number of different sizes, styles, and colors. Some are even made in sexy details like jewel-encrusted chandelier earrings and off-the-shoulder sleeves. The versatile style of the white dress can be teamed with minimal makeup and block heels to complete the look. While the market is full of options to choose from, you will always need to use a white dress plus size chart in order to get the right size. 
Why it is important know the right size before you buy
When shopping for a white dress plus size, you should make a point of looking specifically for a size that is right for you, before you buy.
The most important reason to know the right size before you buy is so that you find a perfect fit. A perfect-fitting white dress will fit you like a glove. If you want to look your best on your plus-size white dress, you need a perfect fit. A loose plus size white dress can feel heavy and uncomfortable, a tighter one can feel too restricting. If it is too light, it tends to highlight flaws on your body and makes your figure look disproportionate. 
You want a dress that makes you feel comfortable, calm and collected. The wrong size can trigger anxiety and spoil your day. Besides, if you buy the wrong size, you may have wasted money especially if you buy from companies that don't accept returns or charge extra fees for returns. 
White dress plus size chart
When shopping for a plus-size white dress, it's important to use good sizing chart. A size chart will allow you to figure out which dress is right for your measurements and shape. Most stores offer their custom charts online, but some also print them out. The size charts will also be useful for international shoppers. 
The white dress plus size chart is indeed the first step in purchasing the right dress. As you shop, you will come across many different types of charts for example plus size white dress with sleeves size chart, plus size white summer dress size chart, plus size white dresses for graduation size chart, white plus size dresses for wedding sizing, plus size long white dress size chart, plus size white lace dress size chart. etc.
the white dress plus size conversion chart 
SIZE
SIZE EQUIVALENT
BUST
WAIST
HIPS
 
 
INCHES
CM
INCHES
CM
INCHES
CM
0X
14W-16W
43-45
109-114
38-40
97-102
47-49
119-124
1X
18W-20W
46-48
117-122
41-43
104-109
50- 52
127-132
2X
22W-24W
49- 52
124-132
44-47
112-119
53- 56
135-142
3X
26W-28W
53-56
135-142
48-51
122-130
57-60
145-152
4X
30W-32W
57- 61
145-155
52-56
132-152
61-65
155-165
5X
34W-36W
62-66
157-168
57-61
145-155
66-70
168-178
6X
38W-40W
67-71
170-180
62-66
157-168
71-75
180-191
7X
42W-44W
72-76
183-193
67-71
170-180
76-80
193-203
8X
46W-48W
77-81
196-206
72-76
183-193
81-85
206-216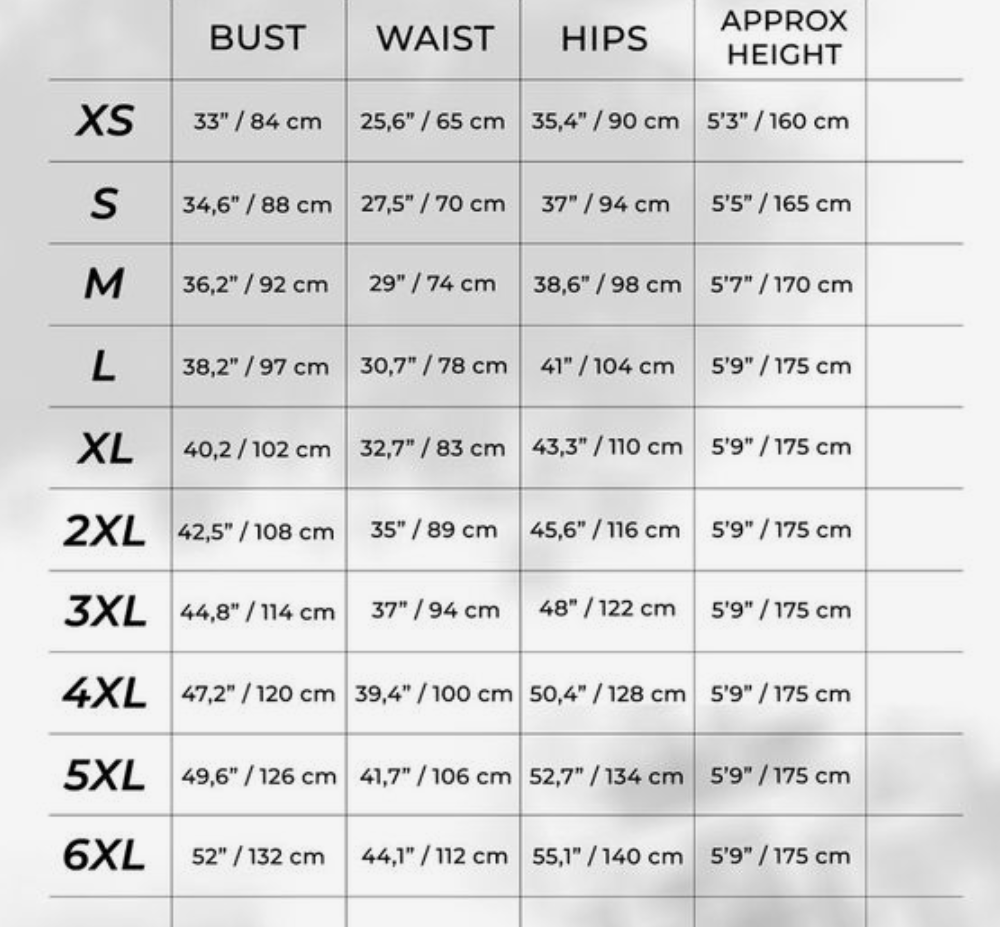 How to choose the right white dress plus size
Whether you're looking for a plus-size white dress for winter wear, a brunch date or a family BBQ, finding a fitting one is critical. A poorly fitting dress will make you feel clumsy and uncomfortable, and you won't feel good. Choosing the right fit is the first step in finding the right white dress. If it doesn't fit, you'll be tugging at it the entire day.
The best plus-size white dress
While a white dress is one of the most sought-after pieces for a woman of plus size, especially when you're aiming for a classic, elegant look, you need to understand what looks best on you.
A well-tailored outfit is the first step in achieving this, but a couple additions like a statement necklace or piece of statement jewelry can also add a new spin to an otherwise conservative ensemble. Another way to add something different to your white dress is by pairing it with a jacket. A jacket adds proportion and makes your white dress plus size stand out as the very best. 
How to measure, how to find white dress plus size
The first step to finding the perfect white dress plus size is measuring yourself. Most plus-size white dress measurements are informed by measurements around the fullest part of the bust, bust, and waist. These measurements may not line up with each other, so be sure to get someone else to help you measure. 
Here are a few tips you need to follow in order to measure and find the right-sized white dress. 
Natural waist
First, you must determine your natural waist size, which is about an inch below your belly button. You can measure your bust by placing a tape measure across your chest. Then, make sure that you stand with the proper posture while taking measurements. .
Bust
Bust measurement is also crucial. A good way to take the correct measurements is to stand up straight, holding your arms above your head, and ensuring that your posture is correct. Then, measure your bust from where the legs meet the torso. Using a tape measure is the easiest way to get the right measurements for your bust just like the other areas. Check our Plus-Size Bra size charts
Hips
Next, you must measure your hips. You can take your hips measurement by stepping forward with your feet together. You should be able to find the fullest part of your hips. To make sure that you have the right size, use a fabric tape measure. This will ensure that you have the perfect fit. After measuring your hips, you can choose the perfect dress size.
Remember that sizing is mostly done as per regions for example white dress plus sizing uk, white dress plus sizing US, and white dress plus sizing eu. 
International Plus Size Dress size chart
SIZE
WAIST
BUST
HIPS
CANADA
EUROPE
UK / AUS / NZ
10
L
30
38.5
40
10
40
14
12
XL
31.5
40
41.5
12
44
16
14
1X
33
41.5
44
14
45
18
16
1X
35
43.5
46
16
48
20
18
2X
37
45.5
48
18
50
22
20
2X
39
47.5
50
20
52
24
22
3X
41
49.5
52
22
54
26
24
3X
43
51.5
54
24
56
28
26
4X
45
53.5
56
26
58
30
28
4X
47
55.5
58
28
60
32
30
5X
49
57.5
60
30
62
34
32
5X
51
59.5
62
32
64
36
34
6X
53
61.5
64
34
66
38
36
6X
55
63.5
66
36
68
40
International Size Chart
Plus-sized dresses sizing explained
Conclusion
There are many plus-sized white dresses, and it can be difficult to know which is right for you. The best thing to do is check the measurements of your own body then compare them on the above white dress plus size chart to find your fit. Don't forget to check the size charts on your favorite stores online. It is also a good idea to compare the measurements of different brands, because they will differ slightly.
A plus-size dress is longer than the standard one. This means that you can wear a dress that stretches in a way that looks great. It's best to go up a size if you're tall. Overall, using a plus-size chart is an easy way to order a dress that's perfect for you. 
Got any questions? Feel most welcome to ask in the comments section. 
Picture in this post by Karen Willis Holmes on Unsplash
Related Plus Size Charts