US Plus Size Chart for Men and Women
A US plus size chart is a size chart that starts at a size 14 or larger. Plus size charts can vary in increments, but the standard size chart for plus sizes generally starts at a W (Women's) 20/22 and goes up from there (skip straight to the US plus size chart).
So, if you are looking to shop for plus-sized clothing in the United States, it is important to familiarize yourself with the plus-size chart.
The common size of clothing in the US is the straight size which is also known as regular or medium size. This is despite the fact that the larger women population wears size 14 and beyond.
The majority of American women have for a long time wished that the fashion industry would come up with a size range that includes them as well. The regular sizes found in most stores make them feel uncomfortable, as though people were judging them for their shape.
Men don't seem to have much problem with the term even though some of them are the plus size as well. However, some brands prefer to use the term big and tall instead of plus size.
Clothes designers a few years ago thought men were not bothered about fashion but this has changed.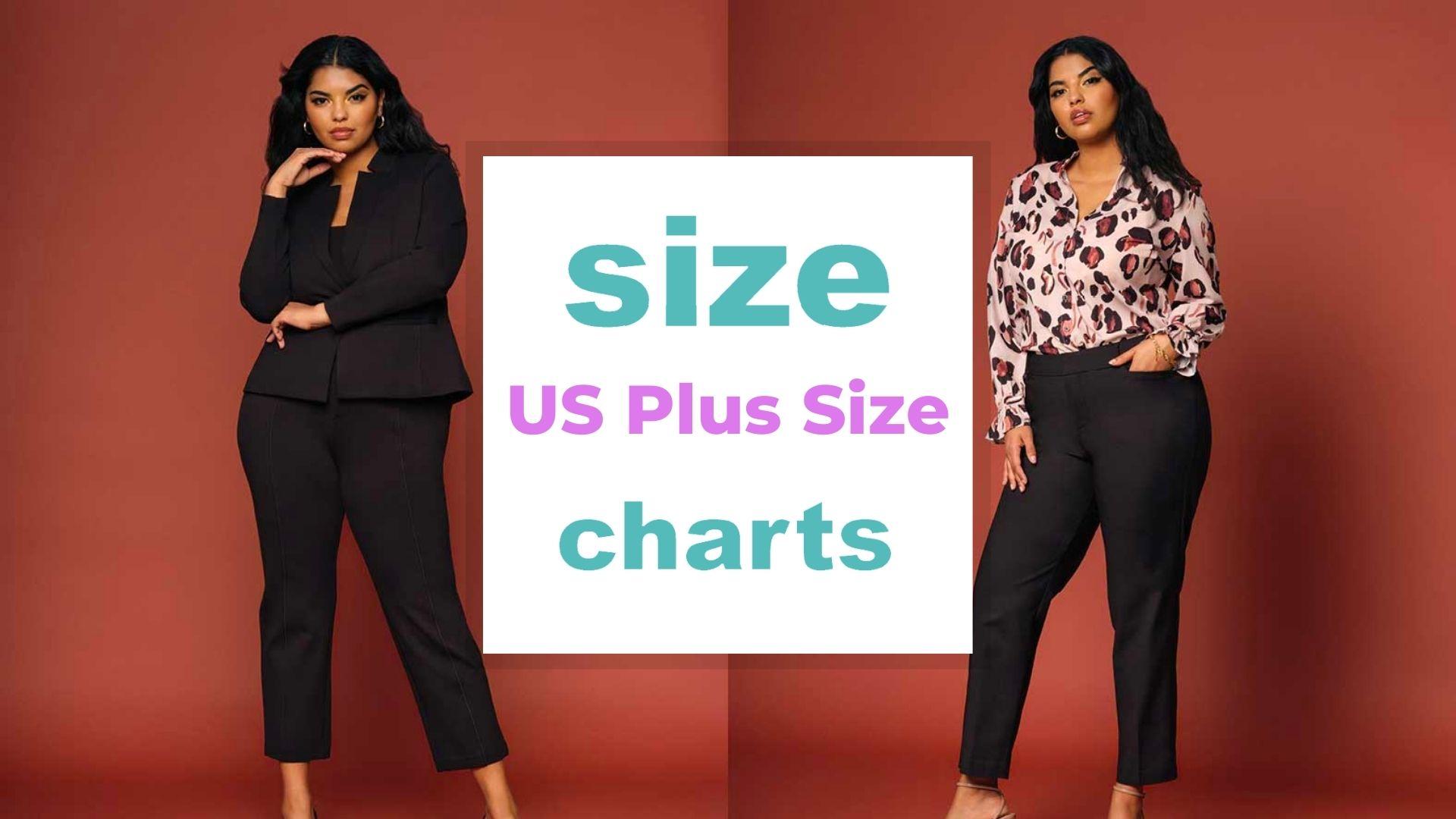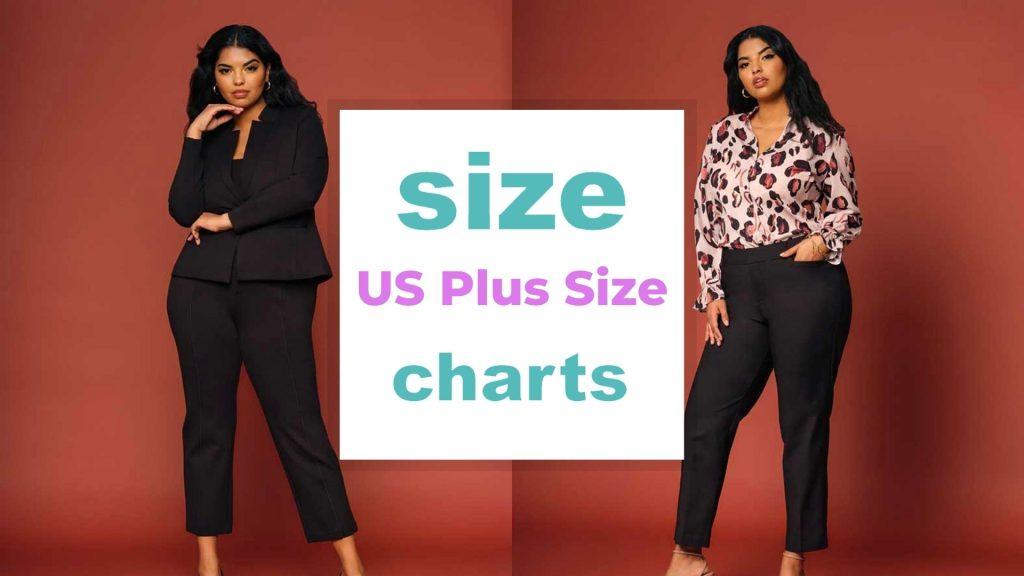 This guide will help you understand all you need to know about Us plus sizes.
Jump right into the Frequently Asked Questions
Related: Women's Plus Size Clothing Size Chart and sizing conversion, Plus size Intimates Size Chart for your lingerie, Bra plus size chart, Sexy Lingerie Plus Size Chart for Women, Prom Dresses Plus Size Chart for an important night-out! Dress Plus Size Chart and Fitting Guide
Summary
What size is the plus size in the US?
Related: Plus Size Coats Sizing Guide for men and women
US plus size refers to wear sizing for men and women who are above average in size. This means they cannot just enter any store and get fashionable clothes like the average or medium person.
The term plus size in the US is a thorny issue especially for women, because, according to them, it is a downgrading term. They prefer to be associated with a curvy size or curvy models instead.
Some stores specialize in plus size and upper plus size. In recognition of this fact, brands have developed charts for these unique sizes. The US plus size charts come in handy to help you know whether you fit in a brand's clothing.  
Every brand has a segment of customers that they serve. This means various brands have varying size charts based on their target customers.
You will therefore find various types of charts such as US plus size charts after 30, US plus size charts after 20, and US plus size charts above & beyond.
US plus size chart
Related: Plus Size Charts And Styling Guide
| | | | | | | | |
| --- | --- | --- | --- | --- | --- | --- | --- |
| US plus size | int. plus size | bust |   | waist |   | hips |   |
|   |   | in | cm | in | cm | in | cm |
| 14W | 1X | 42"-43" | 106-109 | 34"-35" | 86-89 | 44"-46" | 111-116 |
| 16W | 1X | 43"-45" | 109-114 | 35"-36" | 89-91 | 45"-47" | 114-119 |
| 18W | 2X | 45"-47" | 114-119 | 36"-38" | 91-96 | 47"-49" | 119-124 |
| 20W | 2X | 47"-49" | 119-124 | 38"-41" | 96-104 | 49"-51" | 124-129 |
| 22W | 3X | 49"-51" | 124-129 | 41"-44" | 104-112 | 51"-53" | 129-134 |
| 24W | 3X | 51"-53" | 129-134 | 43"-47" | 109-119 | 53"-56" | 134-142 |
| 26W | 4X | 53"-55" | 134-140 | 45"-49" | 114-124 | 55"-58" | 139-147 |
Learn more about how to measure for plus-size clothing (video)
Frequently Asked Questions
What are the measurements for plus size?
Plus sizes for women are mostly 0X, 1X, 2X, 3X, 4X, 5X, and XXL. Measurements for plus-size men are 8XL, 7XL, 6XL, 5XL, 4XL, 3XL, and XXL.
These sizes can be found in the size charts of many brands though slightly adjusted. Thus, you may find a variation of the US plus size chart across the world, and the US plus size chart across America.
Trendy jeans for plus-size ladies range between sizes 16 and 22.
As brands compete with each other, each trying to come up with unique size charts, you too need to be flexible in determining your size. You might be surprised when you realize that your size as you know it is reflected differently across brands.
Is US size 12 plus size?
Size 12 is not plus size. It is a straight size also referred to as regular size, the ending of medium size. There is no need to be overly concerned about being a size 12 because clothes sizes do not define you.
It is not about the size but how you feel after dressing up. Are you comfortable?
The good thing about size 12 is that it is represented in all fashions, so you do not have to worry about finding the right fit for you. In addition, the majority of ladies across wear this size. 
Is size 14 considered plus-size?
Size 14 is a plus size in the US, the first in the range. Fashion shops do not stock size 14 which brings about the confusion of a kind between itself and size 12. However, they are not the same.
Plus sizes from size 14 upwards are a challenge to clothing manufacturers. They require more materials than the more regular sizes or different prints. This would require them to keep special sizes in mind which would need more investments. There is also the question of cost.
As more material means more costs, not forgetting different types of machines, they are never certain that the ultimate selling price would be acceptable in the market. Consider also that they also look at market size vs returns.
A small market size means increasing the price to cover the cost of production. It's a challenge that continues, but meanwhile, the plus size segment needs clothes that cater to their needs, and this is absolutely okay. 
Is size 18 a 2X?
Size 18 is the same as 2x in the plus size category. Size 18 (or 2X) is used as a standard size in the clothing industry to establish other sizes either below or above.
As you can see from this fact, sizing is not cast in stone, and you don't need to worry too much when you don't find the right fit in one shop.
The same size can fit differently in different people because of variations in body shape, especially in women. Different types of clothes fit differently as well, even for the same person.
What size is a 20-plus?
Size 20 is a plus size in the US. A few stores have heard the concerns of many customers and have started stocking fashionable clothes for them.
Size 20 is now an important consideration among many brands. Some of these have exclusively branded themselves as 'plus-size stores.
Men and women of all body sizes can now celebrate the new freedom in the fashion industry, just like the average-size American.  
What is the difference between size 12 and size 14?
There is often this confusion between size 12 and size 14, with several ladies wondering whether it is a plus size. Size 12 is not a plus size, but a medium or straight size. It is the average size for women in America.
However, in the fashion industry, size 12 is often labeled as a plus size. This is because the fashion industry has ridiculously unrealistic standards for what women should look like.
The average woman in America is a size 14, but most fashion models are not. This creates an unrealistic standard that size 12 women are often compared to.
As a result, size 12 women are often made to feel like they are overweight and unhealthy when in reality they are perfectly average.
Conclusion
To sum it up, there is a wide range of plus size sizes in the US plus size charts. Some of the most common plus sizes are 12, 14, 18(also known as size 2X), and 20. These are the more familiar ones.
Well, we hope that this guide has helped you to understand US plus size. If you have any questions, please don't hesitate to ask in the comments.
We want to make sure that you find the perfect fit for your body and look amazing in your clothes! Thank you for reading our guide, and we can't wait to see what fabulous looks you put together.
Picture in this post is by Chimi Davila on Unsplash
Related to US Plus Size Chart for Men and Women