Plus Size Shapewear Sizing Guide for Women
This post was last updated on September 4th, 2023 at 11:30 am
Ever tried to fit in constrictive lingerie that hindered you from breathing or performing your tasks comfortably? Finding the right plus-size shapewear can be an uphill battle, especially if it's your first time purchasing them. Thanks for this Plus size shapewear sizing guide, helps you explore the different shapewear materials, sizes, and parts.
Whether you want to show your curves or fit in a special event dress, plus-size shapewear can help you accomplish a flawless look.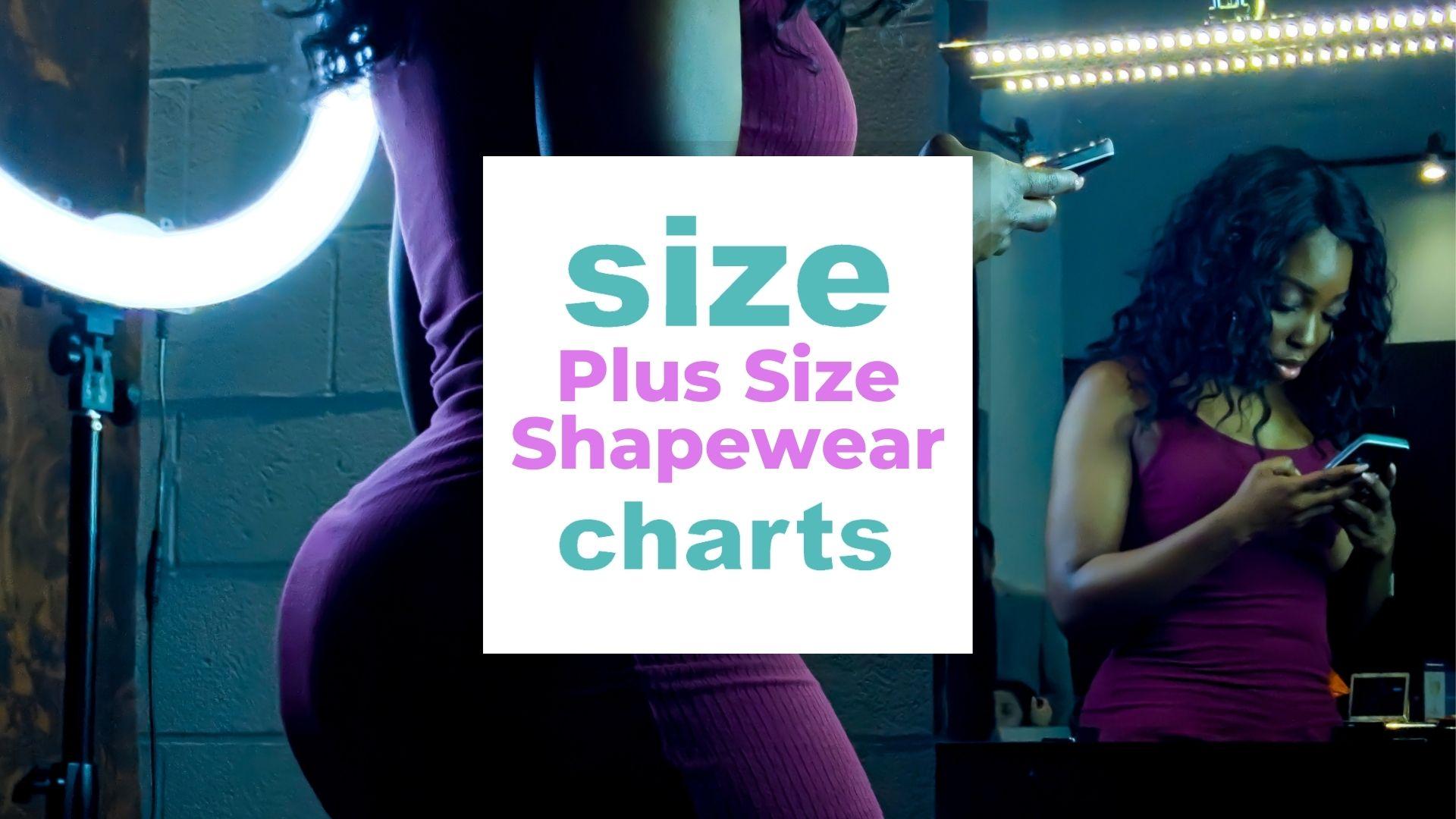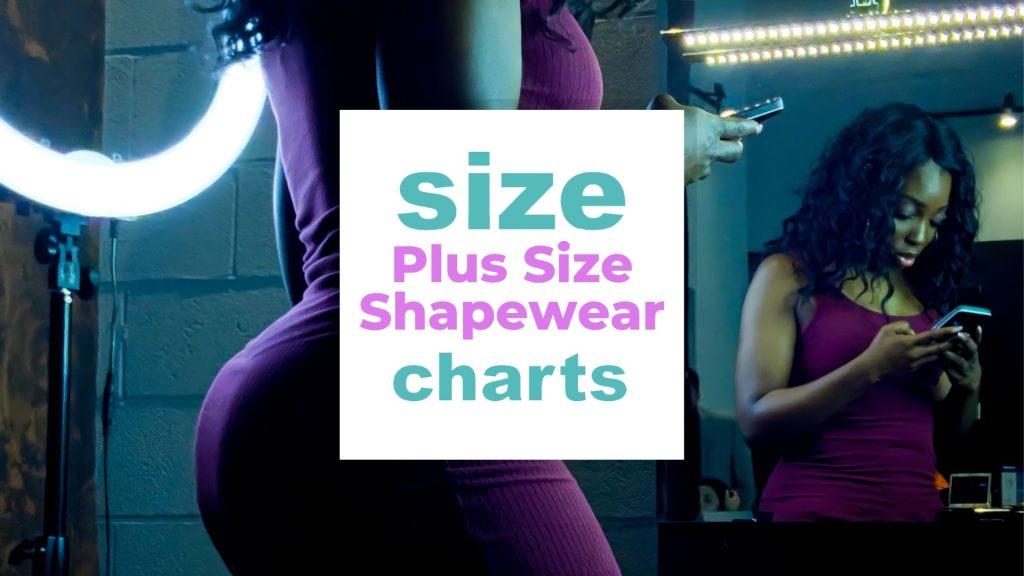 Jump straight to the Frequently Asked Questions
Related: Sports bra plus size charts, Sexy Lingerie Plus Size Chart for Women
Summary
What Is Plus-Size Shapewear?
Related: Plus size Intimates Size Chart for your lingerie, Breast Size Chart for All Shapes, Bra plus size chart
Plus-size shapewear refers to lingerie pieces designed with wide straps to fit curvy women. These undergarments usually support different body parts, including your bust, torso, hips, and back. They also reshape your body, helping you achieve your dream figure.
The right size shapewear celebrates your curves and gives you a stunning look regardless of the dress you fit in. Besides showcasing your gorgeous figure, the right size shapewear slip gives you an exhilarating experience: you can dance, breathe, and move in without difficulty.
Some occasions demand a fitting garment yet with light compression, for instance, you need to grab the right shapewear size for a wedding dress.
If you're looking for the perfect plus-size women's shapewear sizing, read on!
How To Choose the Right Plus Size-Shapewear
Related: Skims size chart for underwear or shapewear for women , Spanx Size – Get your perfect shapewear size
With numerous shapewear solutions in online shops and boutiques, most plus-size women are bombarded with various pieces, including a high-waist mid-thigh shaper, shapewear thong, and boundless shapewear. Hence, they end up confused and do not know what to buy.
Plus Size Shapewear sizing chart
Below is a table that displays different shapewear pieces and the size of clothing that matches your body type, in alpha sizes, centimeters and inches
Related: Women's Clothing Size Chart and sizing conversion (US, UK, EU,…)
| | | | |
| --- | --- | --- | --- |
| Size | Bust (inch/cm) | Waist (inch/cm) | Hips (inch/cm) |
| S | 32.3 – 39.4 inches 82 – 100 cm | 27.6 – 30.7 inches 70 -78 cm | 37.8 – 41.5 inches 96 – 104 cm |
| M | 39.4 – 42.5 inches 100 – 108 cm | 30.7 – 33.9 inches 78 – 86 cm | 41.5 – 44.1 inches 104 – 112 cm |
| L | 42.5 – 45.7 inches 108 – 116 cm | 33.9 – 37 inches 86 – 94 cm | 44.1 – 47.3 inches 112 – 120 cm |
| XL | 45.7 – 48.8 inches 116 – 124 cm | 37 – 40.2 inches 94 – 102 cm | 47.3 – 50.4 inches 120 – 128 cm |
| XXL | 48.8 – 52 inches 124 – 132 cm | 40.2 – 43.3 inches 10 – 110 cm | 50.4 – 53.5 inches 128 – 136 cm |
| 3XL | 52 -55.2 inches 132 – 140 cm | 43.3 – 46.5 inches 110 – 118 cm | 53.5 – 56.7 inches 136 – 144 cm |
| 4XL | 55.2 – 58.3 inches 140 – 148 cm | 46.5 – 49.6 inches 118 – 126 cm | 56.7 – 60.1 inches 144 – 152 cm |
| 5XL | 53.3 – 61. 4 inches 148 – 156 cm | 46.9 – 52.8 inches 126 – 134 cm | 60.1 – 63.1 inches 152 – 160 cm |
| 6XL | 61.4 – 64.6 inches 156 – 164 cm | 52.8 – 55.9 inches 134 – 142 cm | 63.1 – 66.1 inches 160 – 168 cm |
A smoothing slip dress is one of the shapewear pieces that endow your natural shape. You can find this piece on plus-size shapewear amazon. Whether you want medium or firm compression, you can explore different materials and designs that fit a comfortable compression level.
You can also get a pair of shapewear with a bra that matches your favorite dress. This will help you achieve the hourglass shape, boosting your confidence. Moreover, at Walmart, you are guaranteed the ideal plus-size shapewear bathing suits at an affordable price.
How to Measure and Find your Plus size shapewear Size
How do I know my size in shapewear sizing?
Related: How to Measure Your Body for Clothing Sizes
The first step in finding your perfect plus-size shapewear is to measure yourself. This will help you determine your size and find styles that will be a good fit.
To measure, use a soft tape measure and wrap it around the largest part of your bust, waist, and hips. Make sure to measure in inches and round up to the next inch.
Compare your measurements to a relevant size chart to find your size.
Please note that a Shapewear plus size chart is a general guide, so you may find that you need to size up or down depending on the style of dress you choose.
Guide to Buying a Perfect Shapewear and sizing Tips (video)
Frequently Asked Questions
What size is the 5X size in shapewear?
5X plus-size shapewear refers to pieces that reshape your body, usually between sizes 30 and 32, with waist measurements between 49 and 51. Depending on your preference, you can use a high waist thigh, mid-thighs, or waist thong.
The size offers flexibility as it has numerous options, including shapewear firm control shaping tank 3266, light control shapewear easy-up, and anti-static compression pair. All these pieces come in state-of-the-art compression technology that meets your needs. So, you can grab affordable plus-size shapewear if you need support for your back, torso, bust, or injured waist.

Can shapewear be worn backless?
Depending on your style and preferences, you can wear shapewear back. These undergarments come in a wide range of colors, designs, and materials, offering you confidence-boosting shapewear styles for any occasion.
Nevertheless, they do not offer enough support for your weak or injured back. They are suitable for evening dresses and backless dress codes as they produce a flawless blend without showing your undergarment. All you need to do is ensure the shapewear you choose matches your dress sizes.
Does plus-size shapewear help with tummy control?
You can explore the many shapewear briefs online if you're looking for tummy control shapewear for plus size. For instance, plus-size shapewear underwear is reinforced to reshape your tummy and a shapewear bodysuit with bra, waist shaper, or waist cincher adjusts your torso.
These accessories provide enough support and relaxed adjustment of your tummy, hips, or torso. So, shapewear is the perfect piece to purchase whether you wear cocktail dresses or strapless tops.

Conclusion Plus size shapewear sizing
Getting the ideal plus-size shapewear as seen on tv can be difficult. Most women choose a smaller firm control shapewear that's constrictive, leaving them out of breath or uncomfortable all day long.
Nevertheless, with an array of shapewear size charts, you can grab everyday shapewear pieces with excellent comfort for compression. These individual items come in cotton material, breathe high-waist brief, accessory offers, and different shades. They blend perfectly with a cocktail and classic plus-size black dresses.
If you're trying to find the best shapewear in vain, ask our experts in the comments below. We will offer you the professional help you need!
Picture in this post by Madrona Rose on Unsplash
Related to Plus Size Clothing