Breast size chart for all boob sizes : What is a normal breast size?
This post was last updated on August 10th, 2023 at 08:25 pm
What is a normal breast size? Normal boob size is different by region: The average US breast size is 34DD, where In the U.K., as an example, the average is 36DD. Getting to know your breast size is quite similar as knowing your bra size.
The wrong bra size and wrong size clothing sizes are prevalent among women. Breast sizes are most important for bra fitting. However fitting services do more than worry about bra sizes.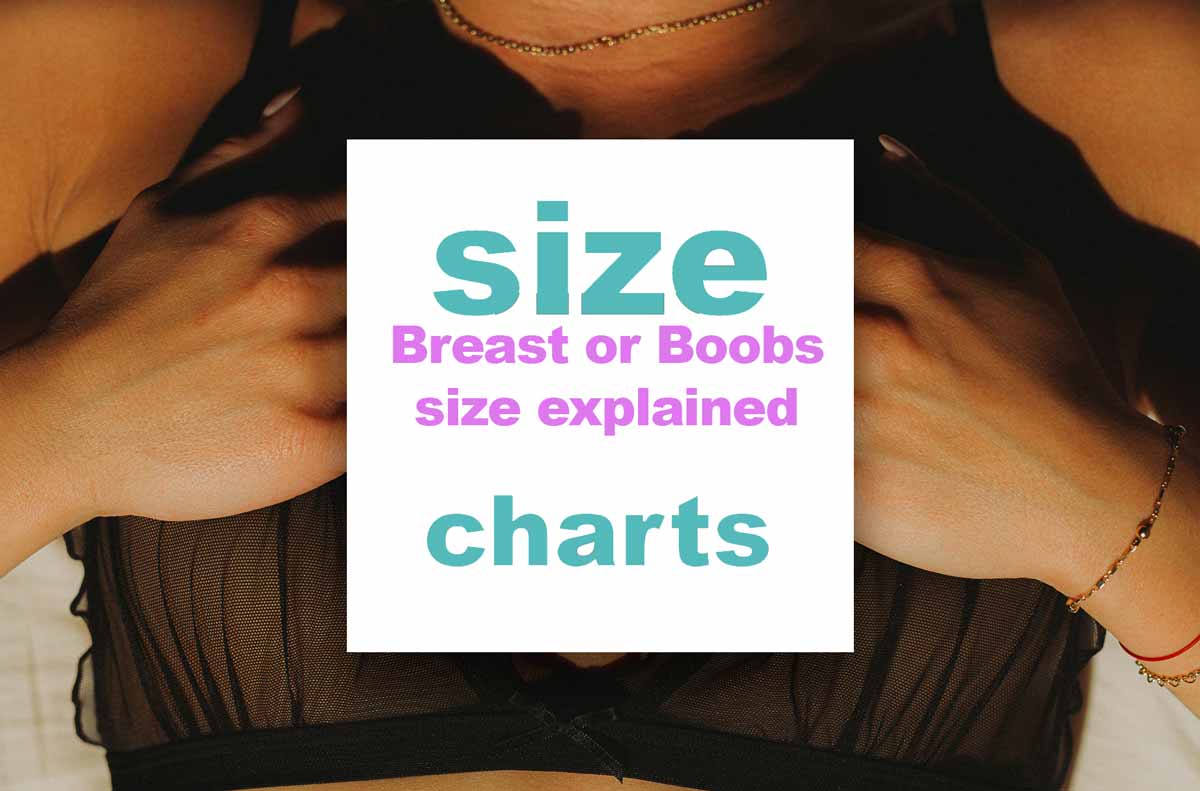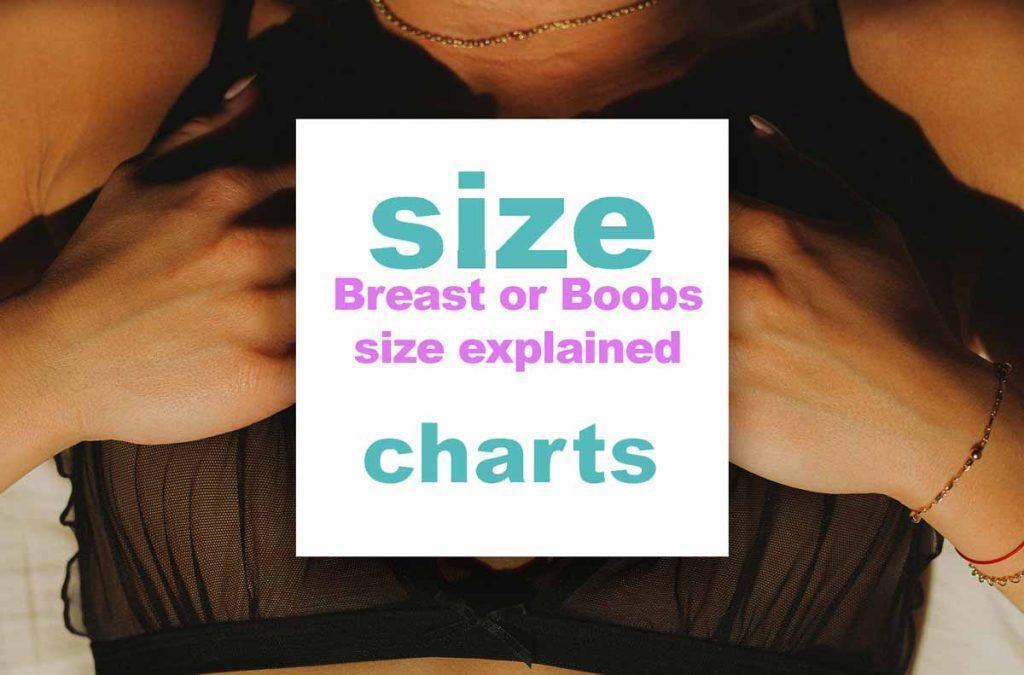 Apart from the bust size, the typical woman, regardless of her frame size usually end up with the wrong size of everything. Your current bra size may not be ideal for your actual breast volume or type. If not for adjustable straps, shoulder straps, wider straps, crisscross straps, and crossed straps; individual women would have trouble with bra fitting. An international Bra size guide and how to measure you can read here
Jump to the frequently asked questions about Breast sizes
Lip sizes you can find here – breast shields sizes you can read here
What are breast sizes and shapes ?
The cup letter – like A, B, C, D – stand for cup sizes. The numbers – like 32, 34, 36, 38 – stand for band sizes – that's the part of the bra that goes around your torso. For instance, 34A means that your boobs are an A cup and your bra is 34 inches around.
If we were to talk about shapes, there are about half a dozen typical shapes. The average breast shapes are about twenty categories, but these two are the most common.
The archetypal breast — round and full with a small point at the nipple — is considered the "standard" for breast type. It's said to be the most common shape for majority of women. Most bra manufacturers model their designs after this shape.
Asymmetrical breasts are of two different sizes. It's common for breasts to be uneven by a cup size or less, and more than half of people have some variation between breast size.
Breast Size Chart
Bras and fashion are NOT the only reason to know your breast size. Figuring out the correct size can be tricky unless you do your homework first. Our guide and chart will help you measure yourself correctly to determine your breast size.
This chart is the foundation of the bra size chart of the European bra size convention. The German bra fitting forum www.busenfreundinnen.net is more on line with Australian manufacturers and is therefore a great guide for Australian bras size conversion.
Size Chart For Underbust Measurements
| | | |
| --- | --- | --- |
| Inches | Centimeters | Breast Size |
| 25-27 | 62-67 | 30 |
| 28-29 | 70-75 | 32 |
| 30-31 | 76-80 | 34 |
| 32-33 | 81-85 | 36 |
| 34-35 | 86-90 | 38 |
| 36-37 | 91-95 | 40 |
| 38-40 | 96-102 | 42 |
Cup Size Chart
Bra band sizes do not affect actual breast volume. Italian band size and Japanese sizes of the female breast of average and full-figured women are the most refined.
When bra shopping, encapsulation bras by Italian manufacturers like sports bra for high-impact and low-impact activities are the best to portray bra sizes of individual women. The chart below shows the most common cup sizes based on the differences in chest circumference.
| | | |
| --- | --- | --- |
| Difference In Circumference (Inches) | Difference In Circumference (Cm) | Labeled Cup Size |
| Less than 1 | Less than 2.5 | AA |
| 1 | 2.5 | A |
| 2 | 5.1 | B |
| 3 | 7.6 | C |
| 4 | 10.2 | D |
| 5 | 12.7 | DD/E |
| 6 | 15.2 | DDD/F |
| 7 | 17.8 | DDDD/G |
| 8 | 20.3 | DDDDD/H |
| 9 | 22.9 | 6D/I |
| 10 | 25.4 | J |
| 11 | 27.9 | K |
| 12 | 30.5 | L |
| 13 | 33.0 | M |
| 14 | 35.6 | N |
| 15 | 38.1 | O |
Boob size by Age
For girls, there's no rule on how big their breasts will be at a certain age. We've made a post about my daughter's first bra size to help you along
| | |
| --- | --- |
| Clothes Sizing Age | Bra size |
| Age 9 | N/A |
| Age 10 – 11 | 30A /30B |
| Age 12-13 | 32A / 32B |
| Age 14-15 | 34A/34B |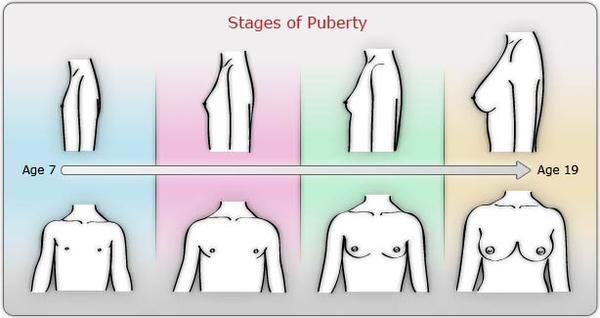 Why is the right breast size important ?
The average bra size in the United States is 34D. In the U.K., the average is 36DD. Wearing the right size clothing and apparels is a beneficial practice for the female body as a whole. If we were to pick the most relevant dress for breast, we would discuss the bra.
Most women wear bras with too large a band size and too small a cup size. In such cases, the breasts are supported by the shoulder adjustable straps, which will cause a lot of unnecessary pressure on the shoulders.
Wearing an ill-fitting bra can actually make you physically sick. Both headache and neck pain can be caused by the wrong sized bra. Breasts have no muscles, if not supported correctly, the weight of the adipose tissue softness pulls downward, causing major strain on your throat and facial fatty tissues.
With a correctly fitted bra, the breasts are supported from underneath, not from the shoulder straps. This way, the average breast size will leave almost no pressure on the shoulders. A larger cup size will need wider straps and preferably adjustable straps.
Some bra styles use crossed straps like crisscross straps with a tighter hook for their bra types that are meant for a bigger bust size. Bra manufacturers of sports bras pay great attention to cup sizing and measurement. The correct bra size is crucial in physical activity.
In addition to the health problems that an ill-fitting bra can cause, it can also alter the way you look. Badly fitting bras make your bust look bulky and inappropriate, while adversely affecting your posture.
On the other hand, a well fitted, supportive bra can make you look slimmer while allowing clothes to look and feel better on you, as well as improve your breathing and energy levels.
How To Measure Your Breast Size
STEP 1: MEASURE YOUR BAND SIZE:
Take a soft measuring tape and wrap it around your ribcage under your breasts. This is called underbust measurement because your breasts should not be covered by the tape, it is strictly a rib cage measurement.
The flexible tape measure should be parallel to the ground. Round the loose measurement to the nearest whole number and you've got your chest band size. If your measurements are designation in inches, the inch method would give you double inch digits.
In the European 2-cm system, you should add four if the measurement is even and add five if the number is odd. For your European size, if you measured 34 inches, your band size would be 38; if you measured 27 inches, your band size would be 32.
The European band size brought about the addition of extra numbers. The English systems (British system D-DD-E-F-FF) simply use closure with hooks like the types on encapsulation sports bras.
To be fair, the English systems put a wide size gap between the loosest hook and a tighter hook. The English inch method chose image over fit.
STEP 2: MEASURE YOUR BUST SIZE:
Measure the fullest part of your bust. Again, keeping the measuring tape parallel with the ground, wrap the tape around your body at nipple height and make sure that the tape goes over your nipples.
You must make this measurement of your bust while lying on your back, and try to balance as much of your breasts on your chest wall as possible.
STEP 3: FIND YOUR BREAST SIZE:
Find your difference in chest circumference. Take your bust measurement (usually the bigger number) and subtract your band measurement. To make things easier, the fashion industry of the European brands usually use initial cup size letters to describe this smallest number.
If your bust and band measurements are the same number, you're an AA cup. If there's a 1-inch difference between bust and band you're an A cup; 2-inch difference is a B cup, 3 inches is a C cup, 4 inches is a D cup, and so on.
For example, if your bust measurement is 37 inches and your band is 33 inches, you would be a D cup because of the 4-inch difference. 
STEP 4: WRITE IT TOGETHER:
Remember when we measured our band size in step one? Take that number and drop it in front of the cup size you calculated in step three. Using the example from the last step, your bra size would be a 33D
How To Increase Breast Size
No food or diet plan has been clinically proven to increase breast size. There are also no supplements, pumps, or creams that can make breasts larger. The best natural way to enhance the look of your breasts is to do exercises that strengthen the chest, back, and shoulder area. Good posture also helps.
Breast massage is a good way to increase breast size naturally. Try circular strokes around the breasts. Move your hands in a way you end up joining at the cleavage. This way is the tested way to massage breasts. You have to at least try 200-300 strokes every day for proper breast tissue stimulation.
How To Decrease boob Size
Hormonal changes in the body can cause fatty tissue to expand and the female breast to enlarge over time. Some women opt for surgery to reduce their breast size.
However, any plastic surgeon will gladly explain that there are less invasive options to decrease breast size that you can try at home.
Regular exercise can help strengthen the muscles underneath the breasts to reduce their size. Focusing on cardio and high- intensity exercises can help shed weight faster and target problem areas. Aerobic exercises — such as stair climbing , cycling , and power walking — can speed up your metabolism and help you lose all-around body fat .
Strength training exercises like pushups can also tone the chest and change the appearance of the breasts of the average and full-figured women.
However, strength training and targeted exercises alone won't reduce breast size. Without cardio or a full body workout, some exercises can actually do the opposite and make the breasts appear larger. Exercising for 30 minutes at least four times a week is recommended.
Frequently Asked Questions
How can i reduce my breast size
By exercising: Aerobic exercises — such as stair climbing, cycling, and power walking — can speed up your metabolism and help you lose all-around body fat. Strength training exercises like pushups can also tone the chest and change the shape and size of breasts.
What is normal breast size ?
Unless caused by a disease, all breast sizes are "normal". Women in Hungary have the smallest average breast size of any country (A cup), while women in Romania have the largest – a D cup. The global average size is 34 and average cup size B.
What cup should a 14 year old be ?
The average bra size of a 14 year old is 32 B. Many 14 year olds fall between 32A and 34B
What is the smallest bra size ?
The smallest size of bra that is widely available is a 28AA. However the smallest bra size that is regularly worn is 30A. This is because any size smaller than this can comfortably go commando (braless).
What size breast is 32 ?
If your band size is 32 inches (68 to 72 cm), your bra size will start with a 32. The most common size for this breast is 32B or 32C.
What does 32B mean ?
32B is the bra size for a lady with a band size of 32 inches (68 to 72 cm) and a difference in bust and band size of 2 inches (14 to 15 cm).
What size is C cup ?
Regardless of how large each breasts are, C cup is for ladies with a difference in bust and band size of 3 inches (16 to 17 cm).
Which cup size is bigger, B or C ?
Cup size C is the larger size.
Is 30C a small bra size ?
No, 30C is the typical sized breasts but on a larger frame (ribcage)
Is 32C bra size big ?
32C is roughly comparable to a 34B, which used to be average for women in the US. While 32C is not really big, it is still bigger than 28C and 30C. On the other hand, the size is smaller than 34C and 36C.32C bra size has an underbust size of 28-29 inches (71.12 – 73.66 cm). A 32C also has a bust size of 34-35 inches (86.4 to 89 cm).
Is a size 36 boob big ?
No, it is not. Bra size 36C is not considered "big", although it is bigger than the average breast size. 36A and 36B are about average size.
What is the largest bra size ?
Bra cup sizes range from A to J. The bigger the cup size, the bigger the breast size. The largest bra size ever recorded is 102ZZZ.
Boobs size by country explained
Conclusion
House brands of European sizing made bra brand size easy to guess. European brands make breast shields, clothing sizes, bra sizes, dress sizes, and everything else based on current measurements and fitting tips of the European bra size convention.
The European dress size standard and compression sports bras are the complete attires, these even have options for custom sizing.
Of the average breast shapes, Australian manufacturers use the typical hemi-spherical shape as the standard for fitting services.
European size is for bra fitting and European dress size standard is more based on current measurements of cup measurement and rib cage measurement in relation to frame size put forward by house brands of European sizing.
Picture in this post by Dainis Graveris on Unsplash
Related Bra size charts