5.11 Boots Size Charts for Men and Women
This post was last updated on August 28th, 2023 at 09:58 pm
Tactical boots refer to heavy-duty footwear designed for harsh environments to help security professionals and casual hikers move about easily (skip straight to the 5.11 Boots Size Charts).
While they feature sturdy and durable construction, these boots are also cozy and flexible. 5.11, pronounced as "five-eleven," is a company that focuses on making tactical apparel, equipment, and footwear.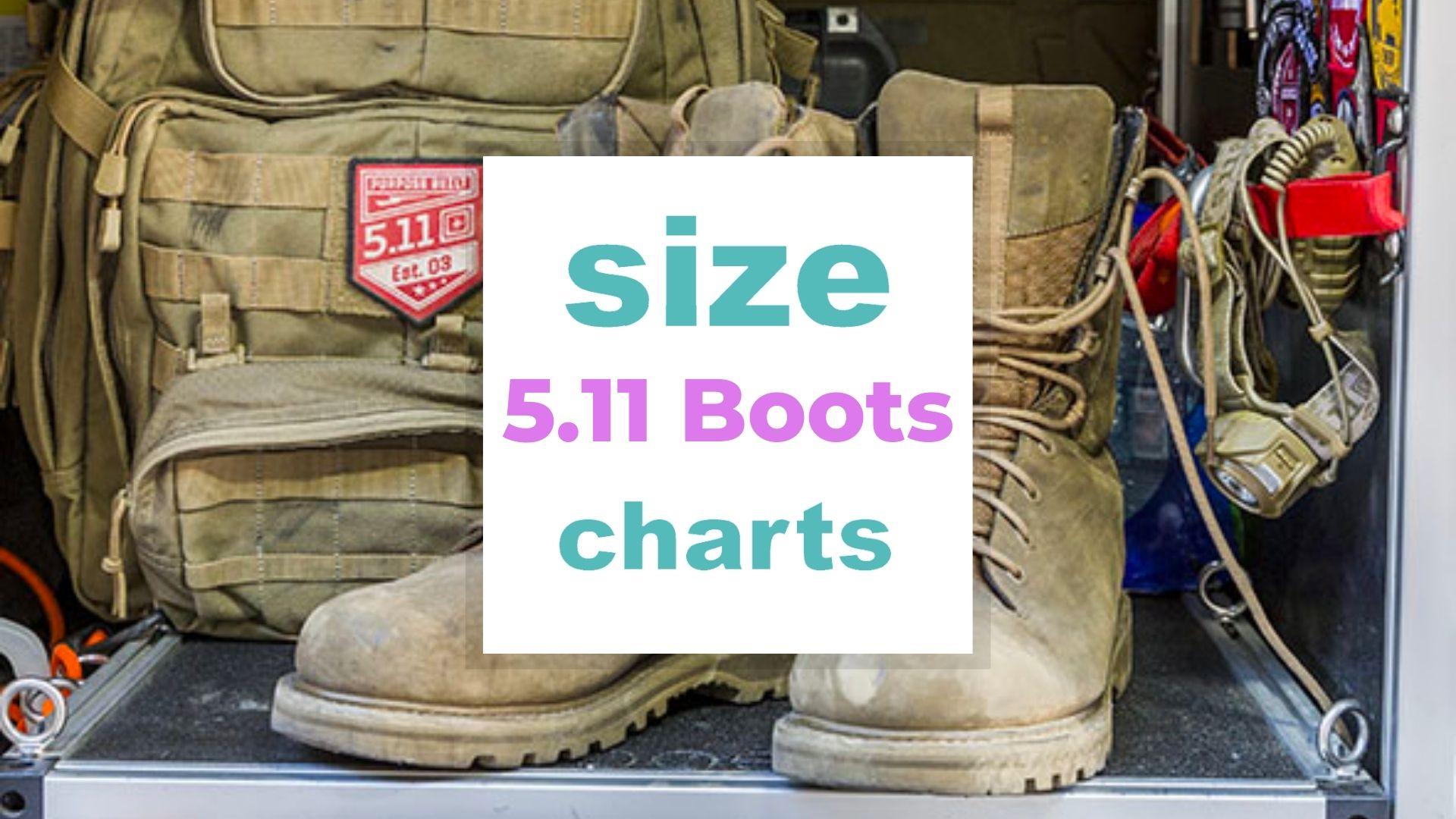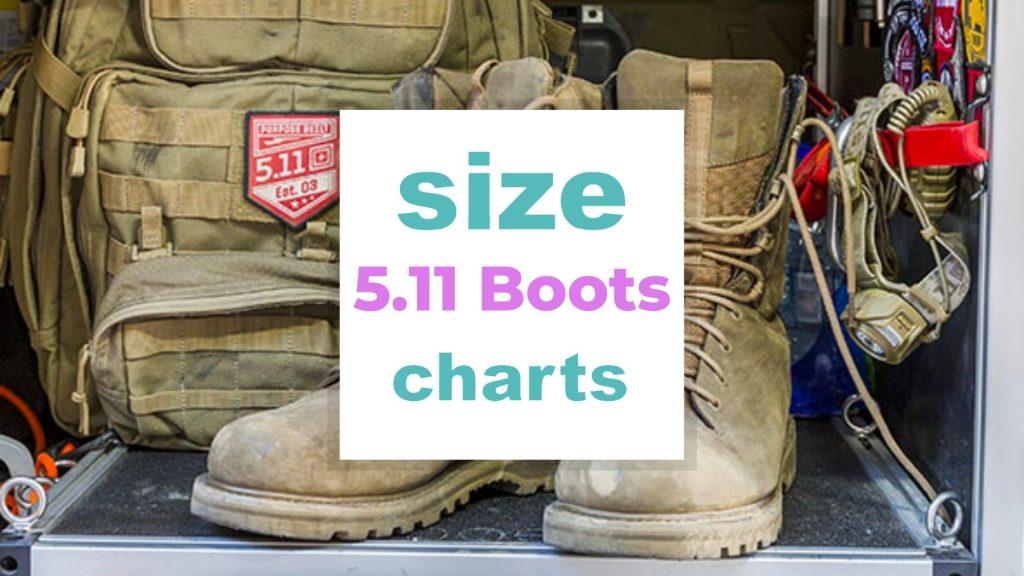 Finding the right 5.11 tactical boot size can be challenging. This post will help you narrow down to the right boot size using a size chart and a comprehensive buyer's guide. 
Let's get started.
Jump right into the Frequently Asked Questions
We reviewed Carhartt Size Chart, Tommy Hilfiger Size, Sizing of Fashion Nova, Land's End sizes, Old Navy size charts, American Eagle sizing, Levi's Jeans size, Chico's Sizes, J Crew sizes, Zara Women's sizes, Forever 21 sizes, express sizing, shein Sizing, asos sizing, Ralph Lauren sizes, Lacoste , Aeropostale, and much more here.
5.11 Boots Size Table of Contents
5.11 Boots Size Chart
Related: Danner Boots Size for Men and Women, Helly Hansen Shoes Size: Men, Women, Kids, European men's clothing size – European sizes into US, UK,… sizes
Men's Boots Size Chart
| | | |
| --- | --- | --- |
| US Size | UK Size | Euro Size |
| 4 | 3 | 37 |
| 5 | 4 | 37.5 |
| 6 | 5 | 38.5 |
| 6.5 | 5.5 | 39 |
| 7 | 6 | 40 |
| 7.5 | 6.5 | 40.5 |
| 8 | 7 | 41 |
| 8.5 | 7.5 | 42 |
| 9 | 8 | 42.5 |
| 9.5 | 8.5 | 43 |
| 10 | 9 | 44 |
| 10.5 | 9.5 | 44.5 |
| 11 | 10 | 45 |
| 11.5 | 10.5 | 45.5 |
| 12 | 11 | 46 |
| 13 | 12 | 47.5 |
| 14 | 13 | 48.5 |
| 15 | 14 | 49.5  |
Women's Boots Size Chart
| | | |
| --- | --- | --- |
| US Size | UK Size | EUR Size |
| 5 | 4 | 37 |
| 6 | 4.5 | 37.5 |
| 6.5 | 5 | 38 |
| 7 | 5.5 | 38.5 |
| 7.5 | 6 | 39 |
| 8 | 6.5 | 40 |
| 8.5 | 7 | 40.5 |
| 9 | 7.5 | 41 |
| 9.5 | 8 | 42 |
| 10 | 8.5 | 45 |
How to Choose the Right Boot Size from 5.11
Related: Foot Size Charts for Adults and Kids: What's my shoe size?, Youth shoe size chart – US – UK – EU sizing
5.11 offers different boot lines meant to meet the needs of various people. Each collection of boots will fit into three categories depending on whether you need a roomy boot or a snug one. Here's a simple guide to 5.11 boot sizing. 
Bio Fit – This is a low-profile design that's great if you want the lightest-weight boots and high responsiveness. The collar of a Bio Fit boot is along your ankle. Examples of 5.11 shoe lines with this fit include the Pursuit series, XPRT 2.0, and Sky-Weight Family.
Tac Fit – With the collar just above your ankle, Tac Fit boots are a bit taller than the previous fit style. Examples are EVO Family, Tactile Family, and Ranger lines.
Pro-Fit – This one has the highest volume, providing the ankle support you need for high-profile tactical boots. The 5.11 shoes with this design are ATAC family, SPEED 2, and Company 2.0.
When it comes to b0ot length, you should use your standard US shoe size. Of course, since you'll wear boots with boot socks, you should measure your foot length while wearing the socks.
What Makes the Best Tactical Boots?
Related: How To Measure Your Foot Size & Width, Easy EU to US shoe size conversion with size tables (foot length, IN, Cm)
There are numerous tactical boot brands offering military boots online. So how do you tell whether the boots are the best option for you? This section is a short buyer's guide for boots to help you identify an excellent pair of boots.
1. Breathability
Wearing boots all day can cause your feet to sweat a lot. The accumulation of sweat inside your boots can encourage the growth of bacteria or fungi. These germs can cause foot infections that lead to the development of odors you want to avoid. 
Breathability refers to the ability of fabrics used in boot construction to allow air and water vapor to move in and out of the shoe. This creates a refreshing environment inside the boots that keeps your feet cool even when it's hot. 
Boots usually feature a leather upper or nylon upper. Some are made using a combination of fabrics rather than a full-nylon or full-leather construction. These materials can be designed to cool your foot with moisture-wicking.
Moisture wicking refers to how fabrics can pull moisture away from your skin and out toward the surface. 
2. Lightweight Design
Another feature to look for in combat-type boots is a lightweight build. Even the best-looking tactical boots won't give you much joy if you feel like you are wearing metallic footwear.
If you are walking long distances or climbing mountains and hills, you want your boots to be as light as possible. 5.11 offers light-duty boots that are durable but light enough for you to move without getting fatigued in minutes. 
3. Flexibility
When people think about boots in general, they picture something durable but stiff to walk in. This doesn't have to be the case unless you are for cheap boots made from low-quality materials.
Nothing feels worse that not being able to walk properly because your boots are too stiff. 
Luckily, you can escape these issues with 5.11 boots. Even the full-leather tactical boots from 5.11 are still flexible enough to allow a superior range of motion. If you are looking for boots to wear outdoors, check out 5.11 comfortable hiking boots. 
4. Quiet Soles
In real-life combat scenarios, moving from one place to another silently can mean the difference between survival and annihilation.
Army boots should be designed to work without producing any type of noise as you walk in them.
If your boots squeak in enemy territory, you could reveal your position and put your life at risk. That's why high-quality tactical boots should be silent on every type of surface. 
5. Tough Uppers
The last thing to look for in your boots is a long-lasting and reliable construction. The uppers of your boots need to be sturdy and durable to ensure they can withstand the harsh environments you wear them in. With a firm upper, you can rest assured that you'll have ample ankle protection. 
The materials should also be designed to meet your specific needs. For instance, if you are a firefighter, you should choose boots with some degree of flame resistance.
You should also consider the type of weather you'll be going into. Boots are great for helping people keep working through extreme weather conditions. Whether it's dry weather or cold weather, your boots should be built to provide a suitable environment for your feet. 
Benefits of 5.11 Tactical Boots
Related:
You could be wondering what you'll get when you buy a pair of boots from 5.11. So, here's why 5.11 has the best boots for you. 
1. Waterproof
Wet or cold feet can be really uncomfortable, especially when you have to keep your boots on for hours. If you are outdoors in the rain or working in a wet environment, the only way to keep your feet dry is with waterproof boots. These boots are built to keep water out, ensuring your feet are nice and warm. 
2. Composite Safety Toe Protection
For those whose work involves lifting and carrying heavy objects, it's important to have footwear that protects your toes. Bulky items can fall on your feet and crush your toes, leaving you immobile.
Fortunately, 5.11 boots come with composite toe caps, which keep your toes from being crushed without adding a lot of weight to the boots. Steel toe caps are heavy and make boots heavier, which can be a disadvantage if you want light footwear.
Additionally, composite toe caps are non-conductive, making them better for those who work with electricity. 
3. ASTM Certification
ASTM International determines the standards for safety shoes to help reduce workplace injuries. You'll be glad to know that 5.11 boots are manufactured in compliance with the required standards making them a safe choice for professionals in different industries. 
4. Side Zips
High ankle boots can be hard to put on and take off because of the elaborate lacing system they feature.
Sometimes, you don't have enough time to untie your laces to get your foot through. Luckily, 5.11 boots have a solution for you. 
Rather than taking a standard non-zip boot, you can go with 5.11 boots with side zips. These boots will give you an easier time wearing and removing them, saving you time and energy. 
5. Vibram Outsole
The outsoles of 5.11 boots are more durable than regular rubber soles because they are made from Vibram. This material is tough enough to withstand wear and tear on any terrain.
According to some customers, Vibram soles can last more than a decade without becoming thin. 
6. Slip Resistance
Another feature you want is a slip-resistant outsole. The outsoles on 5.11 boots are designed to provide traction and grip even on slippery surfaces.
Whether you are walking on ice, grease, or a wet floor, these soles will give you the stability you need to stay on your feet. 
Underneath, the lug (deeply indented patterns) on the soles also helps reduce the chances of slipping and falling. 
7. Polishable Toe
Boots aren't just for the field; they are also important when appearing before your superiors or marching in a parade.
Your boot design has to have a formal appearance to ensure you don't look casual as you report for duty. 5.11 boots can feature a polishable toe that ensures you look your best. 
8. Knife Pockets
If you engage in combat, you need every advantage you can get. That's why some 5.11 tactical boots are designed with knife pockets where you can stash a blade.
This ensures you have an extra card up your sleeve even when you appear unarmed. 
9. Puncture Resistance
The soles of 5.11 footwear are built to be puncture resistant. This eliminates your anxiety when walking over sharp, piercing objects like glass or thorns.
So, these boots are great for exploring rough terrain in places like jungles. 
10. Comfort
While having functional boots is important, it's just as critical to be comfortable in them. That's why 5.11 boots feature an ortholite footbed to provide a cushion for comfort as you spend hours on your feet. 
Learn more about 5.11 Boots in this review (video)
Frequently Asked Questions
1. Are 5.11 boots true to size?
No, they are not. They run small, and you'll need to size up to get a good fit. 
2. Does 5.11 have tall sizes?
Yes, it does. Tall sizes have about 2 extra inches to meet the needs of taller individuals. 
3. What is the biggest 5.11 boot size?
The largest 5.11 boot is at a US size 15 or UK size 14. 
4. What is the smallest 511 boot size?
The smallest 5.11 boot size is US size 4 or UK size 3. 
5. Are 5.11 Boots Made in the USA?
Yes, they are. The company is based in Irvine, California.
6. Are 511 boots comfortable?
Yes, they are. They are cozy and keep your feet well-cushioned.
7. What does the 5.11 stand for?
Based on the Yosemite Decimal System, 5.11 refers to a rock climbing grade that's challenging to succeed.
Conclusion
 5.11 has some of the best tactical outfits and footwear on the market. The easiest way to get a fitting pair of boots is with your regular shoe size since they are made based on American sizing standards. Since these boots run small, sizing up is a good idea. 
Feel free to drop any questions about the 5.11 boots size below!
Picture in this post is from 5.11tactical.com
Related to 5.11 Boots Size Charts