Sailboat Size Guide for Beginners and PROs
A sailboat is a type of boat that uses sails to harness the wind and propel it forward. Sailboats have been used for centuries for transportation and recreation, and they come in a variety of sizes and designs. The most basic type of sailboat has a mast, sails, rigging, and a hull (skip straight to the Sailboat Size Chart).
The mast is a tall pole that supports the sails, and the sails are usually made from cloth. The rigging is a system of ropes and pulleys that helps to raise and lower the sails. The hull is the body of the boat, which provides buoyancy and keeps the boat from sinking.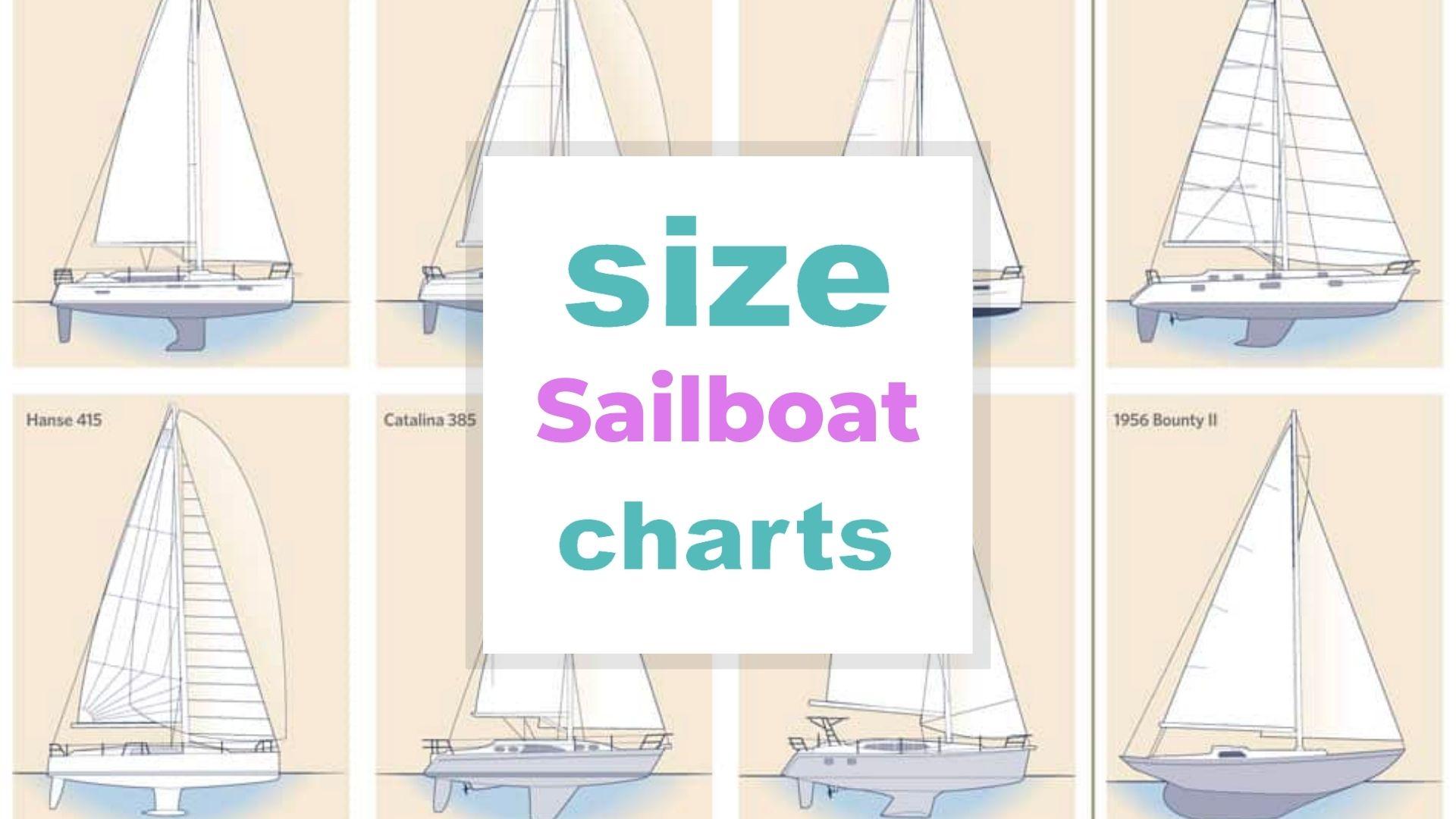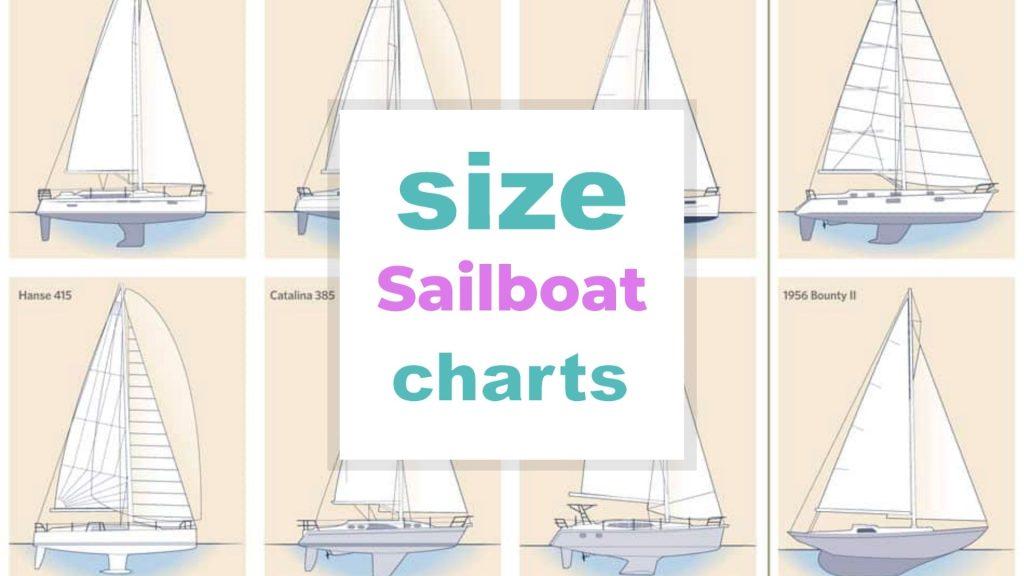 Sailboats are powered by wind, which is caught by the sails and used to push against the water. This action propels the boat forward. Sailboats can be sailed alone or with a crew, and they can be used for racing, cruising, or other activities.
This guide is not about sailboats though, but all about sailboat sizes. So let's get right into it.
Jump right into the Frequently Asked Questions
Related: What Kite Size do I need for Kitesurfing?, Roller Skates Size: Find The Perfect Fit, Skateboard helmet size chart and fitting guide, Yoga Ball Size chart for exercising or for your office, Roller Skate Size Chart for Adults and Children, Printable Shoe Size Chart – How do i measure my foot size?
Sailboat Size Table of Contents
The importance of sailboat size
Related: Surfboard Size Guide and Dimensions
For those who love to sail, the sizing of the sailboat is critical. The process, though daunting, will turn out satisfying when you're able to find a boat that's most compatible with your needs.
There are different sailboat sizes curated for different situations such as the distance to be covered, the number of passengers, the budget, and preferences that come into play when looking out for a sailboat. 
For whichever your needs, you want to end up with a vessel that's going to assure you safety over the waters and at least remain within the sailing or cruising safety index. Hence, the begging question – how do you find a sailboat size that's big enough without being too big?
We seek to answer all the whys and why-nots you might have regarding sailboat sizes. We also seek to make it easy for you to determine a vessel that you not only need but also one that's in line with your taste.
What is a good size for a sailboat?
Related: Jet Ski Size: Which Size Should You Go For?
A good sailboat is at least 30 ft. Such a boat is seaworthy, comfortable, and can be sailed on without breaking the bank. It is one of the smallest sail sizes that can go for long distances.
However, most sailors prefer between 35 and 45ft sailboat sizes. A good sailboat for your family should fall somewhere between 30 and 40ft.
A 30ft sailboat is as good as a 40ft and 50ft boat in many ways as long as comfort is overlooked. For its ability to go for very long distances, a 30-foot sailboat is one of the smallest sailboats that sail around the world.
However, Alessandro di Benedetto's story of circumnavigating the world using his 21-foot sailboat says it all. He broke the world record for using the smallest yacht to sail around the world, showing that sailboats are more powerful than we know. 
Learn more about how to pick the right size sailboat (video)
Sailboat size chart (by sailing class)
Related: Kayak Paddle Size by type and height (size charts included)
| | | |
| --- | --- | --- |
|   | LOA |   |
| Class | feet | meters |
| Farr 30 | 30.9 feet | 9.4 m |
| X-35 | 34.0 feet | 10.36 m |
| J/111 | 36.4 feet | 11.1 m |
| Class 40 | 39 feet | 11.9 m |
| Soto 40 | 40 feet | 12.3 m |
| X-41 | 40.5 feet | 12.3 m |
| Swan 45 | 45.4 feet | 13.83 m |
| Transpac 52 | 52.0 feet | 15.85 m |
| IMOCA 60 | 60 feet | 18 m |
| Swan 60 | 61.8 feet | 18.85 m |
| Maxi yacht | 70 feet | 21 m |
What is a good size sailboat for the ocean?
Related: Ski pole size advice with easy to use size charts
A 30-foot sailboat is a good place to start. This size is good enough to carry out the downwind sailing to the destination. The boat is also easy to manage during waves and has some room to store cargo and food in the event that the sailing takes days or weeks.
A 30-foot boat is among the smallest sailboats for ocean crossing because of the dire demands of long sails such as comfort and storage.
Moreover, the bigger the boat the faster the sails for its ability to tackle high waves, just to mention. The best size sailboat for ocean crossing ranges from 35 – 45ft. 
Check out this video to learn more about sailboat sizes
Frequently Asked Questions
What is the minimum size sailboat for open ocean sailing?
The 27-foot boat is the minimum sailboat to cross the Atlantic, according to the Atlantic Rally for Cruisers. While this site is not as popular as bigger boats of 38 feet, it is something you can bank on for open-ocean sailing on a budget.
Most people swear by bigger boats that will make it easier and less of a hassle to sail downwind. 
Even smaller boats have managed to cross the Atlantic such as the renowned Tinkerbelle (13.5 foot). The boat soared into history books for being the world's smallest sailboat to cross the Atlantic Ocean in 1965.
Is a 30-foot sailboat big?
A 30-foot sailboat is big enough for a couple setting out for a long distance. Many sailboat brands of this size make it comfortable for two people. The boat has a sleeping space, toilet, shower, food storage, sink, and stove that make it comfortable for two people.
In simple terms, the smaller the number of sailors the better the sailing experience on a 30-foot boat.
For instance, a 20ft sailing boat is big enough for one person but can also be used by a family of six, of course, depending on the brand and its sturdiness.
Can one person sail a 30-foot boat?
Yes, a 30-foot boat can be steered by one person. In such a scenario, it's important to prep for the sail as much as possible as you will be forced to skip some activities.
With the right boat size, automation of systems that are in the best condition, enough sail area, and properly operating assistive equipment sailing a 30-foot boat can be less taxing than you think.
Several other factors come into play such as experience and physical fitness. A sailor may need to be agile and exploit their sailing skills especially when things go wrong.
Can you single-hand a 40-foot sailboat?
It is very possible to single-hand a 40-foot or even bigger sailboat. This calls for the right measures to be in place. If looking to sail solo, try going for shorter distances as you gain the courage and skills to manage the vessel above the waters for longer distances.
Otherwise, such a boat size can be challenging to single-hand if you're doing it for the first time.
Moreover, ensure that the weight of the cargo is not beyond 90 tons, to make it easier to steer on high waves. 
How many people can a 30-foot boat fit?
A 30-foot boat will accommodate a maximum of 11 passengers without any stability problems. However, this is advisable for short distances because of comfort issues.
The boat is among the smallest sailboats around the world as brands prefer bigger vessels, speaking of the growing demand for them today.  
To determine a boat's passenger capacity, multiply the length of the boat by its width then divide the product by 15. This is especially important if the boat lacks a capacity plate.
Conclusion
While different sailing yacht sizes have different sailing experiences, small doesn't always mean incapable. Small boats are cheaper than big ones because of their speed and ease of steering during harsh weather conditions.
Solo sailing is not advisable for long sails because of the physical demands to steer the boat through to its destination. 
Above all, sailboat size is an important consideration when purchasing a sailboat. The wrong size sailboat can lead to disappointment and wasted money. Please use this guide to be sure you are getting the right size for the purpose before you hit the waters.
Any questions? Well, we are always happy to help. So please use the comments area to share your questions. 
Picture in this post is by Kristel Hayes on Unsplash
Related to Sailboat Size