Rooftop Tent Size Chart
This post was last updated on February 13th, 2023 at 11:27 pm
A rooftop tent size chart is the ideal guide for the right purchasing choice. The size chart provides precise comparisons according to your sleeping spaces, interior heights, length, width, and weight measurements. With the rooftop tent size chart as your buying guide, you will know which vehicle size to use for your trips and the rooftop tent model that suits all your needs.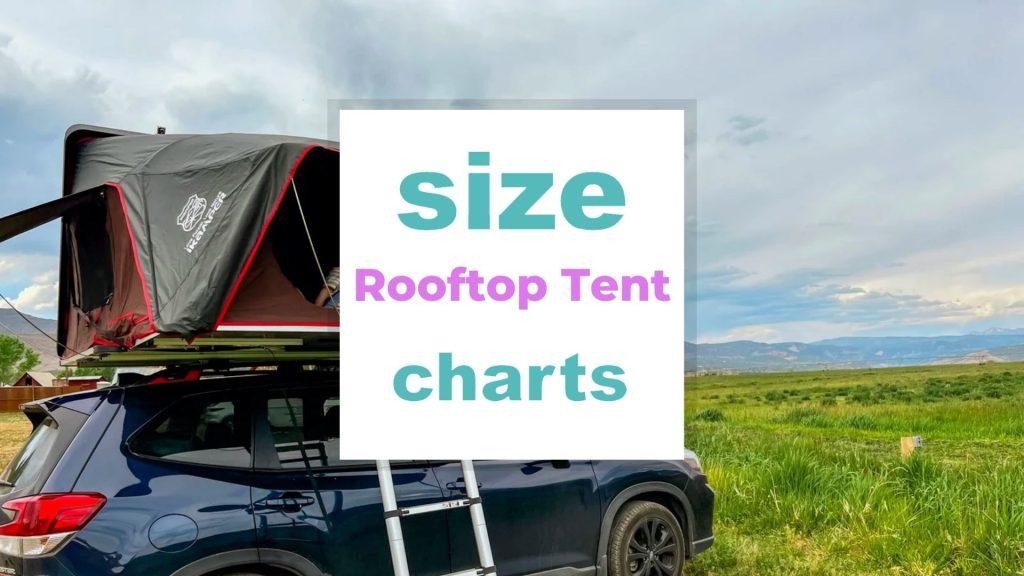 In this guidebook, we look into the typical dimensions of rooftop tent sizes. This size chart guide provides comprehensive details of rooftop tent sizes for all buyers and their camping needs. The rooftop tent size chart guide caters to everyone, from small designs meant for individual camping to bigger tents built to accommodate larger groups and families.
Furthermore, we sample various brands, the rooftop tent sizes they offer, and the designs that best suit your height and weight requirements.
Jump right into the Frequently Asked Questions
Related: Rv Tire Size Chart And Sizing Guide , Wiper Blades Size chart by type: what size are my wiper blades ? , Trailer Ball Size Chart – Know What Works Best for your trailer/rv
Rooftop Tent Size Table of Contents
Rooftop tent sizes chart
Related: RV Solar Panel Size Guide & dimensions: What size do you need?
Size
Sleeping Capacity
Size when closed
( W x L x H ) (inches)
cm
Size when open (inches)
cm
Sleeping area (inches)
cm
Mattress (inches)
cm
Weight (Lbs)
Kgs
Queen Bed
3
62 x 48 x 14
157.48 x 121.92 x 35.56
62 x 96 x 49
157.48 x 243.84 x 124.46
62 x 96
157.48 x 243.84
3
7.62 cm
1431
64.86 kg
King Bed
4
72 x 48 x 14
182.88 x 121.92 x 35.56
72 x 96 x 49
182.88 x 243.84 x 124.46
72 x 96
182.88 x 243.84
3
7.62 cm
1561
70.76 kg
Double Bed
2
56 x 48 x 14
142.24 x 121.92 x 35.56
56 x 96 x 49
142.24 x 243.84 x 124.46
56 x 96
243.84 x 243.84
3
7.62 cm
1211
54.88 kg
Common rooftop tent dimensions
Related: Rv Size Chart – A Guide To Choosing RVs and Campers, Car Battery Size chart: find the right car battery
The most popular designs measure 5 to 10 feet long, 4 to 8 feet wide, and 3 to 6 feet tall. Most rooftop tents comfortably accommodate between 2 and 4 people. Some popular tents for one or two people include mini models such as the skycamp mini and smittybilt rooftop tents. They often measure between 6 feet long, 4 feet wide, and 4 feet tall when open. These mini models are lightweight and perfect for single campers or couples that prefer traveling alone.
Larger rooftop tents are also available for families and larger groups of three to four people. These tents are also perfect for long-term outdoor camping in the woods, desert, and periodical adventures on the road. Common rooftop tents for bigger groups include queen size, family size, king size, ocam, ikamper 4x, and arb rooftop tents.
They measure 10 to 15 feet long, 6 to 10 feet wide, and 4 to 5 feet high. Owners can install these rooftop tents on trucks, minivans, and large SUVs.
Without wasting time, let's get an in-depth look into common rooftop tents and their specific dimensions:
Family-size rooftop tent
A typical family-size rooftop tent measures 2.4 meters long, 1.8 meters wide, and 1.25 meters high when open and 1.2 meters long, 1.8 meters wide, and 0.3 meters high when closed. The perfect family-size rooftop tent should have a large base to provide support and ample space for family members. Most family-size rooftop tents are wide and long enough to provide comfortable sleeping space for people who are up to 7 feet tall.
Essentially, a family-size rooftop tent can fit three to four people. The occupants can be one kid and three grownups, or two grownups and two children, depending on the family size. We advise buyers in this category to go for rooftop models with additional storage spaces such as internal pockets for snacks and gadget storage, and exterior base mounts for shoe storage.
Do all vehicles support the family-size rooftop tent?
The family-size rooftop tent cannot fit on all vehicles. You need a larger vehicle that can support 3 roof racks to safely mount the family rooftop tent. Therefore, smaller models of SUVs and hatchbacks are not suitable because they do not satisfy the minimum size installation requirements.
What maximum weight can the family-size rooftop tent hold?
The family-size rooftop tent can hold occupants weighing up to a total of 300 kilograms and weighs 70 kilograms on its own.
Queen size roof top tent
The queen-size rooftop tent measures 48 inches long, 62 inches wide, and 14 inches high when closed and measures 122 inches long, 62 inches wide, and 49 inches high when open. The queen-size rooftop tents are designed to accommodate 3 to 4 people and have a large sleeping area measuring 62 inches wide and 96 inches long. This rooftop tent weighs 152 pounds and comes with additional pockets within the tent for keeping personal items and shoe compartments on the outside for footwear.
One of the main perks of the queen-size rooftop tent is its 3-inch thick queen-size Rebound mattress that provides unmatched comfort.
Kings rooftop tent dimensions
The king's rooftop tent dimensions allow enough sleeping space for two to four people. The king's rooftop tent measures 2.5 meters long, 1.45 meters wide and 1.3 meters high when open for use. This rooftop tent comes with a ladder support system that extends up to 2 meters, making it ideal on tall 4WDs. The king's rooftop tent is 57 kilograms and thus easy to mount and transport on most vehicles. 
Here are some examples of common roof tents  in the market and their dimensions:
1. Ocam rooftop king tent: The ocam rooftop king tent provides enough sleeping space for up to four people. This tent measures 2.1 meters long, 2.1 meters wide, and 1.2 meters high when open and 2.1 meters long, 1.2 meters wide, and 0.3 meters high when closed. The ocam rooftop tent comes with a telescopic ladder that adjusts as high as 2.3 meters to support the tent when mounted on vehicles. The tent can also hold heavy weights up to 300 kilograms and grossly weighs 95 kilograms.
2. ARB rooftop tent dimensions: The arb rooftop tent dimensions offer occupants extra comfort due to the tent's ample size. An open arb rooftop tent measures 2.4 meters long, 1.4 meters wide, and 1.3 meters long. A closed arb rooftop tent measures 1.2 meters long, 1.4 meters wide, and 0.3 meters high.
This rooftop tent is lightweight and thus perfect to mount on a wide variety of vehicles. The arb rooftop tent also comes with a supporting ladder that is not only retractable but also sustains loads weighing up to 265 pounds. The tent itself weighs 70 kilograms which is equivalent to 154 pounds.
3. The ikamper skycamp: The ikamper skycamp rooftop tent accommodates between three to four people. This rooftop tent is more convenient for three adults, or two adults and two kids. The ikamper skycamp 4x rooftop tent is 54.3 inches long, 85.8 inches wide, and 12.5 inches high when open. A closed ikamper skycamp 4x measures 82.6 inches long, 85.8 inches wide, and 43.3 inches high.
This tent comes with a spacious mattress that measures 82.6 inches long and 74.8 inches wide. The supporting ladder for the ikamper skycamp 4x is extendable to 90 inches from the vehicle's roof rack to the ground.
The ikamper skycamp 2.0 rooftop tent has a capacity of three to four people. This rooftop tent measures 85.4 inches wide, 54.7 inches wide, and 12.8 inches high when open and 85.4 inches long, 54.7 inches wide, and 12.8 inches high when closed. Ikamper skycamp 2.0 rooftop tents come with king-size mattresses that are extra thick for comfort. The comfy mattress measures 80 inches long, 77.5 inches wide and 1.6 inches thick.
A ladder for sustaining the tent can extend up to 2.1 meters between the rails and the ground. This ladder is sturdy enough to support a weight limit of 330 pounds or 150 kilograms. Furthermore, this rooftop tent is ideal for heavier people as it supports an overall maximum weight not exceeding 408 kilograms. Despite its large size, the ikamper skycap is a lightweight model and only weighs 72 kilograms, the equivalent of 160 pounds.
Quick note: The ikamperskycamp 4x rooftop tent is so spacious that you can leave your pillows and sleeping bag within the tent. However, we recommend keeping the pillows and bags closer to the hinge to allow the tent floor to fold easily without restrictions
4. The smittybilt rooftop tent: An open smittybilt rooftop tent measures 95 inches wide, 56 inches long, and 51 inches high. The tent measures 47 inches wide, 56 inches long, and 11 inches high when closed. Weighing around 60 kilograms, experts agree that the smittybilt rooftop tent is one of the most lightweight rooftop tent options in modern markets. This tent also comes with a mattress that is 92 inches long and 55 inches wide.
Another remarkable accessory here is the smittybilt rooftop tent ladder, which can extend up to 78 inches. However, on the downside, the ladder can only support up to 120 kilograms. Despite its limited load capacity, the lightweight design of the smittybilt tent makes it one of the easiest designs to install on vehicles.
Please note that most full-size truck rooftop tents are large and come with built-in mattresses that are between 2.5 and 3.5 inches thick. Common full-size truck rooftop tents accommodate one to three people while more spacious designs can hold up to four or five occupants. Full-size truck rooftop tents are available in different sizes. Some models are lightweight, weighing 100 pounds while others weigh as much as 200 pounds. It's usually up to the buyer to choose whichever designs best suit their size needs.
Learn more about rooftop tent size and tips before buying (video)
Frequently Asked Questions
Can I stand upright in a rooftop tent?
It is impossible to stand upright and stroll in a rooftop tent because its design has a limited height capacity compared to most ground tents, which offer more standing and walking space. Rooftop tents offer adequate sleeping space and allow occupants to sit comfortably but provide less space for standing and upright mobility.
What's the largest rooftop tent?
The largest rooftop tent measures 3.4 meters long, 2 meters wide, and 1.4 meters high. This tent provides approximately 10,600 square inches of room, meaning it can accommodate up to five people!
What's the smallest rooftop tent?
The smallest roof tent measures 83 inches long and 51 inches wide. Small rooftop tents are the most compact rooftop designs, taking up less space and weighing only 125 pounds. Despite its small size, the smallest rooftop tent is quite spacious and can comfortably accommodate two people.
The small size of this tent also makes it easier to carry on most compact vehicles as well as bigger designs like trucks with cabs. In addition, small rooftop tents can fit on hatchbacks and other car designs such as the Tacoma, Gladiator, and Crosstrek.
What are the dimensions of a rooftop tent?
Most rooftop tents measure between 4 to 8 feet wide and 5 to 12 feet long. According to the rooftop tent size chart, common rooftop tents are 3 to 6 feet tall when open, and 6 to 14 inches tall when closed in transit. However, the open rooftop dimensions for the base of a rooftop tent may vary according to your vehicle's height.
Generally, most rooftop tents have adequate sleeping spaces that fit between two to three people.
What vehicles can support a rooftop tent?
Vehicles whose rooftop weight capacities exceed 165 pounds can support roof top tents. Besides, a car whose roof rails are factory-installed for rooftop tents stands a better chance at supporting rooftop tents. However, always ensure you check rooftop tent manuals beforehand to determine which vehicles support the rooftop tent and their maximum load or weight limit.
A vehicle can hold a rooftop tent if its roof rack can support the tent's weight without surpassing the vehicle's rooftop weight limit. The top vehicle picks for mounting and transporting rooftop tents are usually trucks, Rav4, and SUV models. Hatchbacks, sedans, and smaller cars can also support smaller rooftop tent designs despite their small comparable weight capacities to large vehicles.
How much height does a rooftop tent add?
An open rooftop tent adds 40 to 50 inches to the vehicle's height. On the other hand, a closed rooftop tent adds 8 to 13 inches to the vehicle's height. However, these height dimensions may vary depending on the type and size of the tent you choose to acquire.
How far apart should the crossbars be for the roof top tent?
Crossbars for rooftop tents should be at least 76 centimeters or 30 inches apart to sustain the tent's weight and the weight of individuals occupying the tent. Also, always make sure to revise the rooftop tent size chart for any special instructions regarding crossbar assembly, as some specific provisions may alter the common measurement requirements.
How heavy is a rooftop tent?
A typical rooftop tent weighs between 100 to 200 pounds. In kilograms, most rooftop tents weigh 45 to 95 kilograms.
Quick Note – When installing a rooftop tent, please ensure that your vehicle doesn't weigh more than its maximum load in full capacity or GVM. Furthermore, before deciding on a rooftop tent, make sure that the tent's weight is compatible with the maximum dynamic and static loads of your roof rack.
Can you put a tent on the roof bars?
You cannot put a rooftop tent on roof bars because your rooftop tent will be unstable on roof bars alone. For stability, you'll need roof racks and crossbars. We advise vehicle owners to fix the appropriate crossbars and additional roof racks to conveniently and safely affix the rooftop tent to their vehicles. This way, you'll keep the rooftop tent more stable and balanced.
Quick note – When driving with a rooftop tent fitted to your vehicle, always ensure that you don't exceed the maximum weight capacity that your vehicle should carry. This means you should take into account the weight of all items on your roof including the tent and the roof bars. Furthermore, you should spread your load evenly over the roof bars and avoid concentrating weight on any side of the bars.
Conclusion
Size is a primary factor when purchasing rooftop tents. That's why we constantly update our rooftop tent size guide to give you the best rooftop tent size information for your car, according to your camping and traveling needs. We understand that different vehicles have varying capabilities when it comes to loading limits. For positive results, always consult the rooftop tent size chart as it offers long-lasting and beneficial solutions to your travel requirements.
Thanks for reading and please don't fail to ask your questions regarding rooftop tent sizes. We'll be glad to answer and help you find the most suitable rooftop tent size for your needs.
Picture in this post is by Michael Aleo on Unsplash
Related to Tent Size Charts