Knife Sizes and Different Types
A knife is a tool used for cutting that typically comprises a narrow metal blade with a sharp edge and a handle. At least 2.5 million years ago, when Oldowan tools first appeared, humans began using knives (skip straight to the knife sizes charts).
Both experienced chefs and amateur cooks can agree that the size of a chef's knife makes an important difference in its functionality and maneuverability in the kitchen. If your knife is too little, you won't be able to easily chop, slice, or dice your food. To get the best outcomes, you need to develop a certain "feel" for these activities.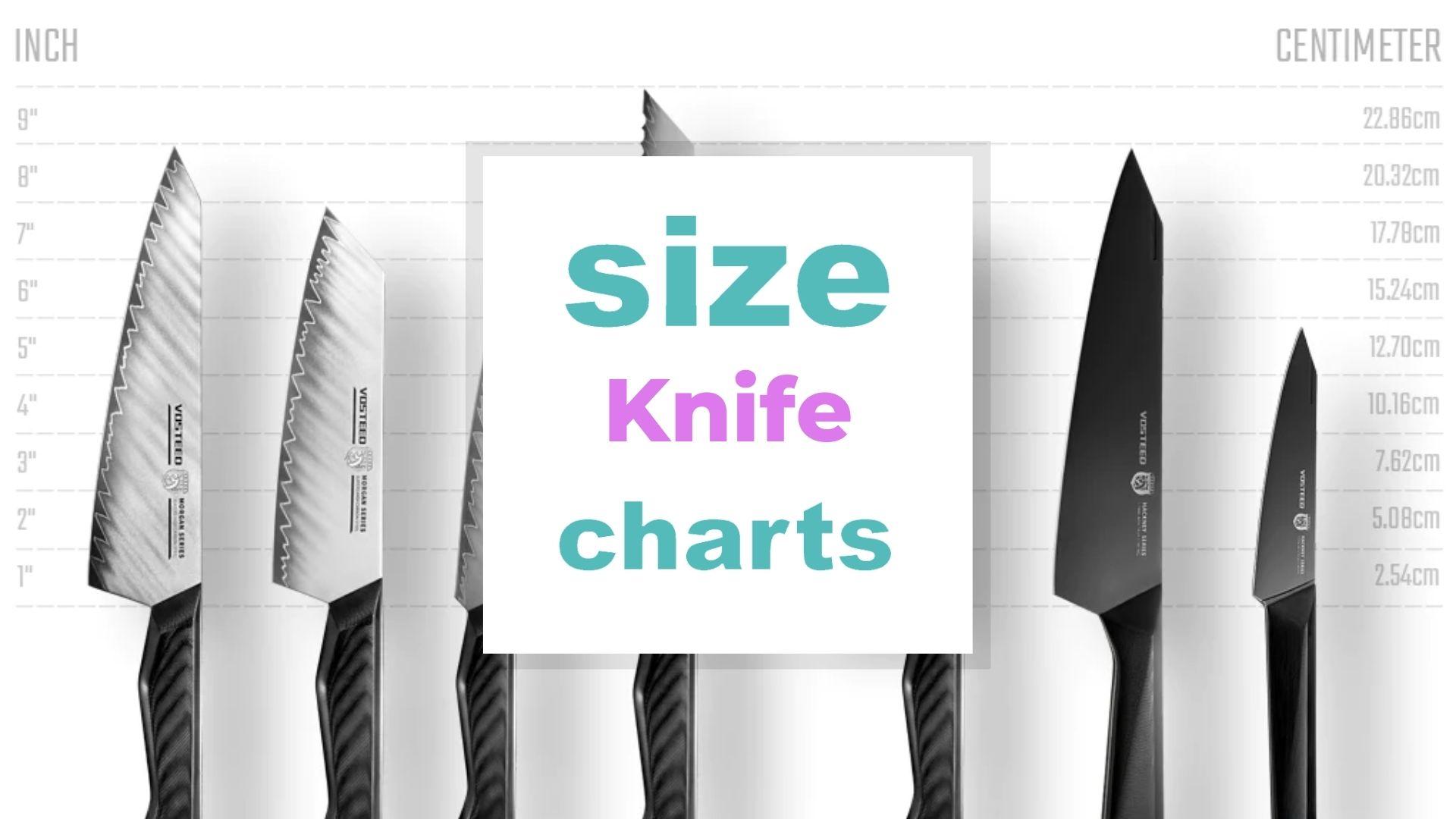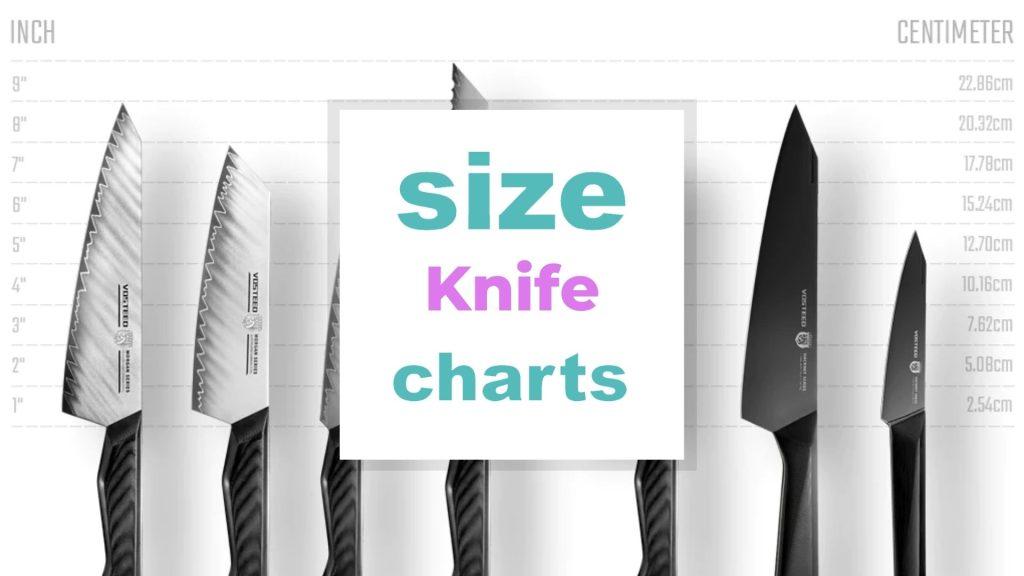 The size and weight of your chef knife will impact how you handle it. Both your dexterity and the amount of force you can apply while using are affected by these variables.
The length, breadth, and depth of your slices will all depend on the size of your knife. Also affected is how quickly food can be chopped. The preciseness of a smaller knife may depend on the user's desire for its size, whereas the depth of the cuts made by a larger knife may be greater.
It's worth noting that while a larger knife provides greater control, a smaller one may provide greater precision. Not only is it crucial to think about how it will be used, but why. Fruits, vegetables, and meat without bones, for instance, are easier to dice and chop with a knife that has a smaller blade. It is easier to make clean cuts through dense bones and tougher cuts of meat with a blade that is wider.
Jump right into the Frequently Asked Questions
Related: Gatorade Bottle Sizes explained by type and flavor, What size is a quart – easily explained by country in pints and cups
Knife Sizes Table of Contents
Knife size chart
Related: Wine Glass Size Chart
| | |
| --- | --- |
| knife | Size |
| Chef's knife | 15 cm x 30 cm x 20 cm 6 in x 12 in x  8 in |
| Utility knife | 10 cm x 18 cm 4 in x 7 in  |
| Pelling or paring knife | 6 cm x 10 cm 2½ in x 4 in long. |
| Bread knife | 15 cm x 25 cm 6 in x 10 in |
| Cleaver | 15 cm 6 in |
| Filleting knife | 15 cm x 28 cm 6 in x 11 in |
| Carving | 20 cm x  38 cm 8 in x 15 in |
| Boning knife | 12 cm x 17 cm 5 in x 6½ in |
| Pastry knife | 25.5 cm (10 in) in length. |
Pocket knife size chart
Related: Baking Pan Size Charts: Round, Loaf, Muffin…
| | |
| --- | --- |
| Pocket  | size |
| Knife N°2 | 3.5 cm blade, 4.5 cm handle 1.4 inches blade, 1.8 inches handle |
| Knife N°3 | 4 cm blade, 5.5 cm handle, no safety ring 1.6 inches blade, 2.2 inches handle  |
| Knife N°4 | 5 cm blade, 6.5 cm handle, no safety ring 2 inches blade, 2.6 inches handle |
| Knife N°5 | 6 cm blade, 8 cm handle, no safety ring 2.4 inches blade, 3.1 inches handle |
| Knife N°6 | 7 cm blade, 9.5 cm handle 2.8 inches blade, 3.7 inches handle |
| Knife N°7 | 8 cm blade, 10 cm handle 3.1 inches blade, 3.9 inches handle |
| Knife N°8 | 8.5 cm blade, 11 cm handle 3.3 inches blade, 4.3 inches handle |
| Knife N°9 | 9 cm blade, 12 cm handle 3.5 inches, 4.7 inches handle |
| Knife N°10 | 10 cm blade, 13 cm handle 4 inches blade, 5.1 inches handle |
| Knife N°12 | 12 cm blade, 16 cm handle 4.7 inches blade, 6.3 inches handle |
How to choose the right Knife sizes
Related: Jar Size Guide: How to Choose the Right Size?, Blackstone Griddle size and barbecue dimensions
What makes a knife good? The sharpness of a knife is not the only criterion for quality. When there are a lot of options available, deciding might be difficult. A good chef's knife is like a close friend; to get to know it, put in some quality time with it. However, many people only realize they've been using subpar knives for a long time when they upgrade to better ones.
The length, width, and thickness of a knife's blade are all factors in how at ease you feel when cooking. Choosing a knife with these characteristics in mind will help you find one that is both trustworthy and well-suited to your needs. In order to quantify it, I'd like to share some ideas with you.
Knife Size
A knife with an 8-inch blade is 8 inches long from tip to heel; this does not include the length of the handle. When looking for a chef's knife to use for a wide variety of tasks, the length of the blade is the first factor to consider. It's essential to its functionality and user-friendliness.
It's common for chefs' knives to be between 6 and 12 inches long. The most common length for a chef's knife is between 6 and 8 inches (15 and 20 centimeters), which is ideal for the vast majority of cutting tasks and is comfortable in the hand. Although 10-12″ (25-30cm) blades are the preference of most chefs, their extra strength and complexity make them unsuitable for the hands of the average home cook.
Both experienced chefs and amateur cooks can agree that the size of a chef's knife makes an important difference in its functionality and maneuverability in the kitchen. If your knife is too little, you won't be able to easily chop, slice, or dice your food. To get the best outcomes, you need to develop a certain "feel" for these activities.
Thickness (on the spine)
The thickness is the second issue. A good thickness for an 8-inch chef's knife is 1/8 inch (3.2 mm), and anything 3/32 inch (2.4 mm) or thicker is ideal for kitchen knives. Since a chef's knife must withstand additional force, it can be a tad taller than the standard 3.5 mm.

The blade on a Japanese chef's knife is typically narrower (2.0 mm or even thinner) than on a German chef's knife, making it simpler to control and ideal for delicate slicing. Because of the thinner blade, it is usually extremely sharp, but it isn't the ideal option for slicing or chopping a bird.
The Height and Width of the Blade
The width of a knife's blade—that is, the distance from the cutting edge to the knife's spine—may not be a major consideration for most consumers, but it may make a big difference in terms of both convenience and safety in the kitchen.
The standard width of the blade on a professional chef's knife is 1.5 inches (38 mm). Victorinox Fibrox, one of the most popular chef knives on the market, with a blade width/height of 55mm. Knives with longer blades provide you with a greater working room. Cutting veggies will not result in any accidental finger amputations. And with a taller blade, the knife's heel is bigger, so your knuckles won't be squished against the board while you work.
It's not as hard as you may think to find the ideal professional chef's knife that makes slicing, dicing, chopping, and mincing a breeze. The length, width, and depth should all be considered when you've identified what you're looking for. One size does not fit all knives, but with enough research and time, you may select the perfect blade for your needs.
Learn more about knife sizes (video)
Frequently Asked Questions
1. What sizes do knives come in?
3.5 Inch Knives. paring knife
5 Inch Knives.
7 Inch Knives.
8.5 Inch Knives.
12 Inch Knives.
2. How do you pick the right size knife?
The types of food you plan on preparing and your level of expertise in the kitchen are two factors to consider while selecting the best knives. Here's a rundown of the essential information.
For Everyday Cooking, The best knives to have in your kitchen are:
Chef's knife
Paring knife
Utility knife
Carving knife
Pastry Chef. These include:
Chef's knife
Paring knife
Bread/cake knife
Aspiring Chef. include a:
Chef's knife
Paring knife
Bread knife
Utility knife
Carving knife
Apprentice Professional; In the kitchen, an apprentice chef needs at least a:
Chef's knife
Utility knife
Paring knife (different varieties)
Boning knife
Carving knife
Professional Chef; any professional chef will need a wide range of kitchen knives in varying lengths, including:
Chef's knife
Paring knife (different varieties)
Utility knife
Boning knife
Carving knife
Slicing knife
Cleaver
Butcher knife
3. Is an 8-inch knife too big?
It's the perfect length because most home-cooked meals don't go over 8 inches. We can chop the larger items into manageable chunks with an 8-inch knife.
4. What are the 4 basic knives?
Chef's Knife– Chef's knives are culinary workhorses. Most cooks use this knife for everything; it's like an extension of their hand. The length of the blade improves job productivity; it's good to use the entire stroke to slice or dice.
Paring Knife– Paring knives can hull and slice a strawberry or peel an apple when a peeler isn't available. It's a good knife for children to learn with because it gives them more control.
Long-Serrated Bread Knife– If you like crusty baguettes or boules as much as I do, you need a serrated bread knife. No other knife can securely and rapidly cut the crust.
Slicing/Carving Knife (10")– Carving knife and a slicing knife refer to the same tool. A carving knife is a thin knife used for carving and slicing meats and poultry. It has a long blade that is straight and usually rounded at the tip (occasionally with hollow scallops on the sides called Granton). The long, narrow shape of a carving knife's blade lends itself to the sawing motion required for intricate work.
Check out this video to learn more about different types of knives
5. What are 10-inch knife sizes used for?
The 10-inch Chef Knife is the most popular and versatile knife in any cutlery set. In the kitchen, this vegetable knife is universally regarded as the best option for slicing and chopping raw meats, vegetables, and fruits.
6. What can you use 6-inch knife sizes for?
A 6-inch chef's knife is more manageable because of its smaller weight and shorter blade. A 6-inch chef's knife is great for more delicate tasks like mincing garlic, slicing ginger, and chopping up a small chicken because of its superior mobility.
7. Which knife is best for everything?
Chef's Knife; The knife's versatility means you can use it to do everything from carving a roast to dismantling a watermelon. A good favorite knife has a long sharp blade, isn't too heavy, and has a comfortable knife handle.
Conclusion
Once you've settled on the best cutting tools for the food preparation job at hand, it's important to keep them in tip-top shape by giving them the occasional sharpening. There are a  variety of whetstones, steels, and knife sharpeners that provide everything you need to keep your blades in tip-top shape, extending the life of your knives and facilitating your cutting tasks.
Storing blades improperly can reduce their sharpness and shorten their useful life. Cutting oneself is considerably more likely if the utensil drawer is disorganized and you just dump them in there. We recommend that you store your knives in a steel knife block or magnetic rack; there is a wide variety of knife blocks, racks, and wallets available in a variety of designs to complement any kitchen.
You may increase the quality of your dishes and the safety of your kitchen staff by investing in a set of professional chef's knives. With your newfound knowledge of knife kinds and their respective functions, you are ready to go out and purchase a whole set. Don't forget to peruse the extensive restaurant knowledge base for helpful hints on starting a catering business, selecting and training staff, securing a liquor license, maintaining a spotless commercial kitchen, and much more.
Thank you for reading our article. You can share with others and for questions leave them in the comment section.
Picture in this post is by Kevin Doran on Unsplash
Related to Knife Sizes