Nightstand Size and Dimensions for Bedroom
A nightstand is an essential part of any bedroom furniture. They keep everything within easy reach, including alarm clocks and table lamps. It's crucial to pick the right-sized nightstand so you can store all of your bedtime necessities close at hand (skip straight to the Nightstand size chart).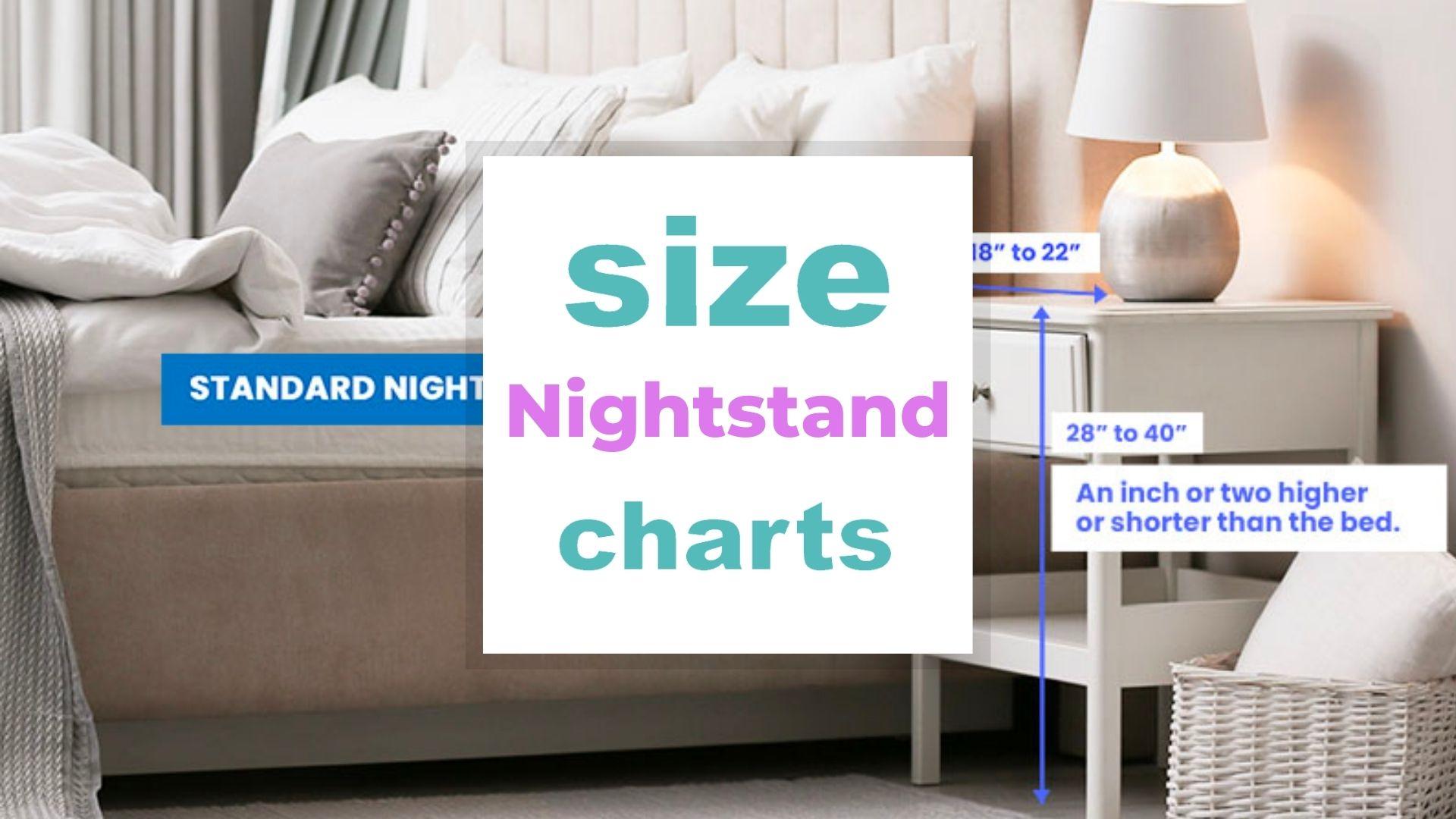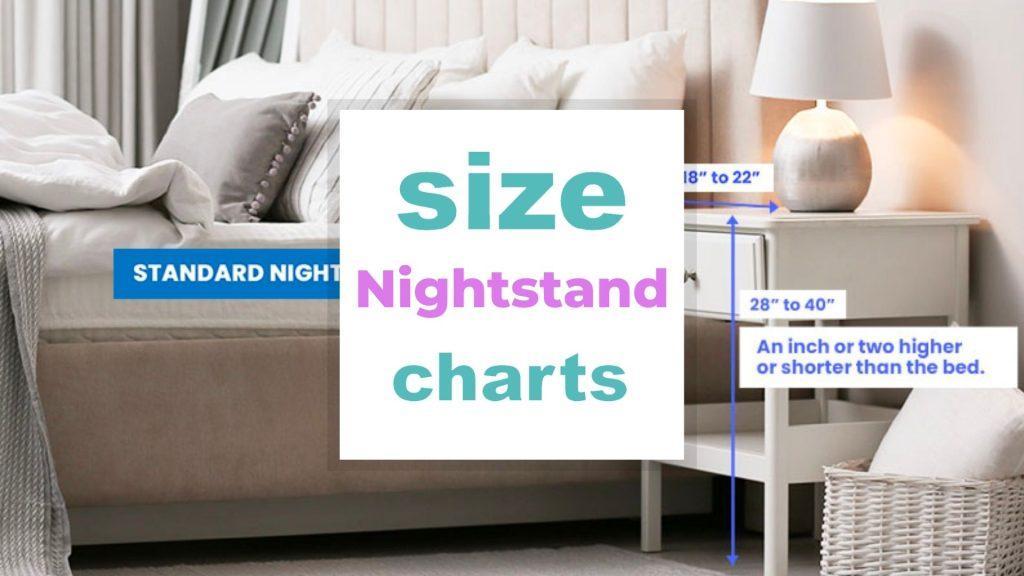 When selecting the proper nightstand sizes, there are a few factors to take into account, such as the dimension of your room, the arrangement of your furniture, and the height of your bed. 
Keep reading to determine which nightstand size and dimensions are tailored specifically for your bedroom.
Jump right into the Frequently Asked Questions
Related: Bed sheet size and dimensions by type of bed (with size chart), Bed Size Chart – Measurements And Dimension for king, queen,… beds, Room Size for beds and mattresses
Summary
Nightstand Size Chart
Related: Standard Size of Bedroom: All You Need to Know, Rug sizes for bedrooms – all rug dimensions for all sizes of beds
Nightstands come in a variety of designs, sizes, and materials and can be coupled with a bed frame and other bedroom furniture. Here is a detailed size overview:
Standard Nightstand
We might conclude that a standard nightstand is designed with the size of a double bed in mind, as twin or twin beds are the most common bed dimensions in the world. 
Standard nightstand dimensions can have a size of:
| | | |
| --- | --- | --- |
| WIDTH | 18 to 22 inches | 45.72 to 55.88 cm |
| LENGTH | 28 to 40 inches | 71 to 101.6 cm |
Moreover, standard nightstands can range in height from 58.43 to 71.12 centimeters, or 23 inches to 28 inches.
The height of a tall nightstand is between 30 and 35 inches (76.2 to 88.9 centimeters), whereas the height of an extra tall nightstand can reach 35 inches (88.9 centimeters) and higher.
Small Nightstand Dimensions
Modern platform beds that don't require a box spring are ideal candidates for small nightstands because they may be placed closer to the floor.
These are the measurements for smaller nightstands to watch out for if you have a platform bed and want one to go with it. 
| | | |
| --- | --- | --- |
| LENGTH | 20 inches | 50.8 cm |
| WIDTH | 30 to 35 inches | 76.2 to 88.9 cm |
| DEPTH | 17 inches | 43.2 cm |
Bedside Table Dimensions
One of the following three items could be a bedside table: a nightstand, a bedside cabinet, or a bedside chest. Although some of them are used differently, they all serve the same purpose. 
The first option is a bedside chest that has two to three drawers and gives you extra storage space. The second is a bedside cabinet that includes a drawer and a cabinet. 
| | | |
| --- | --- | --- |
| LENGTH | 32 inches  | 81.28 cm |
| WIDTH | 36 inches | 91.5 cm |
| DEPTH | 20 inches | 51 cm |
Medium Size
| | | |
| --- | --- | --- |
| LENGTH | 18 inches  | 46 cm |
| WIDTH | 20 inches | 52 cm |
| DEPTH | 17 inches | 43 cm |
Nightstand Width for Queen Bed
It's crucial to look for a nightstand that would go well with your larger Queen bed.
A nightstand that is too small would be swept away by your enormous bed, while one that is too large would make it appear out of proportion. 
| | | |
| --- | --- | --- |
| LENGTH | 21 inches  | 53.34 cm |
| WIDTH | 27 inches | 68.58 cm |
| DEPTH | 22 inches | 55.88 cm |
How To Choose The Right Nightstand Size 
Related: Queen Bed Size Chart and dimensions guide, King Bed Size Chart and dimensions guide, Twin Bed Size Chart: Single bed dimensions guide
Simply because there are so many possibilities available, selecting a nightstand is always fun. Do you want a piece that has two drawers? Possibly three? Or would you prefer none to keep things looking more streamlined? 
Do you prefer buying glam mirrored furniture, or are you drawn to bohemian rattan items?
Designers concur that it's crucial to consider dimensions and proportion before adding a potential option to your cart, despite the fact that there are so many different types of bedside tables to pick from. 
Be Sure Of The Proportions, Beginning With The Bed 
Experts concur that proportion is important. It's crucial to choose the right dimensions of bed for the room before even considering nightstands.
It doesn't necessarily follow that the full-sized bed you used in your studio apartment is the best option for your master bedroom in the suburbs. 
A king-sized bed in a small room doesn't really assist unless all you want to do is be able to hop on the bed and nothing else, while a queen-size bed feels quite little in a huge space. 
Measure The Width And Height
After choosing the correct bed dimension, you should consider the nightstand dimensions. According to the recommendations, a typical nightstand should be between 24 and 28 inches tall, leaving 25 inches between the floor and the mattress. 
The width changes based on how much room is still available. It shouldn't be considerably lower or higher than the height of your bed and else you'll be reaching awkwardly for anything on it.
You can have a little more fun in terms of width. Just remember to take other furniture into account when placing it.
Although standard two-drawer bedside tables are common in design magazines, it's acceptable to get creative in your home. Bedside tables don't have to be one particular style as long as they meet these measurements.
In some cases, if you have a lot of room in your headboard wall, a nightstand can double as a second dresser for additional storage. 
Do Not Stress Over Matching Tables
Additionally, bedside tables don't have to match. A simple setup can nevertheless be attractive and well-designed. If asymmetry isn't your style, you can add symmetry with other pieces to achieve a balanced appearance, such as a pair of coordinating lights or artwork hung above each. 
Keep Your Particular Routine in Mind; Practicality Is Vital 
The choice of nightstands should also take into consideration your everyday needs and habits. There should also be room for a glass of water, a few books, a framed photo, and a light.
However, if there isn't much room, a wall sconce will do. Overall, you have won the battle over nightstand size if your proportions are in balance, your utilitarian demands are satisfied, and there is room to style with complimentary things.
Learn more about how to choose the right size bedside furniture (video)
The Best Nightstand Size For You
Related: Table Size Chart and Dimensions Guide by space and people, Coffee table Size Chart – Coffee table dimensions, Interior Doors Sizes: Minimum & standard dimensions
The best height for a nightstand is between 24 and 27 inches, but only if it is 5 inches higher or lower than the top of the mattress. There is nothing more annoying than leaning over for a glass of water and having to get out of bed to try to find it on nightstands that are really low.
The same is true of things that need you to reach up and grab them because they are too tall. 
In order for you to conveniently access it, your nightstand should be about the same height as the top of the mattress. Keep your bed and nightstand side by side.
The typical nightstand is 20′′x20′′, which fits most beds. However, you can use a larger nightstand (up to 40′′) for larger beds (like a king) and perhaps a slightly smaller nightstand for smaller beds (like twins). 
Furthermore, scale is the key to the design. The same applies if you have two tiny little nightstands next to an immense large bed. It can look odd if your nightstands are too large next to your bed.
Consider how the nightstands will look next to your bed when choosing them so you can get the best one.
Frequently Asked Questions
What is a standard bedside table?
In order to meet common bed heights of 25″, nightstands typically range in height from 24″ to 28″ (61-71 cm) (63.5 cm).
Are 36 inches too tall for a nightstand size?
According to experienced decor experts and furniture artisans, nightstands should be between 24 and 36 inches in height on average. Given that mattresses typically measure 25 inches in height, these numbers have come to be considered average.
How do you know what nightstand size to buy?
You should research nightstand measurements once you've decided on the right dimension of bed to buy. According to the recommendations, a typical bedside table should be between 24 and 28 inches tall, leaving 25 inches between the floor and the mattress.
How tall should your nightstand size be compared to your bed?
The top of your nightstand should, in general, be 2 to 4 inches higher than the top of the mattress. When one is lying on the bed, it is much simpler to reach above and grab anything than it is to reach below. 
Can a nightstand be shorter than a bed?
They may be at different heights. Suppliers of nightstands should be able to support a range of bed heights. Nightstands typically range in height from 24 to 28 inches. However, they can be taller than 30 inches.
How wide should a nightstand be for a queen bed?
A great size range for nightstands, when combined with a queen bed, is 22′′ to 24′′ x 23′′ to 27′′.
Do you have to have two nightstands?
There is no absolute requirement that you have two nightstands. It depends on your storage needs and personal style.
How far from the wall should a nightstand be?
The majority of designers advise leaving at least two feet around the bed. To make sure you have adequate space to walk around in when making the bed, do this.
Conclusion
The primary function of nightstands is to keep important items nearby so that you may access them both before bed and when you wake up. Placing a table close to the bed can be useful if you need something in the midst of the night because getting up in the middle of the night to obtain something can be unpleasant. 
Hopefully, this nightstand size guide may be useful to you. 
Please feel free to ask any questions in the comments section below.
Picture in this post is by Tina Witherspoon on Unsplash
Related to Nightstand Size and Dimensions