Interior Doors Sizes: Minimum & Standard Dimensions
This post was last updated on April 25th, 2023 at 09:33 am
Why is the size of interior doors important? Doors may have a significant impact on the appearance of your home. It provides more than just a means of entering and exiting a room. But, before you go into the style and appearance, you should look at the size (skip straight to the Interior Doors Sizes Chart).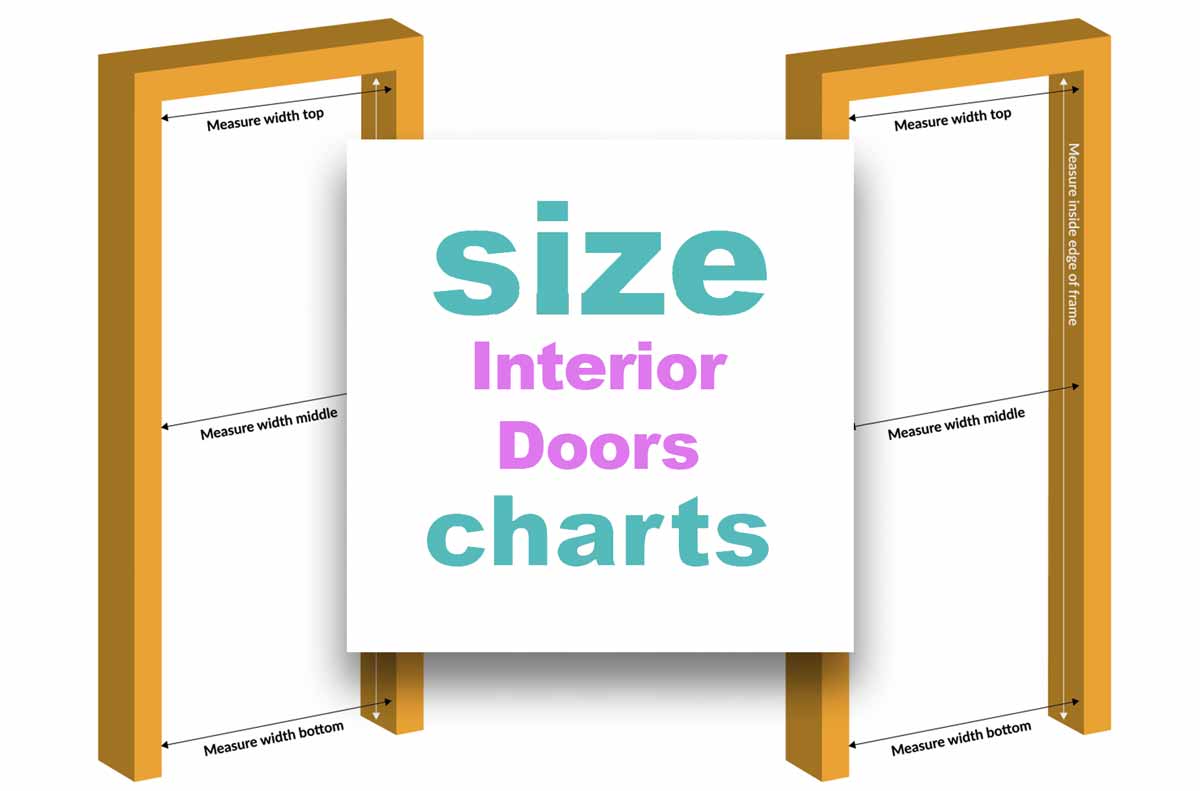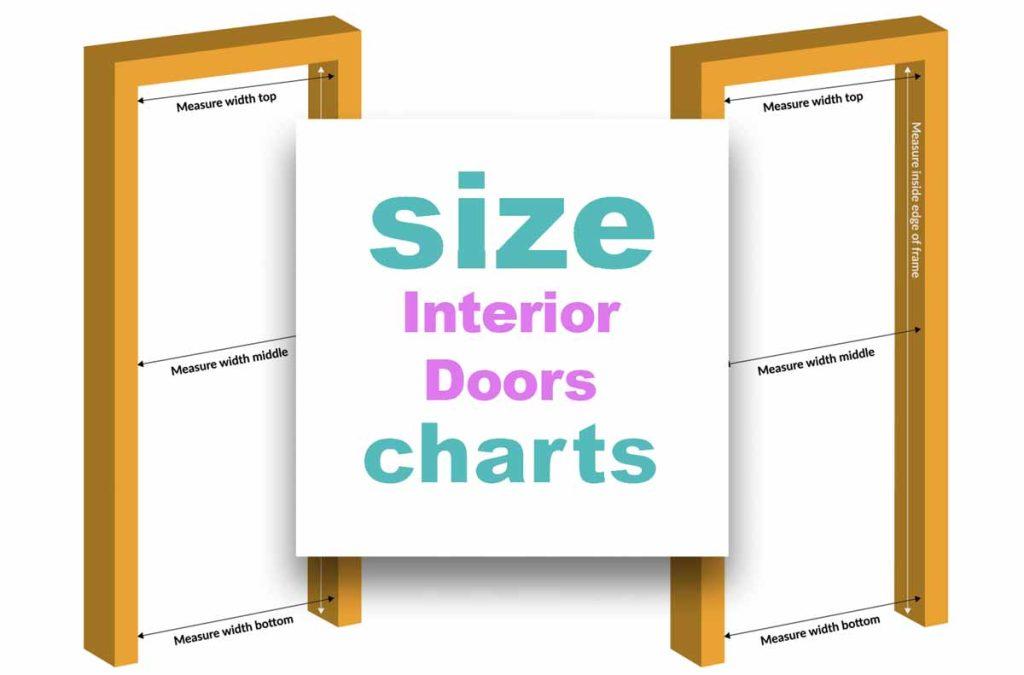 All entrance doors must be at least 80 inches tall, and interior doors typically come in widths of 24, 28, 30, 32, and 36 inches. To accommodate those with disabilities, doors should be at least 36 inches wide.

Dr Door
Understanding what size you require is the first step in obtaining the ideal doors for each entryway in your property. The following information will show you a chart of interior door sizes appropriate for your home's interior. Let us look at it right now!
Jump right into the Frequently Asked Questions
Related: Velux Skylight Size Chart – Roofing Help & Advice, Bed Size Chart – Measurements And Dimension for king, queen,… beds, Coffee table Size Chart – Coffee table dimensions
Table of Content on Interior Doors Sizes Chart
Interior Doors Sizes Chart
Related: Rug Size for Living room use, compared to table and sofa size, Average pool size explained by type of pool
Interior door sizes are famous doors that can be seen in both new and old building-style homes. All typical styles of doors are available at significant box retailers. Interior doors are open in vinyl, wood, steel, aluminum, and fiberglass.
The interior door sizes list below includes all sorts of interior doors suited for your property.
| | | | | |
| --- | --- | --- | --- | --- |
| | Dimension (W x H) in inches | Dimension (W x H) in cm | Depth (inches) | Depth (cm) |
| Interior | 32 inches x 80 inches | 81.28 cm x 203.20 cm | 1 ⅜ inches | 3.49 cm |
| Frame | 33 inches x 81 ½ inches | 83.82 cm x 207.01 cm | 1 ⅜ inches | 3.49 cm |
Types of Interior Doors Sizes Chart Actual Size
Related: Bar Sink Dimensions and Measuring Guide for Kitchen Sink sizes, Table Size Chart and Dimensions Guide by space and people
Interior doors chart converts standard to metric or vice versa and serves as a reference for straightforward and rapid calculations, particularly when measuring door measurements. Most homes have numerous commonly used door size charts.
The doors are often depicted in the dimensions height x width x depth.
| | | | | | |
| --- | --- | --- | --- | --- | --- |
| Type | Dimension (inches) | Dimension (cm) | Thickness | Additional Common Sizes (inches) | Additional Common Sizes (cm) |
| Standard Door | 36" x 80" | 91.44 cm x 203.20 cm | 1 ⅜" | N/A | N/A |
| Standard Interior Door | 36" x 80" | 91.44 cm x 203.20 cm | 1 ⅜ & 1 ¾ (if door is bigger than 36" x 90") | 24", 28", 30", 32", 36" | 60.96 cm, 71.12 cm, 76.20 cm, 81.28 cm, 91.44 cm |
| Sliding Glass Door Sizes | 60"-72" x 80" | 152.40 – 182.88 cm x 203.20 cm | N/A | 96" x 60, 96" x 72", 96" x 96" | 243.84 cm x 152.40 cm, 243.84 cm x 182.88 cm, 243.84 cm x 243.88 cm |
| French Door Sizes | 36" x 80" | 91.44 cm x 203.20 cm | 1 ¾" | 84" H, 96" H, 24" – 42" W | 213.36 cm H, 243.84 cm H, 60.96 – 106.68 cm W |
| Closet Doors | 30" x 96" | 76.20 cm x 243.84 cm | 1 ⅜" | N/A | N/A |
How to Choose the Right Door Size?
Related: Standard Size of Bedroom: All You Need to Know, Ventilation Hood Size Guide and dimensions for your kitchen
One of the most crucial elements of a house is its inside door. It is not just the entrance to your personal space and one of the distinctive features of your interior design. When selecting a new one, consider both appearance and utility—having a solid grasp of interior door measurements and how to choose the perfect fit.
To assist you, the following are the numerous factors to consider as you search for the ideal interior door:
Size – If the doorway area is more significant than a conventional-size door, it may necessitate the door and another feature such as a sideline or a double-entry door. The size will affect the cost of the door, which must also be considered when making your interior door purchasing decision.
Style – the inside door and entryway to your home will make some of the first impressions on family and visitors. It is entirely up to you whether you like a door with glass panels or a solid door with no windows at all. If the measurements are available, you might choose a stylish double-entry door with sidelights or a single-entry door with one sidelight.
Durability – an interior door should be robust and secure enough to keep possible attackers out and resistant to whatever weather your location experiences. Some doors require less care than others, such as being fade-resistant or resistant to dents and scratches.
How to Measure Your Doors Size?
Related: Pipe Sizing Chart and Different Types, Rebar Sizes Chart and Different Types
If you are still building your house, you will have no trouble selecting the design you like. Meanwhile, you can use the standard door size and make the required changes when the door is fitted. However, if replacing an existing or broken door, you must adhere to the present dimensions. Measuring the door might be difficult. Here are some helpful hints for calculating the size of your door.
If you only replace the door, you do not need to repair the threshold or frame. However, if you're going to replace it all, ensure you measure everything.
Start measuring the door height from top to bottom, but do not reach the floor.
If replacing a door in an existing opening, take various measurements and choose the shortest one. Why choose the shortest? It is simpler to fit a tiny door into a large aperture than the reverse.
Have them on both sides, left and right, for the height.
Measure the top, center, and bottom for width.
Make precise measurements to avoid issues during installation.
Learn more about the interior doors sizes chart and how to measure your interior doors (video)
Frequently Asked Questions
1. What Size Are Most Interior Doors?
The internal door is typically between 24-36 inches in width and 80 inches in height. You may pass through this size doorway without brushing up against the frame's sides. To make the interiors accessible to wheelchair users, make the doorways at least 36 inches wide.
2. What Sizes Do Interior Doors Come In?
Most interior doors come in widths 18, 20, 24, 28, 30, 32, and 36 inches. The standard heights are 80, 84, and 96 inches. Customized sizes are available in a variety of patterns. Remove the interior casing from a prehung door and measure the opening.
3. What Size Are Standard Internal Doors?
Interior doors are any doors on the inside of your home. Most common interior doors have a width of 28 to 32 inches. The height of interior standard door sizes is often required by code. It must be at least 80 inches long (although some regulations allow for 78-inch doors).
4. Is A 30 Inch Door Too Narrow?
Doors can be as small as 30 inches and as tall as 96 inches, with thickness varying depending on the material. Entry doors are offered in single and double-door formats, with matching sidelights and transoms as options. These selections might influence the total size of your entry door.
5. How Much Smaller Should A Door Be Than The Frame?
A space of about 1/8 inch at the top and each side, and about 3/8 inch at the bottom, is ideal. To keep the spacing consistent, use cardboard spacers or folded matchbooks (four thicknesses equal roughly 1/16 inch) with shims beneath.
Conclusion
Interior doors are those located within the home. It is the one in your bedroom, bathroom, and if doors separate your kitchen and eating spaces.
The height of these doors is the same as the outside, which is over 6 feet. When it comes to typical door width, it might go as short as 24 inches. The stated width is sufficient for a slender person to get through but not for people with impairments.
A door must be at least 36 inches wide to be accessible to people with disabilities. As a result, both internal and exterior doors have a standard width of 36 inches.
If you have any questions, comment down below.
Picture in this post is by Phil on Unsplash
Related to Interior Doors Sizes Chart