Tesalate Towel Size Guide
This post was last updated on September 5th, 2023 at 06:37 am
There isn't much that can compare to the sensation of lying on the sand on your favorite towel, at the beach in the summer, soaking up the rays while reading a book, or just relaxing. Sand does get everywhere, though, which is a minor inconvenience. Fortunately, Tesalate towels have made this problem obsolete (skip straight to the Tesalate towel size chart).
Tesalate towels are pretty beach towels that come in different designs and colors. Unlike your regular beach towels, however, Tesalate towels are designed with a microfiber fabric to keep sad from attaching to their surface. In addition, the towels are also designed to absorb a lot of water making them the best option for the beach. The towel was designed originally by an Australian company and has gained popularity for its sand-free towels equipped with dry tech features for quick drying (reduced dry time), and highly absorbent bacteria-resistant (antimicrobial additive) fabrics.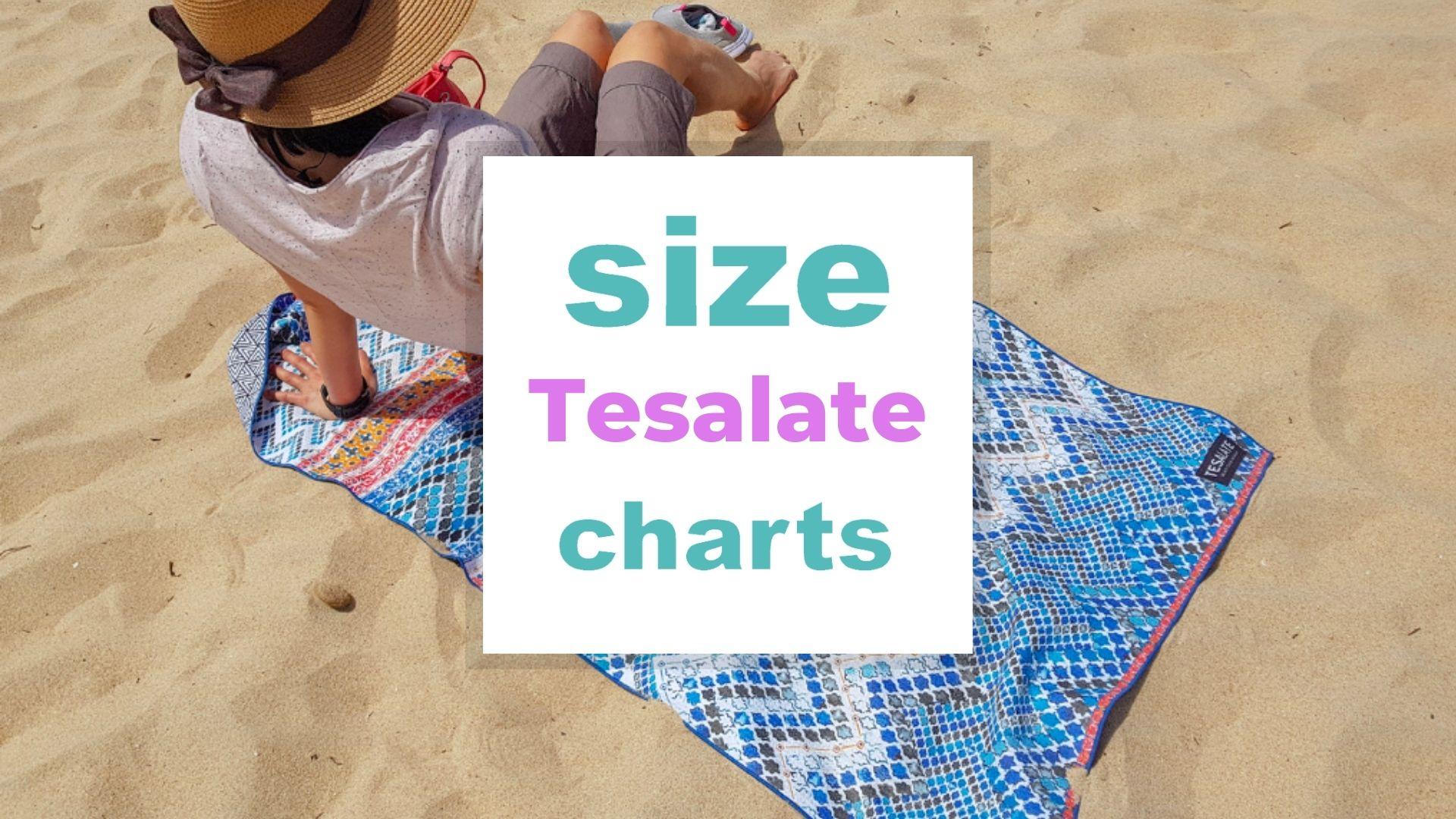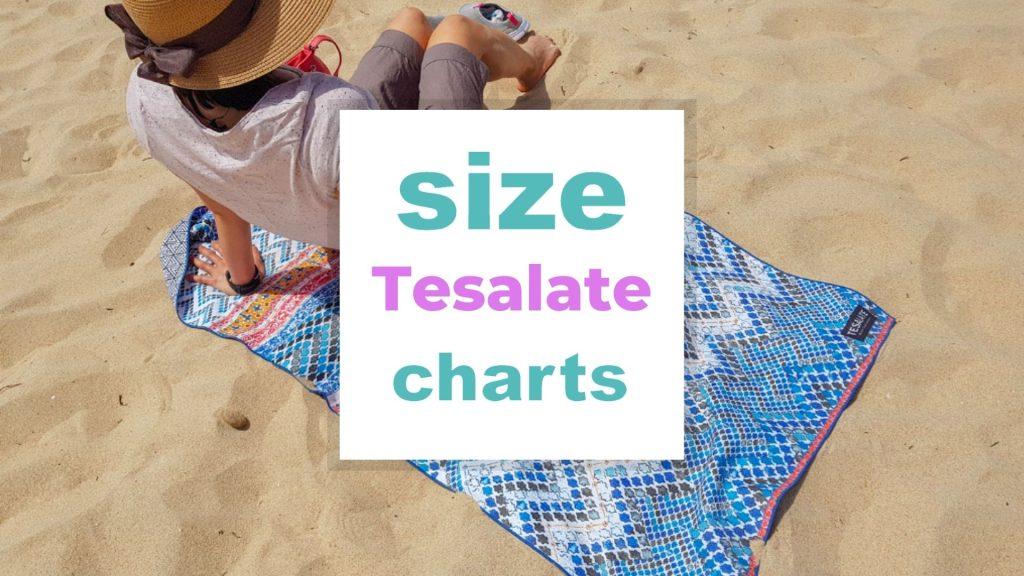 These towels are not fluffy, rather, they are designed to be soft, thin, and smooth which grants them the ability to ward off sand easily. Still, the towels remain quite comfortable for lying in the sand or wrapping around your body at the beach as their microfibers do not produce an itchy feeling.
Tesalate towels come in a variety of sizes and picking a size depends largely on what you intend to use it for. This post will serve as a guide to finding the right Tesalate towel size for you as it contains a Tesalate towel size chart as well as answers to some of the most frequently asked questions about towels on the internet.
Jump right into the Frequently Asked Questions
Related: Intex Pool Sizes
Tesalate Towel Size Table of Contents
Tesalate Towel Size Chart
Related: Pool size chart – what are the standard pool sizes by shape
| | | | |
| --- | --- | --- | --- |
| Sizing | Dimensions (inches) | Dimensions (cm) | Description |
| XXS | 60 X 30 | 152 X 76 | Standard individual Beach Towel (Tesalate gym towels, bath towel, picnic blanket/ beach blanket) |
| XS | 70 X 35 | 178 X 90 | Couples Beach Towel |
| S | 78 X 35 | 198 X 90 | Large Couples Beach Towel |
| M | 70 X 38 | 178 X 96.5 | Small Oversized Beach Towel |
| L | 70 X 40 | 178 X 102 | Medium Oversized Beach Towel |
| XL | 75 X 45 | 190 X 114 | Large Oversized Beach Towel |
| XXL | 74 X 74 | 188 X 188 | Large Square Beach Towel |
| XXXL | 120 X 120 | 304.8 X 304.8 | Supersized Square Beach Towel |
Learn more about Tesalate towel size and review (video)
Frequently Asked Questions
How big are Tesalate towels?
Like regular towels, Tesalate towels come in a variety of sizes. The smallest sized Tesalate is the standard individual beach towel which measures about 60'' (152cm) in length and 30'' (76cm) in width. The largest, on the other hand, spans around 120'' (304.8cm) in length and width.
Deciding on which you want depends on the intended use of the towel, the number of people to use the towel, and your budget for the towel. A quick scan of the size chart above gives you an overview of the different sizes of Tesalate towels available.
The standard individual towels may not only serve as wrap-around towels for beach days, but could also serve as workout towels, yoga mats, bathroom towels, special gym towels poolside towels, and so on.
How big is the Tesalate towel when it's packed?
The size of a packed Tesalate towel is dependent on its laid-up size. However, because the towel is made of tiny microfibers designed to be thin and smooth design, the towel is easier to pack than regular towels which often end up bulky and difficult to move around as they increase in size.
A review revealed that not only will the Tesalate towel fold up to about half its size, but it is also incredibly lightweight, allowing for easy travelers to carry around.
How long does it take for a Tesalate towel to dry?
It takes about 30 minutes to 3 hours for a Tesalate beach towel to get fully dried which is almost half the time it takes a regular towel to dry. According to a review, the time it takes for the Tesalate towel to get fully dry depends on the drying conditions it is placed in.
Outside, in direct sunlight, the Tesalate towel is fully dry in 30 minutes while in a shade or indoors the towel may take as much as 3 hours to dry. In every case, however, the Tesalate towel dries up twice as fast as regular towels.
How heavy is the Tesalate towel?
The weight of a Tesalate towel depends on the size of the towel, ideally the larger the towel, the heavier it is. One review however found that Tesalate towels and regular towels of the same size have different weights with the Tesalate towels weighing about 20% lesser than the regular towels.
For instance, while a standard individual Tesalate towel will weigh about 520 grams (1.1 lbs), a regular towel of the same size will weigh about 650 grams (1.4 lbs).
How absorbent is the Tesalate towel?
Compared to regular towels, the Tesalate towels are way more absorbent. Of course, the towel's ability to absorb water depends on the size of the towel with larger towers generally being able to absorb more water than smaller ones.
One review found that a standard individual Tesalate towel can absorb as much as 1 liter (33 fluid ounces) of water.
How quickly does the Tesalate towel dry off?
A Tesalate beach towel dries completely in between 30 and 3 hours, which is less than half the time it takes for a conventional towel to dry. A review claims that how long it takes for the Tesalate towel to dry completely depends on the drying environment it is in.
The Tesalate towel can dry completely outside in 30 minutes of direct sunlight, but it can take up to 3 hours to dry inside or in the shadow. However, the Tesalate towel always dries twice as quickly as ordinary towels.
Conclusion
Sand often gets in the way while trying to soak up rays at the beach but Tesalate towels have helped to solve this problem. Tesalate towels are made from tiny, soft, and thin microfibers that repel sand and are highly absorbent. Finding the right Tesalate towel size can however be a hassle, the article above however provided the Tesalete towel size chart to help with that. The article also contained answers to some of the most frequently asked questions about Tesalate towels on the internet.
Remember that like regular towels, Tesalate towels come in a variety of sizes which will often determine how heavy and water-absorbent they will be. Still, many reviews confirm that in comparison to regular towels, Tesalate towels will often be easier to pack and lighter to move around and absorb more water.
We love to hear from you so please leave a message in the section below and we will reply to you as soon as we can.
Picture in this post is from tothotornot.com
Related to Tesalate Towel Size