Pizza Sizes: Which One to Order?
Pizza is one of the most recognized lifestyle and hobby snacks worldwide. It is widely consumed in several countries of the world because of its richness and taste. Some of the most popular pizza brands include dominos pizza, papa john's pizza, pizza hut pizza, pizza hut pizza, Costco pizza, little caesars pizza, etc. Some food chains and food joints also offer some legendary pizzas that are not quite popular. Each brand of pizza goes the extra mile in making sure its pizza standout (skip straight to the Pizza sizes).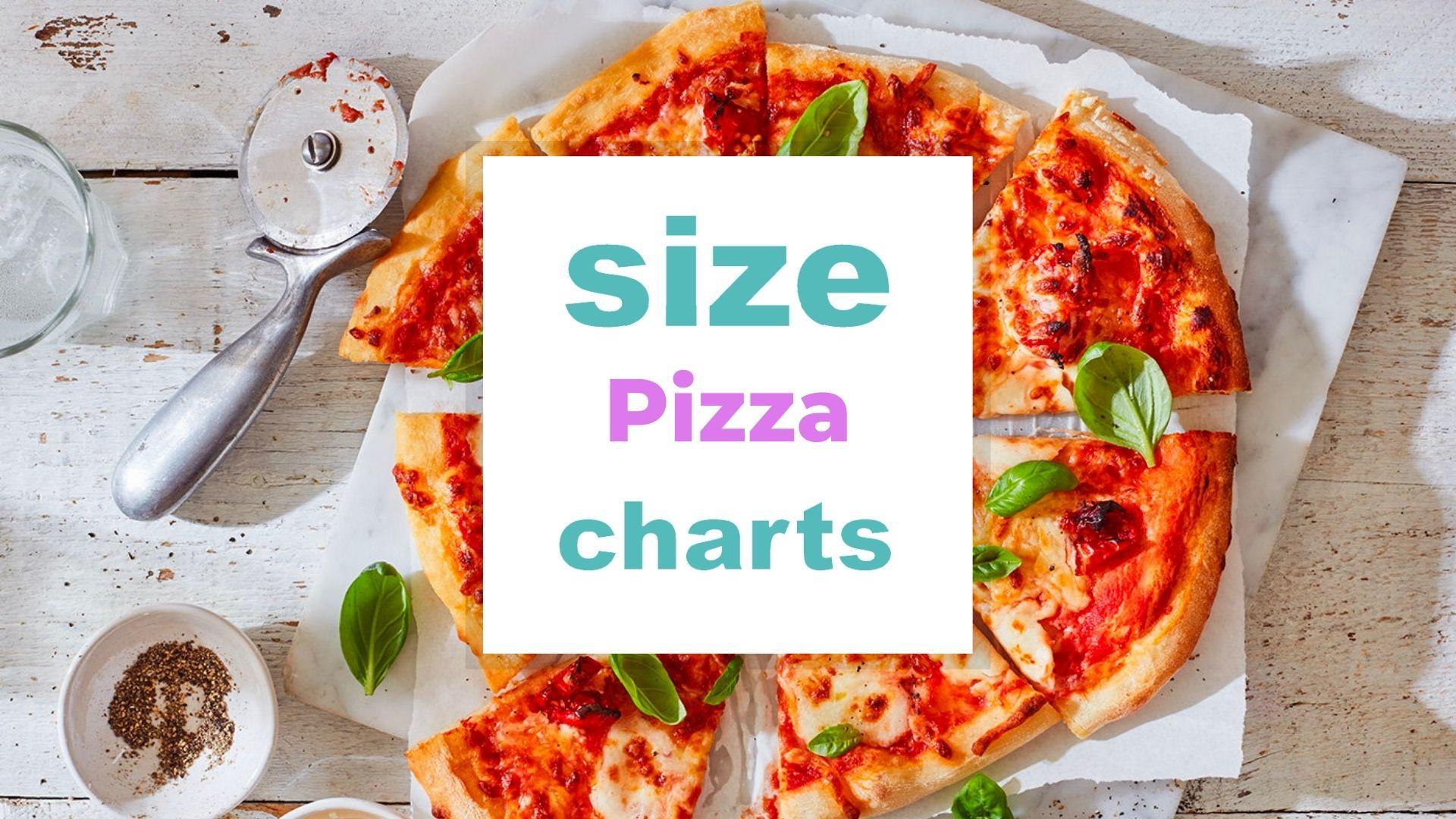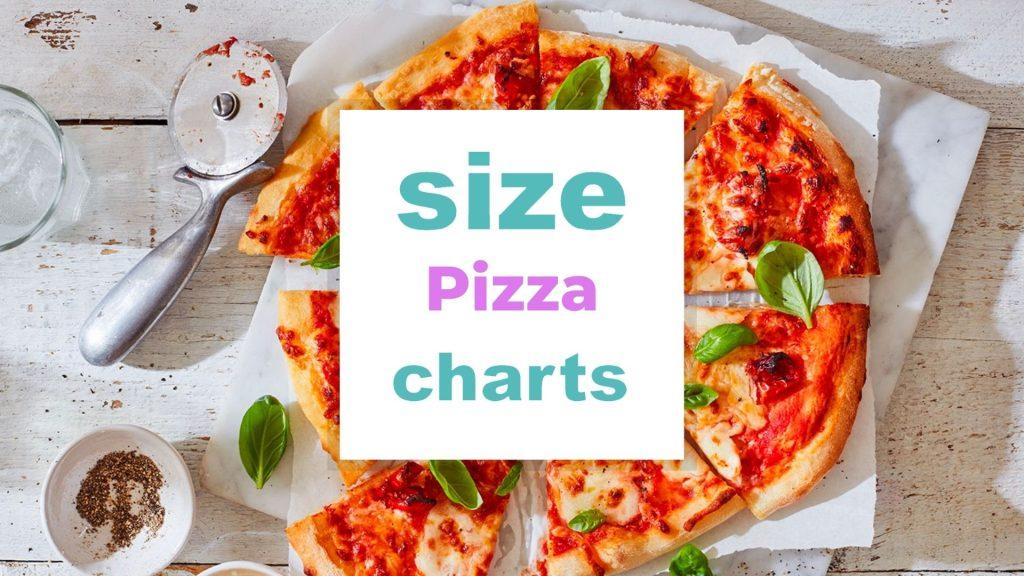 Domino for example provides additional toppings to its pizzas. In addition to that, the extra cheese added to the pizza gives it a unique taste and look. When it comes to papa john's pizza bbq sauce, it's another excellent taste.
However, one thing that remains fairly common to all pizza brands is the pizza sizes. Pizza sizes of most brands fall into 5 categories: personal, small, medium, large, and extra large. The sizes range from 10 inches to 16 inches in diameter. According to standard pizza sizes, the 16-inches pizza is the largest pizza available.
Below is a chart highlighting some of the most popular sizes of pizza available.
Jump right into the Frequently Asked Questions
Related: Jar Size Guide: How to Choose the Right Size?, Wine Bottle Sizes & Different Types by Name & amount of glasses Blackstone Griddle size and barbecue dimensions
Pizza Sizes Table of Contents
Pizza Size Charts
Related: Baking Pan Size Charts: Round, Loaf, Muffin…
| | | | | | | |
| --- | --- | --- | --- | --- | --- | --- |
| Size | Personal` | Small | Medium | Large | X-Large | XX-Large |
| Diameter | 8 in – 9 in   20 cm – 23 cm | 10 in – 11 in   25 cm – 28 cm | 12 in – 13 in   31 cm – 33 cm | 14 in – 16 in   36 cm – 41 dm | 17 in – 18 in   43 cm – 46 cm | 19 in – 20 in   48 cm – 51 cm |
| Slices | 2 – 4 | 4 | 6 | 8 | 10 | 12 |
| Servings | 1 | 2 | 3 – 4 | 4 – 6 | 6 – 8 | 10+ |
What are standard pizza sizes?
Related: Hydro flask size chart by type, volume and usage, Bar Sink Dimensions and Measuring Guide for Kitchen Sink sizes
Pizza sizes vary from one brand to another. The common or standard pizza sizes are personal, small, medium, large, and extra large. The personal pizza has a diameter of 6 inches -7 inches. The small pizza size has a range of 8 inches – 10 inches in diameter. Medium size pizza has a diameter of about 11 inches – 12 inches. Large pizza has a size of 13 inches – 14 inches.
Finally, extra large pizza has a size of 15 inches and above. There are pizzas outside the standard size range. This could have slight variations in diameter from the ones outlined here. Such pizza sizes are often specially ordered or requested. There are some unusual instances when the sizes may exceed the 16 inches mark.
These ones require larger pizza ovens. They are often too big for average adults to consume alone. Most pizzas in this size range require pizza delivery services to get them into the hands of customers.
Learn more about pizza sizes (video)
Frequently Asked Questions
How big is a 12-inch pizza?
12 inches pizza falls in the medium size range. It often has an average of 8 slices, depending on how the cut is made. It has a total circumference of about 36 inches to 37 inches. Check the size chart above for more details.
Is a 12-inch pizza enough for two?
Yes. A 12 inches pizza would produce up to 8 slices. It should serve 2 – 3 people, depending on their appetite for pizza.
What are Domino's regular pizza sizes?
Domino pizza sizes are slightly larger than standard pizza sizes. It ranges anywhere from 10 inches to 16 inches. The most popular domino pizza is 14 inches, which is the medium size in Dominio pizza sizing.
Is it better to get 2 medium pizzas or 1 large?
medium size pizza contains 8 slices, and the large pizza has about 12 slices. Buying 2 medium pizzas gives you a total of 16 slices while the single large pizza remains 12 slices in comparison.
However, the larger pizza has a wider surface area and contains more toppings than the medium pizzas. If you are looking to serve up to 16 people, you can opt for two medium pizzas.
However, if the number of people you hope to serve is less than twelve, it's best to stick with the single large pizza, because it's juicier, and contains more pizza toppings and extra cheese. Also, two mediums would cost you more than a single large pizza resulting in an additional charge.
What are the best pizza sizes to order?
The size to order depends on the immediate need. If you want to consume the pizza alone, the personal pizza size should do. It contains an average of 3-4 slices and can serve one person.
However, if you have 2 – 3 people, you may want to opt for the medium, 12 inches – 14 inches pizza. It has about 8 slices and can serve up to three people. Any number higher than three people would require you to get the extra-large pizza 16 inches.
Pizzas with lesser diameter may not go round. However, for gatherings like Pizza parties, multiple cartons of large pizzas or extra-large pizzas would be needed.
What size pizza is most popular?
The most popular pizza size is 14 inches – 16 inches, depending on the brand. Americans, especially, prefer to buy larger pizzas as a way to get more for their money and also share it with friends and family.
Also, large pizzas are usually Deep Dish pizzas and they come with fresh tomato toppings and other thrilling and delicious blends. Therefore, one can easily say they are the most popular pizza sizes.
How Large Is a Personal Pizza?
A personal pizza is about 8 inches to 9 inches ( 20 cm – 23 cm) in diameter, with an average of 2 – 4 slices. You can expect to get 1 serving from a personal pizza. However, it's essential to mention that the size of personal pizza may vary slightly from one brand to another.
How Large Is a Small Pizza?
Small pizzas have an average of 10 inches – 11 inches (25 cm – 28 cm) in diameter. It covers up to 2 servings and has 4 – 6 slices.
How Large Is a Medium Pizza?
Medium Pizza has a diameter of about 12 inches – 13 inches (31 cm – 33 cm). Servings of medium pizza range from 6 – 8, depending on the brand of the pizza. Medium pizza should contain up to 4 servings.
How Large Is a Large Pizza?
Large pizza has an average diameter size of 14 inches  – 16 inches (36 cm – 41 cm) it can have anywhere from 8 – 10 slices. A large pizza can serve as many as 6 people. Check the size charts above for more detailed highlights of pizza sizes and the number of servings each contains.
How Large Is an Extra Large Pizza?
Extra large pizzas can have a diameter of 17 inches – 18 inches or more (43 cm – 46 cm). It has up to 12 slices and can serve up to 10 people at once. These are not the regular pizza size, they are often produced based on requests. Again, they're often used in parties and events or family settings.
Conclusion
Several factors determine the size of the pizza you buy. However, there is no perfect pizza that fits everyone's taste. An 8-inch pizza may be a perfect fit for any American adult, but at the same time, that size won't make a perfect fit for 4-5 adults: 14-inch pizza or 16-inch pizza would be a better option in that case. Getting the perfect pizza.
Whatever size of pizza you pick, whether classic pizzas, a combination of chicken pizzas or you use a pizza delivery service, the most important thing is to ensure that the pizza is the ideal size that would go around, especially if you have adult visitors hanging out with you.
If you have any questions about Pizza sizes, leave them in the comment below. Also, share the article to give others access to this info.
Picture in this post is by Ivan Torres on Unsplash
Related to Pizza Sizes