Barbie Doll Size : What are different sizes of Barbie ?
This post was last updated on August 29th, 2023 at 10:02 pm
In this article, we delve deep into the world of Barbie dolls and explore the sizes available, helping you understand the nuances and make informed decisions when adding to your collection. The standard Barbie doll is about 11.5 inches (29.21 cm) tall. A 6:1 ratio means a true-to-life Barbie doll would stand 5 feet 9 inches (175.26 cm) tall. Our comprehensive guide covers everything you need to know about Barbie doll size, from the classic to the contemporary.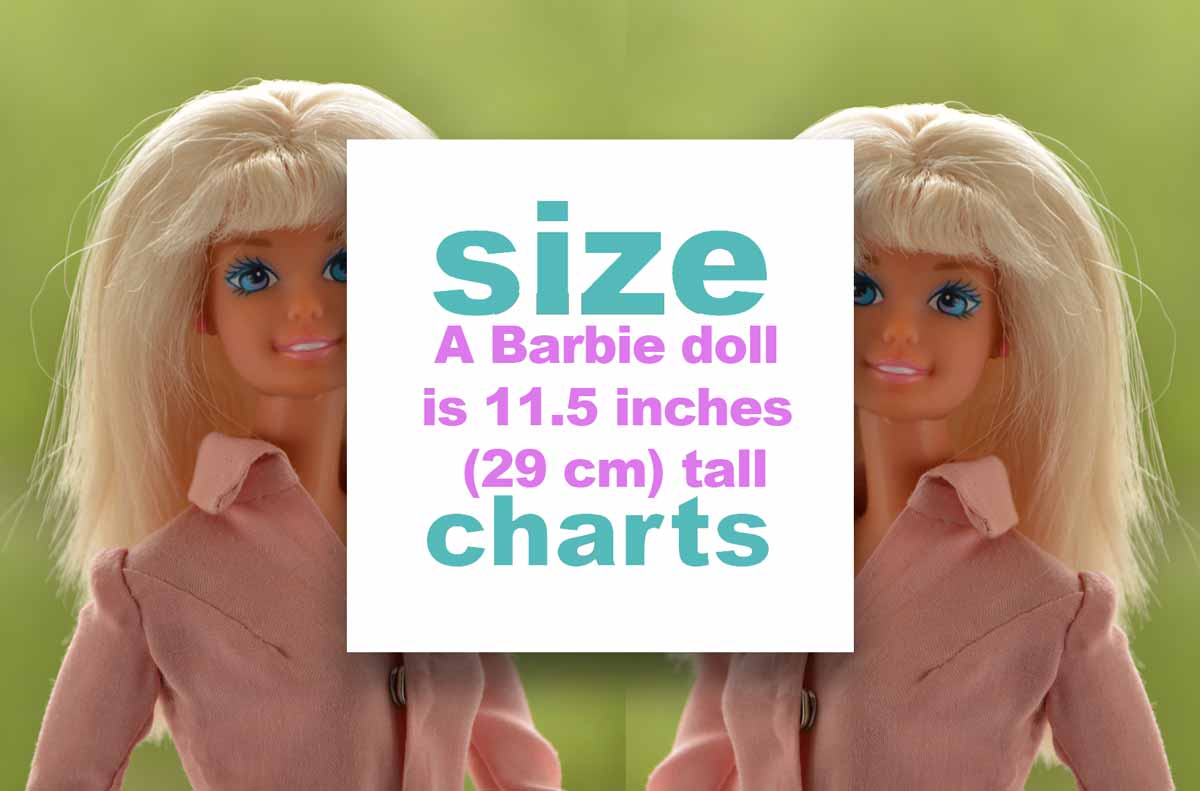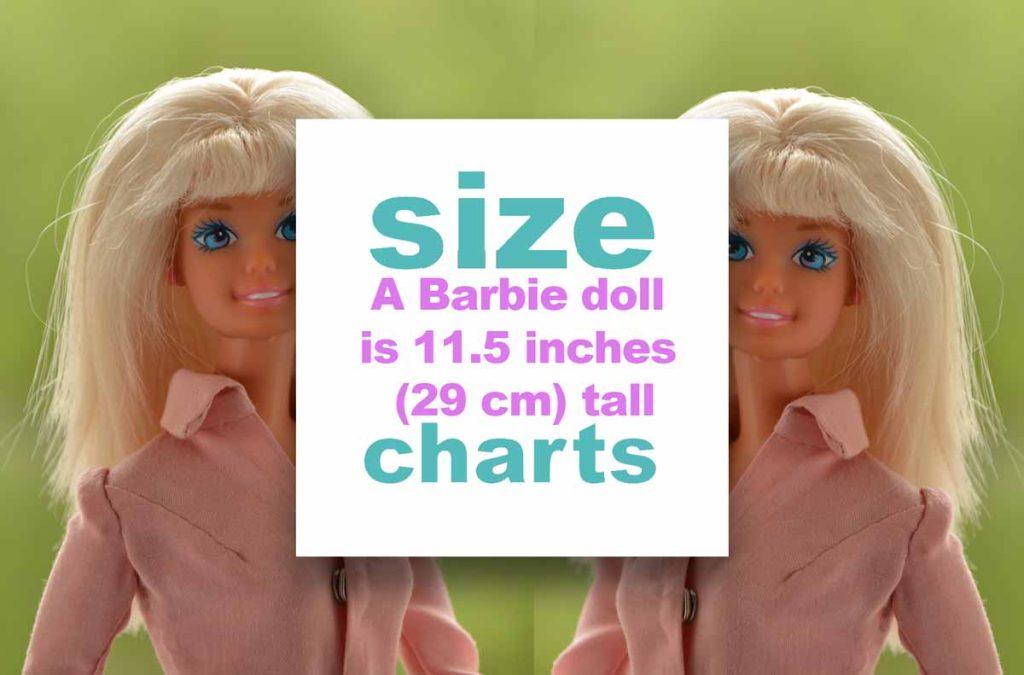 Table of content:
Introducing Barbie Dolls
Barbie dolls have been an iconic part of popular culture for generations, captivating the hearts of both children and adults alike. Created by Ruth Handler and launched by a toy company, called Mattel Inc. in 1959, Barbie quickly became a sensation and has since evolved into a wide range of dolls, each with unique sizes and characteristics. Barbie was inspired on a German doll, called Lilli
Related: Squishmallow Size: How many Different Sizes Are There?, Playstation 5 Size: dimensions, weight and box comparison, Nerf Gun Size and Specs Guide, Crochet Hook Size Chart – A Handy Conversion Guide
Classic Barbie Dolls size and proportions
The classic Barbie doll measures approximately 11.5 inches tall (29.2 cm). Her impeccable fashion sense has inspired many young minds, encouraging creativity and imaginative play. The size ratio of a Barbie doll is 6:1. By the same scaling, if the original Barbie were a real woman she would have a size 2 waist (54cm) and size 2 hips (78cm). A true-to-life Barbie doll would stand 5 feet 9 inches (or 175 cm) tall. ( That's 5 inches taller than the average height for a life-size human woman) However, her height isn't the problem—it's her vital statistics and body proportions.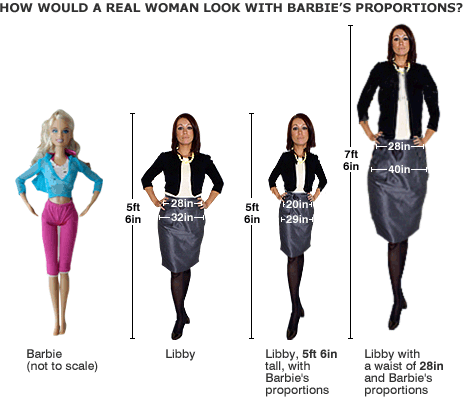 Barbie doll dimensions vs real-life body equivalent
Let's compare the height, bust, waist and hips size of a Barbie doll with a real-life American Woman equivalent. How would that turn out? A real-world Barbie would not be able to stand straight, fall over, and even wouldn't have enough fat to menstruate.
| | | |
| --- | --- | --- |
| Parameters | Barbie Doll Measurements | Real-World Equivalent |
| Height | 11.5 in. / 29.2 cm | 5 ft. 9 in. |
| Bust | 4.6 in. / 11.7 cm | 36 in. |
| Waist | 3.5 in. / 8.9 cm | 18 in. |
| Hips | 5 in. / 12.7 cm | 33 in. |
| Weight | — | 110 lbs. |
| BMI | — | 16.24 |
vital statistics comparison table : Barbie vs real life American woman
Evolution of Barbie dolls : adapting to a realistic body image
Did Barbie dolls have always had the same proportions?
Not quite! Throughout history, Barbie has embraced changes, showcasing diverse body types and sizes. Evolving with cultural norms, these variations celebrate inclusivity and represent the demand for diverse representations. Mattel, the brand behind Barbie, has recognized the importance of inclusivity and body positivity. In response to societal demands for a more realistic representation of beauty, they introduced the iconic doll in diverse body types, such as petite, tall, and curvy Barbie dolls. These variations embrace the idea that every body shape deserves appreciation and acknowledgment.
Barbie's physical dimensions have not only stood the test of time but also evolved to reflect the values of today's world. By celebrating diversity, promoting positive body image, and collaborating with experts, Mattel continues to ensure that Barbie remains an empowering and relatable role model for children across the globe , leaving unrealistic beauty standards behind.
1. Fashionistas Collection
As time progressed, Mattel recognized the importance of inclusivity and diversity, leading to the creation of the Fashionistas Collection. This line of Barbie dolls embraces various body types, skin tones, and hairstyles, representing a more realistic and inclusive portrayal of beauty.
2. Petite Barbie Dolls
In addition to the classic size, Mattel introduced the petite Barbie dolls, standing at approximately 10.5 inches tall. These dolls have a more petite frame, catering to those seeking a unique and adorable addition to their Barbie collection.
3. Tall Barbie Dolls
Tall Barbie dolls, measuring around 12 inches, are another exciting size option for collectors. These dolls embody elegance and grace, making them a sought-after choice for Barbie enthusiasts worldwide.
3. Barbie Curvy Doll
Recognizing the importance of body positivity, Mattel launched the curvy Barbie dolls. With a more realistic body shape and proportion, these dolls celebrate diversity and self-acceptance, empowering individuals to embrace their uniqueness. The below image (source: BBC) shows the comparison of curvy Barbie vs physical measurements of an average British woman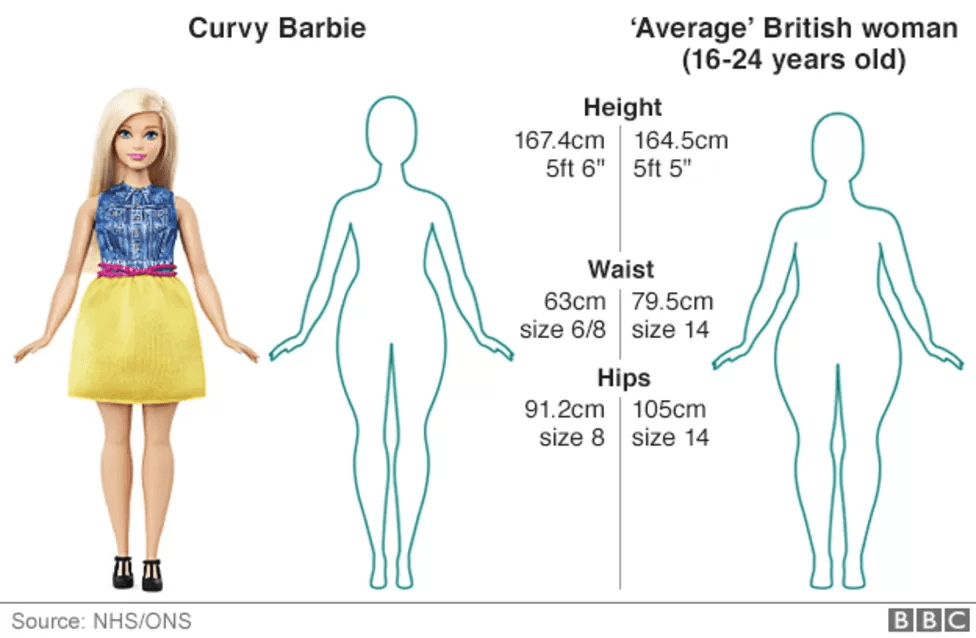 In response to concerns about unrealistic body image standards, Mattel introduced curvy Barbie dolls. These dolls feature more realistic proportions, acknowledging the diversity of body shapes in the real world. By doing so, Mattel aims to promote positive body image and self-acceptance among young audiences.
Barbie dolls size comparison : different types and models
Below is a table showcasing the dimensions of each type of Barbie doll in both centimeters (cms) and inches (in), from Fashion dolls to Mermaid dolls.
| | | |
| --- | --- | --- |
| Barbie Type | Height (cms) | Height (inches) |
| Classic Barbie | 29.21 cms | 11.5 inches |
| Petite Barbie | 26.67 cms | 10.5 inches |
| Tall Barbie | 30.48 cms | 12 inches |
| Curvy Barbie | 29.21 cms | 11.5 inches |
| Mermaid Barbie | Varies | Varies |
| DIY Barbie | Varies | Varies |
| Interactive Barbie | Varies | Varies |
| Barbie Dreamhouse | Varies | Varies |
Please note that the Mermaid Barbie, DIY Barbie, Interactive Barbie, and Barbie Dreamhouse may have varying dimensions based on their design and accessories, so their heights are not fixed like the other specific doll types.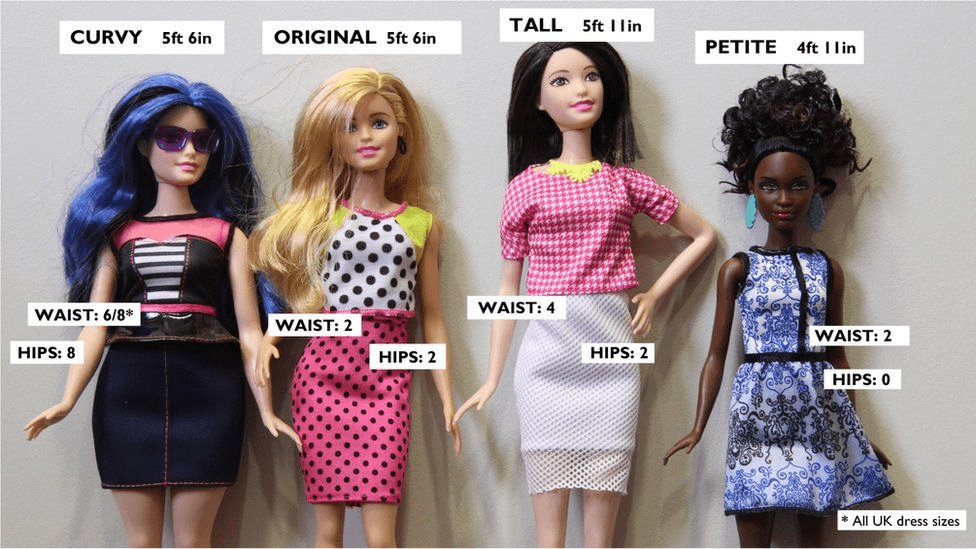 Bonus: Mermaid Barbie Dolls size
Dive into a world of enchantment with the mesmerizing Mermaid Barbie dolls. These dolls boast a mermaid tail, allowing collectors to explore imaginative underwater adventures.
Bonus: The Barbie Dreamhouse sizes
To complement the extensive range of Barbie dolls, Mattel also offers the iconic Barbie Dreamhouse. This playset provides the perfect stage for imaginative play, allowing Barbie and her friends to create lasting memories.
Barbie doll size in real-life comparison : how would a life-size Barbie look like?
Is Barbie taller than Ken?
Yes, Ken is typically taller than Barbie. Barbie's standard height is around 11.5 inches, while Ken is approximately 12 inches tall.
Ken's Physical Specs: Ken is Barbie's iconic male counterpart, and his physical features complement her elegant proportions. Here are some key details about Ken:
Height: Ken stands at approximately 12 inches tall, making him slightly taller than Barbie.
Build: Ken is more muscular than Barbie's slender figure, reflecting the typical characteristics of a male doll.
Hair: Ken's hair comes in various styles and colors, allowing for different looks and fashion statements.
Eyes: Like Barbie, Ken also has beautifully detailed eyes, which add to his charming appearance.
Fashion Sense: Ken's wardrobe includes a wide array of stylish outfits, from casual wear to formal attire, showcasing his sense of fashion.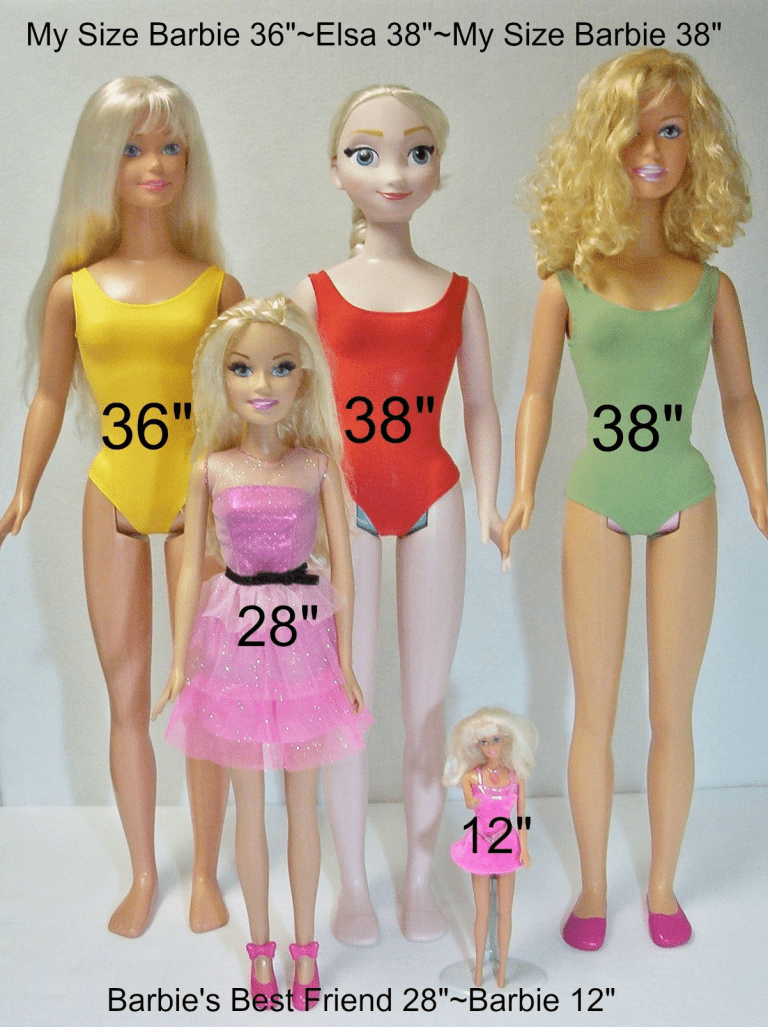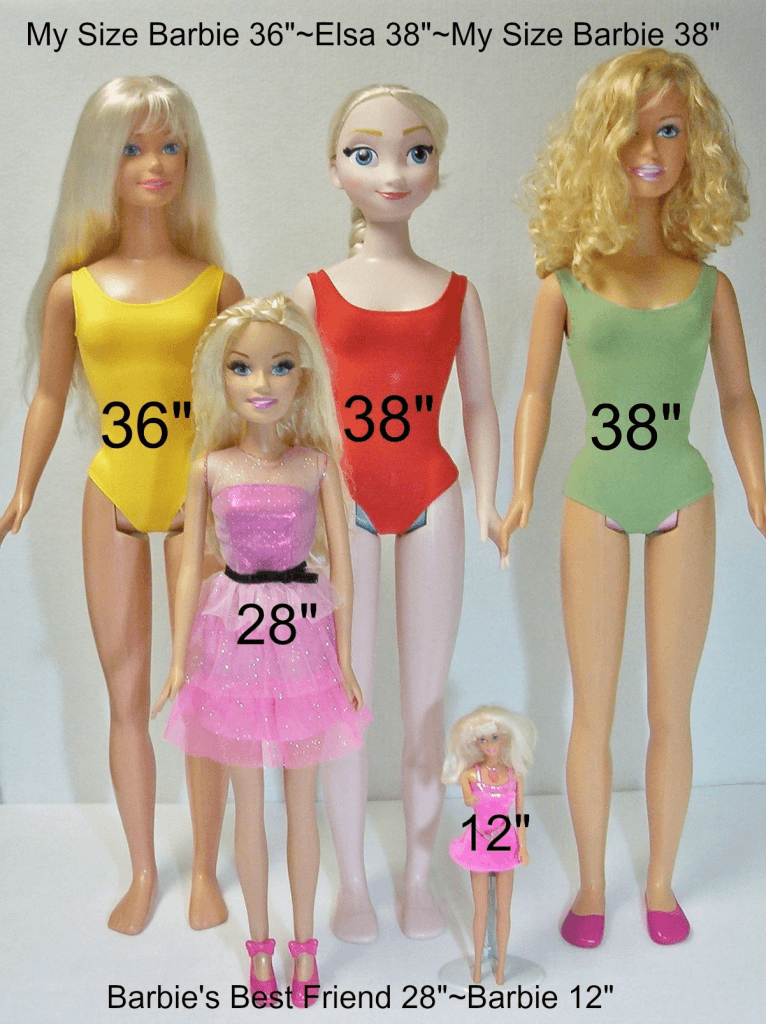 My Size Barbie Doll models and sizes
In 1992, A life-size barbie doll was introduced. Whether you're a doll collector, a parent looking to surprise their child, or simply curious about the world of dolls, this article will guide you through the different aspects of these fascinating toys.
Here's the table comparing the doll sizes:
| | | | | | |
| --- | --- | --- | --- | --- | --- |
| Doll Model | Height | Bust | Waist | Hips | Head |
| My Size Barbie (older version) | 36″ (3 feet) | 18″ | 12″ | 18″ | Normal |
| My Size Barbie (newer version) | 38″ (3 feet 2 inches) | 18″ | 12″ | 18″ | Taller |
| Frozen My Size Elsa Doll (newest version) | 38″ (3 feet 2 inches) | 18″ | 12″ | 18″ | Wider |
| Barbie's Best Friend Fashion Doll | 28″ | N/A | N/A | N/A | Normal |
My Size Barbie Doll (36-38 inches tall)
Overview
My Size Barbie, one of the most iconic dolls in the Barbie line, stands tall at 36-38 inches. This life-size doll has captured the hearts of children and collectors alike with its striking resemblance to the beloved Barbie character. Designed to promote interactive play, My Size Barbie offers young enthusiasts a unique and immersive experience.
Features
Height: My Size Barbie's considerable height sets it apart from traditional Barbie dolls, making it an appealing option for children who enjoy life-sized companions.
Fashion Accessories: This doll comes adorned with fashionable clothing and accessories, allowing kids to engage in imaginative dress-up play.
Articulation: With movable joints in the arms and legs, My Size Barbie can strike various poses, enhancing play possibilities and creative expression.
Realistic Look: The doll's lifelike features and realistic facial expressions make it feel like a true companion for children during playtime.
Popularity
My Size Barbie has gained immense popularity, becoming a sought-after item among collectors and enthusiasts. Its impressive size and interactive play elements make it a cherished gift for young Barbie fans.
Frozen My Size Elsa Doll (38 inches tall)
Overview
Inspired by Disney's blockbuster movie "Frozen," the Frozen My Size Elsa doll stands tall at 38 inches, enchanting fans of all ages with its magical charm. Designed to resemble Queen Elsa from the beloved film, this doll brings the enchanting world of Arendelle right into children's homes.
Features
Movie-Inspired Design: Frozen My Size Elsa captures the essence of Queen Elsa, wearing a stunning outfit that resembles her iconic gown from the movie.
Light-Up Feature: With a magical touch, the doll's dress illuminates, creating a captivating and awe-inspiring experience for children.
Articulation: Elsa's arms and legs are movable, enabling children to recreate their favorite scenes from "Frozen" and embark on imaginative adventures.
Musical Element: The doll plays snippets of the movie's beloved soundtrack, allowing children to immerse themselves in the enchanting world of Elsa.
Popularity
Frozen My Size Elsa quickly became a global sensation, winning the hearts of "Frozen" fans and collectors worldwide. Its impressive size, interactive features, and connection to the beloved movie contributed to its popularity.
Barbie's Best Fashion Friend Doll (28 inches tall)
Overview
Barbie's Best Fashion Friend Doll, standing at 28 inches tall, exudes style and elegance. As a prominent member of the Barbie family, this doll boasts fashion-forward outfits and a captivating personality that resonates with fashion enthusiasts and imaginative play enthusiasts.
Features
Fashionista Style: This doll is a trendsetter with a wardrobe full of chic and fashionable clothing, perfect for inspiring young minds' creativity.
Articulation: With movable arms and legs, Barbie's Best Fashion Friend Doll allows for dynamic posing and play.
Expressive Face: The doll's finely crafted features and expressive face add depth to imaginative play scenarios.
Popularity
Barbie's Best Fashion Friend Doll has gained a massive following, symbolizing fashion, creativity, and empowerment for children. Its distinct style and versatile play options contribute to its ever-growing popularity.
Frequently Asked Questions (FAQ)
What is the standard height of a classic Barbie doll?
The standard height of a classic Barbie doll is approximately 11.5 inches.
Are there different sizes of Barbie dolls available?
Yes, Barbie dolls are available in various sizes, including petite, tall, curvy, and classic size.
How tall are the petite Barbie dolls?
The petite Barbie dolls stand at approximately 10.5 inches tall.
What is the height of the tall Barbie dolls?
The tall Barbie dolls measure around 12 inches in height.
Are there Barbie dolls with more realistic body proportions?
Yes, Mattel introduced curvy Barbie dolls featuring more realistic body proportions, promoting positivity and inclusivity.
What is the height of the curvy Barbie dolls compared to the classic ones?
The curvy Barbie dolls have a similar height to the classic dolls, approximately 11.5 inches.
Do Barbie dolls with mermaid tails have fixed heights?
Mermaid Barbie dolls vary in height, depending on their design and tail length, offering the collection a unique and enchanting touch.
Conclusion
Barbie dolls have come a long way since their inception, embracing diversity, inclusivity, and creativity. With various sizes and themes available, there is a Barbie doll for every collector and enthusiast. Whether starting a new collection or expanding one, understanding the different Barbie doll sizes will undoubtedly enhance your appreciation for these timeless toys.
Remember, Barbie dolls are not just toys; they celebrate individuality, empowerment, and the power of imagination. So, immerse yourself in the magical world of Barbie and embark on unforgettable adventures!
Picture in this post by Sean Bernstein on Unsplash
Related Posts