US Toddler Clothing Size and Measurements
Kids' clothing shopping may be a real misery. Let's face it; even with infant sizing charts, it can still be a guessing game from brand to brand. Kids grow quickly, making it difficult to keep track of their current clothing sizes because they are constantly changing (skip straight to the US Toddler Clothing Size).

It also doesn't help that there isn't a set standard for children's apparel sizing that all clothing producers and merchants must adhere to.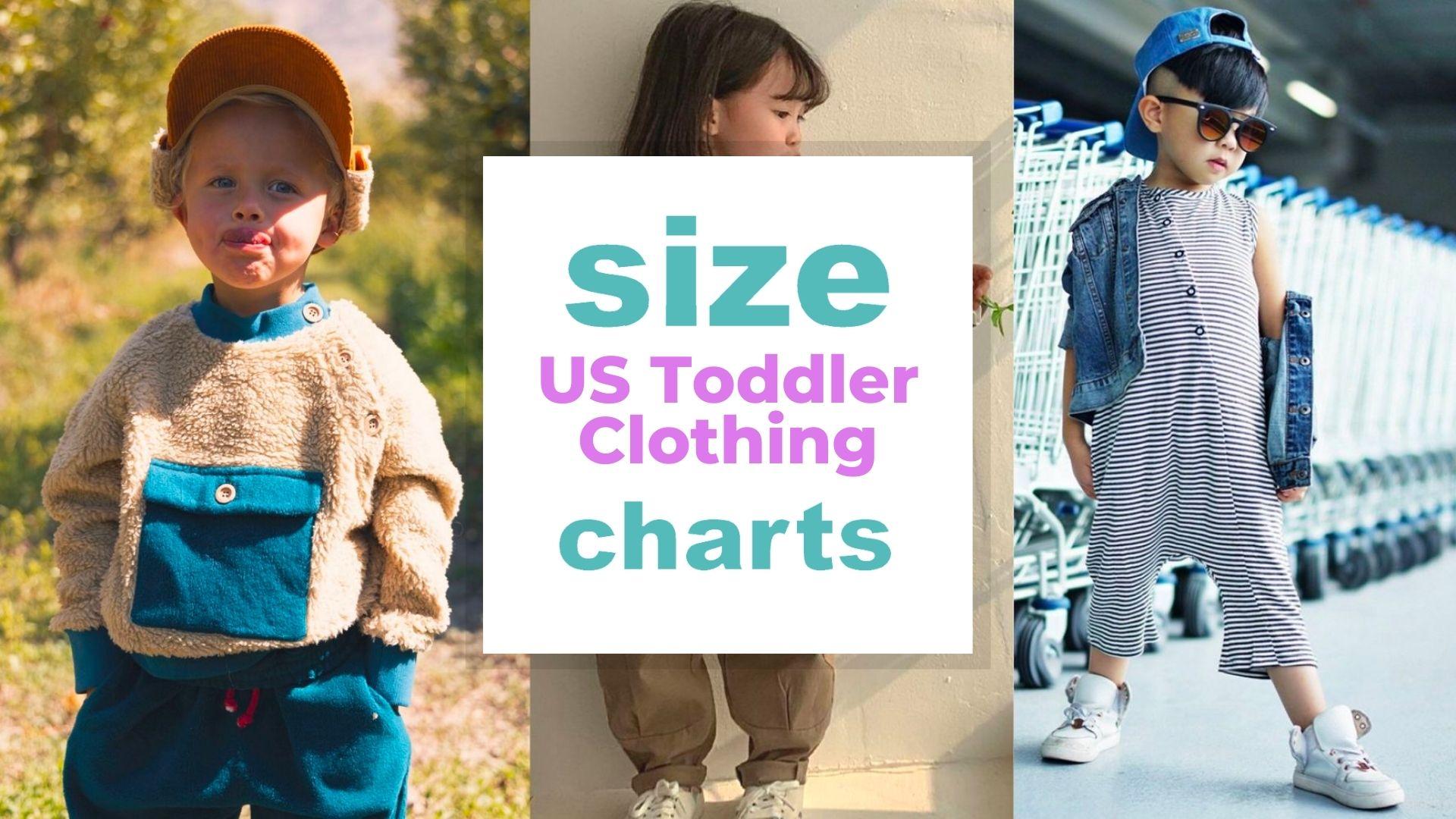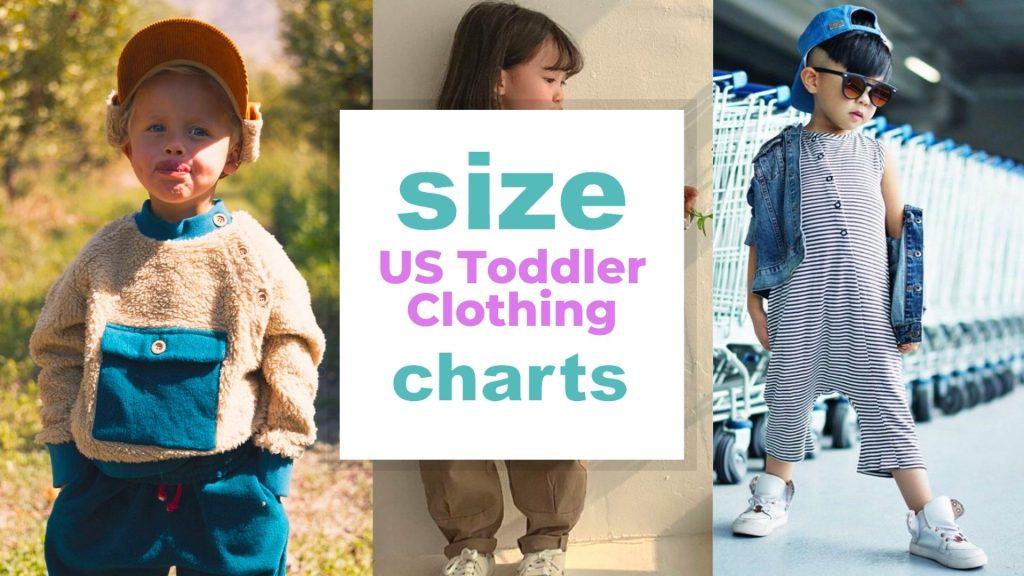 It's much preferable to consider your kid's height and weight when determining the proper fit than to merely rely on age. The ideal approach, though, is to use a measuring tape to take precise measurements of your child's body.

To determine the appropriate clothing size for your child's dimensions, check the US toddler clothing size below.
Jump right into the Frequently Asked Questions
Related: Pampers Size Chart for all ages by type (size charts included), Huggies Size Chart for all ages by type (size charts included), Shoe size for Babies and Toddlers, Britax Strollers Size Guide and Different Models
US Toddler Clothing Size Table of Contents
US Toddler Clothing Size Chart
Related: Infant Car Seat Size Explained in Detail by age, weight & height
You can use the charts below to determine your child's US clothing size for infants, children ages 2 to 7, and children ages 7 to 14.
Baby Clothes Size Chart
Based on dimensions in inches, centimeters, and pounds, use this chart to determine the US sizes for babies.
| | | | |
| --- | --- | --- | --- |
| US Size | Height | Weight (pounds) | Kilogram (kg) |
| Newborn | 17-19" / 14.18 – 48.26cm | 4-8 | 1.81-3.63 kg |
| 3 months | 19-23" / 48.26 – 58.42cm | 9-11 | 4.08-4.99 kg |
| 6 months | 24-26" / 60.96 – 66.04cm | 12-15 | 5.44-6.80 kg |
| 9 months | 27-28" / 68.58 – 71.12cm | 16-18 | 7.26-8.16 kg |
| 12 months | 29-30" / 73.66 – 76.2cm | 19-20 | 8.62-9.07 kg |
| 18 months | 31-32" / 78.74 – 81.28cm | 21-23 | 9.53-10.43 kg |
| 24 months | 33-35" / 83.82 – 88.9cm | 24-28 | 10.89-12.70 kg |
2 to 5 Years Old Size Chart (Boys and Girls)
| | | | |
| --- | --- | --- | --- |
| US Size | Height | Weight (pounds) | Kilogram (kg) |
| 2t | 33-35″ / 83.82cm – 88.9cm | 24-28 | 10.89-12.70 kg |
| 3t | 36-38.5″ / 91.44 – 97.79cm | 28.5-32 | 12.93-14.52 kg |
| 4t | 39-41″ / 99.06 – 104.14cm | 33-36 | 14.97-16.33 kg |
| 4 | 42-44″ / 106.68 – 111.76cm | 37-41 | 16.78-18.60 kg |
| 5 | 45-47″ / 114.3 – 119.38cm | 42-46 | 19.05-20.87 kg |
While US infant sizes are based on age, it is preferable to base the size on the baby's weight and height because babies can vary greatly in size. Use the chart to determine your baby's proper size.
Use the first size chart, which is for both girls and boys, for infants and young children. Use the corresponding boys' and girls' charts for older kids.
Please be aware that these charts are just intended to serve as a general guide for your child's clothing size and that sizes may vary between brands.
How To Choose The Right US Toddler Clothing Size
Related: Baby Jogger Car Seat Size Guide by age, height and weight
Many first-time parents don't give buying baby clothes much thought. In fact, most parents just head to a baby store and choose the nicest costumes that catch their eye when preparing their baby's layette.

However, worrying about babywear that is too much of a burden, makes them cry, and is overall a waste of space is the last thing you want to do while juggling feedings and diaper changes.
Did you realize that picking out a baby's clothes involves more than simply the style? The softness, size, and even the type of fasteners used can have an impact on how happy your little champ is.
Your baby will not be happy if they spend the entire day in uncomfortable, constricting, and warm clothing. Even worse, wearing the wrong clothing may put your baby's life at risk!
How can you ensure that your infant will be comfortable and convenient while still having clothes that fit? We can offer advice on how to choose the best baby clothes for you!
Choose Clothing That Fits Your Baby
Age-appropriate sizes are used for baby clothing. You should, however, make a thoughtful decision based on the size of your own baby because everyone develops at a different rate.
Besides, you could be a size bigger or smaller than your friend's infant despite being the same age. You shouldn't be concerned if your baby wears a size bigger or smaller because clothing sizes aren't a good indicator of a baby's growth.
Choose clothing that is one size larger to lengthen its lifespan (for example, choose 3 to 6 months for a baby instead of 0 to 3 months). If the sleeves are too long, you can always roll them up and unfold them as your child develops.
Keep An Eye On The Fabric
There are many different materials with varying degrees of softness that can be used to make baby wear.

The most popular materials are organic cotton or blended cotton, which is cotton mixed with a small amount of man-made material like polyester (100 percent cotton).

This will keep your little champ warm and comfortable while feeling silky against his tender skin.
Be Aware Of The Irritants
Even adult irritation from clothing tags behind the neckline is unnecessary when applied to a baby's soft skin. Just gently cut it off; don't leave any of the tags behind because that could irritate people even more.

Alternatively, choose clothing without tags because clothing information is printed on the fabric itself.
Watch out for this as well! Metal buttons can also trigger an allergic reaction in certain children, especially if your family has a history of allergies.
Before letting your sweetie use new underwear, be sure to wash them in fragrance-free laundry detergent because they might still have manufacturing chemicals on them. Some manufacturers treat their clothing with a chemical to avoid wrinkles, which might irritate a baby's skin.
Be Cautious With Ribbons And Frills
Anything that isn't firmly fastened to your small one's clothing poses a choking risk. Even while they may look cute, trimmings like ribbons, sequins, and beads might be dangerous.

Additionally, stay away from kits with drawstrings since they can choke someone.
Learn more about the sizes of kids: from toddlers to grown-up kids (video)
How To Measure US Toddler Clothing Size
Related: Britax car seat size chart by model, weight and age, Graco Infant Car Seat Size and How to Install It
US children's clothing comes in a variety of sizes and is typically tagged with the child's age. However, rather than just utilizing your child's age to determine the proper fit in clothing, you should also take into account your child's height and weight.
You can accurately measure your baby using a tape measure and choose clothing that fits them well. These sizes are typically mentioned on the detailed product page for the majority of apparel brands and categories.
You can choose the ideal size garments for your kids by using the measurements.
Measure Your Kid's Height
Ask your kid to stand in front of a door or a wall without shoes on. From their heel to the top of their head, take a measurement.

Making a mark on a doorframe or wall and measuring their height from there can be simpler, and it's interesting to see how much they've grown over time.
Measure The Chest
Measure the chest of your child with a measuring tape. At the broadest point, place the measuring tape right under the arms. It's best to allow space for additional comfort.
Measure The Neck
Measure the area of your child's neck where the collar will be worn carefully. To ensure a comfortable fit, insert two fingers between the tape and your skin.
How To Find Your US Toddler Clothing Size
Related: Baby crib size chart for the best sleeping experience of your newborn, Diaper size by kids age with easy to use size charts and tips
Choosing which size to stock up on for the newborn days is crucial, whether you're seeking the ideal clothing to bring your baby home in or simply stocking up your child's closet with an appealing wardrobe.
Although purchasing the "Infant" size for your newborn may seem basic sense, it's actually wiser to size up (slightly). For the most part, "Newborn" clothing only fits babies up to 8 pounds, which doesn't last very long (and some babies even arrive larger than that).
While you may always roll up sleeves and pant legs for a few weeks as your baby grows into the larger size, size 0-3 months should fit your infant up to 12 pounds.
Newborn or Preemie sizes make more sense if your baby is expected to be little or if it is a preemie. Just remember to cling to receipts and the tags from baby clothes in case the baby is bigger than planned or develops really quickly.
Frequently Asked Questions
What shoe sizes are toddler sizes?
Toddlers' sizes range from 0 to 13: Small baby shoes are available in the smallest sizes in this range. However, children as old as 4 or 5 can often wear larger sizes.

Important: These shoes frequently include the designation "T" for infants through size 7 (e.g., 4T, 5T, 6T, 7T).
What is 3Y in US toddler clothing sizes?
3Y refers to infants who are 98 cm (38 1/2) or shorter. It is also appropriate for people with a 52cm/20 1/2 waist and a 54cm/21 1/2 chest.
What age is toddler size?
Toddler size is for 1 to 2 years old.
Is 2T and 2Y the same?
Although the term "2t" refers to the size of toddlers, it actually only applies to children under the age of 2. In this light, the 2t size age is considered when purchasing children's apparel.
Is 24m and 2T the same size?
Clothing with the designation "24 months" is designed for people who are between 18 and 24 months old. In contrast, 2T apparel is designed for toddlers, who are typically between the ages of 2 and almost 3.
Is 4T the same as Xs?
Size 4 (XS) and 4T are so similar that the distinction is essentially minimal. The sizing is identical in several stores. However, at most other stores, a size 4 should offer a tiny bit more room for growth than a 4T.
Are 18 to 24 months the same as 2T?
Clothing with the size 24 months label is designed for people between the ages of 18 and 24 months. In contrast, 2T apparel is designed for toddlers, often 2 to almost 3 years old.
Why is 2T smaller than 24 months?
Items with the designation six to twelve months are made to fit infants from six months of age and up to twelve months. If a label only lists one age, like 24 months, it means the item is suitable for infants and toddlers up to that age.

When it comes to 2T, it means the item is for a 2-year-old child.
Conclusion on US Toddler Cothing Size
The fact is that modern size charts vary, and clothes sizes are inconsistent. The answer to the question of whether you can still rely on garment sizes is yes, though perhaps not to the extent you might have thought.

If you already have favorite clothing labels, you may easily use their size charts as a reference while purchasing apparel for your child.
However, you might not find clothing sizes to be as helpful if you don't know a brand and rely on a generic size chart when choosing US apparel for your child. In the end, having a guide is preferable to having none at all, even if that guide is only partially reliable.
Picture in this post is by Luis Arias on Unsplash
Related to US Toddler Clothing Size