Goodnites Size Chart: Find the Best Diaper Size
How do you determine the proper Goodnites size? Which metrics are significant? Since every baby is different, it might be confusing, especially if you've become a parent for the first time. You may also worry about interpreting a Goodnites size chart to determine which ones to stock up on.
You will, without a doubt, be a diaper master by the time you're done because babies go through thousands of diaper changes before learning to use the potty.
The sizes of diapers are determined by weight, not by age. The most common size on the market, size 4, is where most newborns will spend most of their diapering days after starting off in the newborn size (which also features a cut-through in the front for the umbilical cord).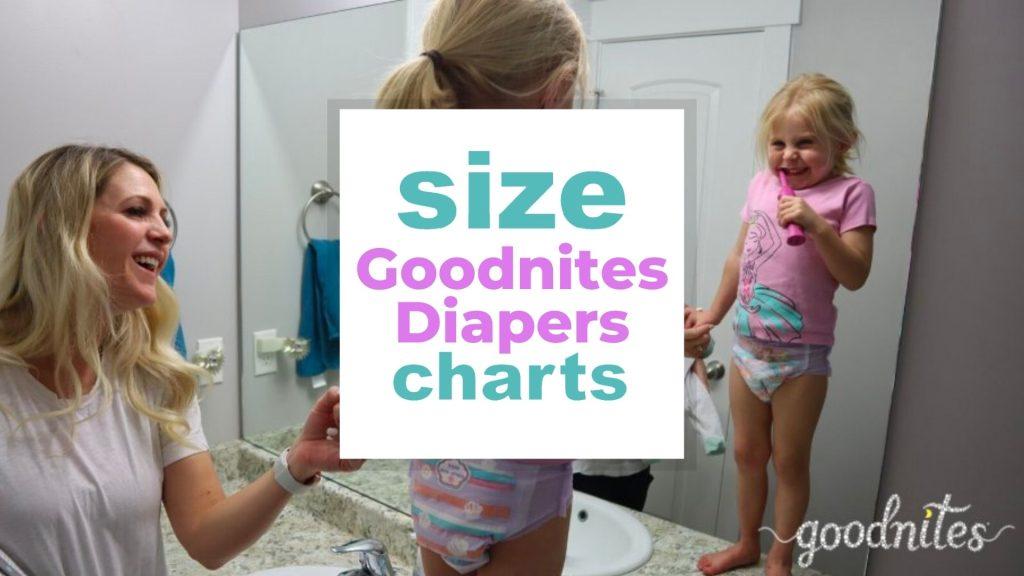 Beyond that, because newborns grow at different rates, it is impossible to correctly forecast in advance what size diapers your baby will wear at each age. However, it is safe to assume that within the first year, babies will at least go through sizes 1, 2, and 3.
The majority of disposable diaper manufacturers offer sizes Newborn through 6. Some companies sell preemie sizes for infants weighing less than six pounds, while others sell size 7 for toddlers weighing more than 41 pounds.
Based on the most widely used, top-performing diapers available today here is your go-to Goodnites size chart.
Jump right into the Frequently Asked Questions
Related: Baby Romper Size, H&M Baby & Kids Sizes, Graco Infant Car Seat Size and How to Install It, Baby crib size chart for the best sleeping experience of your newborn, Diaper size by kids age with easy to use size charts and tips
Goodnites Size Chart Table of Contents
Goodnites Size Chart
Related: Baby Jogger Stroller Size Guide, Britax car seat size chart by model, weight and age
Goodnites is available in several sizes to provide kids with a cozy, perfectly fitted fit. They'll sleep soundly and wake up self-assured, enabling them to do what they do best: play and be kids.
Goodnites Size Chart By Age
The table below can help you locate the best fit for your kids/babies. Use it merely as a broad summary, though.
| | | | | |
| --- | --- | --- | --- | --- |
| N | 1 | 2 | 3 | 4 |
| Newborn up to the first week | 2-4 mos. | 4-7 mos. | 7-12 mos. | 18-48 mos. |
| Up to 10 pounds | 8-14 pounds / 3.6 – 6.4 kg | 12-18 pounds / 5.5 –  8.2 kg | 16-28 pounds / 7.3 – 12.8 kg | 22-37 pounds / 10 – 16.8 kg |
| | | | |
| --- | --- | --- | --- |
| XSMALL | SMALL/MEDIUM | LARGE | XLARGE |
| 3-5 yrs old | 6-8 yrs old | 10-12 yrs old | 14-20 yrs old |
| 28-43  lbs. / 13-20 kg | 43-68 lbs. / 20-31 kg | 68-95 lbs. / 31-43kg | 95-140 lbs. / 43-64+ kg |
Goodnite Cloth Sizing
Related: Pampers Size Chart for all ages by type (size charts included), Infant Car Seat Size Explained in Detail by age, weight & height
Manufacturers of disposable diapers adhere to standard sizing; however, those of cloth and hybrid diapers do not. Even though many clothing labels use the terms small, medium, and large, the actual size and target age ranges might vary greatly. Because of this, it's crucial to follow their precise weight and measurement specifications.
It's crucial to remember that there are numerous different kinds of cloth diapers as well. There are cloth diapers that are one size fits all as well as some that are specifically made for certain ages and developmental stages. These are made to fit your child at various stages and grow with them.
However, while purchasing some one-size-fits-all cloth diapers may seem enticing, these may not be the ideal fit for your child at every stage. At some point, you'll probably need to purchase diapers that are a specific size.
How many cloth diapers you'll have on hand can depend on a variety of things. For most newborns, this corresponds to 24 to 40 cloth diapers, which is typically enough for 2 to 3 days.
How To Choose The Right Goodnites Size
Related: Huggies Size Chart for all ages by type (size charts included), Shoe size for Babies and Toddlers
Use the Goodnites size finder below to determine the optimal size for your baby. Additionally, the guide will tell you how many diapers you can typically expect to use and how many months your baby will need this size. It's a great tool for future planning!
Discover how to determine whether your baby's diaper fits precisely, whether to transition to a larger diaper size and which Goodnites are best for your child—from newborn diaper sizes onward. 
Ensure That The Diaper Fits Properly
Since newborns come in a variety of forms and sizes, as you are aware, diapers fit each child slightly differently. Diaper sizes are determined by baby weight rather than factors like age or gender to make things easier.
Typically, your baby's weight will fall within the parameters of a specific diaper size, resulting in a suitable fit. Given that the weight ranges can occasionally overlap, you might occasionally have a choice between two sizes.
For example, you might need to choose the smaller of the two sizes if your baby is long and slender in order to get the greatest fit.
Check out this video to learn more about different Goodnites Sizes
How To Measure Goodnites Size
Related: Britax Strollers Size Guide and Different Models, Baby Jogger Car Seat Size Guide by age, height and weight
Understanding the incontinence needs of the baby can also help you choose the right Goodnites size. Moreover, dimension is an important factor in choosing the right Goodnites size.
Even in the smallest aspect, every newborn differs from the others. Needs can vary depending on height, weight, and even absorbency. 
Let's express the facts: diapers for men and women may differ from one another. Women would benefit from diapers built specifically for their distinct anatomy, whereas males should wear briefs made for men.
Other recommendations for accurate diaper sizing include:
Comfort
Too loose
Frequent need for change
You should use a flexible or paper tape measure to acquire an accurate measurement now that you are aware of what to watch out for.
For accurate measurement, it is best to:
Take a measurement across the broadest section of your abdomen. Take note of this measurement, which should be taken at or slightly below your abdomen.
Next, take a measurement of the broadest part of your hips and write it down.
You must choose the greater of these two dimensions when figuring out how many diapers you need.
Remember that these are only guidelines and to account for your height, weight, and thigh circumference.
Check out this video to learn more about how to know when it's time to size the diaper size up
Frequently Asked Questions
1. What Is The Biggest Size of Goodnites?
The biggest Goodnites size is L/XL, which fits 60-125 lb and above.
2. Can Goodnites Fit Adults?
The new extra-large size from Goodnites is designed for those who weigh at least 95 pounds (140 kilograms) and have children's underwear sizes 14 to 20 as well as adult sizes up to a six-waist (equivalent to up to a 30-inch (76 centimeters) waist).
3. Do You Need To Size Up The Goodnites?
It's obvious the diapers are overly tight if your infant has red marks down their thighs. If the diaper is too small, it won't fit properly and leave these red stains. 
Diapers should absolutely be sized up at this time.
4. Why does my child require nighttime pajamas in the first place?
The greatest overnight protection is provided with Goodnites NightTime Underwear, guaranteed*. When your child wets the bed, they can make them more comfortable and spare you from doing a ton of washing in the morning.
Nighttime underpants might make your child feel safer whether they spend the night with their grandparents or at a friend's house. If they don't feel comfortable expressing it, they can even assist them to hide their "secret."
Additionally, the use of absorbent underwear, such as Goodnites NightTime Underwear, can assist both a parent and a kid in coping with the disease, according to the Urology Care Foundation. These products do not inhibit or delay toileting and continence management.
5. How are all those moistures absorbed by Goodnites NightTime Underwear?
The absorbent core of Goodnites Youth Pants is made of a combination of wood pulp and a very absorbent polymer.
The wood pulp absorbs the liquid and disperses it throughout the core, and the moisture is chemically locked inside by the extremely absorbent polymer.
6. Do Goodnites NightTime Underwear require my child to wear underwear?
Yes, if doing so makes them feel more at ease. But it's not necessary. Goodnites NightTime Underwear is made to fit your kid comfortably and appear and feel like underwear.
7. Are Goodnites the same as pull-ups?
Pull-Ups, as opposed to Goodnites, are intended for daytime use. Goodnites NightTime Underwear is made to keep kids dry during a long night, as well as their bedding.
Conclusion
Being a parent is one of life's most wonderful and exciting experiences. On this roller coaster ride, you might occasionally have a ton of fun and excitement, but other days might be a little more difficult. Well, the secret to enjoying this stage is to keep your cool and take each day as it comes.
Therefore, while purchasing diapers for your child, be sure to select the proper Goodnites size to make life easier for both you and your child. To select the perfect one for your baby, see the Goodnites size chart above.
If you have any questions, hit the comment below!
Picture in this post is from Walmart.com
Related to Goodnites Size Chart