Mama Bear Size Chart of Diapers
Mama Bear diapers are Amazon's in-house brand of diapers. This means they're only accessible online, but they're a fantastic and easy choice for parents and caregivers. These diapers are free of elemental chlorine, unscented, and hypoallergenic (skip straight to the Mama Bear Size Chart).
Additionally, lotions, parabens, and phthalates are not included in the Gentle Touch diapers of the Mama Bear brand.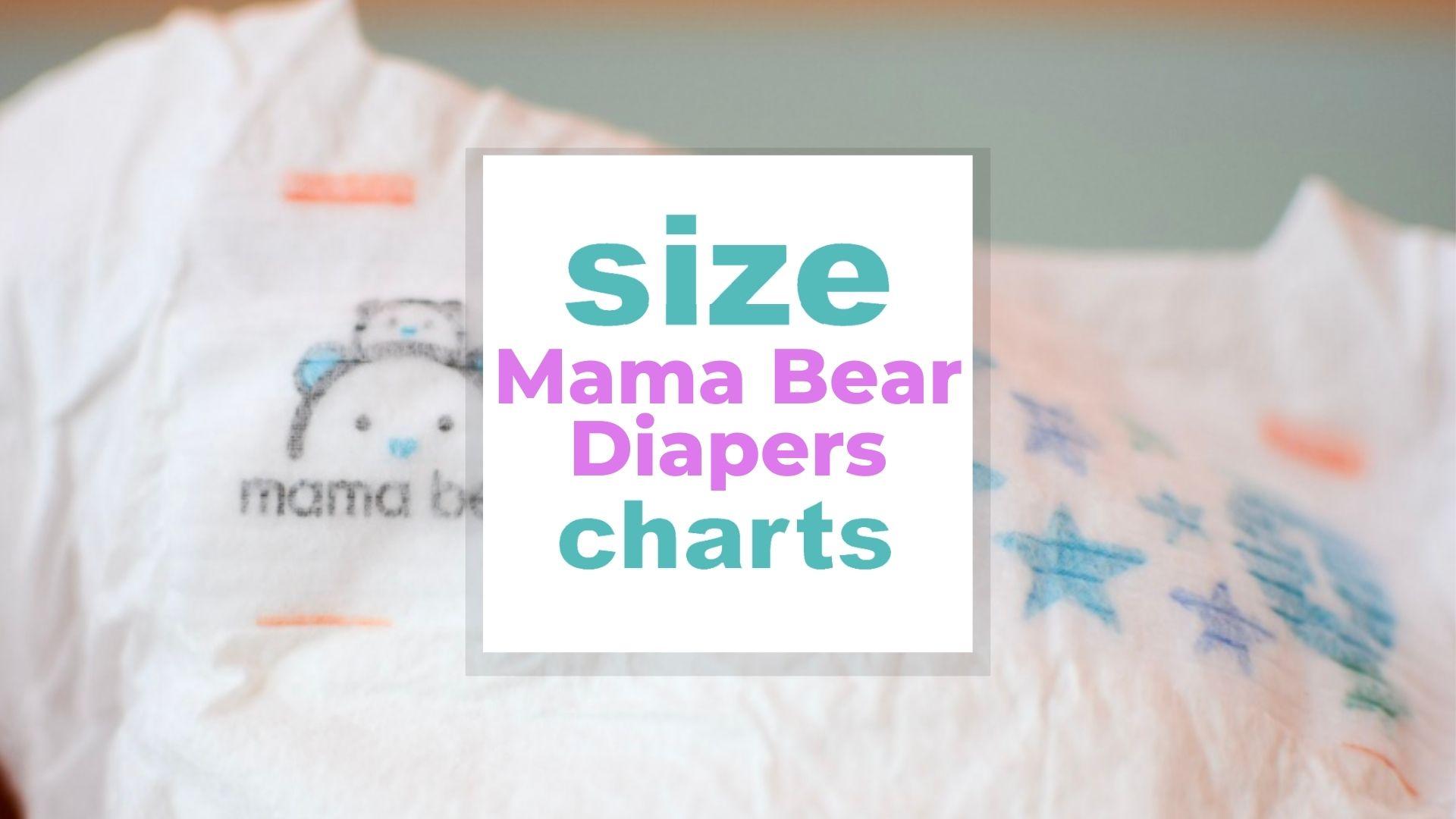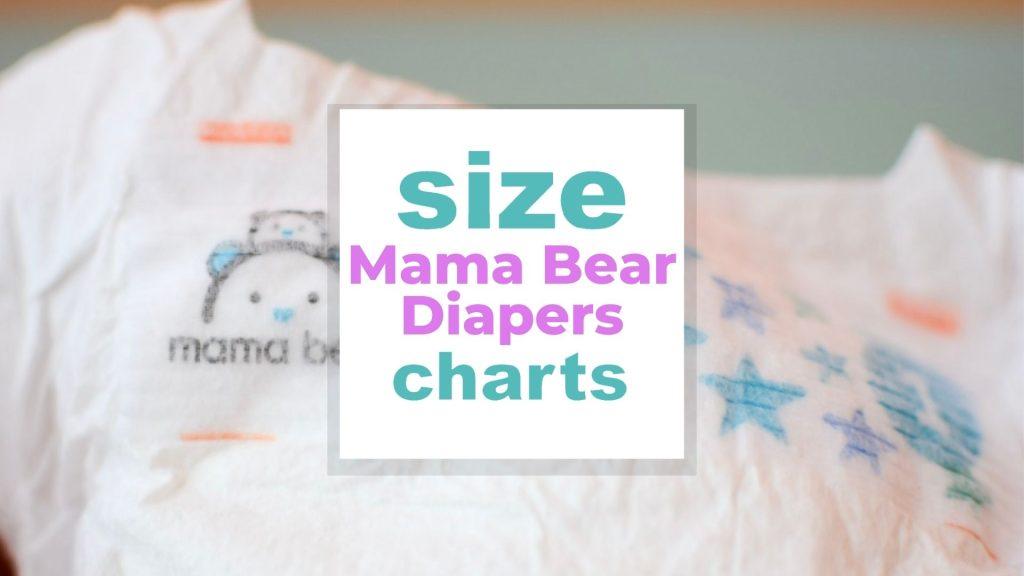 But how can you ensure you get the right fit for your baby? Diapers are typically sized by weight, as opposed to kid's clothing, typically sized by age. Moreover, Mama Bear's diaper sizes typically range from newborn babies or size 0 to size 6, covering infants from birth to 35lbs or more.
Pull-ups and training pants are also available for potty training babies, sized by age or weight. Check out this post to learn more about mama bear sizes and how to find the best fit for your baby.
Jump right into the Frequently Asked Questions
Related: Baby Romper Size, H&M Baby & Kids Sizes, Graco Infant Car Seat Size and How to Install It, Baby crib size chart for the best sleeping experience of your newborn, Diaper size by kids age with easy to use size charts and tips
Mama Bear Size Chart Table of Contents
Mama Bear Sizing Chart
Related: Goodnites Size Chart: Find the Best Diaper Size
Mother Bear Mama Bear Plush Protection diapers and Mama Bear Gentle Touch diapers are offered in newborn to size 7, making them suitable for all stages of diaper wearing.
| | | | | | | | |
| --- | --- | --- | --- | --- | --- | --- | --- |
| | Size 1 | Size 2 | Size 3 | Size 4 | Size 5 | Size 6 | Size 7 |
| Weight | 8-14 lbs 1 – 3 kg | 2-18 lbs 2 – 8 kg | 16-28 lbs 7 – 12 kg | 22-37 lbs 9 – 16 kg | 27+ lbs 12+ kg | 35+ lbs 15+ kg | 41+ lbs 18+ kg |
How To Measure The Right Mama Bear Diaper?
Related: Baby Jogger Stroller Size Guide, Britax car seat size chart by model, weight and age
One crucial point to understand regarding baby diaper sizes is that the kid's weight determines them. As a result, a measure is appropriate for a specific pound range. Also, be aware that disposable diaper manufacturers adhere to standard sizes.
Hybrid and cloth diapers, on the other hand, do not. You must also anticipate that your baby's Mama Bear diaper size will change as they grow.
Furthermore, different brands of disposable diapers may reflect the ages of the targeted use of a given diaper package. However, it would be best if you still verified the weight range of the diaper.
Two competitive brands may offer baby diapers, but their weight specifications may vary. This may result in your kid being a baby size in one Mama Bear diaper but a size 1 in the other.
Mama Bear's diaper might be different from other brands, and it is more probable that your kid will prefer the fitting of one diaper brand over the other.
Ensuring The Diaper Fits Properly
Related: Pampers Size Chart for all ages by type (size charts included), Infant Car Seat Size Explained in Detail by age, weight & height
Because infants appear in varied shapes and sizes, diapers fit distinctively on each one. To make things easier, Mama Bear's diaper sizes are determined by infant weight rather than gender or age.
Typically, your newborn's weight will fall exactly inside the spectrum of a particular diaper size, resulting in an excellent fit. Because weight ranges occasionally coincide, you may have an option of two sizes in certain circumstances.
For instance, if you've got a long and skinny kid, you may have to select the smaller of the two different sizes for the right fit.
Aside from ensuring that the diaper matches your baby's weight, there are also simple tests you can perform to ensure that your baby's diaper fits correctly:
The waistline of the diaper must lie just below your baby's navel.
There must be no gaps between the leg cuffs. After putting on the diaper, put two fingertips within the leg cuffs to position them in the appropriate place to avoid leaks.
Once you've tied the diaper, you must be capable of fitting two fingers underneath the waistband. This indicates that the diaper is fit correctly – neither too loose nor too tight.
There must be no red markings when you remove the diaper.
How Effective Are Mama Bear Diapers?
Related: Huggies Size Chart for all ages by type (size charts included), Shoe size for Babies and Toddlers
Diapers with Plush Protection
Plush Protection diapers provide leakage protection for up to 12 hours, providing parents, fathers, and caregivers with peace of mind and a wetness indicator. They include premium tri-grip tabs and an elastic waistband for a snug fit, enabling the baby to crawl, play, and explore.
They're constructed of ultra-absorbent material that efficiently wicks away moisture and keeps the baby dry, and they include a 'Full Protect' core made of responsibly derived pulp.
According to Amazon, these diapers are soft and soothing on your child's skin. The business claims its Plush Protection diapers are hypoallergenic, making them suited for children with susceptible skin.
Diapers with a Gentle Touch
Like Mama Bear's Plush Protection diapers, their Gentle Touch diapers provide up to 12 hours of leakage protection. They include a wetness indicator to indicate when a child needs to be changed.
They have a thin design, so they're flexible enough for your infant to feel at ease and explore to their heart's delight.
A breathable outer cover keeps your baby's skin healthy and dry, and they're so confident in the diaper's effectiveness that they offer a satisfaction guarantee: if you're not entirely satisfied, they'll reimburse you within a year of your purchase.
Check out this Mama Bear Diapers review (video)
Frequently Asked Questions
How you can weigh your kid?
You may utilize your regular bathroom scale to get your baby's weight. Remove your kid's clothing and diaper before stepping on the scale while carrying her. Take note of the weight.
Afterward, without your kid, walk back onto the scale. To calculate your baby's weight, deduct the second number weight from the first.
Do Mama Bear diapers contain any chlorine?
The amount of chlorine in the diapers is something to consider when choosing the best ones for your kid. Both "completely chlorine-free" and "elemental chlorine-free" are terms used by diapers to describe their properties.
While fully chlorine-free diapers are preferable, elemental chlorine-free bleaching lessens the toxicity of chlorine even when the diaper isn't entirely chlorine-free.
In other words, Mama Bear Plush Protection diapers, which advertise themselves as being elementally chlorine-free, are considerably safer for the environment than traditional bleaching.
What are the diaper sizes for each age group?
Baby diaper sizes are determined by the child's weight rather than their age, while various manufacturers provide specifically for every age range.
Diaper sizes range from 0 to 6 for newborns to those over four years old. The smallest will accommodate a newborn weighing up to 10 pounds and weighing less than 35 pounds.
When should you change the diaper size?
If a diaper can't be fastened on the belly, it's too restrictive, and your baby's legs seem tied off, it is time for a size change. Check for stress spots or red streaks on your newborn's hips or legs to see if the diaper is excessively tight.
To ensure that the diaper is not overly restrictive, one or two fingertips should fit between the body and the diaper.
Are Mama Bear Diapers organic?
When picking the best diapers for your kid, the terms 'eco-friendly,' 'natural,' and 'biodegradable' are all trendy. A diaper may be labeled as natural if it is made from plant-based materials like bamboo, which many brands use.
What is the weight limit for size 4 diapers?
Both mother-bear diapers should have a weight restriction of 22 and 37 pounds for their Size 4 diapers.
Are Mama Bear diapers safe for use?
Mama Bear Gentle Touch diapers are devoid of the most common toxins in disposable diapers, such as phthalates, lotions, perfumes, and heavy metal colors.
While non-toxic, they are still created with petroleum-based polymers, so while they may be healthier for your baby's skin, they are not the most excellent diapers for the environment.
Conclusion
Mama Bear Diapers are ideal for those looking for an affordable, efficient diaper. The fact that they are so simple to purchase online means fewer visits to the shop and more time for the infant and family.
Amazon's Gentle Touch diapers are excellent for non-toxic diapers, even if their Plush Protection diapers are no more environmentally friendly than other comparable brands.
Although Gentle Touch diapers are by no means "green," their zero-waste-to-landfill policy and record for abstaining from animal testing are a solid place to start.
Moreover, Mama Bear size charts are provided for those who wish to buy this diaper but don't know what fits right with their baby. If you have questions, feel free to leave a comment.
Picture in this post is from TheBraveLittleMamma.com
Related to Mama Bear Size Chart