Luvs Diapers Size Charts for Babies
This post was last updated on November 20th, 2022 at 12:54 pm
What should you consider when buying your child's diaper? Many parents find it challenging to choose baby diapers. Experienced parents are well familiar with their infant diaper sizes. Not only do they know how much diapers cost, but they also have trusted diaper brands on which they can depend (skip straight to the Luvs Diapers Size Charts).
However, it may be tricky for new parents who are unaware of the suitable diaper size for their newborn. That is why this article is for you if you are having difficulty choosing the right diaper size for your newborn.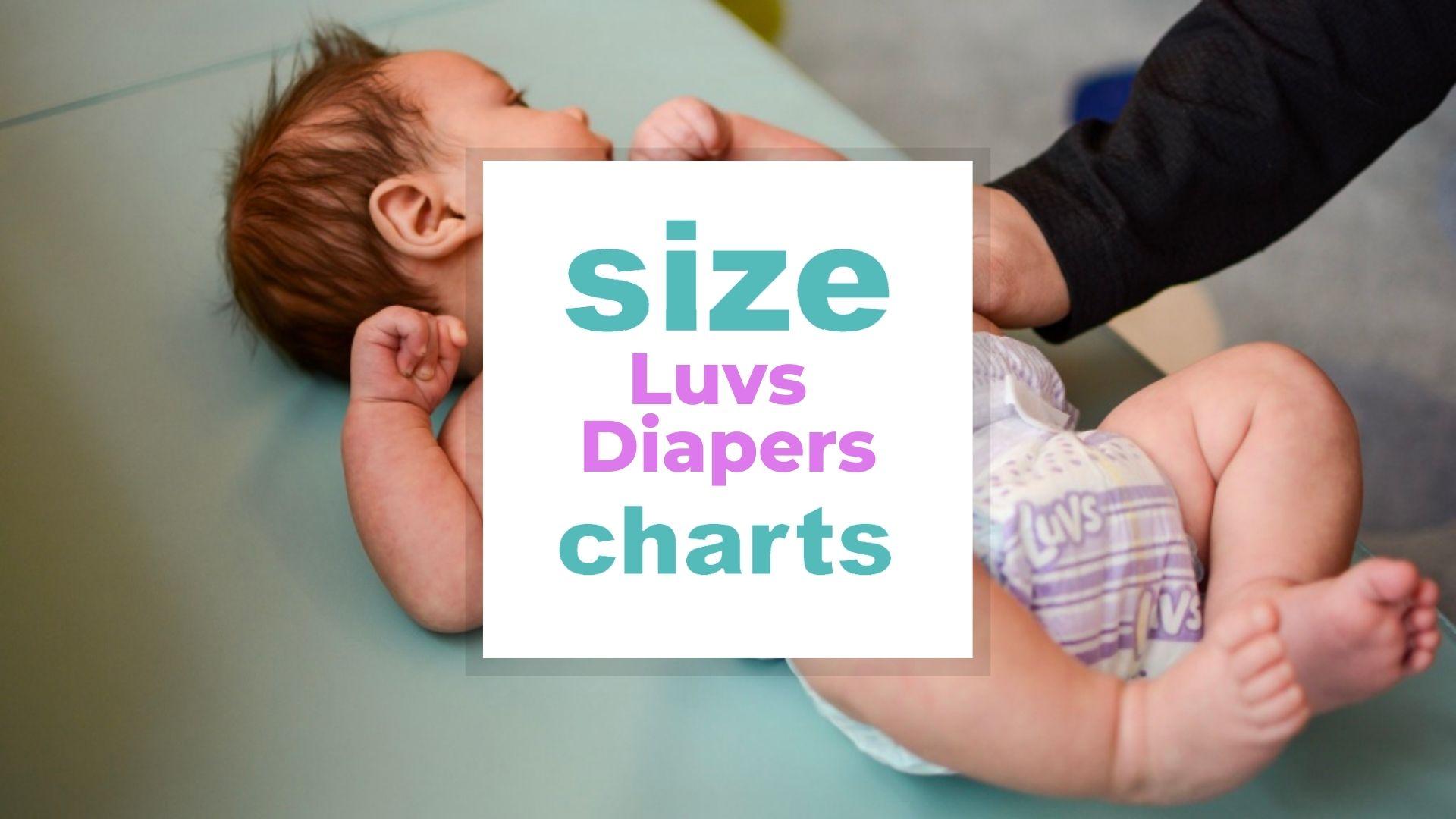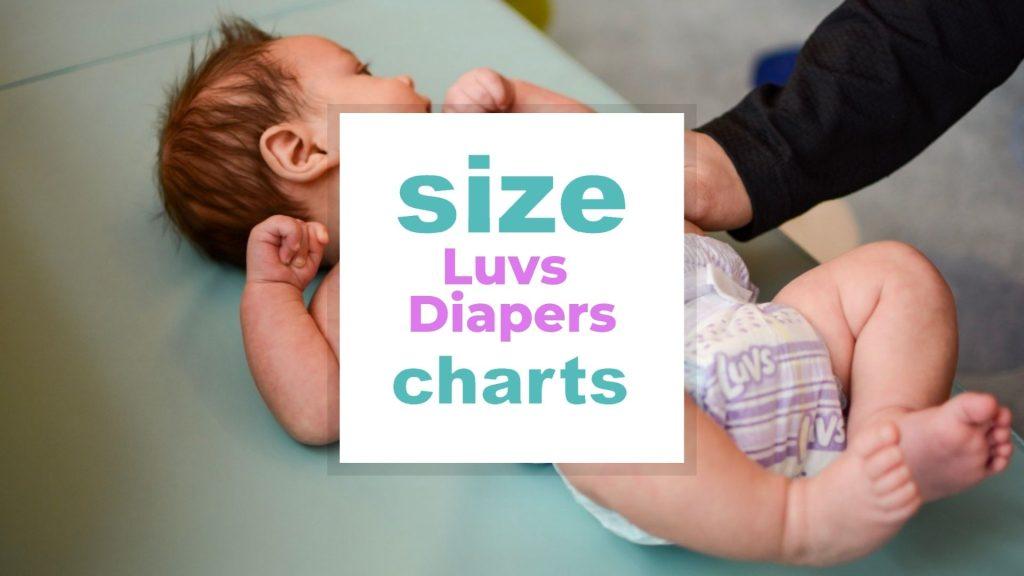 There are several diaper brands, and each brand often has several variations. When parents shop for diapers, they primarily examine the quality, breathability, absorbency, side leaks, and most importantly, the sizes; however, there are noticeable variations across brands and series.
Continue reading this page for further details about Luvs diaper sizes.
Jump right into the Frequently Asked Questions
Related: Baby Romper Size, H&M Baby & Kids Sizes, Graco Infant Car Seat Size and How to Install It, Baby crib size chart for the best sleeping experience of your newborn, Diaper size by kids age with easy to use size charts and tips
Luvs Diapers Size Table of Contents
Luvs Baby Diaper Sizing Chart
Related: Goodnites Size Chart: Find the Best Diaper Size
Luvs diaper sizes range from newborn to size 6, making them ideal for most of your baby's diapering adventure.
| Luvs Diaper Size | Age | Weight (kg) | Weight (lbs) |
| --- | --- | --- | --- |
| Luvs Newborn | First few weeks | up to 4.5 kg | 4 to 10 lbs |
| Luvs Size 1 | 2-4 months | 4-6 kg | 8 to 14 lbs |
| Luvs Size 2 | 4-7 months | 5-8 kg | 12 to 18 lbs |
| Luvs Size 3 | 7-12 months | 7-13 kg | 16 to 28 lbs |
| Luvs Size 4 | 18-48 months | 10-17 kg | 22 to 37 lbs |
| Luvs Size 5 | Older than 3 years | over 12 kg | > 27 lbs |
| Luvs Size 6 | Older than 4 years | over 16 kg | > 35 lbs |
When Should you Size up for Diapers?
Related: Baby Jogger Stroller Size Guide, Britax car seat size chart by model, weight and age
If the diaper is constantly causing red spots to appear on your baby's skin, it may be time to consider upgrading to a larger size.
Another indication that the diaper is too small is if it has any drooping in the rear or front of the garment. When your baby begins crawling or walking, it is a decent rule of thumb to move up to the next size.
Most businesses have sizing charts on their websites, which you may consult if you are unclear about which size to purchase. You might also seek the counsel of a physician on this matter. Also, remember that you may always return diapers that are too big or too little for your child.
How Can You Tell if a Diaper is Too Big?
Related: Pampers Size Chart for all ages by type (size charts included), Infant Car Seat Size Explained in Detail by age, weight & height
The main sign that it's time to change diapers is frequently the same indicator that the baby needs something smaller; it is leaking. Larger diapers may also cause more stool leaks and blowouts.
You could also discover plenty of space between the diaper and your child's legs, or the diaper pulls up too high over the belly button.
But here's the good news: you don't have to toss out diapers that don't quite fit. Change them for a smaller size, but retain them since Luvs diapers come in various sizes, allowing you to pick the ideal fit for your child. Children grow to the next size faster than parents anticipate.
How to Choose the Right Diaper Size?
Related: Huggies Size Chart for all ages by type (size charts included), Shoe size for Babies and Toddlers
There are two metrics parents and caregivers may utilize to make heads or tails of newborn diaper sizes: the size of the package and the infant's size.
Every diaper brand may have varying sizing than other brands, so always pertain to the size chart on the package you're utilizing to maintain adequate fit.
In addition, while good-fitting diapers must not aggravate any issues for the baby, there are clear indicators that a diaper isn't fitting correctly. Irritation on the child's skin, leaking, or a part of the baby's bottom getting exposed in the back are all indicators that a youngster may need a new diaper size.
Why Should You Use Luvs Diapers?
Related: Britax Strollers Size Guide and Different Models, Baby Jogger Car Seat Size Guide by age, height and weight
Luvs arrived a bit later than any other brands and were created with the assistance of a professional. The diaper manufacturing process is more sophisticated than it seems. They were first advertised as "deluxe" diapers in the late 1980s before transitioning to "budget" diapers in 1994.
Moreover, they are still quite popular in the United States about 30 years later, owing to their low cost and high quality.
The following are LUVS product specifications:
Super soft on baby's skin for a comfortable feel.
Wetness is kept at bay with Nightlock Technology for up to 12 hours of nighttime protection.
The core of the Leak guard keeps the baby's skin dry.
When wet, the Wetness Indicator glows blue, alerting you that your baby needs to be changed.
Larger tabs are used for a secure, tight fit.
Check out this Luvs diapers review (video)
Why are Luvs Disposable Diapers Still Preferable?
Related: Mama Bear Size Chart of Diapers
The solution is relatively easy. Reusable diapers aren't much better than disposable diapers since they're less absorbent.
It indicates that the wetness is more likely to stay on your child's skin for a more extended period when they urinate in a reusable diaper, which might be irritating.
Furthermore, reusable diapers cost more than disposable ones and take longer to wash and dry. Last but not least, many parents discover that Luvs disposable diapers function more effectively and provide them with greater peace of mind.
Frequently Asked Questions
What sizes are diapers available in?
Diaper sizes vary by manufacturers, but generally, they start with a newborn and go up to a Size 6. Remember that various brands may offer different diaper styles for different sizes and ages.
Moreover, the diaper sizes are essentially the same. Still, just as overnight diapers contain additional absorbency for lengthy lengths of sleep, each type is customized to a particular stage of babyhood.
What's the most significant size of Luvs?
The Luvs size chart is based on the infant's weight, and the largest size available is a 6 for babies weighing 35 lbs or more.
What weight are size 3 Luvs diapers?
There are different weight ranges for each size of Luvs diaper, with size three being appropriate for newborns weighing between 16 and 28 lbs.
Is the quality of Luvs acceptable?
Despite being so much less expensive than other products, Luvs seems effective. The average rating for the more than 3,000 reviews on Amazon is 4.5 out of 5, which is pretty good for an inexpensive diaper.
Most users like their absorbency and many parents and caregivers have relied on them throughout their child's diapering experience.
How do you know when a diaper is too small?
The diaper is probably too small if you observe red markings around your baby's upper thighs and belly caused by the elastic in the diaper.
In addition, if the diaper seems or feels as if it is pressing too closely against your child's skin, then it most likely is too tiny.
Conclusion
Luvs Diaper is well-known for its high level of quality and its distinctive smell, which is exceptionally kind to the environment. In addition, it is shaped so that it comfortably hugs a baby's bottom and is soft and comfortable against a baby's skin.
Because it provides diapers of high quality at a reasonable price, you won't feel guilty about putting them on your infant or toddler.
Purchasing diapers may be complicated for new parents who are unsure of the correct diaper size for their infant. If you're one of them, this handy guide with a diaper size chart by age and weight can assist you in selecting the best one for your child.
For any inquiries! Leave a comment!
Picture in this post is by LuvsDiapers.com
Related to Luvs Diapers Size Charts