Kids Socks Size Chart for boys and girls by age
This post was last updated on May 4th, 2022 at 03:39 am
Why it is important know the right size before you buy Kids Socks Size
Buying socks for a newborn can be a little tricky. Keeping in mind that babies continue to grow, it is best to buy socks that are not too small or too large. The best way to get it right is by using a Kids Socks Size chart.
One of the biggest advantages of knowing the right size before you buy kids socks is that you will be able to ensure that your kid is comfortable. Children's feet can be a little small, and socks that are too huge can make them feel uncomfortable. Too small socks on the other hand can be too tight and might cause health problems as they can interfere with blood flow around the feet. Likewise, a child will not voice that concern if their socks are too big or too small. This is why you must always aspire to get the size right. 
Common sizes include sock size for 7 year old, sock size for 5 year old, youth sock size conversion, 6 8 5 sock size, sock size for 5 year old etc. 
Looking for shoe size by age? check here
Kids Socks Size Chart
To help you pick the right size, a Kids Socks Size Chart is an absolute necessity as socks come in many sizes. A newborn will need a baby sock, which should be a few sizes larger. A toddler or youth sock is designed to fit a child with a shoe size of two to six. A child of eight years and up should be wearing a youth or medium sock. With all these options to think about, you will save a lot of time and money by using a Kid's Socks Size.
All sports brands offer kid's socks, like adidas socks, Nike socks, Puma Socks, …
See the example below;

Other charts you might come across include toddler sock size chart, nike youth sock size chart, big boy sock size chart.
Kids Sock Size Chart conversion to Kids shoe sizes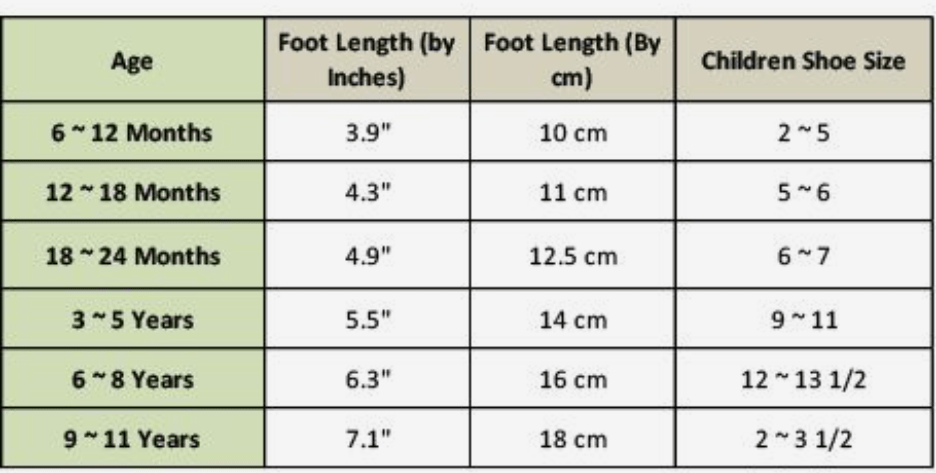 How to choose the right Kid's Socks Size
Choosing the right kid's socks size is a task you need to take seriously. Kids' feet are smaller than adults', and their socks should fit properly. The general guiding rule is that for infants you need to choose the smallest size. For pre-teens, choose the largest size. The best sock for a baby is one that fits snugly around the heel and is comfortable.
Luckily, most brands have sizing charts on their websites to guide you. You can also try your child's socks on before buying them. However, remember that kids' socks are made of thin material, and they will stretch with use. Therefore, sizing should be taken into account if you want to make sure the socks will fit properly.
It is important to note that kids' feet do not always express their discomfort, so sizing up can help to ensure a comfortable fit. The right sock should not only be comfortable but should also be durable. 
The best Kid's Socks Size for your children
When looking for the best kid's Socks Size for your child, the first thing to consider is the shoe size of your child. A shoe of the same size can fit a child in a child's socks of a different age. For example, if a kid is a two-year-old, they should wear a pair of toddler socks. Kids four and up should be in children's sizes four and up. A high-growth child can go to the next level by selecting a size eight or higher.
Toddlers are typically in toddler socks, which range from sizes three to seven. As they grow older, they can easily move into a child's size eight or larger. Once they reach the age of four, the child can wear kids' sizes eight and up. Fortunately, most kids grow into the same shoe size by the time they're ten.
In general, kid's socks are categorized  according to shoe size and age. For newborns, the best sock size is one that fits the shoe well. For older children, there's the junior size, which is meant for children in shoes with a size five and up. And for teenagers, a size eight sock is ideal.
How to measure, how to find your Kid's Socks Size
Knowing how to measure your child's feet for the correct sock size is important for comfort and fit.. If it's too small, the heel will appear under the foot. The material should not bunch up when your child slips their shoes on. Loose socks can feel uncomfortable inside the shoe. A pair that sits properly should have no toe seam.
Start by measuring the length of the foot. Usually, the length of a pair of socks is given in centimeters. For more precise measurements, you can have the kid stand on a ruler and measure the length of the longest part of the foot. If you want to get a more accurate measurement, you can also measure the width of the foot. If your child has a long foot, then the LARGE size will fit them.
How to determine child sock size
The best way to determine child sock size is to measure the length of the foot. The length of the foot will determine the sock size. Regardless of the brand, it's important to know the correct length.
For newborns, you should choose a size smaller than the child's normal shoe size. The same holds true for babies. In some cases, baby socks can double as holiday decorations or change purses. Even pet socks can be used as children's sock size.
There are three general sizes: infant, toddler, and kids. A toddler sock fits a newborn to a year old. For children between the ages of five and ten, you'll need a child sock that is in between the infant and toddler sizes. 
A good rule of thumb is to buy a pair of socks with a number. Then, order them accordingly. For example, a child with a number two is best to wear a size two sock. 
Measure your kid's feet in 10 simple steps
Measure your kid's feet in the afternoon.
Make them Stand When Measuring, but with smaller children this is not needed
Be precise
Measure both feet
Stand on a piece of paper
Start drawing
Measure the length of your kid's feet
Determine your kids socks size in the conversion charts
Conclusion 
The sizes of children's feet are different from those of adults, so it is important to understand this. If you're buying a pair for your child, the kid's socks should have plenty of room for the toes. 
Choose baby socks if your child is between one and three years old. When it comes to toddler shoes, you should look for sizes that correspond to the age group of your child. For most brands, the size is indicated on the sock's label, for example, "sock size 9-11."  Some brands use alphabetical sizing, so you can tell which pair is right for your child.
Did you find this guide helpful? Please ask any questions you might have and all the best as you seek to get the very best kid's socks size for your child. 
Picture in this post by Carmen Fu on Unsplash
The model in the picture is wearing a Vans sneaker: check the Vans Size Guide here
Related Kids' size charts