Charlie Banana Diapers Size
What are Charlie Banana Diapers? In essence, Charlie Banana diapers are one kind of diaper that one may wear in either a pocket diaper or a hybrid diaper configuration. With this 2-in-1 diaper system, cloth diapering is versatile and straightforward to personalize.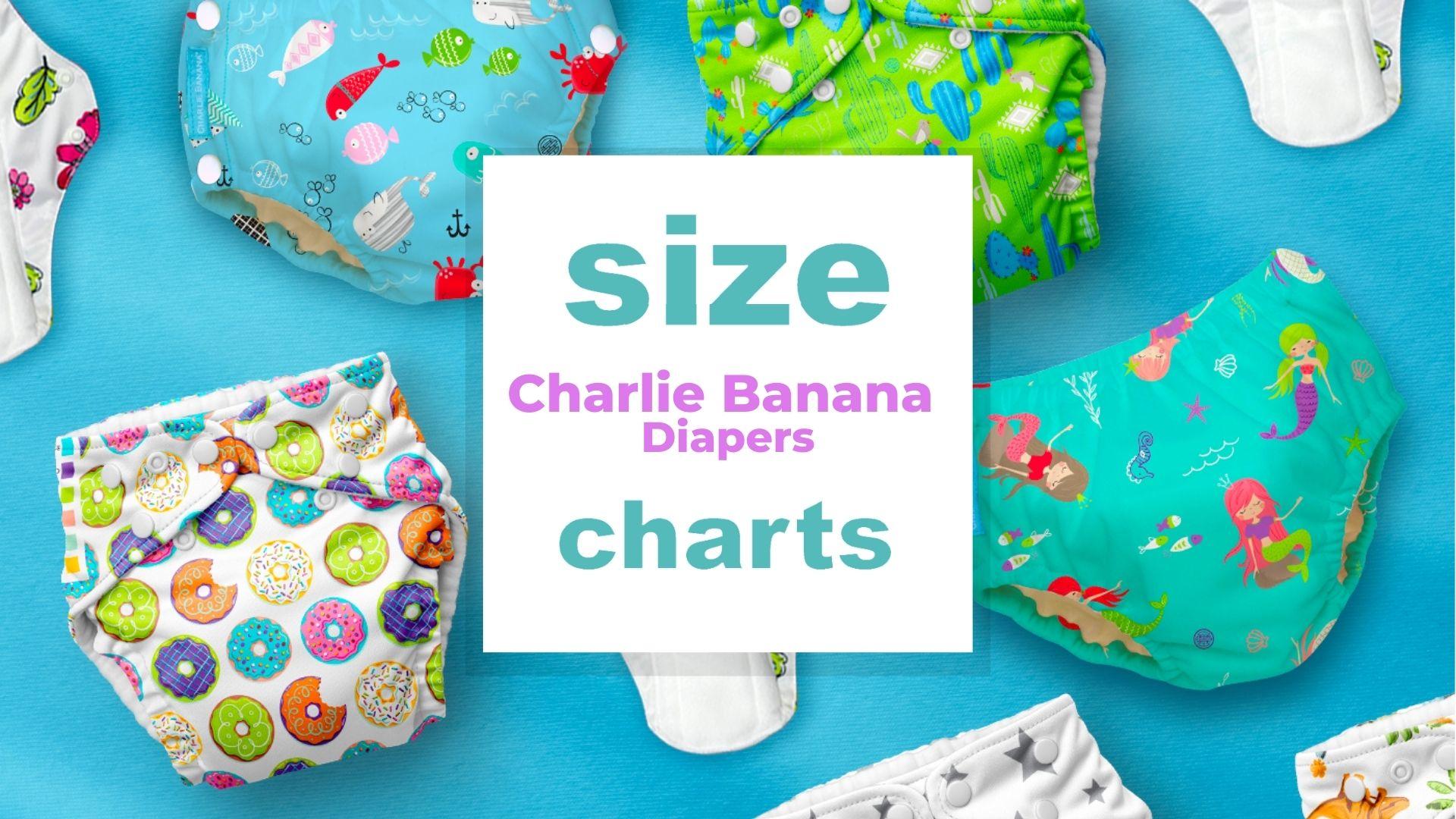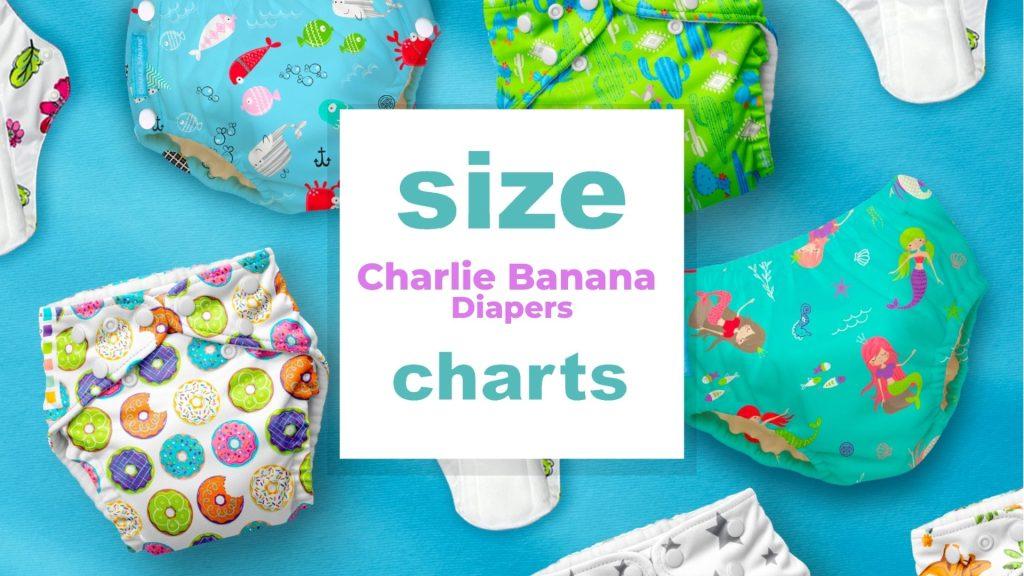 In addition, Charlie Banana cloth diapers are simple to fasten and resize as the baby grows, thanks to their many waist snaps and adjustable leg straps.
Jump right into the Frequently Asked Questions
Related: Baby Romper Size, H&M Baby & Kids Sizes, Graco Infant Car Seat Size and How to Install It, Baby crib size chart for the best sleeping experience of your newborn
Charlie Banana Diapers Table of Contents
Charlie Banana Diapers Size Charts
Related: Mama Bear Size Chart of Diapers
Charlie Banana Diapers Size Chart
| | | | | |
| --- | --- | --- | --- | --- |
| Size | X-Small | Small | Large | Medium |
| Approx. Age | 0 – 2 months | 0 – 6 months | 5 – 24 months | 20 – 36 months |
| Weight | 5 – 10 lbs 2.3 – 4.6 kg | 7 – 18 lbs 3.2 – 8.2 kg | 15 – 30 lbs 6.8 – 13.6 kg | 25 – 45 lbs 11. 3 – 20.5 kg |
| Thigh | 3.5 – 5 in 8.9 – 12.7 cm | 5 – 10 in 12.7 -25.4 cm | 9 – 13 in 22.9 – 33 cm | 12 – 16 30.5 – 40.6 cm |
| Rise | 6.25 in / 15.8 cm | 13 in / 33 cm | 15 in – 38.1 cm | 16in – 40.6 cm |
Charlie Banana Diapers One Size Chart
| | |
| --- | --- |
| Approx. Age | Newborns – 30 Months |
| Weight | 6 – 35 lbs / 3 – 16 kg |
| Waist | 10 – 24 lbs / 25 – 60 kg |
| Thigh | 4.5 – 14 lbs / 11.5 – 35 kg |
| Rise | 12 – 16 lbs / 30 – 40 kg |
Swim Diaper and Training Pants Size Chart
| | | | | |
| --- | --- | --- | --- | --- |
| Size | Small | Medium | Large | X-Large |
| Weight in Pounds | 11 – 16 lbs | 16 – 21 lbs | 21 – 17 lbs | 28 – 55 lbs |
| Weight in Kilograms | 5 – 7 kg | 7 – 9 kg | 9 – 12 kg | 13 – 25 kg |
Organic Cotton Training Pants
| | | | |
| --- | --- | --- | --- |
| Size | Small | Medium | Large |
| Weight | 28.5 – 39.5 lbs 13 – 18 kg | 37.5 – 50.5 lbs 17 – 23 kg | 57 – 86 lbs 26 – 39 kg |
| Waist | 6.5 in / 17 cm | 7 in / 18 cm | 7.5 in / 19 cm |
| Rise | 7 in / 18 cm | 7.5 in / 19 cm | 8 in / 20 cm |
Organic Cotton Underwear
| | | | |
| --- | --- | --- | --- |
| Size | Small | Medium | Large |
| Year | 1.5 – 2 years | 2 – 3 years | 3 – 5 years |
| Waist | 48 cm / 18.90 in | 50 cm / 19.68 in | 52 cm / 20.47 in |
| Height | 92 cm / 36.22 in | 98 cm / 38.58 in | 104 cm / 40.95 in |
Cloth Diapers: Are They Better?
Related: Goodnites Size Chart: Find the Best Diaper Size
Using cloth diapers has recently become more complex and simpler to grasp. Additionally, there is no disputing the difference switching to cloth diapers over disposables can make for the environment.
There is less concern about keeping oneself filled up with those monthly or weekly diaper purchases, even if they could have a little learning curve.
On the other hand, it implies that you need to buy enough diapers to get through each day without continuously using your washing machine. It means keeping at least 25 cloth diapers on hand for infants so that you only need to do a load of washing every other day.
While you may initially spend more money on cloth diapers than disposable ones, you'll save a lot. You won't have to rush to the shop to purchase disposable diapers continually; therefore, you won't have to buy bigger cloth diapers as your kid develops. Adding more wash loads may result in higher energy and water costs.
Still, given the number of messes and spit-ups toddlers produce, this increase in the laundry is probably inevitable whether you use cloth diapers or not. Additionally, drying diapers outdoors in the sun rather than in the dryer will help you save money on electricity. Since dryers may cause damage to cloth diapers, this can also help them last longer.
| | |
| --- | --- |
| Pros | Cons |
| A decrease in landfill garbage | Greater use of water and energy |
| Greater cost reductions | More upfront investment |
| Future siblings may get diapers | Added time for cleaning and washing |
| Aimed to be more kind to a baby's skin | Not always accommodating to daycares or babysitters |
Types of Cloth Diapers
Related: Baby Jogger Stroller Size Guide, Britax car seat size chart by model, weight and age
Flat Cloth Diapers
Flats are regarded as the first cotton diaper. As its name implies, a flat diaper is a single-layered piece of cloth, often composed of cotton. It would help if you folded it in various ways to take on the form of a multi-layered diaper to suit your kid.
Safety pins or clips are required to hold flat diapers in place. Additionally, a diaper cover is necessary for flats to retain moisture within the diaper.
Advantages of Flat Cloth Diapers
The most affordable cloth diapering choice available
May alter the amount of absorption by stacking many flats
Simple to change as the baby grows
Drawbacks of Flat Cloth Diapers
Need to fold like origami to attain a tight fit
Need screws, clips, or safety pins to secure
Use with a separate diaper cover is required.
If cloth diapering isn't their thing, it might be difficult for babysitters or daycares.
Cloth Diapers with Prefold
Diapers pre-folded into three panels, the center panel of which is the most absorbent, are pretty similar to flat diapers. Pre-folds need safety pins or clips to secure them, like flats, plus a diaper cover to help stop leaks. Pre-folds might also be quicker and more affordable than flat diapers since they are already layered.
Pre-fold Cloth Diaper advantages:
Relatively inexpensive, similar to flat diapers
It might be quicker to use this than a flat diaper since it is already layered.
Scalable as the child grows
Drawbacks of Pre-fold diapers:
It must still be folded into a diaper-like form to fit the infant.
Need screws, clips, or safety pins to secure
Use with a separate diaper cover is required.
Again, this alternative may be challenging if your child attends a sitter or daycare.
How Do You Choose the Best Cloth Diaper for You?
Related: Pampers Size Chart for all ages by type (size charts included)
Sometimes, like everything else in parenting, it just takes trial and error to determine what is best for your family.
Try a few different kinds of cloth diapers before settling on one. You could find that each has a few qualities that you appreciate.
Is It Better to Use Disposable Diapers?
Related: Huggies Size Chart for all ages by type (size charts included), Shoe size for Babies and Toddlers
Based on convenience alone, disposable diapers seem to be the better option. There is no learning curve, and minimal cleaning is required since you may throw dirty diapers in the trash immediately.
Of course, this implies that you contribute hundreds of diapers to landfills each month. Although the absorbent chemicals used to produce disposable diapers might irritate a baby's skin, they can be more breathable.
Furthermore, finding a disposable brand that doesn't bother your child's skin and prevents diaper leaks could take a few rounds of trial and error.
The ideal match for your budget, your baby's physique, and their skin may require the need to try out many brands, even if disposable often seems the simplest option.
| | |
| --- | --- |
| Pros | Cons |
| It is quite handy. | Not environmentally friendly, |
| Excellent for on-the-go and travel. | Chemicals and dyes may irritate the skin of a newborn. |
| Breathable and absorbing. | Over time, this might become quite expensive. |
| Easier for daycare and babysitters. | |
Comparison Chart of Disposable and Cloth Diapers
Related: Infant Car Seat Size Explained in Detail by age, weight & height
Here is how cloth diapers and disposable diapers compare to one another now that you are aware of the advantages and disadvantages of each.
| | | |
| --- | --- | --- |
| | Cloth Diapers | Disposable Diapers |
| Cost | Depending on the brand and amount you pick, the cost per kid over two years varies from $300 to $1,000. | Over a two-year period, costs range from $2000-$3000 per kid. |
| Ease of Use | There can be a small learning curve, configurable features, and a necessity for washing after each usage. | Very practical, easy to understand, and discard after each usage. |
| Ecological Use | Environmentally beneficial, it may potentially result in higher energy and water use. | Will not lower your energy or water expenses, but is not ecologically friendly. |
| Skin Health | Skin irritation and rashes are less common since it is gentle on the skin. | Materials, gels, and dies are more prone to cause skin rashes and irritation. |
| Potty Training | Early toilet training is more likely in children. | It's more common for kids to start toilet training later. |
Which Should You Choose: Cloth Diapers or Disposable Ones?
Related: Diaper size by kids age with easy to use size charts and tips
As with everything, both choices have advantages and disadvantages that may help you decide which is best for you. You may discuss the relative costs of cloth vs. disposable diapers over time based on brand and utility costs.
Go with your gut and trust your intuition. Furthermore, keep in mind that you may always alter your mind.
Disposable vs. Reusable Swim Diapers
Another issue to think about is the comparison between reusable swim diapers vs. disposable swim diapers. Because they include adjustable tabs that grow with your kid and often fit better than disposable swim diapers, one reusable swim diaper may last an entire swim season (or even more than one).
Swim diaper fit is crucial since a blowout in the water is worse than a poopy blowout.
Disposable vs. Cloth wipes
If you truly want to help the environment, think about switching to cloth wipes from disposable ones. Cloth wipes are exceptionally gentle and devoid of irritants and toxic substances.
Reusable cloth wipes are far less expensive than continuously purchasing disposable ones. The main benefit of using cloth wipes is the positive influence you have on the environment by preventing the weekly addition of hundreds of wipes to landfills.
Check out this video to learn more about how to wear Charlie Banana diapers
Frequently Asked Questions
1. Should I wash the diapers before using them for the first time?
Before using, always wash baby clothes and diapers. The microfiber material has to expand and contract a few times to enhance its absorbency. Therefore you may need to wash the absorbent inserts twice before using them.
2. What's the material of the Charlie Banana diapers?
The outside layer of our standard diapers is constructed of a laminated knit (polyester), and the inside layer is a thin layer of fleece. There are two cloth inserts supplied with each diaper.
Chucky Banana Deluxe inserts contain an additional top layer of fleece, while regular inserts are constructed of very absorbent micro terry.
The inner layer of the diaper shell is composed of organic cotton. The inserts are made up of numerous layers of hemp and micro terry in our selection of organic cotton diapers.
3. How do Charlie banana diapers fit?
Using two inserts in the diaper would be ideal to ensure that the leg fastening is tight, secure, and snug. The leg opening should be relatively snug but not too snug to leave any markings.
First, try it on your waist to determine its tightness. Unless it is nighttime, you should change the infant every 2 hours.
4. How do you tell if Charlie Banana diapers are too big?
Your baby's diaper may be too big if you see excessive gapping at the legs and waist. Allow your infant to acquire another pound or two before attempting again.
5. Do newborns fit in Charlie Banana diapers?
Newborn cloth diapers from Charlie Banana are very soft, have excellent absorbency, and have a snug fit. The soft cottony material on a baby's delicate skin is highly mild and less likely to cause rashes.
One reusable insert, which may be tucked inside the pocket or on top, is included with each newborn diaper. These inserts are excellent for daytime and nocturnal usage since they are soft and absorbent.
Charlie Banana diapers for infants up to 6 months old provide a proper fit and leakage prevention with broad, softback elastic and side snap closures.
6. How to maintain diaper storage over time?
It would help if you washed your diapers twice. After drying, keep them straight away with tissue paper packed between them. Please ensure the diapers are stored in a moisture-proof container if you reside in a humid area.
Choose containers of plastic #5, often known as polypropylene (PP). They are very heat resistant and serve as a moisture barrier.
However, elastics and lingerie or swimming suit underpants tend to fall apart over time. Your clothes will last longer if you treat them with more care.
Conclusion
Each Charlie Banana cloth diaper may be used up to 300+ times, making it convenient for the purse. And the icing on the cake? These distinguished cloth diapers come in an array of eye-catching hues and patterns to keep your child feeling better and looking nice.
In addition to providing comfort for your infant, we are committed to protecting the environment. By using our cloth diapers, you contribute to a cleaner environment. Charlie Banana cloth diapers are simple to fasten and may be adjusted as the baby develops.
Do not forget that you may combine the two at any time. Even if you use disposable diapers and wipes while out and about, you're still reducing waste worldwide.
Picture in this post is from Charliebanana.com
Related to Charlie Banana Diapers size