Tissot Watch Sizes
This post was last updated on September 5th, 2023 at 08:59 am
Tissot is a luxury watch brand based in Switzerland. It was established in 1853 and has had a revolutionary function in watch-making by introducing anti-magnetic watches and watches with two time zones (skip straight to the Tissot Watch Sizes).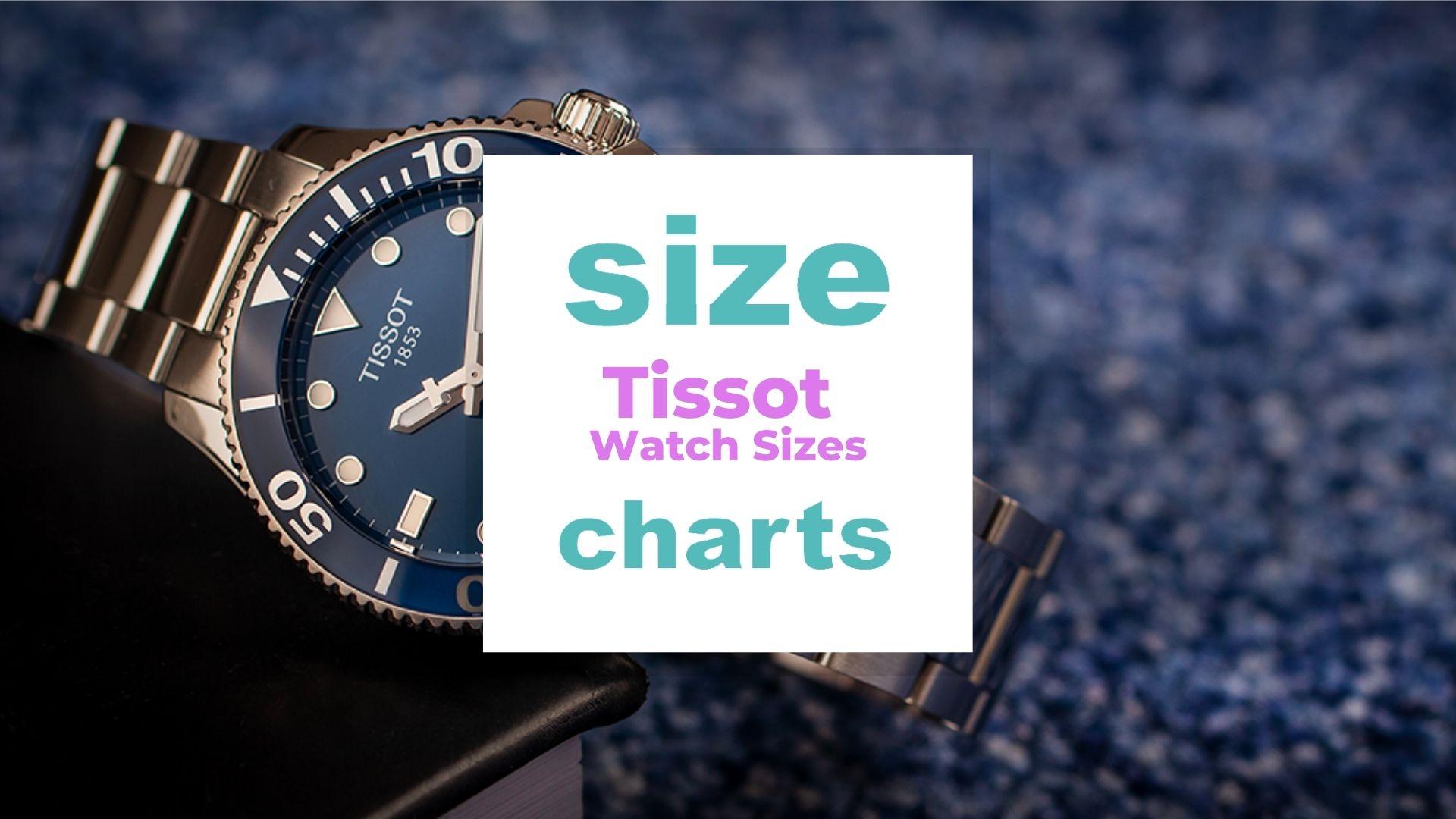 Since then, the brand has released various watch collections considered among the best. It can be tricky to guess the right Tissot watch size, so we've assembled this post to guide you in making a good choice.
Without wasting time, let's get to business!
Jump right into the Frequently Asked Questions
Related: Watch size: Which watch size fits my wrist size?, Apple Watch Size and Dimensions, Bracelet Size Chart
Tissot Watch Sizes Table of Contents
Tissot Watch Size Chart
Related: Patek Philippe Watch Sizes
Tissot Watch Collection
Case Diameter
Movement
Configuration
Water Resistance (depth)
Tissot PRX
35 mm – 42 mm
Swiss Quartz, Powermatic 80 automatic, Valjoux A05 H31 chronograph
Time and date Chronograph
100 m (330ft)
Tissot Seastar
36 mm – 46 mm
Swiss Seastar Quartz, Powermatic 80, Quartz chronograph
Time and date, Chronograph
300 m – 600 m (984 ft – 1970 ft)
Tissot Gentleman
40 mm
Swiss Quartz, Powermatic 80 Silicium
Time and date
100 m (330 ft)
Tissot Classic
42 mm
Swissmatic
Time and date
50 m (164 ft)
Tissot Carson
40 mm
Swiss Quartz, Powermatic 80
Time and date, Moonphase, Chronograph
50 m (164 ft)
Tissot Le Locle
39.3 mm
Powermatic 80
Time and date, Chronograph, Perpetual calendar
30 m (100 ft)
Tissot Tradition
42 mm
Powermatic 80 automatic
Time and day/date
100 m (330 ft)
Tissot PRS 516
42 mm
Quartz
Time, Chronograph
100 m (330 ft)
Tissot Heritage
42 mm
Powermatic 80
Time and day/date
30 m (100 ft)
Tissot T-Touch
43 mm
Valjoux A05.H31 automatic chronograph
Time, Date, Automatic chronograph
100 m (330 ft)
Tissot Chrono XL
47.5 mm
Swiss connected solar quartz with 25 separate functions
Connected multifunction watch
100 m
(330 ft)
Tissot Supersport
45 mm
Swiss quartz chronograph
Quartz chronograph
100 m (330 ft)
How to Choose the Right Tissot Watch Size
Related: Cartier Watch Sizes for Men and Women, Watch size: Which watch size fits my wrist size?
It can be tricky to choose a size, especially for watches with metal bracelets. Fortunately, you don't have to guess because Tissot Watches offers a convenient way to get the right size.
All you need to do is download the wrist sizing pdf and print it out to scale without making it smaller or larger. There's a watch dial and ruler on the document, which you should cut out and wrap around your wrist as you would a regular watch.
The number that aligns with the red mark on the cut-out is your ideal bracelet size, and you can use it to choose a fitting option.
The Best Tissot Watch for You
Related: Rolex Size Charts and Sizing Guide
There are different watches available on Tissot, and you should familiarize yourself with the most popular options before making a final choice. Let's check out the different Tissot watch lines you should consider.
1. Tissot PRX
If you are new to Swiss watches and don't know where to start, the PRX line is a great option. It offers watches in a sporty style characterized by an integrated bracelet that gives off a retro vibe.
There's a variety of ways you can make a PRX unique to your style, thanks to the availability of different movements, dial colors, and case finishes.
If stainless steel sports watches don't seem to meet your fancy, don't fret. You can change the bracelet out for a strap. The Tissot PRX Powermatic is among the latest options from the line and has can stir up your excitement with its classy look and exceptional functionality.
2. Tissot Seastar
Keeping time underwater is crucial for divers and deep-water explorers. Enter the Tissot Seastar, a line made for divers and those who spend lots of time in the water. These watches offer a superior underwater performance thanks to their rugged construction.
Tissot Seastars boast up to 300 meters or 1000 feet of water resistance. They also feature a rotating bezel that can assist when you can't check your dive computer.
Additionally, they feature Super-LumiNova technology which illuminates the dials and markings on your watch to let you see in the darkness of deep waters.
3. Tissot Gentleman
Perhaps you don't need a watch for deep-sea diving and only want something you can use for your everyday life. The Tissot Gentleman is a sweet spot for anyone who wants contemporary trends in a Swiss watch.
There are two main movements you can get from this watch line; Powermatic 80 automatic or Swiss Quartz.
Made for a perfect gentleman, this watch line offers a 40 mm case and can withstand water to a depth of 100 meters. It strikes the ideal balance between class and performance if all you need is the time and date.
4. Tissot Classic
This watch line is more traditional and ideal for those who'd like an austere dress watch. Tissot Classics don't have the "extra" features you get from sports and diving watches. However, what they lack in athletic flair, they make up for at affordable prices.
The Quartz models of the Tissot Classic are maybe the most affordable pieces in the collection.
5. Tissot Carson
Like the Tissot Classic, Tissot Carson is another place to find an exceptional dress watch. You'll have to choose between Powermatic 80 automatic and Quartz movement.
Additionally, you can add a personal touch to your watch by selecting a moon phase or chronograph configuration.
6. Tissot Le Locle
This watch collection gets its name from the city where the brand was established. The watches in this line only have the Powermatic 80 movement, which can be a limiting factor if you want another option.
You can get a wonderful dress watch from this line that allows for metal bracelets or straps.
7. Tissot Tradition
If you don't know much about watches but want something elegant, the Tissot Tradition collection will do. It has larger case sizes making this line ideal for men who want something between 40mm and 42mm.
Your watch will have an open-heart design, allowing you to see the intricate organs of your timepiece.
8. Tissot PRS 516
Since the 60s, Tissot has collaborated with the motorsport industry to make watches that were resistant to lateral and axial shocks.
That's why you can get a leather strap that looks like it's inspired by motor racing or a metal bracelet with three links.
9. Tissot Heritage
Tissot Heritage has had some of the most famous watches in recent years. There are various models in this collection that could catch your eye.
A good example is the Tissot Heritage 1973, which carries an advanced timepiece that athletes can use to track their performance in an endurance race. This 1970s Steel Sports Watch also looks great on your wrist.
10. Tissot T-Touch
The Tissot T-Touch has launched about two decades ago and was among the most technologically advanced options of the time. It featured Bluetooth connectivity, and a tactile screen, among other features at a time before smartphones and smartwatches.
A T-Touch watch can provide lots of information about the number of steps you've taken, the direction you're headed, and the environmental conditions. This makes it an ideal choice for an adventurous spirit.
11. Tissot Chrono XL
Do you need a watch that can tell time at any time of the day or night without lighting a torch on it? That's the Tissot Chrono XL. The arms of this timepiece have Super-LumiNova, so they light up when you are in the dark.
Your watch can take a classic or modern look, depending on the straps you choose. The watch also features large numerals to make it easy to see the time without straining your eyes.
12. Tissot Supersport
There are two main designs of the Tissot Supersport; Supersport Chrono and Supersport Gent. The first has a contemporary look that complements an elegant style, while the latter has a classic look that doesn't get out of fashion.
Check out this comparison video to learn more about Tissot watches
Types of Tissot Watches
Tissot watches come in different forms to suit everyone's needs. As such, we'll briefly discuss the different watch categories you can try out.
1. Dress Watches
Also known as fashion watches, these serve an aesthetic purpose as much as they can tell the time. They have an elegant and rich appearance that usually includes eye-catching cases of stainless steel, silver, or gold.
These pieces can be customized with jewelry depending on your budget and preference.
2. Sports Watches
These watches feature a durable build that can withstand the rigors of physical exertion without affecting the function of the timepiece.
They can also come with modern features that make tracking your performance or time in sports easier.
3. Field Watches
Field watches usually offer a collaborative design of stainless steel cases and leather straps to give them an appealing look. They are meant for everyday styles and can be more affordable than dress watches.
4. Diving Watches
As the name suggests, these watches are made for divers. They can withstand water pressure and penetration, which is why they have a high water-resistance rating.
These watches could also feature Super-LumiNova allowing you to see the dials in the dark.
5. Aviation Watches
Aviation watches are a great option if you prefer to know the details of where and when you are. These watches usually have large numbers that are easy to see without crunching close to your wrist.
They also have smaller dials like the ones you see in a cockpit to provide more functionality.
What Makes Tissot Watches Special?
Various features make Tissot watches stand out from other watches on the market. Let's discuss them below.
1. Reliable Tissot watch Movements
Watches rely on different movement mechanisms to keep the arms ticking. Tissot offers mechanical watches or analog watches that use about 100 different arts to keep the timepiece functional. Tissot watches can also feature automatic movement and quartz movement.
Powermatic 80 movement harnesses the movement of the wrist to power the watch. This function allows the automatic watch to reserve up to 80 hours of power so that it continues ticking even if you don't wear it for three consecutive days.
2. Interchangeable Tissot Watch Straps
Tissot watches feature an interchangeable strap system that allows you to replace your existing strap with another one. Of course, you'll need to ensure they are compatible before buying a new strap.
However, there are different strap options, including those made from textiles, silicone, steel, leather, and recycled PET.
3. Water-Resistance
Another unique that Tissot watches share is water resistance. This is thanks to an air-tight build that can withstand pressure and impact to keep liquids out.
The watches undergo various tests to ensure they perform well in different atmospheres of water resistance.
4. High-Quality Tissot Watch Construction
Everything about Tissot watches screams premium grade. The screens are made from sapphire crystal which is extremely durable and clear. As such, the scratch-resistant surface will keep the watch easily visible and in pristine condition.
Even the bezels are made from the strongest materials. You can easily find a ceramic bezel on Tissot watches that is resistant to impact, scratching, and fading.
The intricate parts of Tissot watches are constructed to resist the magnetic effects of electronics and other materials to improve accuracy.
5. Affordable Watches
When people think about Swiss watches, they immediately imagine luxury watches in a high price range. While there are some expensive options like watches with gold-fluted bezels and highly polished accents, there are also some affordable ones.
If you don't need a golden piece accessorized with gold bezels, you can go for something at a lower cost, like an aluminum bezel. This allows you to choose an elegant piece that makes you look more classy without blowing the bank.
Frequently Asked Questions
1. How do I know my Tissot watch size?
You can find the right size for your Tissot watch bracelet by printing out the guide and trying it on your wrist. The red mark will tell your ideal bracelet size.
2. How do I resize my Tissot watch?
Resizing your Tissot bracelet involves removing some links to make it smaller. See this video for more details.
3. How tight should a watch be?
A watch on your wrist should have enough room to fit an index finger through, but it shouldn't be possible to move the finger across the bracelet.
4. What is the smallest Tissot watch?
The Tissot every time Small is the smallest option, with a case measuring 30 mm.
5. What is the biggest Tissot watch?
Tissot Chrono XL is a large watch with a case of 47.5 mm.
6. What's the average watch size for men?
The standard for men's watches is between 38 mm and 46 mm.
7. What's the standard watch size for women?
The average watch size for women is 28 mm to 34 mm.
Conclusion
Tissot watches are among the best you can find. While sizing may seem tricky, you can find a great bracelet size for your Tissot watch by measuring the cut-out on your wrist. There are also straps made from various materials available on Tissot.
If you have questions about Tissot watch sizes, leave them below.
Picture in this post is by Bruno Van Der Kraan on Unsplash
Related to Tissot Watch Sizes