Pixel Watch Size Charts and Specs
This post was last updated on April 2nd, 2023 at 07:00 pm
For many around the world, watches are part of their routine. Some are expensive, some are affordable, and some are cheap. It gets better with smartwatches, and pioneers like Apple have indeed set the pace. Now comes Google with what they have hailed as the hottest smartwatch we can expect (skip straight to the Pixel Watch Size Charts and Specs).
Of course, this comes after sustained rumors, but finally, Google put its name behind the speculations. And like all smartwatches so far in the market, we can expect that the Pixel Smart Watch can keep up with your busy lifestyle or even surprise us further. Who knows?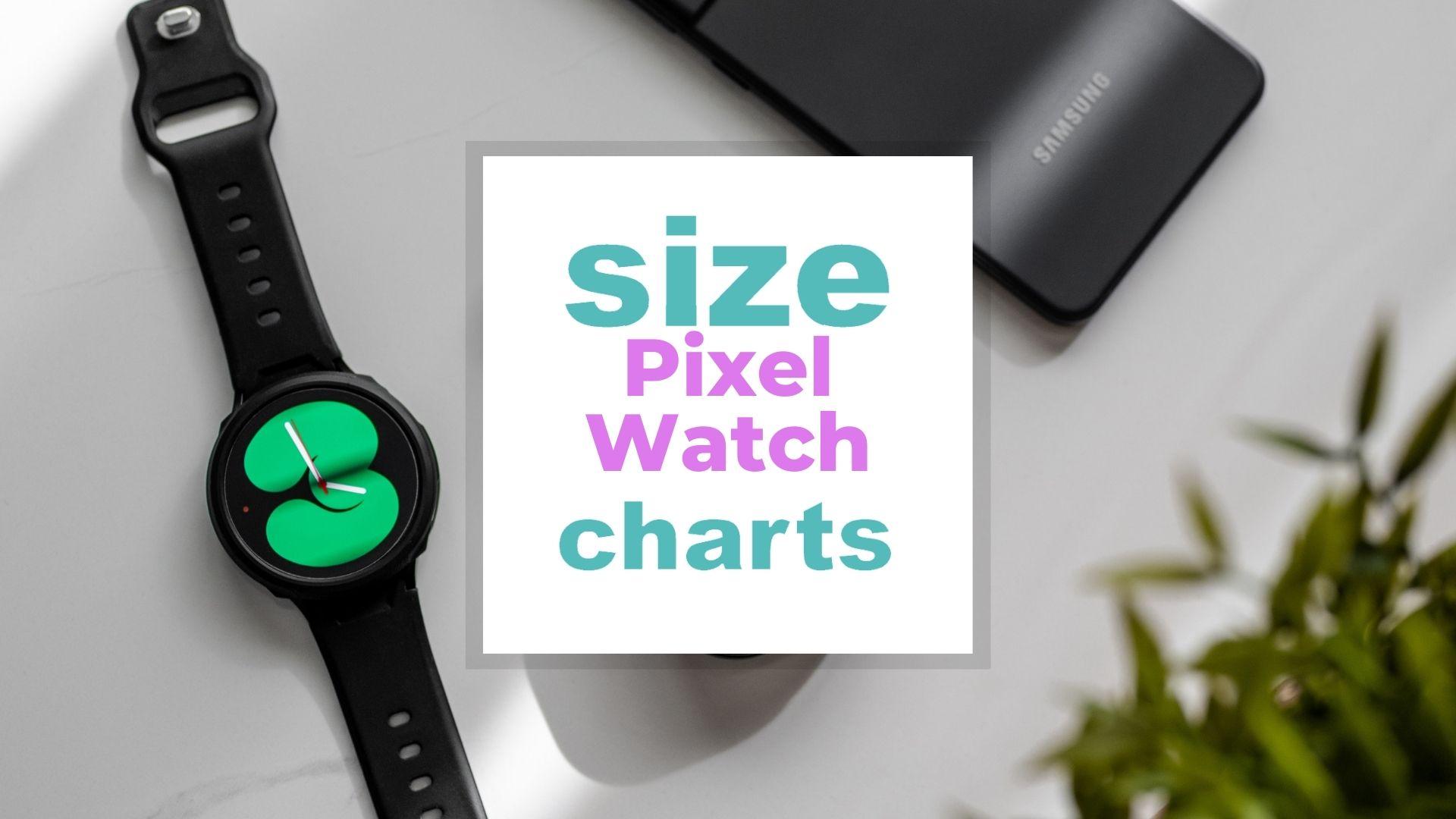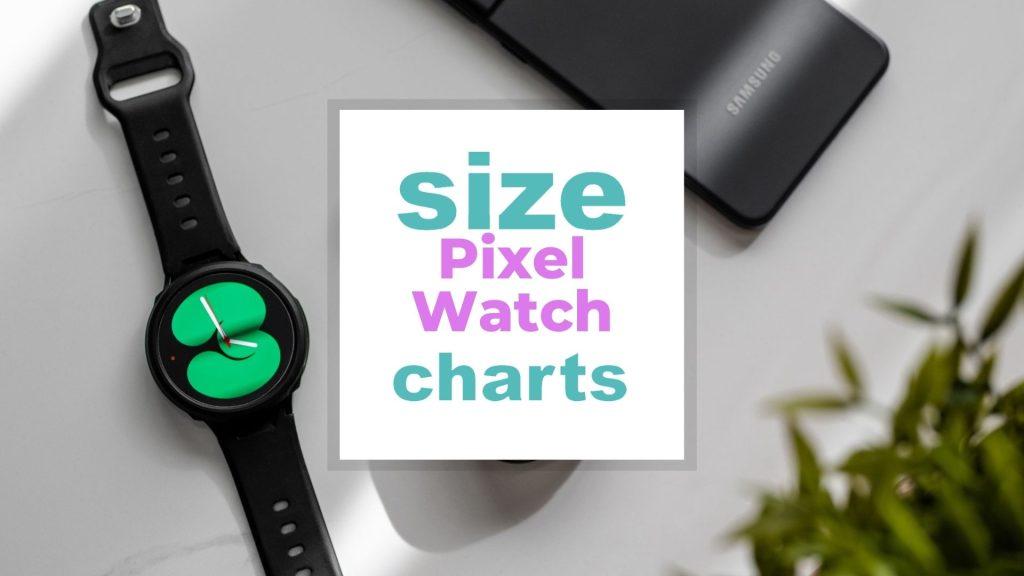 Before we go very far with this, let's make it clear first and foremost that there is not yet much official information from Google regarding this watch. They have only confirmed its existence plus a few hints here and there.
But as usual, the interwebs are awash with leaks, which most often turn out to be true anyway. So here we have the latest updates on the anticipated Google Pixel Watch, including the likely launch period, features, and design among other interesting stuff to look forward to. 
Let's move along, shall we?
Jump right into the Frequently Asked Questions
Related: Apple Watch size and dimension: all Apple Watch series explained, Apple View VR Size and dimensions of Apple's first VR Headset, Apple iPhone Size Chart
Pixel Watch Table of Content
Google Pixel Smartwatch
Many have been wondering, does Google Pixel have a smartwatch? Well, the news is out: Google has confirmed that indeed what it is working on is a smartwatch, the Google Pixel Watch. The news was announced at the company's I/O 2022 conference.
Details are sparse, but we do know that the watch will run on Wear OS, Google's platform for smart devices. The watch will likely have many of the same features as Google's other Pixel devices, including built-in GPS and a heart rate monitor. More on features shortly.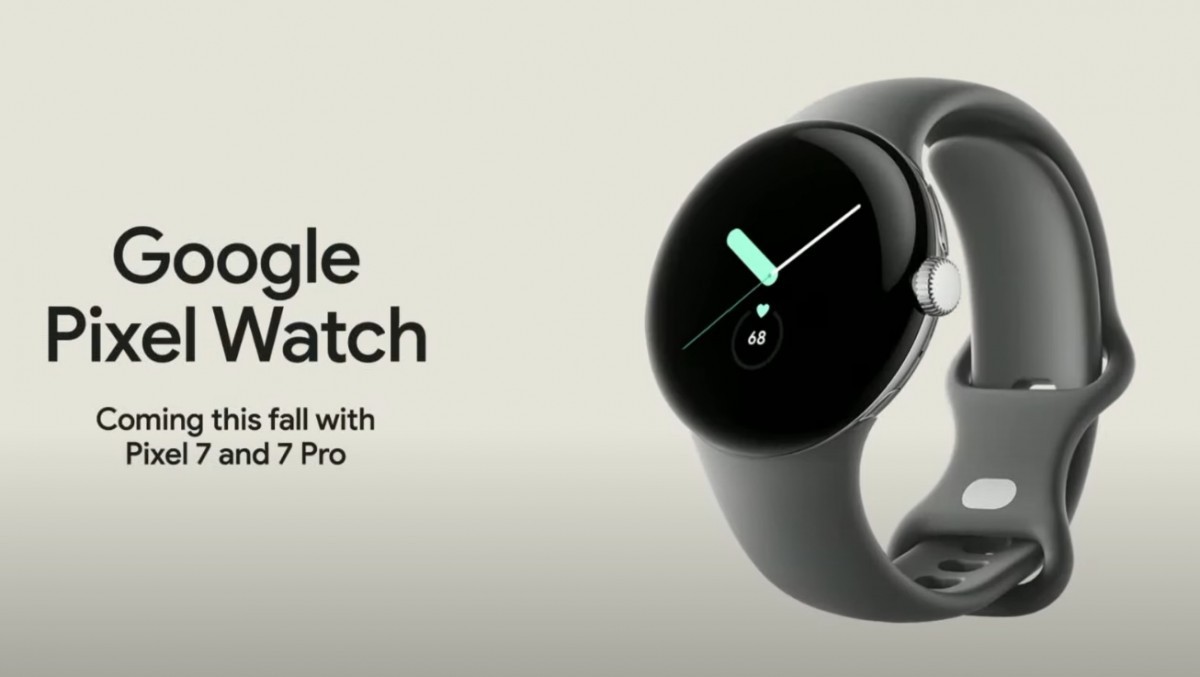 Google Pixel Watch Specs
Related: Apple Watch 8 Size Guide vs Other Apple Watch series
The Pixel Watch is expected to have many features in common with the iPhone, including various integrations with Google's products as well as being water resistant. However, there are also reports that it will include health tracking features that are not currently available on the Apple Watch.
According to Google, the design of the Pixel Watch will feature a circular face and two buttons on the right side.
Here is a comprehensive breakdown of the specs;
| | |
| --- | --- |
| Display | 1.4 inches OLED display, 450 x 450 pixels (~321 ppi density), Always-on display |
| System | Android Wear OS, Exynos 9110 (10 nm) chipset, Dual-core 1.15 GHz Cortex-A53 processor (CPU), Mali-T720 GPU |
| Internal Memory | 32GB 1.5GB RAM, no card slot |
| Sensors | Water-resistant, Accelerometer, gyro, heart rate, barometer, compass, SpO2, A-GPS, GLONASS, GALILEO, BDS, Bluetooth, NFC, Loudspeaker |
| Battery | Li-Ion 300 mAh, non-removable, Qi wireless charging |
| Colors | Black + others |
| Tech | GSM / HSPA / LTE |
Support for Google Assistant and the Google Home app
In addition to the features we've already mentioned, the Google Pixel Watch will support both the Google Assistant and the Google Home app. This means that you'll be able to use your watch to control your smart home devices and get information and updates about your day-to-day activities.
The Google Pixel Watch will also come with a new "Titan Security" feature. This security feature will help protect your data and keep your watch safe from thieves and hackers.
Only time will tell if Google can compete with Apple in the smartwatch market, but we're excited to see what they come up with!
Integration with Fitbit
This is the first smartwatch that Google has designed and built in-house, and early reports are that the watch will have a "deep integration with Fitbit."
This means that users will be able to track their activity and health data on a single platform. This is a huge advantage, as it eliminates switching back and forth between different apps.
We're excited to see how the Pixel Watch compares to other popular smartwatches on the market, and we can't wait to get our hands on one!
Dedicated app: the Google Pixel Watch app
The Google Pixel Watch app will be the companion app for your Google Pixel Watch. It'll allow you to customize your watch face, track your activity, and more.
It is expected that the Google Pixel Watch app should obviously be available for Android devices and iOS devices in the future.
Proprietary bands
You might wonder what type of bands the Google Pixel Watch will have. Unfortunately, we don't have the official information yet. However, some leaks have pointed out that Google will release their own proprietary bands, similar to what they've done with other devices in the past.
This might be frustrating for some people who want to be able to mix and match their bands, but it's likely that Google will have a wide variety of colors and styles to choose from. So not all is lost, plus it's quite normal for brands to go the proprietary way as a way to protect their brand.
Learn more about Pixel Watch (video)
What about Processing Power?
It has not been confirmed which processor the Google Pixel Watch will use, but it is speculated that Google is likely to depart from the Qualcomm Snapdragon Wear 4100 series and instead go for the Samsung Exynos chipset, which would provide it with a low-power Arm Cortex-M55 core.
Google's Pixel Watch is rumored to offer the most RAM of any Wear OS watch, so compared to the Galaxy Watch 4 for example, the Pixel Watch could have as much as 2GB.
Best of Google Ecosystem
Just like the Pixel smartphone, the Pixel Watch is also reported to make good use of the best of Google's ecosystem. This means that it will likely integrate superbly and users can access the best of Google's services, such as Maps and Google Wallet. It will also be able to connect with other devices in your homes, such as your Chromecast or Nest thermostat.
The search giant is considering building a new assistant for the Pixel Watch, which would be able to perform calculations like the Pixel phones.
Frequently Asked Questions
When does the Pixel watch launch?
Please note that the Google Pixel Watch has not been released yet. No release date has been announced, but we can expect the Google Pixel Watch to launch later this year or early next year. Google just talked of probably releasing it this fall. But well, it's Google and dates can change as has been the case for some products. 
Rumors are circulating that the watch will be released in October of 2022. These rumors are based on the reasoning that this is about the time that Google normally releases its products. It is unclear if the watch will be released alongside other products or will be released alone.
What is clear is that the Google Pixel Watch will compete with the likes of the Apple Watch, which has been on the market for a few years now. On which will be better, we'll have to wait until Google releases their watch. 
How Many Different Sizes Will the Pixel Watch Be?
So what is the google pixel watch size looking like? There are currently no official details about how many different sizes the Pixel Watch will come in. We can only hope there will be a range of options to suit everyone's wrist size and style preference.
For now, some leaks on platforms like Reddit and Quora have put the Pixel Watch at 40mm wide and 14mm thick. The visible screen bezel size is about 29-30mm, while 36g is the projected weight.
Some sources have put the pixel watch size battery at 300mAh with 24 hours battery life, the pixel watch band size at 20mm
What Will be the Price of the Pixel Watch?
While there is no confirmed price yet, it is speculated that it will be in the same price range as the Apple Watch Series 4, which starts at $399.
It is understood that Google won't be offering the Pixel Watch in all markets worldwide. Bad news if you are in the excluded markets. But this is normal for new products from most big companies as this is a measure to protect the value and ensure everything goes right. Most importantly it also helps to protect intellectual property given the many dynamics around the globe. Hopefully, the markets that have not been included will have their chance in due course, probably soon after the release. 
Conclusion
Once again does Google Pixel have a watch? Yes, it does. The Google Pixel Watch is the first smartwatch built by Google. It is rumored to have some amazing features, including GPS, a heart rate monitor, and water resistance. It also has a fairly long battery life and comes with a charging dock. All these are leaks and reports plus a few hints from Google. Google has said that the watch will debut this fall, but it didn't get more explicit. There are also some speculations that we could see the watch launch alongside the Pixel 7 and Pixel 7 Pro.
But the real truth will come out once Google releases the smartwatch. Will it be the best? Fingers crossed!
Picture in this post is from Mashable.com
Related to Pixel Watch Size