Huggies Size Chart for All Ages by Type (Size Charts Included)
This post was last updated on May 25th, 2023 at 01:33 pm
Looking for the perfect huggies size for your baby? All questions are answered here. Why is a correct Huggies Diaper size important? It's important to pick a fitting diaper for your infant to guarantee that they will stay dry rash-free and that the contents of the diapers don't leak out. If you want to learn more about diaper sizes, or growth charts for boys, or growth evolution for girls, check the links.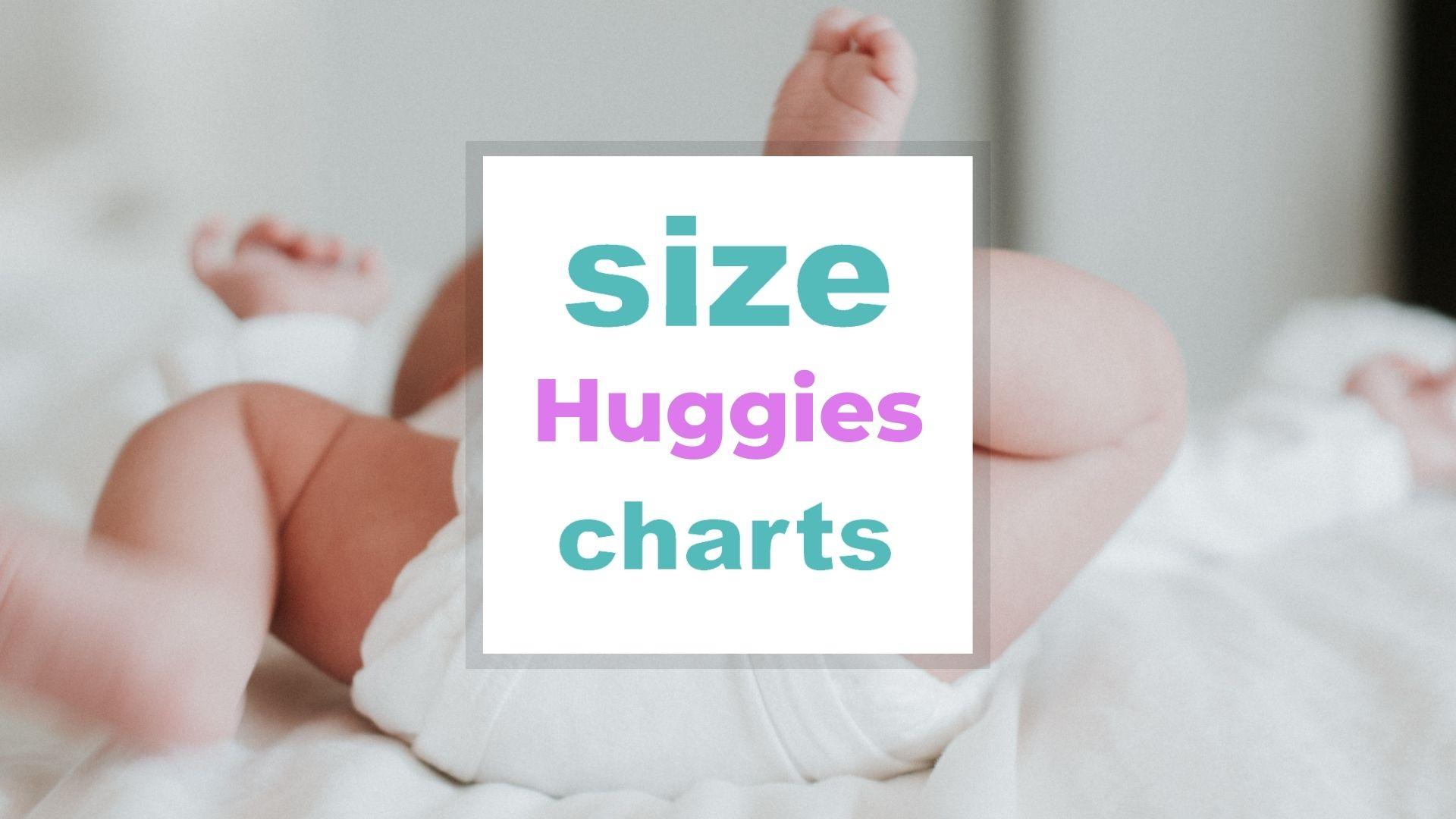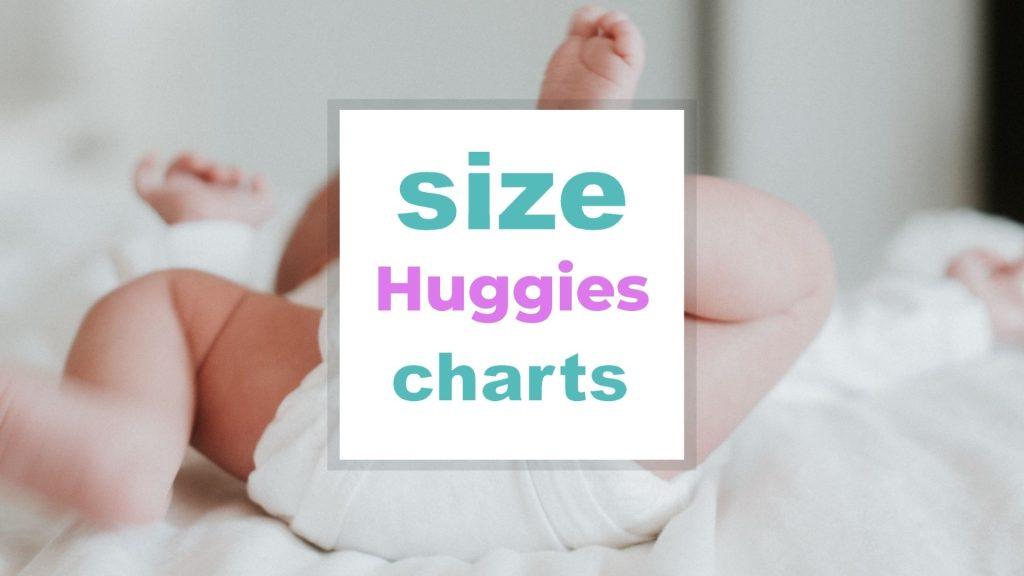 If a diaper is too small, it will leak because there isn't enough superabsorbent material for the volume of the baby's waste. The diaper is too small to contain all that pee or poop. If the leg cuffs don't fit properly or are tucked insider the diaper, pee can leak out the sides. If a diaper is too big, it will also leak. Urine and poop will leak out of the gaps before the diaper can absorb it. To completely avoid diaper blowouts, you just need to get the right diaper size. A full diaper size chart by kid's age you can find here
Huggies is a manufacturer of disposable baby diapers and baby wipes that are great at keeping a baby's sensitive skin clean. Each of their highly rated, well-priced products has a high star rating and a low liability for inaccuracies. You can't buy an incorrect product if you follow these size charts.
Regardless of the product details, Huggies diaper size follow a constant weight chart guide.
A too big diaper might catch more fluid, but has a big chance to leak. A too small-sized pampers diaper will cause red marks on the hips and thighs of your babies.

Size-charts
Huggies Size Table of content:
Huggies Size Chart
Natural rubber latex material with stretch enabled SizeUp indicator in a pocketed-back waistband is a common feature to help parents know when to size up. The weights overlap but don't worry. The overlapping is just to make up for the difference in baby's build. If you realize that the diaper is tight even though your baby's weight is within the range, just size up. If you notice that it is the other way round and the diaper is loose despite your baby's weight, just size down.
The weight range of Huggies and their labeled size for each product is in the table below.
| | | | | | | | | |
| --- | --- | --- | --- | --- | --- | --- | --- | --- |
| | 1-5lbs 0-2Kg | 6-9lbs 2-4Kg | 8-14lbs 3-6Kg | 12-18lbs 5-8Kg | 16-28Ibs 7-13Kg | 22-37Ibs 9-17Kg | 27+Ibs 12+Kg | 35+ Ibs 16+ Kg |
| Little Snugglers | Preemie | Newborn | 1 | 2 | 3 | 4 | 5 | 6 |
| Little Movers | NA | NA | NA | NA | 3 | 4 | 5 | 6 |
| Snug And Dry | NA | Newborn | 1 | 2 | 3 | 4 | 5 | 6 |
| OvetNites | NA | NA | NA | NA | 3 | 4 | 5 | 6 |
| Little Swimmers | NS | NA | NA | NA | S | M | M | L |
Huggies Nappy Pants Size Chart
Huggies Nappy Pants, also popularly known as Huggies Nappies are disposable diapers that provide outstanding protection when worn as a form of underwear. Their sizes goes as follows.
| | | | | | | |
| --- | --- | --- | --- | --- | --- | --- |
| | 0-11Ibs 0-5Kg | 9-18Ibs 4-8Kg | 13-24Ibs 6-11Kg | 22-33Ibs 10-15Kg | 29-40Ibs 13-18Kg | 35+Ibs 16+Kg |
| Ultimate Nappies | 1 | 2 | 3 | 4 | 5 | NA |
| Ultra Dry Nappies | NA | NA | 3 | 4 | 5 | 6 |
| Essential Nappies | 1 | 2 | 3 | 4 | 5 | 6 |
| Nappies per week | 60 | 49 | 42 | 38 | 32 | 28 |
Which Huggies Diaper Should I Buy?
The diaper style you get depends on your baby's diaper habits and the activities you have planned out. The product description of each of each of Huggies popular diapers is as follows. These product features are from the manufacturer themselves.
Huggies Little Snugglers Diapers
welcomes your baby into the world of premium softness. They come in size preemies (up to 6 lb or up to 2 kg) through size 6 ( over 35 lbs or over 16 kg.). The small size Preemie & Newborn diapers have an umbilical cord cutout so as to allow the belly button to properly heal. And preemie to size 2 diapers have a GentleAbsorb Liner with soft pillows to provide cushiony layer of protection between your baby' skin and the mess. All sizes of Huggies Little Snugglers Baby Diapers have a color-changing wetness indicator, soft, breathable outer cover to keep your baby comfortable and let skin breathe and a pocketed waistband designed to keep the mess where it belongs. Plus, all Huggies Little Snugglers Diapers are fragrance-free hypoallergenic diapers that offer gentle protection for your baby's sensitive skin right from newborn diapers sizes.
Huggies Little Movers Diapers
Huggies Little Movers Baby Diapers offer a fit that encourages a growing baby. They have a comfortable fit that flexes with your active baby's every move in size 3 (16-28 lbs or 7-13 kg) through size 6 (up to 35 lbs.). These diapers have a wetness indicator and a DryTouch Liner to absorb moisture on contact, allowing comfortable movement for the baby on the go. They also have a contoured shape and SnugFit waistband designed to keep the diaper shut. They also feature double grip strips to secure diapers across two points on each side for a flexible fit that moves with baby and helps protect against leaks. And the LeakLock System prevents an absorbent leak and offers a 12-hour protection. Remember, they are for babies above the 5-8 kg (12-18 lb) threshold.
Huggies Snug & Dry™ Diapers
are diapers that give you more quality time with your baby. Snug & Dry Diapers absorb moisture quickly and offers 12 hours of leak protection. Keeping baby dry so they can play and giggle longer. Includes wetness indicator and fun Disney designs. In sizes N (6-9 lb or 2-4 kg.) to 6 (over 35 lb or 16 kg.).
Huggies OverNites Diapers
surround your baby in protection for a good night's rest. Designed with soft materials that keep babies warm and dry. They keep babies comfortable and dry with up to 12 hours of protection. Plus the SnugFit waistband keeps the diaper in place no matter how the baby tosses and turns. Features sleepy Mickey Mouse designs in size 3 (16-28 lbs or 7-13 kg.) to size 6 (over 35 lbs or over 16kg.).
Huggies Little Swimmers®
Swimpants don't let messes mess with water fun. Huggies Little Swimmers Swimpant are made with unique absorbent material that won't swell in water, so your little swimmer can focus on fun. And you won't worry about leaks because the extra-protective leak guards are made for the water and keep messes at bay. Plus, they are super comfortable. Made with stretchy, adjustable side material for a great fit in and out of the water. In sizes S (16-28 lb or 7-13 kg.) to L (over 33 lbs or 16 kg.)
How to Choose the Right Pampers Size for your Baby
As you may be aware, newborns come in a wide range of sizes and shapes, therefore diapers will fit each one differently. Pampers disposable diaper sizes are based on baby weight rather than age or gender to keep things simple.
If yours is an average-sized baby, their current size will usually fall neatly within the range of a specific diaper size, resulting in an excellent fit. Because the weight ranges might sometimes overlap, you may have an option of two sizes.
For example, if your kid is long and skinny, you may need to choose the smaller two sizes for the best fit.
How do i know when to take a bigger sized Pampers diaper?
You should consider getting a bigger Pampers size when
you can't easily put 2 fingers under the waistband of a tightened diaper.
you see red marks on the thighs or belly of your baby
your baby's bottom doesn't fit the diaper completely
Taking the baby's weight for Pampers sizing
Using a baby scale is the best and most convenient way to determine your baby's weight. A baby scale is a small scale mainly used to weigh infants. You can buy one to monitor your baby's weight and growth spurts regularly, or you can use one during a trip to the doctor for a routine examination or vaccine.
A bathroom scale is another option for determining the baby's weight. Use a bathroom scale to weigh your baby, remove their clothes and diaper, then walk on the scale while holding them. Make a note of the number. Then, without your baby, return to the scale. To calculate your baby's weight, subtract the second number from the first.
Other Tips to Consider When Choosing a Pampers Diaper for your Baby
Baby's age: Newborn babies have delicate skin, thus, newborn diapers should be incredibly soft and must not rub against the umbilical cord stump. The volume of pee is also dependent on the baby's age.
The temperament of the Baby: Active babies or babies who crawl or wiggle a lot need diapers that fit snugly and allow them to move about while staying in place. They also need pampers that are simple to apply because they will not make it easy for you.
Huggies different sizing explained
Conclusion
Whatever your diaper option is, the absorbent layer should keep your baby's skin comfortable The most common fiber of the diaper should keep the baby's delicate skin in mind and the diapered skin should not develop a diaper rash. Elemental chlorine and the absorbent sodium polyacrylate is a common material in fibers used during actual product packaging. These materials may provide unbeatable protection and if all things go well, the size charts above should serve as a proper guide.
Huggies is readily available at major retailers such as Amazon, Click, and ShopRite. Inform other parents of what you have experienced by sharing the article and leave a comment behind for them to know what was in your mind.
Picture in this post by Kseniya Safronova on Unsplash
Other kids size charts