North Face Bags & Backpacks Sizes
North face technical packs, such as Hiking Backpacks and Climbing Packs, provide a hands-free support system that spreads your pack's weight over more than just your shoulder straps (skip straight to the North Face Bags Size Charts).
Some even include an internal frame to offer you more support when traveling. It has also a removable waist belt, strap with whistle buckle, breathable lumbar panel, soft-touch chemise fabric, and comfortable stitch lines.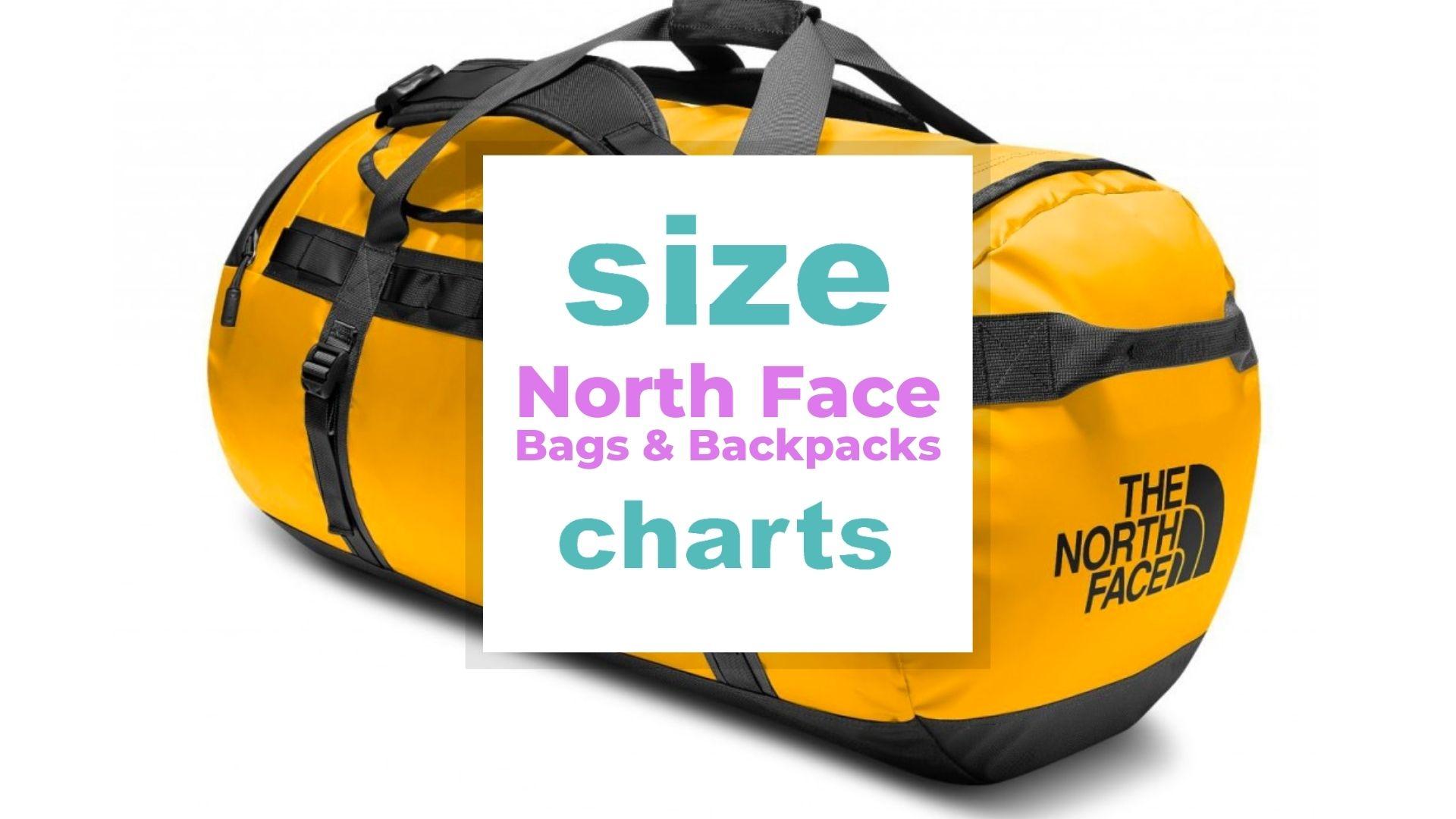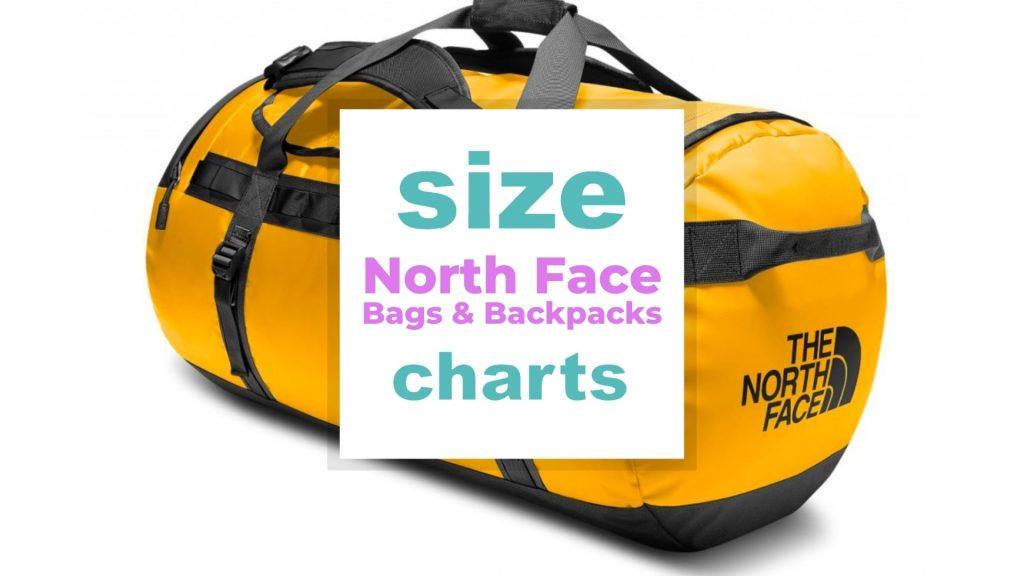 For as long as you like, continue traveling down the trail. A hydration sleeve is an everyday bag accessory that keeps external water bottle pockets. Trail food, sunscreen, and packable rainwear are easily accessible because of the abundance of little pockets.
Because of our water-resistant fabric, you can continue moving even when it rains or snow. Tough materials like recycled nylon ripstop fabric prevent your excursion from being cut short by stray branches, jagged rocks, or rough handling.
Jump right into the Frequently Asked Questions
Related: North Face Clothing Size Charts
North Face Bags & Backpacks Table of Contents
Why are a good North face bag and backpacks size important
Related: Travel Size Toiletries for Airplane Bags
With secure-zip pockets, a tablet sleeve, and a key fob, the front compartment keeps critical elements for storage while streamlining the organization.
For storing a phone or other small electronic item, some large backpack designs also provide a small zippered pocket, multi-use pockets, and organizational pockets at the top of the bag (near the handle).
They have lots of pockets to assist kids in managing and storing their possessions and are sturdy with high-quality finishes. A mesh sleeve pocket or padded mesh back panel within the main compartment on the opposite end of the duffel only improves its capacity for organization.
North Face Bag and Back Pack Size Chart For Women
Related: Travel Trunk Size Chart – Understanding The Best One For You
| | | | | |
| --- | --- | --- | --- | --- |
| Height | Height | North Face Bag & Backpack Size | Volume (Litres) | Volume (Cubic Inches) |
| 13 – 14 in | 33 – 36 cm | Extra Small (XS) | 10 | 610 |
| 14 – 16 in | 36 – 41 cm | Small (S) | 25 | 1526 |
| 16 – 18 in | 41 – 46 cm | Small Medium (SM) | 30 | 1831 |
| 18 – 19 in | 46 – 48 cm | Medium (M) | 40 | 244 |
North Face Bag and Back Pack Size Chart For Men
Related: Carry on luggage sizes and dimension guide
| | | | | |
| --- | --- | --- | --- | --- |
| Height | Height | North face bag & Backpack Size | Volume (Litres) | Volume (Cubic Inches) |
| 16 – 18 in | 41 – 46 cm | Small (S) | 25 | 1526 |
| 18 – 20 in | 46 – 51 cm | Medium (M) | 40 | 2441 |
| 20 – 22 in | 51 – 56 cm | Large (L) | 60 | 3661 |
North Face Bag and Back Pack Size Chart For Children
Related: Hydro flask size chart by type, volume and usage
| | | |
| --- | --- | --- |
| Age | Backpack Dimensions (Inches) | Backpack Dimensions (Centimeters) |
| 4 | 11 × 6 in | 27 × 15 cm |
| 5 | 12 × 6.5 in | 30 × 17 cm |
| 6 | 12.5 × 7 in | 31 × 18 cm |
| 7 | 13 × 7 in | 33 × 18 cm |
| 8 | 14 × 7.5 in | 36 × 19 cm |
| 9 | 14.5 × 8 in | 37 × 20 cm |
| 10 | 15 × 8 in | 38 × 20 cm |
| 11 | 15.5 × 8 in | 39 × 20 cm |
| 12 | 15.5 × 8.5 in | 39 × 22 cm |
| 13 | 16 × 9 in | 41 × 23 cm |
| 14 | 17 × 9 in | 43 × 23 cm |
| 15 | 17.5 × 9 in | 45 × 23 cm |
| 16 | 18 × 9 in | 46 × 23 cm |
How to choose the right North Face backpacks size
Related: Louis Vuitton Luggage Sizes
Depending on what you're doing, when and where you're going, and how many minutes or hours you plan to carry the pack, day on campus there isn't a single ideal size that fits everyone. Understanding these factors will enable you to calculate how much baggage you will need to bring.
The term "pack volume" describes how much room there is within the pack. Children have an easier time selecting a size. Although they have been loosely categorized by age for children, backpacks for middle school are typically for adults and require a few additional measures.
Get a companion to assist you while using a measuring tape. Your iliac crest, which must be considered when taking accurate torso measurements, will sustain heavier backpacks.
Find the highest projecting knob at the base of your neck by tilting your head forward to make it easier. You have a C7 vertebra. Tilt your head back up, and locate the spot on your spine closest to the base and in the middle that lines up with the highest point on your hip bones. Your Iliac Center is here. From your C7 to your Iliac Center, tape your spine in a straight line.
Looking to purchase a new backpack? You'll have to decide on three primary areas:
Backpack capacity: The length of your trip and how much weight and mass you intend to carry will determine the pack size you'll require. The internal organization gives a perfect size for a classic backpack.
Backpacks with features: These changes impact how the pack functions for you. They can be organizational features, fancier features, or essential features.
Backpack fit: Torso length is more important than height.
You should ensure your North Face backpack has a storage compartment. They can be a compartment for books, a protective laptop compartment, or a dedicated laptop compartment.
Check out this extended North Face backpack review (video)
Women's North Face Backpack and Bags
Related: Back Pack Size Chart for adults and kids
Women have more delicate body shapes and shorter torsos. The hip measures are the ones that change the most frequently out of all the body measurements of a woman.
Women-specific versions are equipped with a perfect blend of practical functions and stylish accents. To account for the size and variety of hip measures, each has a hip belt.
A mesh storage pocket, a pocket for sunglasses, exterior water bottle pockets, internal mesh pockets, and back-panel access for extra gear and personal stuff are some fantastic features.
Men's North Face Backpack and Bag
Related: What Size is Carry On Luggage?
Men's torsos are longer, with the center of gravity positioned between the shoulder blade and the hip. A larger backpack can easily fit thanks to the iliac crest. Larger packs typically include sufficient shoulder straps. We may adjust some of the larger size custom fit packs to come with load lifter straps for the flexible shoulder straps.
In order to carry heavier stuff, larger people can still go a little farther and get a huge size backpack with compression straps, a belt pad, and harness components. The largest capacity for a travel bag is internal frames.
Check out this North Face duffel bags comparison video
Kid's North Face Backpack and Bags
Most kids require a backpack for school. A school backpack must have enough space for books and supplies, as well as mesh pockets for water bottles and perhaps a padded laptop sleeve.
A school backpack typically has additional pockets and a natural design for a well-fitting bag.
Best North Face backpacks and bags for you
Closest to the bag's back is the softly padded laptop compartment, which has a smooth interior liner to protect one side of your laptop from scratches and a velcro strap for holding keys, a charger, and/or errant connections.
The central compartment is deep and roomy, allowing you to fit many textbooks for class or an item of outerwear for wet days inside.
The tiniest zipped pocket includes a soft fabric tablet sleeve, little pockets for notebooks and pens, and just enough additional room for some snacks and extra books.
Although no compartment is completely crush-proof, the ripstop nylon used in this bag is durable enough to withstand the elements and endure a branch snag. Another feature I love about this item is the zippers' huge, U-shaped pulls, which make removing items from your bag a breeze.
Check out this comparison review: North Face Borealis Vs. Jester (video)
What Customers like about this backpack:
The sternum straps on the North Face are cushioned, slim, and cleverly contoured. While the soft panel of the laptop compartment flexes and curves with your back, the top of those straps, which have a rounded form, fit comfortably over the shoulders.
Because of its patented Flex vent suspension system, which makes almost everything on this backpack slightly elastic and excellent for balancing weight when it's full. These product details and product description helps in determining the usual size you need for a backpack.
Frequently Asked Questions
1. How big is the medium North Face duffel bag?
35.5 x 64.5 x 35.5cm.
2. How many Litres is a large NF bag?
95-litre. You can see what you've packed in its enormous 95-liter capacity because it opens up completely. The four compression straps make it easier to cinch everything in if you manage to over-pack.
3. How many Litres is a medium NF bag?
71-litre
4. Which NF duffel is the carry-on size?
22″ x 14″ x 9″
5. Is an NF backpack considered a carry-on?
The largest carry-on allowed is 22″ x 14″ x 9″.
6. Can I bring an NF backpack on a plane?
Yes. A "personal item" is a bag or backpack that can fit under the seat in front of you and is exempt from the additional baggage fee.
7. Is the NF Medium Duffel a carry-on?
Yes. You can use a duffel bag as carry-on luggage as long as it complies with the airline's regulations on carry-on luggage size.
Conclusion
No such thing as the ideal backpack exists. However, you may be sure you can buy a backpack that fits you properly if you use a tailor's tape measure. A decent bag should be simple to put on and take off.
The range of torso length for the pack should encompass your body. The shoulder strap should fit snugly against your back. At a 45° angle from the pack, the load lifter straps should emerge from the load. The padding on the shoulder straps should stop 2 to 3 inches below your armpits.
The hip belt is supposed to cover your hip bones well. The hip belt should support most of the weight of the pack.
If you enjoyed our review on the North face bag and backpack share, the article with others, and please leave any queries in the comments section.
Picture in this post is by Jonathan Francisca on Unsplash
Related to North Face Backpacks sizes