What Size is Carry On Luggage?
This post was last updated on September 5th, 2023 at 08:34 am
Did you know that selecting the proper size carry-on luggage can save you money on luggage fees and help you become a more disciplined traveler? (Skip straight to the Carry On Luggage Size Charts)
However, unused luggage space results in wrinkled clothes and a cluttered suitcase. Not to mention the additional weight and potential luggage fees. On the other hand, having insufficient room will limit your packing ability. That is why getting the right luggage size is critical.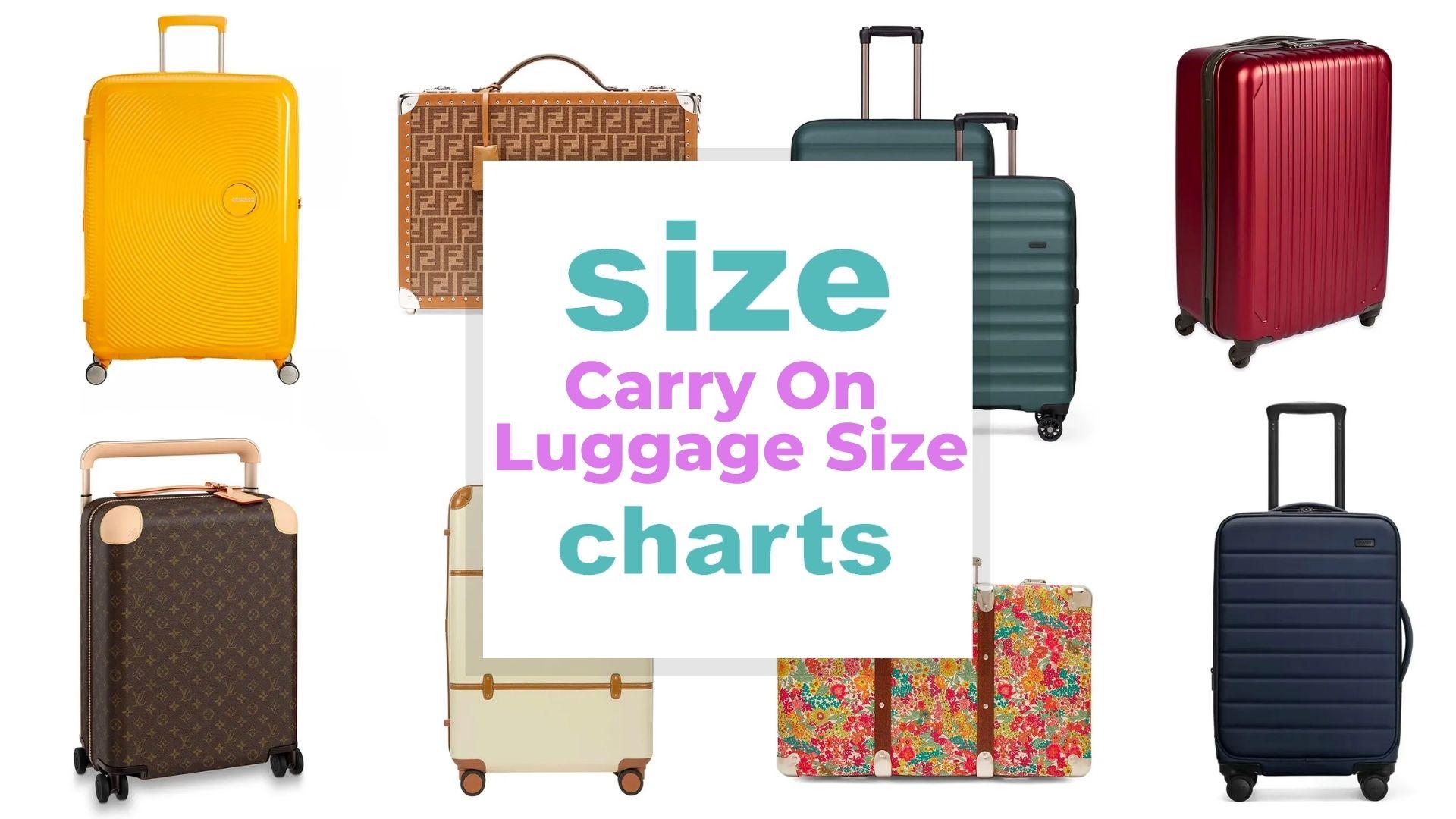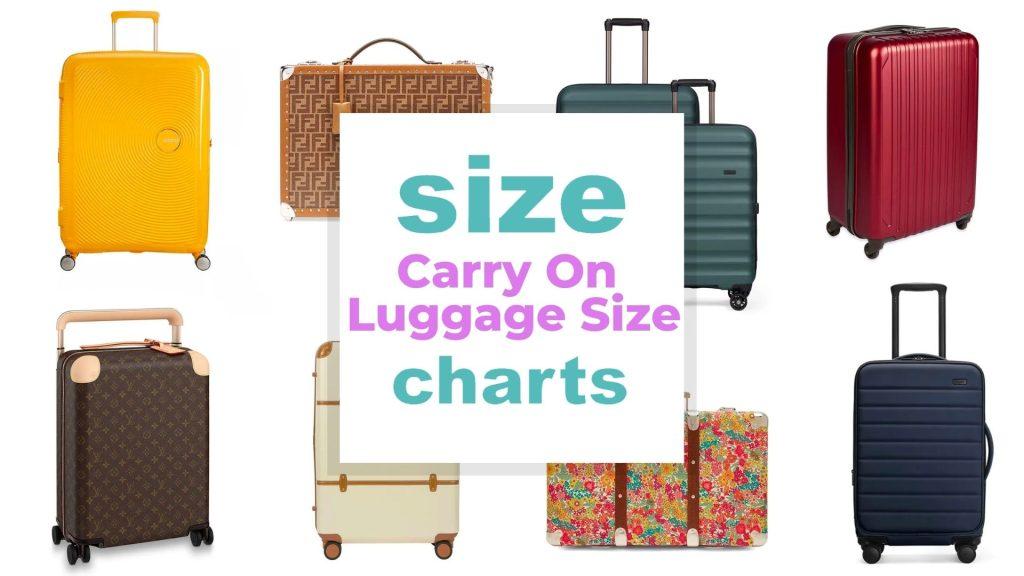 This guide will show you everything you need to know about baggage sizes and more, so you can decide which size is best for you.
Jump right into the Frequently Asked Questions
Related: Travel Trunk Size Chart – Understanding The Best One For You
Carry On Luggage Table of Contents
Carry On Luggage Size Chart
Related: Travel Size Toiletries for Airplane Bags
| | |
| --- | --- |
| Name | Size |
| International Carry On Luggage | 18-20 inches / 45.72-50.8 cm |
| Domestic Carry On Luggage | 21-22 inches / 53.34-55.88 cm |
How Strict Are Airlines When It Comes to Carry-On Sizes?
Related: Carry on luggage sizes and dimension guide
The strictness with which each airline enforces its carry-on rules varies. Budget airlines are more stringent than major airlines. Every airline has stricter rules for small regional flights than for larger planes.
It is recommended that you bring a carry-on that complies with the restrictions of your airline. You should be fine if you do, even if your luggage is slightly over-packed. Yes, you will have some room with airlines, but please do not break the rules.
Having a soft-sided bag that isn't completely full will allow you some freedom if you're asked to place your bag in the bag sizer (the cage next to your boarding gate). You can smush your soft-sided bag down to fit as long as it isn't completely packed.
Carrying a travel backpack instead of a suitcase will also help because gate agents are harsher with suitcases. On extremely crowded flights, you may have seen agents ask customers to "gate check" their baggage. They are unlikely to request that a backpack be gate checked.
Finally, don't overlook the importance of weight. Most travelers are concerned with the size of their luggage but neglect weight restrictions. Airline workers rarely weigh bags. To be safe, avoid overpacking your backpack.
Buy a $10-20 handheld luggage scale and weigh your suitcase after you've packed it for your vacation. You'll get a good idea of how much you can pack without exceeding any weight constraints over time. If you just need to check your suitcase once, the scale will have paid for itself.
How To Choose The Right Carry On Luggage Size
Related: Back Pack Size Chart for adults and kids
You're standing in the airport terminal, watching a line of bags on the conveyor belt travels toward you. You carefully check each bag in search of your own, expecting two unique and unpleasant outcomes: your bag could appear dented, with your underwear falling out of a gaping tear, or it could simply fail to show, much like a disastrous blind date.
Choosing the appropriate luggage can help avoid these minor disasters, as well as additional hassles such as annoying baggage fees for an oversized piece or the embarrassment of squeezing your massive nylon duffel into the overhead compartment while eager passengers struggle to get by.
Choose the correct hand luggage and enjoy the pleasure of traveling with just a carry-on—you won't have to worry about lost luggage or extra costs if you can fit all you need in a good-sized carry-on. If you must check a bag, you may be confident that it will arrive undamaged if you choose a tough, dependable brand.

Here's how to pick the best luggage for you:
Size
The majority of airlines adhere to pretty uniform carry-on dimensions of approximately 21 – 22 inches x 13-15 inches.

However, several low-cost carriers have significantly more stringent restrictions, even if they are less than 17 inches. This is where many fliers run into trouble. What size bag should I get? Do I need to buy additional bags?
When it comes to size, don't only look at the bag's outward dimensions. Make sure the bag has enough interior storage to hold all of your belongings. Volume can be found in such a wide variety that it is quite essential.
Weight
When it comes to carry-on luggage, the lighter, the better. You don't want your bag to exceed the maximum weight for in-cabin bags. Several airlines, particularly low-cost carriers, insist on weighing your luggage before boarding.

Sure, you might have a friendly or busy agent who will let you skip a few kilos here and there, but the general goal is to reduce the weight of the suitcase.
Straps or Wheels
You can either let your luggage roll or carry it with a shoulder strap or by hand. Wheels are clearly the easier-to-transport type, unless when approaching a staircase or a very terrible sidewalk. The larger the wheels, the smoother your luggage will roll over each minor bump. Also, for better navigation, choose models with four wheels that can spin 360 degrees.
Pockets
This is purely for practical reasons:
Do you usually travel with a laptop to work on during flights? Are you used to carrying your travel documents with you or keeping them in a little designated area in your luggage?
Do you frequently take things out of your luggage during flights and require quick access to your belongings without having to open the main compartment, or do you attempt to sleep during the whole flight?
Do you intend to use the bag after landing?
These are all your habits and tastes, so make sure you select luggage that best suits your needs and desires.
Durability
Because carry-ons are always with you, they do not receive the same treatment as other checked bags. However, strong wheels and a decent rip-stop material are essential.

Given that you'll be carrying this backpack across paved roads and hallways, the frame should be able to withstand general wear and tear over time. So, durability is always essential.
The Best Carry-On Luggage Size For You
Related: Carry on luggage sizes and dimension guide
Carry-on bag limits are typically restricted to a small range of sizes. However, they do vary between carriers. Choose your luggage according to how and where you fly.

A bag measuring 22 x 14 x 9′′ will suffice if you primarily or largely fly domestically. This 45L capacity allows you to pack as much as you want without breaking any laws.
If you go abroad, consider a smaller bag that is compatible with more regions and on more flights, so you don't have to check airline websites for every journey. If you are going on a longer trip, you should select a smaller bag.
How To Measure Carry-On Luggage
Related: Back Pack Size Chart for adults and kids
Each airline has various sizes and weight limits for hand and checked bags. Premium airlines often allow slightly larger luggage, whereas budget airlines allow smaller bags with stricter weight limits.
It is your responsibility as a passenger to learn about the limits on your own because they change frequently, and it would be difficult for us to list and update each airline separately.
You should be aware of two types of size constraints:
The first is dimensions, which include height (from top to bottom), breadth (from side to side), and depth (front to back). It is typically used for personal items and carry-ons and can be phrased as follows: 55 x 35 x 25 cm (22 x 14 x 9 inches). Inside airports, airlines will normally provide measuring boxes where you may place your luggage to see if it fits.
The linear inch is the second unit of measurement. Linear inches simply refer to the overall height, width, and depth of checked luggage, which must be less than 62 linear inches. To get linear inches, measure the height, breadth, and depth separately and put them together.
Place your bag next to a wall and use a measuring tape to measure the height, breadth, and depth. You can achieve a more accurate measurement by placing a book or something flat on the other end of the measuring tape.
Incorporate the wheels, handles, and anything else that sticks out! Another thing to remember is that cloth bags may expand somewhat if packed to the brim, so before measuring, fill your suitcase to the brim and measure at the widest end.
Learn more about carry on luggage size and dimensions (video)
Frequently Asked Questions
1. Can 24-inch luggage be a carry-on?
Sadly, no. The normal carry-on size is typically 22″ x 14″ x 9″. Therefore, a 24″ suitcase would be too large to get on board the most economical standard airlines.
2. Is a 22-inch carry-on too big?
Carry-on luggage should not exceed 22 inches in length, 14 inches in width, and 9 inches in height, including handles and wheels. Personal items should not be larger than 18 inches long, 14 inches wide, and 8 inches high. Carry-on luggage has no weight limitations.
3. Can a 26-inch be a carry-on?
Any size of luggage can be checked in. However, the most frequently checked bags are larger than the usual 22″ x 14″ carry-on bags. Check-in luggage in the most typical sizes ranges from 25 to 29 inches tall and in a variety of widths. Medium-sized check-in luggage is 25-26″ tall and around 18″ broad.
4. Can 24-inch luggage be a carry-on Delta?
Delta passengers are permitted to bring one carry-on bag and one personal item. Measurements, including wheels and handles, must not exceed 22 inches long, 14 inches wide, and 9 inches high.

The overall length, width, and height of the baggage cannot exceed 45 linear inches.
5. What size luggage fits in the overhead bin?
Carry-on luggage cannot be larger than 22 inches by 14 inches by 9 inches, including handles and wheels, and it must also fit in an overhead bin.

If your carry-on is too large or there isn't enough overhead space on a packed trip, a flight attendant may demand you check your luggage at the gate.
6. Can I use a duffel bag as a carry-on?
Yes. You can utilize a duffel bag as a carry-on item as long as it meets the airline's size limits for carry-on luggage.
7. Can I bring two personal items on a plane?
Passengers are not permitted to bring two or more personal items on board. When it comes to hand luggage, the basic rule is that you can only bring one small carry-on suitcase and one personal item, such as a tote, backpack, handbag, or something similar.
8. Can you bring two carry-ons?
Carry-on baggage is typically limited to two pieces per traveler. You may be limited to two pieces of carry-on luggage through security screening. Carry-on luggage must fit under the seat in front of you or in the overhead bins. Heavy objects should always be stored beneath the seat.
9. What if my carry-on is too big?
If your carry-on is too big, you must pay to check it at the airport. The exact restrictions for a variety of airlines, including specific size and weight limits, can be seen here. Keep in mind that any handles or wheels on your luggage count toward the airline's size restrictions.
Conclusion
Traveling with luggage is an inconvenient but vital aspect of the experience. There is no one-size-fits-all code for luggage size and weight, so passengers must be aware before each trip.

Check our luggage size chart the next time you fly to ensure you satisfy all of the requirements. We can't promise clear skies, but we hope our information helps you travel without trouble!
Picture in this post is by Marissa Grootes on Unsplash
Related to What Size is Carry On Luggage