Pegasus Airlines Sizes: Luggage, Seats…
Pegasus is a Turkish airline that is known as one of the most affordable airlines. Air Pegasus allows a different number of bags depending on the class of travel and other factors. The low-cost airline with over 100 destinations flies all over Asia, and Europe, besides its domestic flights (skip straight to the Pegasus Airlines Sizes).
In this article, we will provide you with all the necessary information related to Pegasus Airlines Sizes – from luggage to seats.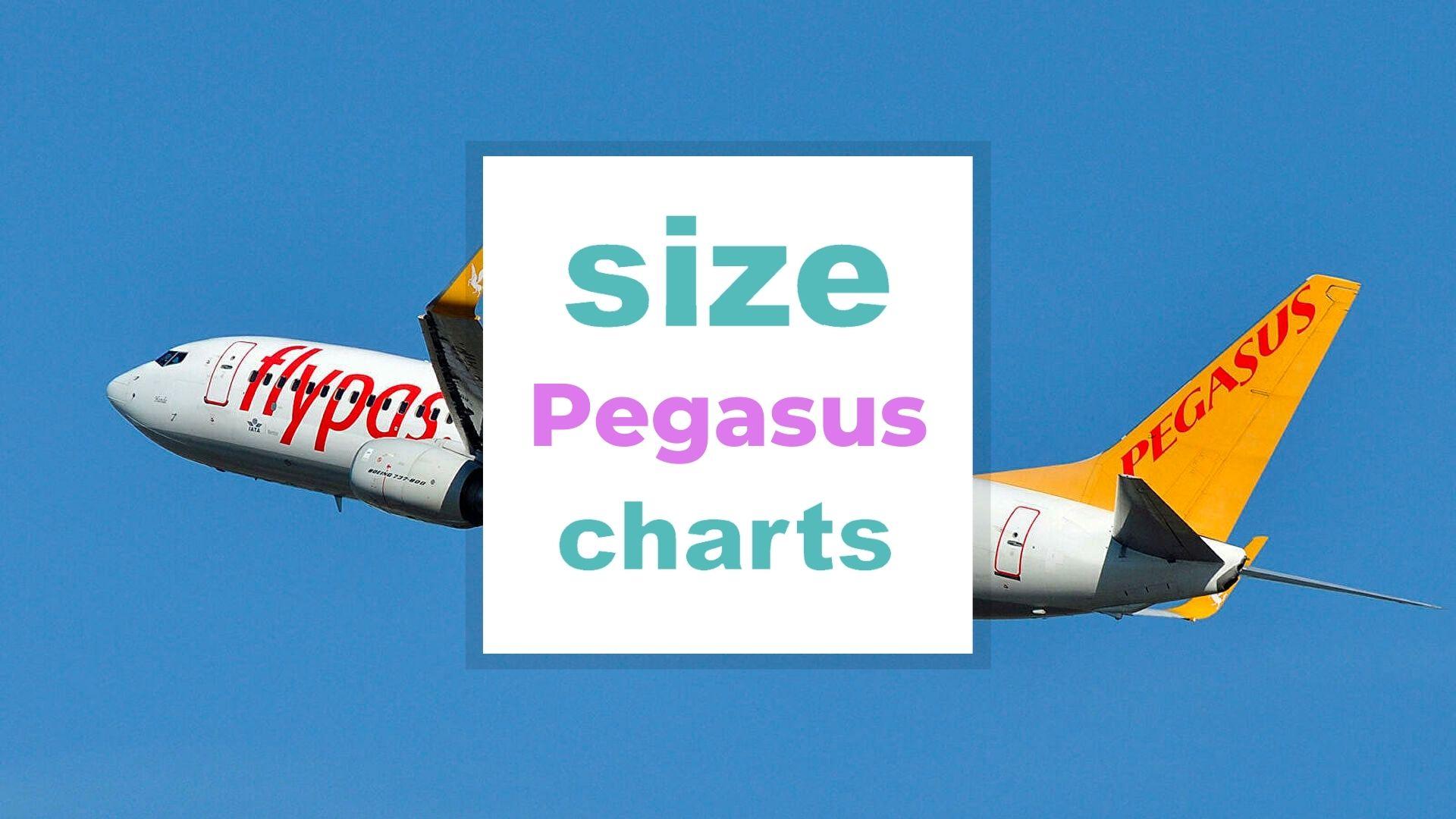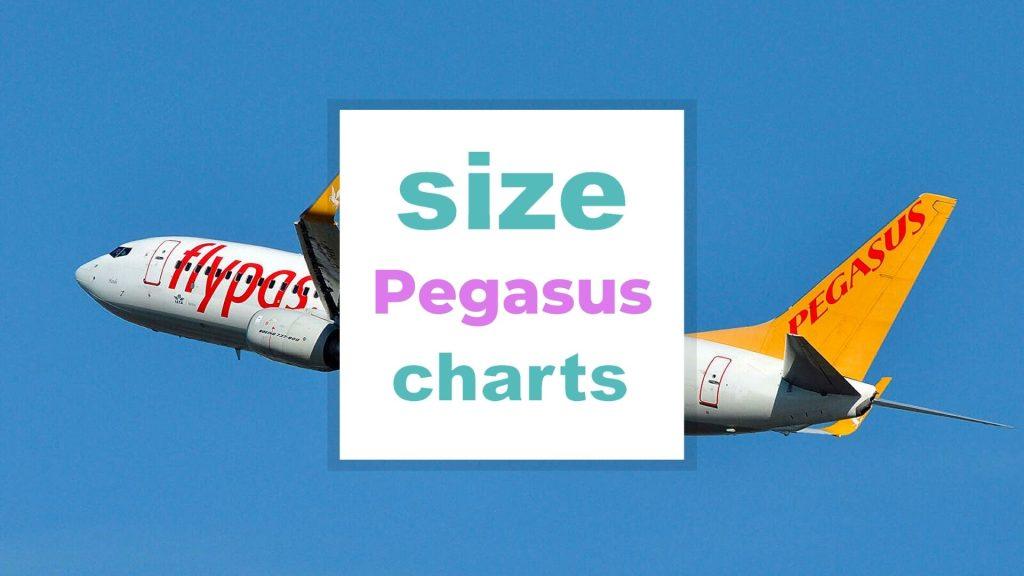 Jump right into the Frequently Asked Questions
Related: Copa Airlines Sizes: Luggage, Seats…, SAS Airlines Sizes: Luggage, Seats…
Pegasus Airlines Sizes Table of Contents
Pegasus Airlines seat size charts
Related: Aegean Airlines Sizes: Luggage, Seats…
| | | |
| --- | --- | --- |
| Seat sizes | | |
| Economy class | | |
| | Pitch | Width |
| Airbus A320 (320) | 31 | 17 |
| Airbus A320neo (320) | 30-31 | 18 |
| Boeing 737-800 (738) | 29 | 17.3 |
Carry-on baggage
Related: JetBlue Airline Sizes: Luggage, Seats…
| | | | | | | |
| --- | --- | --- | --- | --- | --- | --- |
| Class | Flight | Number of Bags | Dimensions (cm) | inch | Weight (Kgs) | Lbs |
| Business Flex | All Flights | 1 bag | 55 x 45 x 20cm | 21.65 x 17.72 x 7.87 in | 12 | 26.64 |
| | | or 1 personal item | 35 x 20 x 20cm | 13.78 x 7.87 x 7.87 in | 12 | 26.64 |
| All Classes | All Flights | 1 bag | 55 x 45 x 20cm | 21.65 x 17.72 x 7.87 in | 8 | 17.64 |
| | | or 1 personal item | 35 x 20 x 20cm | 13.78 x 7.87 x 7.87 in | 8 | 17.64 |
Pegasus Airlines checked-in baggage size charts
Related: British Airways Sizes: Luggage, Seats…
Domestic Flights Baggage Allowance
Class
Number of
bags Allowed
Dimensions ( L x W x D ) (cm)
inch
Weight (kgs)
Lbs
Basic
0
0
0
0
0
Essentials
1
No Limit
No Limit
15
33
Advantage
1
No Limit
No Limit
20
44
Comfort Flex
1
No Limit
No Limit
20
44
International Flights Baggage Allowance
Related: Wizzair Sizes: Luggage Allowances, Seats
Class
Number of
bags Allowed
Dimensions ( L x W x D ) (cm)
inch
Weight (kgs)
Lbs
Basic
0
0
0
0
0
Essentials
1
No Limit
No Limit
20
44
Advantage
1
No Limit
No Limit
20
44
Comfort Flex
1
No Limit
No Limit
20
44
Learn more about Pegasus Airlines Sizes (video)
Frequently Asked Questions
Is Pegasus strict with hand luggage?
Yes! Not only is the airline strict for hand luggage but also for checked-in luggage. For any cabin baggage that exceeds the required 8kgs, Pegasus Airlines will require it checked in. You want to beware of the set baggage limits before you're slapped with an extra fee.
Any oversized and especially overweight hand luggage and checked-in luggage is considered a violation of the Pegasus Airline baggage policy. The additional fee placed on it depends on the origin and travel destination of the traveler.
Hence, if you need to carry much, you may ship your luggage as freight to avoid all the hassle. Alternatively, if this appears expensive, you have the option to ship them through couriers.
Is Pegasus Airlines strict on baggage?
Generally, Pegasus Air's baggage policy is more strict than other airlines of the same level. Though it allows for a variety of items, its weight and size limits for economy class are only favorable for travelers who travel light. Air Pegasus has four packages, each with unique baggage limits and varying travel itineraries.
The airline has an uncompromising 15kg baggage allowance for domestic flight passengers taking out the Essentials package. Business Flex and Advantage classes face a 20 kg luggage weight limit for domestic flights as well. International flight passengers can travel a little heavier with 20kgs in all the classes of travel plus an extra Basic package.
Pegasus Turkish Airlines also considers musical instruments as hand luggage if only your baggage weight still doesn't breach their weight limits. The equipment will be shipped for free if they fit into the overhead lockers too. If not, you'll need to purchase an extra seat or secure a cargo hold.
The case of sporting equipment is different where each piece of equipment allowed into the plane attracts an extra fee. The larger the equipment, the higher the fee. For instance, you'd spend $30 on ski equipment and around $50 on a bicycle. Because of limited space, you'd need to reserve space for the same as soon as possible, even in the case of purchasing an extra seat.
How many bags are allowed on Pegasus Airlines?
Air Pegasus allows a different number of bags depending on the class of travel and other factors. The low-cost airline with over 100 destinations flies all over Asia, and Europe, besides its domestic flights.
The baggage allowance policy dictates that each passenger should bring on board one bag that weighs up to 8 kg. The bag should measure 55cm x 20cm x 40cm. Additionally, the passenger is free to carry one more personal item which could be a handbag, laptop bag, etc, whose dimensions must not exceed 35cm x 20cm x 20cm.
As previously mentioned, domestic flight passengers have a free 15kg checked-in baggage allowance as international travelers have an additional 5kgs to this weight. Any child under the age of 2 is considered an infant and has a weight allowance of 10 kg for all classes of travel and travel destinations.
You want to arrive at the airport around 4 hours before the departure time. This makes it possible to pay for any items that exceed the free baggage allowance on the Pegasus Airlines website.
Pegasus Airlines' excess baggage categories
On the website, you'll find different categories of excess baggage against their prices. Purchasing them online whether 5, 10, 15, or 20kgs more might earn you a discount. The heavier your excess baggage the more extra fee you'll pay. That's why you don't want your excess baggage to weigh more than 20kgs. Getting a weighing machine at home and getting the weight of each item that you're carrying with you will spare you the loss.
Pegasus' maximum weight limit is 32kgs per piece of baggage as stipulated by the EU. No sporting equipment such as bicycles, surfing equipment, canoes, golf clubs, skis, and diving equipment is allowed into the plane without additional charges.
Moreover, the airline has no provision for allowing items that it considers dangerous into the plane. Such items include firearms, camping stoves, penknives, scissors, toy guns, and any form of weapon.
Can I take a backpack on Pegasus?
Yes! Pegasus Airlines has a provision for any type of bag as long as its weight and size will be within the required counts. Most passengers, however, love using one wheelie bag and a small backpack to carry essentials that they might use during the flight.
Getting a wheelie bag may not be an option if you're traveling light. It may only be necessary when you have many items that might require more than one backpack. The wheelie bag or suitcase is mostly preferred for its hard case, making packing and getting its measurements easy.
If you're carrying along items that don't have definite shapes, you're better off with a hard-case suitcase whose shape and size won't be altered by the items it carries. It's not enough to get a backpack that's within Pegasus size limits and capacity if its case is not rigid. In fact, you're in danger of leaving some of your items at the checkpoint.
This is because a non-rigid backpack tends to lean forward when packed with non-rigid items. This will increase its measurements and make you pay more for nothing.
How many personal items can you carry in a backpack?
However, a small backpack that's way below the size limits can carry many personal items, depending on your packing skills and the number of pockets it has (meaning that its size won't exceed the given limits).
Additionally, you might take it out when carrying rigid items that will give the bag a regular, definite shape. If carrying a laptop backpack, it has to be lightweight with 35cm x 20cm x 20cm dimensions to be considered a personal item. The same is the case for every other bag you're bringing in as a personal item.
The conditions are more favorable for promotional travel classes. With the business class, you'll have the option to carry on board two backpacks, each not exceeding 8kgs in weight and 55cm x 20cm x 40cm dimensions. The airline is strict with these baggage size limits because bulkhead seats don't have under-seat places to store their bags and are left with overhead lockers. Speaking of the limited space in the plane.
Can I check in 2 pieces of luggage with Pegasus?
This is subjective to several factors. Basically, Pegasus fly allows only one piece of luggage per passenger. If the passenger's luggage is in compliance with the set weight and size policy, then the passenger will not need to make additional payments. However, things might be a little complicated when they have two pieces of luggage.
Passengers taking the business class have a weight allowance of 20kgs, which may allow them to travel a little bigger than the Essential (Economy) class. In case you need to travel bulky, you may consider Business Flex or Advantage classes instead of having two pieces of luggage. Generally, the heaviest bag you can travel with is 32 kg.
However, if you insist on having two pieces of luggage, you ought to notify the airline early enough so you can secure a cabin hold or purchase an extra seat. If the plane you're traveling with is already full, you have the option of paying for it as freight. The arrangements for the same may be a little complicated if you start them late. To avoid all the hassle, make all the plans before your day of travel, also so that your flight doesn't turn into a nightmare.
Purchasing the extra seat or cabin space early will not be as costly as purchasing them on the day of travel. However, if you just changed your mind, contact the booking manager at Pegasus Airlines to get immediate help with your extra luggage. Who knows? But you don't want to gamble with this next time. While changing your mind at the last minute has a habit of shrinking your bank, taking the right measures immediately after might spare you from spending too much. Contact Pegasus customer service or make inquiries from the airline's website ASAP.
Does a handbag count as carry-on luggage on Pegasus flights?
For Pegasus, a handbag counts as a personal item in your carry-on luggage if its weight and size meet the requirements for personal items. The handbag, as a personal item, comes along with your bag which is either packed in the overhead locker or under the seat in front of you.
Going with the baggage allowance, your handbag should be small enough and less of a hassle to carry throughout your journey. While bigger airline planes have small carriers where you can place your handbag, Pegasus requires you to bring in something that you can carry with you throughout the flight.
Your handbag will not be packed in the overhead lockers or under the seat because it is considered personal and something that you will need to use over and over during the flight. Its size comes into play since you'll need to hold it during the flight. It also needs to be duty-free. You also want to use a garment handbag that will comfortably accommodate all your essentials.
Is Pegasus responsible for lost hand luggage?
Unlike the case of checked baggage where Pegasus will be liable in case the items in there are spoiled or damaged, you are accountable for all the content in your hand luggage or personal items. This is why you'll need to present them at the checkpoint for screening before getting to the plane. Make sure that you're with your luggage at all times until they're packed at the cabin before you can settle down. In case of any losses, the airline will only recompense according to its policies.
You most likely will not use a handbag when traveling with an infant. Since you may not need to purchase a seat for the infant, according to Pegasus policy, be sure to book the infant's ticket alongside yours. The infant's baggage allowance of 10kgs (without provision for additional baggage) may allow you to have a baby bag where you'll carry all the necessary baby essentials for use during the flight.
A little more about the infant's fare, you'll be required to pay a discounted fare instead of purchasing a seat. The discounted fare will remain eligible even if the infant grows beyond infancy during the trip.
How big are the seats in Pegasus?
Pgs Airlines' standard variant, Airbus A320 boasts 180 seats whose width is 17 inches (distance between the seat's armrests) and a pitch of 31 inches. The Airbus A320neo Series which takes 60% of Pegasus' planes, has a pitch of between 30 and 31 inches.
The standard seats are 18 inches wide offering enough leisure for short-distance travelers. The seats come with a rotatable headrest to allow the free movement of the head while sleeping while offering enough neck support.
The seats in Pegasus Airline's Boeing 737-800
The Boeing 737-800 which was previously the dominant variant is now losing its significance. However, its seat's pitch measures 29 inches and is 17 inches wide. According to customer reviews, the seats are nicely leathered with a perfect layout to serve comfort, especially for domestic flights. The seats are reclinable too and have enough legroom to stretch and relax. Even when reclining, the seats will leave some reasonable space for the passenger behind.
However, this might not be so comfortable for tall passengers. Hence, they are advised to take out the Business Flex or Advance which have more legroom, or book a front seat if they have to use the Economy class
The seats have sufficient seat storage in case you're done reading your magazine and need it away for a second. Because of the upcoming variants that have better, bigger, and more comfortable seats, Flypgs Pegasus is intending to have the Boeing 737-800 variant phased out in the next 3 years.
What are the allowed toiletries sizes for Pegasus Airlines?
Turkish Pegasus has a restriction on the amount and number of liquids that you can bring into the plane. At the checkpoint, you'll only be allowed to carry 5 types of liquids, each packed in 100ml containers. The containers will need to be packed together in a clear sealable bag and presented for screening. If a passenger fails to present the toiletries at the Pegasus airport checkpoint, the act will be considered defiance against their safety policy.
Items such as toothpaste, lipstick, mascara, and a few other cosmetics are considered liquids whose amount to be carried on board is strictly 100ml (3.4 oz) per item. Hence, you want to avoid carrying too many liquids, otherwise, you'll have to leave them at the checkpoint.
In the case of medications, they have to be prescribed because only then will they be allowed into the plane. If carrying gasses, they have to be stored in sealed containers. The passenger will be required to notify the airline beforehand and might face some fees for having them on board. Otherwise, they may not be allowed on board. The last thing you want is to bring in liquids or special items without inquiring from the airline. Get in touch with the airline's customer service on Pegasus Airlines' official website.
What are the seat sizes per class for Pegasus Airlines?
Pegasus Economy seats are 17 inches wide and have a pitch of 31 inches. The width is either 17 or 18 inches wide for Business Flex and has a pitch of 31 inches. You have up to 20 inches of width for Advance class seats and a pitch of up to 34 inches. Besides their size, the seats come with an oomph as you go up the class, which speaks of the much that you're willing to spend.
The higher the class the more the comfort and the more friendly they are for long flights. However, Pegasus is your go-to if you're traveling on a budget. The seats in the Economy class are comfortable enough for regular body sizes. However, if you're too flat to fly, you're better off purchasing two seats or going up the class.
Conclusion
Pegasus Airlines has proven that traveling doesn't have to be expensive. With their 8 kg basic weight allowance, you can carry all you need for your solo flights. However, because every item that's above their weight and size limits attracts charges, try all you can to work with their requirements so that your flight remains as affordable as you had intended.
Please don't hesitate to ask any questions regarding the Pegasus Airlines sizes. Use the comments section to ask and we'll standby to assist.
Picture in this post is from DailySabah.com
Related to Pegasus Airlines Sizes