Travel Size Toiletries for Airplane Bags
Touring the world and interacting with nature could be the most interesting experience for anyone, especially during travel seasons. But, going to remote places exposes you to a lifestyle that's much different from what you are used to in your everyday life (skip straight to the travel size toiletries size charts).

Chief among the lifestyle adjustment you'll be forced to make during your travel is your hygiene. It is often difficult to access toiletries in remote locations or in environments which you are not too familiar with.

Therefore, it is advisable you pack your toiletries along for your trip, especially if you are going to regions or places where you won't easily find one.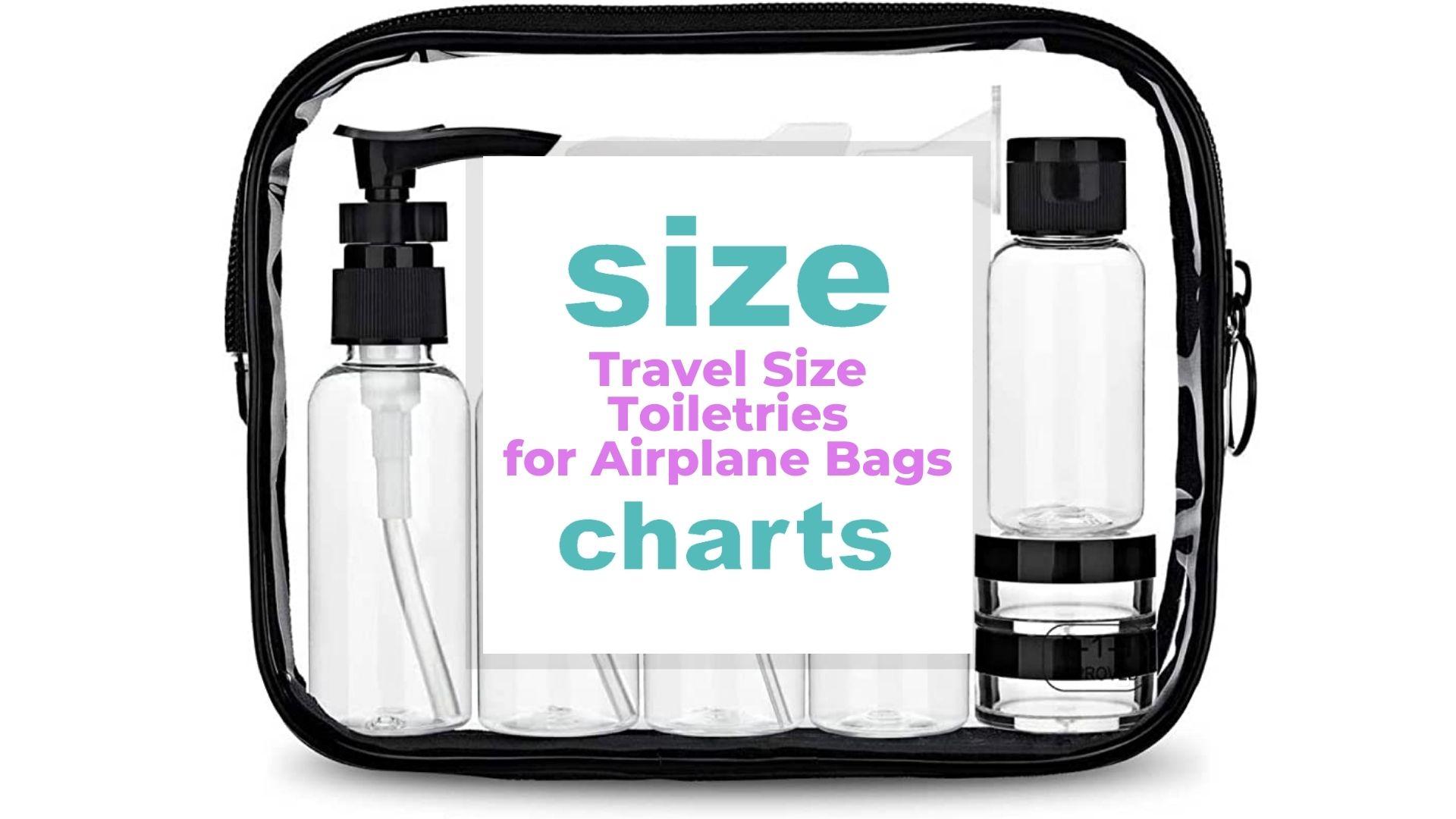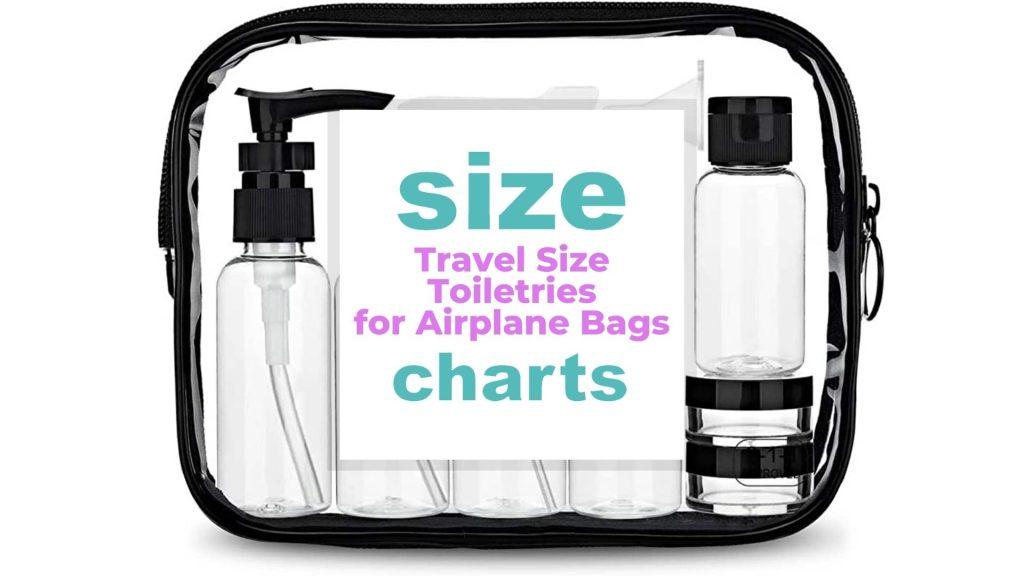 Have you ever wondered which travel-size toiletries would be best for your journey?

The size of toiletries may look negligible, but it can influence the volume of luggage you'll be carrying on your journey. Besides, there are strict rules surrounding the type and nature of toiletries allowed on the plane.
Travel toiletries come in various sizes, forms, shapes, and qualities. Plus there are several trustworthy brands of toiletries that you can choose from. Selecting the ideal size shouldn't be a tough decision to make. The first step is to determine the size of the carry-on bag you'll need for the journey.
As you make plans for your trip, the travel-size toiletries guide below shows you what you need to include in your luggage and the sizes of every carry-on bag you'll need for the journey.
Jump right into the Frequently Asked Questions
Related: Travel Trunk Size Chart – Understanding The Best One For You
Table of Contents
Travel Size Toiletries Luggage Bag Size Chart
Related: Carry on luggage sizes and dimension guide
| | | |
| --- | --- | --- |
| Luggage type | Height (In) | Height (mm) |
| Personal item carry-on | 17 | 431.8 |
| International Carry-on | 21 | 533.4 |
| Domestic Carry-on | 22 | 558.8 |
| Small checked | 23 – 24 | 584.2 – 609.6 |
| Medium Checked | 25 – 27 | 635 – 685.8 |
| Large checked | 28 – 32 | 711.2 – 812.8 |
Travel Size Toiletries Carry-on Bag Size Chart (In/Cm)
Related: Back Pack Size Chart for adults and kids
| | | | |
| --- | --- | --- | --- |
| Airline | Length | Width | Height |
| American Airlines | 22/ 56 | 14/ 36 | 9/ 23 |
| Allegiant Air | 9/ 22.9 | 14/ 35.6 | 22/ 55.9 |
| British Airways | 22/ 56 | 18/ 45 | 10/ 25 |
| EasyJet | 22/ 56 | 17.7/ 45 | 9.8/ 25 |
| Emirates | 22/ 55 | 15/ 38 | 8/ 20 |
| Frotier Airlines | 10 / 25.4 | 16/ 40.6 | 24/ 61 |
| JetBlue Airways | 22/ 55 | 14/ 35.5 | 9/ 23 |
| Lufthans | 21.6/ 55 | 15.7/ 40 | 9.1/ 23 |
| Southwest Airlines | 10/ 25.4 | 16/ 40.6 | 24/ 61 |
| Spirit Airlines | 22/ 56 | 18/ 46 | 10/ 25 |
| Turkish Airlines | 21.7/ 55 | 15.7/ 40 | 9/ 23 |
| United Airlines | 9/ 22 | 14/ 35 | 22/ 56 |
| Virgin Atlantic | 9/ 23 | 14.2/ 36 | 22/ 56 |
Learn more about toiletries size for packing (video)
Frequently Asked Questions
Is a 22 inches carry-on too big?
No. Most airlines use 22 inches carry-on bags. It is almost the standard size of a carry-on bag. However, size allowance may vary for different trips or at times. it is important to do due diligence before deciding on the carry-on bag size that works best for you.
Usually, information about carry-on bags is provided on the website of every airline, you can browse through to see what they offer.
Besides, standard carry-on bag sizes have been provided in the charts above, check through to see which size works best for you.
How many travel toiletries there are?
There are hundreds of travel toiletries depending on your needs. The kinds of toiletries you'll need for your journey could also depend on your gender and skin type.

Females generally need a lot of toiletries, mostly for their body care and beauty routine, while males can get by with a few toiletries.

Travel toiletries you might find in common travel items for females include shampoo, beauty oil, Conditioner, several pack travel bottles, Body Wash/Soap/Oil, Face Wash/Scrub, Feminine Wash, Shaving Cream, Razor, Deluxe 10, Toothpaste, and many others.
Which is the biggest available travel toiletry?
Every toiletry you are bringing on the plane must have a weight of not more than 3.4 oz. If you are going by road, there is no stipulated size for your travel size products.

Therefore, flights don't stipulate how big your travel-sized toiletries can be. They only give you the maximum mass per toiletry you intend to carry. The carry-on bag size charts above should give you an idea of what can be carried in those bags.
Are travel size toiletries allowed on airplanes?
Yes. Travel size toiletries are allowed on airplanes. But there are some regulations that guide the weight and nature of toiletries allowed on the plane.

The toiletries you can bring on the airplane are decided by two factors one is whether you are checking in the luggage or you are following the minimum weight regulation.

But overall, you are allowed to bring your toiletries on the plane if you abide by the set rules.
How many travel toiletries can you bring on a plane?
You can bring as many travel toiletries on a plane as you wish to carry on your journey or business trip. However, they must adhere to the regulations outlined by the TSA.
Every travel pack goes through additional screening as recommended by TSA. The only condition to note is that your liquid, aerosol, and gel toiletries must fit into the quart-size because each passenger on the plane is limited to only one of such bags.
Unless you are going to check in your language, you can't carry any more piece travel toiletries than those that can fit into the carry-on bag. And Each item in the bag should have a weight that's less than 3.4oz
How do you pack Carry-on toiletries bags for a long trip?
The transportation security administration (TSA) regulations provide two ways of packing toiletries for your trip, especially air travel.

The first is through the carry-on bag, where everyone on the flight is provided with a carry-on bag to hold all their toiletries. Each passenger is only entitled to one of these bags.

The second is through a checked bag. In these cases, passengers are entitled to a larger bag to hold their toiletries through the journey. The checked bag provides room to carry more quantity of toiletries for your trip.

You can get the most out of your carry-on bags by purchasing toiletries that contain many-in-one travel products.
Is there a size limit for carry-on bags?
Yes. TSA stipulates the complimentary travel size toiletries carry-on bags allowed per passenger. And all airline has their stipulated rules guiding the sizes of baggage on airplanes.

They also regulate baggage weight. Some airlines make provisions for carry-on baggage allowed onboard.
Conclusion
Carry-on toiletries bags come in various designs and brands, but you can only travel with the recommended size and weight of toiletries bags or language carriers.
Usually, the stipulated size is a maximum of 3.4 oz of toiletries for most airlines across the world and every traveler is entitled to only one carry-on bag per trip.

Sometimes, you may not even have to go with things like soap because travel hotels make provisions for hotel soaps, body wash, and body care collections.
And if you are using a checked bag, you may be allowed to go slightly above the stipulated sizes. Make use of the size charts above to decide the luggage sizes that work best for you on your future trip.

And if you still have any doubts or questions regarding travel-size toiletries that you would love to clarify, leave a comment below and you will receive a swift response. Again, remember to share the article.
Picture in this post is by Supply on Unsplash
Related to Travel Size Toiletries