Bag Size Chart
A bag (or sack, depending on your location) is a typical sort of non-rigid container used for various purposes. Bags have been used since before written history was kept, with the oldest bags likely being little more than lengths of animal skin, cotton, or woven plant fibers, folded at the ends, and fastened in that shape with threads made from the same material (skip straight to the bag size chart).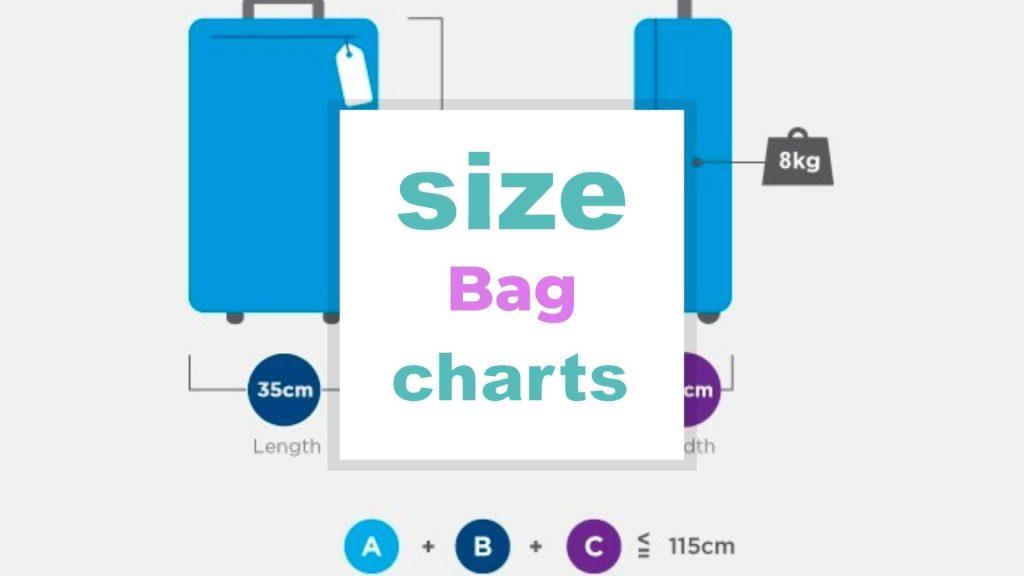 Also, a bag can be defined as a flexible container that may be closed for holding, storing, or carrying something: such as a purse, suitcase carry-on bag, carry-on luggage, handbag, or a bag for a game.
Jump right into the Frequently Asked Questions
Related: Travel Trunk Size Chart – Understanding The Best One For You
Bag Size Chart Table of Contents
Bag size chart
Related: Travel Size Toiletries for Airplane Bags
Average suitcase sizes
Related: Back Pack Size Chart for adults and kids
| | | | |
| --- | --- | --- | --- |
| size | Height | Width | Depth |
| Large | 76cm / 30 inches | 48cm / 19 inches | 29cm / 11 inches |
| Medium | 67cm / 26 inches | 45cm / 18 inches | 25cm / 10 inches |
| Compact | 63cm / 25 inches | 36cm / 14 inches | 21cm / 8 inches |
| Cabin | 48cm / 19 inches | 32cm / 13 inches | 18cm / 7 inches |
Common Filter Bag Sizes
| | | |
| --- | --- | --- |
| size | Diameter | Length |
| 1 | 7 in 17.8 cm | 16.5 in 41.9 cm |
| 2 | 7 in 17.8 cm | 32 in 81.3 cm |
| 3 | 4 in 10.2 cm | 8 in 20.3 cm |
| 4 | 4 in 10.2 cm | 14 in 35.6 cm |
| 5 | 7.5 in 19.1 cm | 16 in 40.6 cm |
| 6 | 7.5 in 19.1 cm | 32 in 81.3 cm |
Carry-on luggage
Related: What Size is Carry On Luggage?
 
Hand Luggage bag cm HEIGHT
W cm
D cm
W kg
CHECKED IN
W kg
BAA Standard
56
45
25
N/A
N/A
Aer Arann
43
28
20
7
15
Aer Lingus
56
45
25
6
20/18*
Air Berlin
55
40
20
6
20/18*
Air France
55
35
25
12
20/23*
Air New Zealand
55
35
25
7
20/23*
Air Southwest
53
34
22
7
20
Air Transat
51
40
23
5
20
Alitalia
55
35
25
5
20
American Airlines
56
45
25
18
23*
BMI
55
40
23
UNLTD
20/23*
BMIBaby
55
40
20
10
20
British Airways
56
45
25
23
23/23*
Cathy Pacific
56
36
23
7
20
Central wings
55
40
20
5
20
Cityjet
55
40
20
7
20
Continental Airlines
56
45
25
18
23
CSA
56
45
25
12
23
Delta Airlines
56
23
36
18
22.5*
Eastern Airways
55
40
20
10
15
Easyjet
55
40
20
WTH
20
Emirates
55
38
20
7
20
Finnair
56
45
25
8
20
First Choice Airways
45
35
20
5
20
Flybe
50
35
23
10
20
Flyglobespan
55
45
20
20
20/25*
German Wings
55
40
20
8
23
Iberia
55
40
20
10
23
Jet2
46
30
23
10
17
KLM
55
35
25
12
20
Lufthansa
55
40
20
8
20
Luxair
55
35
16
7
20
Manx
55
35
20
10
10
Monarch
56
45
25
10
20
Northwest
56
36
23
WTH
23
Qantas
56
36
23
7
20
Ryanair
55
40
20
10
15
SAS
55
40
23
8
20
Scot Airways/Blue Islands
40
30
20
6
14
Sky Europe
55
40
20
WTH
20
Spanair
50
40
25
6
20
Swiss Airlines
55
40
20
8
20
TAP Air Portugal
55
40
20
10
20
Thai Airlines
50
40
25
7
20
ThomasCook Airlines
43
28
23
5
15
Thomson Fly
55
40
20
10
20
United Airlines
55
35
22
WTH
23
Virgin Atlantic
56
36
23
6
23/23*
VLM
47.5
35
20
5
20
Whoosh
40
30
20
6
15
Wizzair
55
40
20
10
20
XL
56
45
25
5
20
Zoom
51
41
23
5
20
How to choose the size of the right bag
Related: Carry on luggage sizes and dimension guide
Some may think it's a minor factor, but a bag's size is actually quite crucial. Bags have always morphed to reflect changing social needs, from huge luggage-style bags during the Industrial Revolution to small bejeweled minaudières during the hedonistic Roaring Twenties.
Is it a roomy purse you seek, a sleek evening bag, or a glitzy addition to your cocktail attire?
How To Measure Your Bag Size?
If you want to make sense of a bag size chart, you need to know how to measure a bag. Here, I'll discuss how to take external and internal measurements of a bag.
External measurement
Learn how to match your bag's dimensions with the values in the bag size table by following these easy steps:
Find a measuring tape.
Put your bag down on the ground.
Extend the length of your measuring tape from the base of your bag to its highest point. If you want an accurate measurement, leave the handles out.
Do not forget to write the figure. You can measure your bag's height in inches.
To determine the bag's breadth, hold the measuring tape parallel to the front of the bag and move it from left to right.
For the depth of your bag, simply run the measuring tape from the top to the bottom.
These sizing charts only show the external measures. There is no reason to take internal measurements of the bag. Check out the rest to learn more.
Measurements from the Inside
A bag's capacity or volume tells you roughly how much you can store inside of it. Similarly, it is a common bag size chart column. This formula will help you determine it:
Capacity = (inside dimensions) (inside height + inside width + inside depth)
Here are the steps to take to determine the interior height, breadth, and depth:
Find a measuring tape.
Drop your luggage down and open it up.
From the highest point within, calculate the vertical distance to the lowest.
Bag width can be determined by taking a cross-wise measurement within the bag.
Go from the bag's opening to its closing to get a sense of its inside depth.
What size bag do you need?
See below for a variety of bag sizes suitable for various needs.
1. Bag Size For Camping
The average length of a camping vacation is between three and ten days. The length of your camping trip should determine the size of your camping bag. The camping site's climate will also have a role.
You'll need to bring supplies including food, clothing, hygiene items, towels, and water. The perfect size is a medium bag, which can hold between 35 and 50 liters (22 inches tall, 15 inches wide, and 9.5 inches deep).
2. Bag Size For Grocery Shopping
Going grocery shopping is a regular weekly chore. Bread, veggies, fruits, and other food goods take up a lot of room in your shopping cart. The standard capacity for a supermarket bag is 11 to 14 liters. There are 12 inches of height, 14 inches of width, and 11 inches of depth available for this purpose.
3. Bag Size For Air Travel
Carry-Ons and Personal Items
Carry-on bags are designed to fit in overhead bins and may be stored conveniently in the trunks of most cars. While rolling suitcases are the most typical form of carry-on luggage, any bag that can fold up to the size allowed by the airline is fair game.
A soft-sided carry-on has the advantage of being more flexible and compact than hard-sided luggage, making it less of a hassle to fit into an airplane's overhead bin even if it's nearing its size restriction.
For journeys of a few week-long trip duration or less, a carry-on bag should be enough. Please refer to the following table for a complete list of items that can be packed in a carry-on. Airlines classify as "personal items" carry-on bags such as a purse, a tote, or small backpacks. We consider any bags you can put under your airplane seat personal items and not part of your luggage limit.
Carry-on Luggage Size Limits
Most large domestic airlines publish dimensions of 22 by 14 by 9, although sizer bins include around an inch of wiggle room in each dimension.
We provide models that are a perfect fit for the specified dimensions and versions that are larger for more storage space, yet still fit in the provided sizer bin and overhead compartments. there is a range of sizes that can carry fragile items and special items.
Checked Baggage
We must check anything larger than a golf club or smaller than a cardboard box at the airport. Items like musical instruments and sports gear that are too large to fit in a carry-on bag must be checked. As a result, they will have to be stored in the airplane's cargo hold, making them inaccessible to you throughout the journey.
Lithium batteries, liquids exceeding 3.4 ounces, weapons, and anything that could be used as a weapon (such as baseball bats, metal knives, box cutters, and even pocket knives) are all prohibited from being carried on board and must be placed in checked baggage. personal item restrictions and weight allowance.
The typical maximum allowed size and weight limit for a checked bag on a domestic flight is 62 linear inches, as this is the standard published by most airlines. While there is some variation among international carriers, the 62-inch guideline is generally accepted. It is possible to fly with bags that are longer than 62 inches, but you may be charged extra.
When dealing with suitcases or backpacks of a considerable size, packed weight usually takes precedence. Measure your carry-on and check-in bags individually, and then add the results to determine the total size.
Check out this video to learn more about carry-on baggage
4. Bag Size For School
From now until we graduate, the school will be the focal point of our existence. You need a bag that can carry all your necessities to and from school each day. Supplies that are required for school are A laptop, Binders, Books, Notebooks, Stationery, a Phone, an iPad, a Water bottle, Umbrella, and Wallet.
Choose a standard bag with a capacity of 18 liters if you want to carry all the above items. Think about the following scales: Measures 16 inches in stature by 11 inches across and 6.3 inches in breadth and depth.
5. Nurses' Bag Dimensions and sizes
The nurses who care for you in the hospital are among the most important people in your recovery. They have the following stuff in their bags: Glass of water, Snacks, Protein drink, Candy mints, Pens, pencils, highlighters, dry erasers, and so forth in a convenient pencil case., Planner, Lubricant for the Lips, Deodorant, Sanitizer for hands, Sunscreen, or an Advil / Band-aids.
They require a bag that can hold enough essentials for their 12-hour shift. A bag with these dimensions and capacity (21 liters) would be ideal. It's 15 inches wide by 14.2 inches high and 5.9 inches deep.
6. Bag Size For Kids
When kids go off to their own world, they need a backpack too. They pack their coloring books, lunches, and toys in there as well as their water bottles and lunches. 12 inches in height, 10 inches in breadth, and 4 inches in depth best describe their adorable tote bag size.
7. Bag Size For Gym
Some people visit for doing yoga and meditation in tranquility. Some people there are really into working out. They use treadmills, ellipticals, and weight machines daily and occasionally go for a swim. So what do you think they could need? Here's a full list: Floor mat, Water bottle, Gym shoes, Protein shake, Towels, Headphones, Extra clothes, Cleaning wipes, Deodorant, and Hand sanitizer.
People who frequently visit the gym should invest in a duffel bag. The standard dimensions are 20 inches in width, 10 inches in depth, and 11 inches in height.
8. Bag Size For A Picnic
Socializing with loved ones closes the circle in your life. One fun way to do this is to plan a picnic. Among the things to bring on your picnic are Drinks, a Bottle opener, Ice packs, Snacks, and Speakers for music.
For example, a standard tote bag measures 13 inches in height, 22 inches in breadth, and 11 inches in depth. They complete any picnic perfectly. sports equipment.
9. Bag Size For Lunch
A lunch bag is an essential item, whether you're in elementary school, college, or the workplace. You'll be nourished, energized, and hydrated all day long. You can't go wrong with a lunch bag that's 8 inches tall, 10 inches wide, and 6.7 inches deep for everyday usage.
10. Bag Size For Photographers
For some, photography is a relaxing pastime. For some people, though, it is a career. A camera capable of recording the beauty of the world is essential. A spacious bag that can accommodate your camera is also essential.
The bag's dimensions of 14.96 inches in width, 7.87 inches in depth, and 11.81 inches in height provide ample room for cameras and accessories.
Learn more about bags sizes (Video)
Frequently asked questions
1. What is the standard size of a bag?
The typical length of a small checked bag is 23–24 inches, a medium is 25–27 inches, and a large is 28–32 inches. Suitcases with a linear dimension of over 62 inches (with wheels and handles) are considered large and cannot be checked in.
2. How do I calculate my bag size?
Some airlines, recognizing the wide variety of possible luggage dimensions, instead provide a strict linear inch or centimeter limit. Add the length of the handles and wheels to the overall dimensions of your bag. Total up those three measurements. Whether you're measuring in inches or centimeters, the sum is your linear measurement.
Here is how to calculate if you are home. Length is taken from the left to right bottom corner of the bag when the bag is upright and facing you. Gusset (or Bottom Width) is determined by measuring from front to back along the bottom. To determine the height, start at the bottom of the bag and work your way up.
3. What is the size of a 23kg luggage bag?
Luggage is limited to a maximum of 158 cm in total dimensions (height + width + length), 23 kg in weight for Economy and Premium Economy, and 32 kilograms for Business class passengers. Baggage in excess of 32 kg or length in excess of 300 cm must be transported as cargo.
4. What size is a daily bag?
A travel bag with a capacity of 15 to 18 liters is ideal because it can be worn on a daily basis and yet hold most of your necessary office items. You should be able to fit everything you need, plus some, in there.
5. How big is an A4-sized bag?
The capacity of the backpack is roughly 27 liters, with approximate dimensions of H50cm (20 inches) x W30cm (12 inches) x 18cm (7 inches).
6. How big is a medium size bag?
Although baggage smaller than the standard 22″ x 14″ carry-on size is allowed, the vast majority of checked bags are larger. The most often used dimensions for check-in bags are 25 to 29 inches in height and a range of widths.

The standard and medium sizes for carry-on luggage are 25 to 26 inches in height and 18 to 20 inches in width.
7. What is considered a small handbag?
Carry on items like a purse or small handbag that can fit beneath the seat in front of you. The minimum dimensions are 18 by 14 by 8 inches (45 x 35 x 20 cm).
Conclusion
We should all know by now that there is no "one bag fits all." That's why we provide a variety of bag sizes, from extra small to extra large. The smaller ones are for casual outings with pals. On the other end of the range, though, are the oversize suitcases that prove useful for air travel.
But in the end, it's all about personal preference. There's no reason you can't take a huge shopping bag with you. Personalized services are available to meet your specific needs.
If you enjoyed reading our article kindly share, and for questions leave them in the comment section. Thank You!
Picture in this post is by White Field Photo on Unsplash
Related to Bag Size Chart