Delta Airlines Sizes: Luggage, Seats…
Delta Airlines is one of the major airlines in the United States and it is headquartered in Atlanta, Georgia. The airline was founded as Huff Daland Dusters in 1924 and it started its commercial operations in 1929. The name Delta was adopted in 1945 and it has been in operation under that name since then.
The airline has a fleet of over 750 aircraft and it operates over 5,400 flights daily. Delta has nine hubs across the United States and it also has international operations in Canada, Mexico, and Latin America. The airline is a member of the SkyTeam alliance and it has codeshare agreements with many other airlines. Delta has been ranked as the second-largest airline in the world by revenue and it is also the largest airline by fleet size.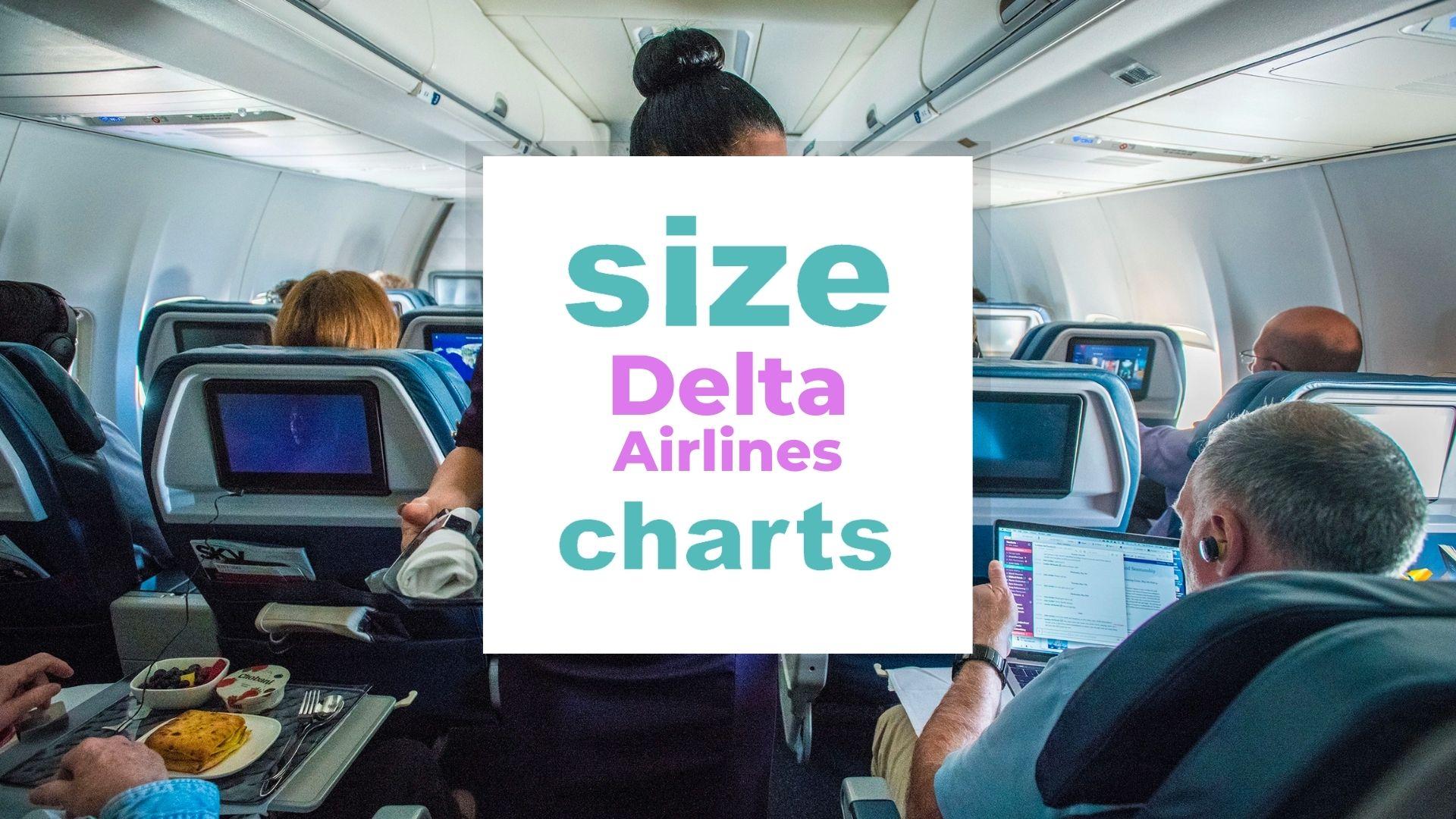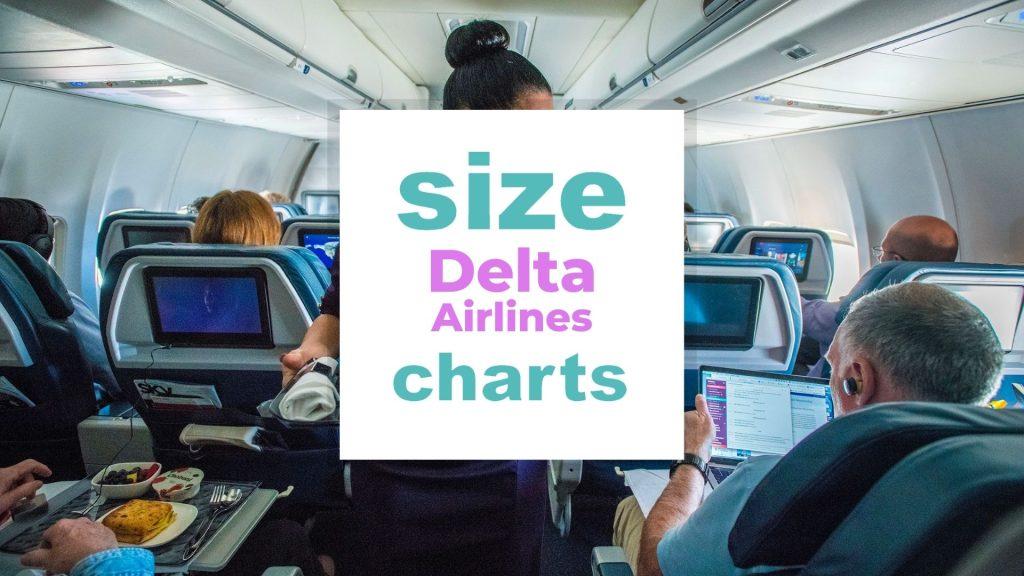 Their planes are always clean and well-maintained, and their staff is always friendly and helpful. They go out of their way to make sure their passengers have a great experience, from the time they book their flight to the time they disembark.
One of the things Delta Air Lines is known for is its commitment to safety. They were the first airline to install then-new color-coding systems in their planes, which helped crew members quickly identify the location of emergency equipment. And they continue to invest in new safety technologies, ensuring that their passengers are always safe while they're on board.
Delta Air Lines is always looking for ways to improve their product and provide even better customer service. They're always innovating and expanding their offerings, which is why more and more people are choosing to fly with them.
Let's now change focus to Delta Airlines sizes;
Jump right into the Frequently Asked Questions
Related: American Airlines Sizes: Luggage, Seats…
Delta Airlines Sizes Table of Contents
Delta Airlines size charts
Related: Air France Sizes: Luggage, Seats…
Checked Baggage
 
 
 
 
 
 
Cities
Dates
Max Pieces
Max Weight
Per Piece (kg)
Lbs
Max Size
Per Piece (cm)
inch
Key West , Florida
All Year
1
45
100
155
62
Lagos , Nigiria ( Los )
All Year
4
32
70
155
62
Quito , Ecuador
Jun 3 – Aug 31
2
32
70
155
62
San Pedro Sula – Honduras
Nov 16 – Jan 16
5
32
70
155
62
San Salvador – El Salvador
Jun 3 – Aug 31
2
32
70
155
62
Nov 16 – Jan 16
5
32
70
155
62
New York – JFK
From / to Santiago – Dominican Republic
(STI only )
Jun 3 – Aug 31
SkyMiles Elite Members 3
/ non 2
32
70
155
62
Nov 16 – Jan 16
5
32
70
155
62
New York – JFK
From / to Santo domingo – Dominican Republic
(SDQ only )
Jun 3 – Aug 31
SkyMiles Elite Members 3
/ non 2
32
70
155
62
Nov 16 – Jan 16
5
32
70
155
62
Related: Lufthansa Sizes: Luggage Allowances, Seats…
Carry-on Baggage
 
 
 
 
 
 
Cities
Max Combined dimensions
( L + W + H ) (inch)
cm
Individual Dimensions
( L x W x H ) (inch)
cm
Max Weight (Kgs)
Lbs
Singapore, Singapore – Changi International Airport (SIN)
45
114
22" x 14" x 9"
56 x 35 x 23
7
15
Beijing, China – Beijing Capital International Airport (PEK)
45
114
22" x 14" x 9"
56 x 35 x 23
10
22
Shanghai, China – Pudong International Airport (PVG)
45
114
22" x 14" x 9"
56 x 35 x 23
10
22
Any Other Destination
45
114
22" x 14" x 9"
56 x 35 x 23
No Max Weight
Related: Qatar Airways Sizes: Luggage, Seats…
Infant / Child
 
 
 
 
 
 
Cities
Max Combined dimensions
( L + W + H ) (inch)
cm
Individual Dimensions
( L x W x H ) (inch)
cm
Max Weight (Kgs)
Lbs
All
45
114
22" x 14" x 9"
56 x 35 x 23
10
22
What happens if my carry-on is 1 inch too big in Delta?
Related: Etihad Airways Sizes: Luggage Allowances, Seats…
If you're like most people, you probably don't want to check your carry-on bag when flying. The problem is, if your bag is even 1 inch too big, Delta might charge you about $100 to gate check it.
Here's what you need to do to avoid that hefty fee:
Measure your bag before you leave for the airport and make sure it complies with Delta's size restrictions. If it doesn't, try to compact your belongings into a smaller bag. If that's not possible, suck it up and check your bag. It's better than paying the penalty.
You may not realize it, but when you try to carry on too much luggage, you're putting yourself and other passengers at risk.
Think about it: if your bag is oversized, it's going to take up space in the overhead bin that could otherwise be used by someone else. And if the bin is already full, that means someone is going to have to check their bag, which delays the flight. Not only that, but an oversized bag can also be a safety hazard. It can get caught in the aisle or between the seats, and it can be difficult to maneuver in a crowded cabin. If everyone brought their entire wardrobe on board, the plane would be overweight and it would be a safety hazard as well. Additionally, if everyone just threw whatever they wanted in their carry-on bag, it would create chaos at the baggage carousel.
So please, observe the airline regulations on carry-on luggage and pack smartly so that everyone can travel safely and comfortably. If you are not sure about the true size of your carry-on, you can try to fit it into the sizer. This is the device that's usually located near the ticket check-in counters, and it can tell you if your bag is too large to bring on the plane.
Is a backpack a carry-on in Delta?
Related: United Airlines Sizes: Luggage Allowances, Seats…
In Delta, a backpack is considered a personal item, which means it has to be small enough to fit under the seat in front of you. So yes you can bring a small backpack on as a carry-on in Delta. It will count as your personal item.
Just be sure to follow the size and weight restrictions: the backpack can't be larger than 22x14x9 inches, and it can't weigh more than 10 pounds. If it doesn't, don't worry—you can always check a bag at the airport for a small fee. But if you're trying to avoid checking any bags at all, then make sure your backpack is within the size restrictions.
Delta's current policy on backpacks as carry-ons is that they are only allowed if they can fit under the seat in front of you. This is a policy that has been put in place to make sure that there is enough room in the overhead bins for other passengers' luggage.
When you're packing your backpack to travel with Delta, make sure you comply with the airline's carry-on policies. Here are some tips to help you out:
Make sure your backpack is within the size requirements.
Place your heaviest items at the bottom of the backpack.
Pack your clothing and other essentials around the heaviest items.
Try to keep your backpack as compact as possible.
Make sure your electronics are packed in a separate bag that meets Delta's carry-on requirements.
Following these tips will help make sure your backpack doesn't get weighed down or flagged for being too large, and that you have everything you need with you on your flight.
If your backpack is too big to be a carry-on, you have a couple of options. You can either check it or gate-check it. Checking your backpack means you'll have to leave it at the airline counter and it will be loaded into the cargo hold. Gate-checking your backpack means you can take it with you on the plane, but you'll need to leave it at the boarding gate and someone from the airline will take it from there.
So what's the best option? It really depends on your situation. If you're carrying a lot of valuable items, we would recommend checking your backpack. That way, you know it will be looked after properly. But if you're just carrying a few things, gate-checking might be a better option, since you won't have to leave your backpack at the airport.
No matter what you choose, make sure to label your backpack with your name and contact information. That way, if there are any problems, the airline will be able to get in touch with you.
Learn more about Delta Airlines sizes in this video
What size planes does Delta use?
Related: Back Pack Size Chart for adults and kids
Delta uses a variety of aircraft to serve its many destinations. The airline's fleet includes both narrow-body and wide-body planes, as well as regional jets. Delta is one of the few airlines that use the 767-400ER. However, the most common type of plane in Delta's fleet is the Boeing 737, which is a narrow-body aircraft.
Delta also operates a large number of Airbus Airbus A220 and A320 aircraft families, The Airbus A330 and the Boeing 767 are some larger planes that are typically used on international flights or on routes with high demand. Regional jets are another important part of Delta's fleet. These smaller planes are used on shorter flights and can seat anywhere from 50 to 70 passengers. Delta's regional jet fleet includes both Bombardier and Embraer aircraft.
What is Delta's smallest plane?
Embraer E-170 is Delta's smallest plane, and it's also one of the most efficient. That means you'll get to your destination faster and spend less time in the air. This makes it a great choice for shorter flights, especially if you're traveling with a child or pet.
The E-170 is a great option for short-haul flights, and it's perfect for routes that are served by smaller airports. What's more, the cabin is designed for optimal comfort and productivity, with spacious seats that recline and adjustable headrests.It's got a smaller footprint than other planes its size, so it takes up less space at the airport. And because it's so efficient, it uses less fuel, which means it's good for the environment and your wallet.
And speaking of luggage, the E-170 has a really large overhead bin, which is great for storing your belongings. No more waiting in line at the baggage carousel!
The plane also has a state-of-the-art entertainment system, which includes personal TVs with plenty of movies and TV shows to choose from. So you can relax and watch your favorite show while you're in the air. The plane also comes equipped with individual LCD screens and audio channels, so you can watch your favorite movie or listen to your favorite music while you're in the air. And if you need to get some work done, there's a small desk area where you can spread out your papers.
Frequently Asked Questions
How strict is Delta on baggage size?
When it comes to baggage, every airline has different rules and regulations. Some are more lenient than others when it comes to size and weight restrictions, while others are very strict. So, how does Delta stack up? When it comes to carry-on luggage, Delta is fairly strict. The maximum dimensions for carry-on bags are 22" x 14" x 9", and the maximum weight is 70 pounds (32kg).
However, there is some flexibility when it comes to checking baggage. The maximum dimensions for checked bags are 62 (157 cm) and the maximum weight is 50 pounds (23 kg) per piece. That being said, overweight and oversized bags will incur additional charges. So, if you're planning to travel with Delta, be sure to pack light and within the size limits to avoid any unwanted fees.
Does a purse count as a carry-on?
Yes, purses do count as carry-ons on Delta Airlines. There are a few exceptions, however, so it's important to be familiar with the airline's policies. First, your purse should be able to fit under the seat in front of you. And second, it's a good idea to make sure that your purse doesn't have any prohibited items, like liquids over 3.4 ounces or sharp objects.
Can 24-inch luggage be a carry-on in Delta?
No. The maximum dimensions for a carry-on bag are 22″ long x 14″ wide x 9″ high. Any item larger than this, including 24″ luggage, will need to be checked. Checked baggage fees vary depending on the route and when the bag is added, so it's always best to check with your airline before you travel.
If you're hoping to avoid checked baggage fees altogether, consider shipping your luggage ahead of time with a service like Luggage Free. They'll pick up your luggage at your home or office and deliver it directly to your destination, so you can travel hassle-free.
What are the toiletries sizes for Delta Airlines?
You can bring a quart-sized bag of liquids with each container carrying no more than 3.4 ounces or 100 milliliters.
Liquids in containers larger than 3.4 ounces will not be allowed through security, so don't even bother packing them in your carry-on. And if you're wondering whether or not you can bring your toothpaste and contact lens solution on the plane with you, the answer is yes, you can. Just put them in that quart-sized baggie.
As for aerosols, you can bring them in your checked baggage as long as they're not flammable and meet the requirements for the liquids above. And you can also bring gels, pastes, and creams, as long as each container is 3.4 ounces or less and they're all placed in a single, quart-sized bag.
If your toiletries are larger than the allowed size, you have a few options. You can either put them in your checked baggage (which may or may not cause extra fees) or you can pack them in a clear plastic bag and carry them on board with you. Just be sure to declare them to the check-in agent when you're checking in.
What are the seat sizes like for Delta Airlines?
As you can expect and as for most airlines, Delta seat sizes vary from class to class. The largest seats are in first class, where you can expect some pretty spacious seats. The first-class seat specifications for the Boeing 737-800 (738) start at 20.9 inches (53 cm) cm. The child seat size is 20.5 inches (52 cm) in width for first class
So you'll have plenty of room to relax and stretch out. And if you're traveling with a partner, you can even enjoy the sweet luxury of a double-wide seat.
The main cabin seats are 18.5 inches wide. That's plenty of space for a comfy ride, and it also meets or exceeds the minimum requirements of the American Disabilities Act. So if you're traveling with a wheelchair or other mobility device, you'll have no problem getting around on Delta.
In the economy, their seats typically range from 17 to 18 inches wide. They also recline about two inches, which some passengers find to be a nice feature.
Delta Airlines seats are some of the most comfortable in the sky. Here are some of the features that we think make our seats so great: First, they're made of ergonomic materials that support your spine and keep you comfortable during long flights. Second, they have a variety of adjustments so you can find the perfect position. They're designed with ample storage space, so you can keep all your belongings close at hand.
Each seat comes with an adjustable headrest and lumbar support, which means you can customize your seating experience to make sure you're as comfortable as possible.
Conclusion
Delta offers one of the most generous measurements in the industry. And since seats and luggage sizes are some of the most critical considerations, make sure you check out the seat map for your specific flight plus specific luggage restrictions to get an idea of the seat sizes and amenities available by the time of your flight.
Do you have any questions regarding Delta Air Lines sizes? Please ask in the comments.
Picture in this post is by Nick Morales on Unsplash
Related to Delta Airlines Sizes