Cat Size Chart and Why It Is Important?
This post was last updated on October 14th, 2023 at 03:27 pm
Do you ever wonder how big your cat is compared to other cats? Wonder no more! Check out this handy cat size chart to determine just how big your kitty is. Some of the cat sizes may surprise you! Big cats or small cats, we love them all! (skip straight to the cat size chart)
A cat size chart plays a crucial role in observing the cat's well-being. In addition, the size chart determines the cat's weight at various stages of its development.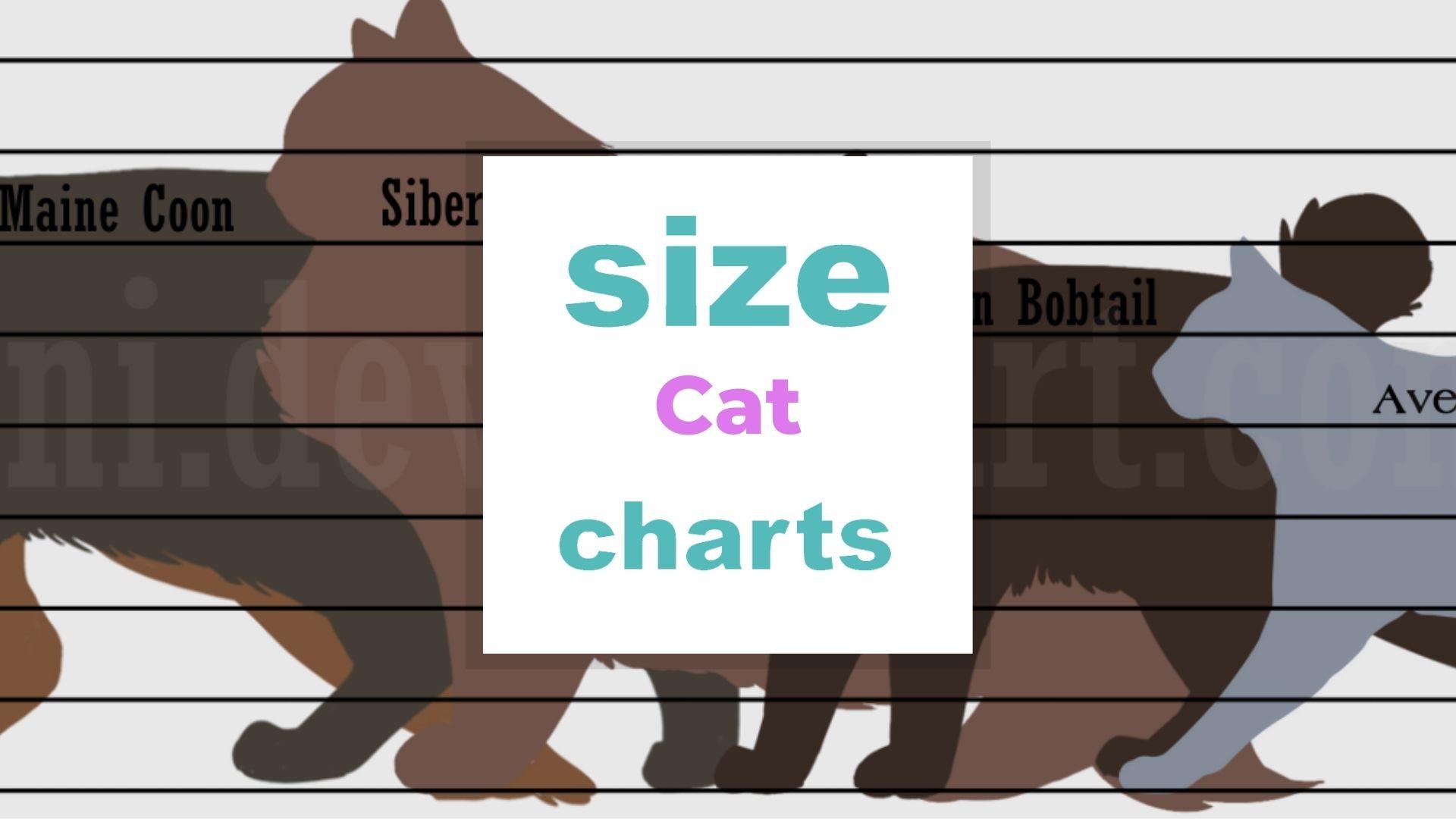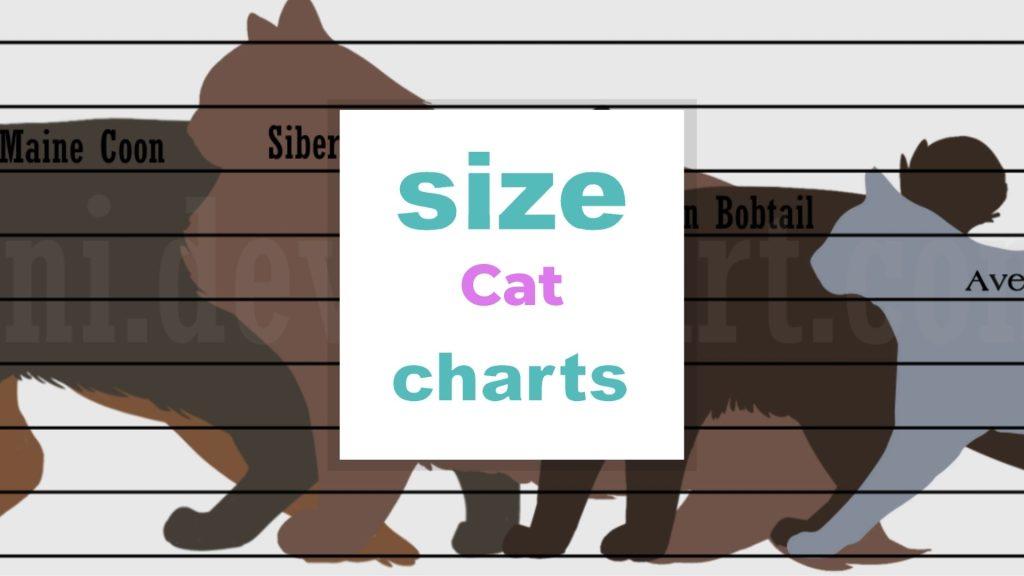 Cat Size Chart Table of Contents
Cat size chart by breed
| | | | | | |
| --- | --- | --- | --- | --- | --- |
| BREED | AVERAGE CAT HEIGHT |   | AVERAGE CAT LENGTH |   | IDEAL CAT WEIGHT |
|   | inch | cm | inch | cm | lb |
| abyssinian | 8″ – 10″ | 20 – 25cm | 12″ – 16″ | 30 – 41cm | 8 – 12lb |
| american bobtail | 9" – 10" | 23 – 25 cm | 17" – 19" | 43 – 48 cm | 7 – 18 lb |
| american curl | 9" – 12" | 23 – 30 cm | 16" – 21" | 41 – 53 cm | 5 – 10 lb |
| american shorthair | 8" – 10" | 20 – 25 cm | 12" – 15" | 30 – 38 cm | 10 – 15 lb |
| american wirehair | 8" – 10″ | 20 – 25 cm | 11" – 13" | 28 – 33 cm | 8 – 15 lb |
| balinese | 8″ – 11″ | 20 – 28 cm | 14" – 18" | 36 – 46 cm | 8 – 15 lb |
| bengal | 8" – 10″ | 20 – 25 cm | 14" – 18" | 36 – 46 cm | 8 – 15 lb |
| birman | 8" – 10″ | 20 – 25 cm | 15" – 18″ | 38 – 46 cm | 10 – 12 lb |
| bombay | 11" – 14" | 28 – 36 cm | 13" – 20" | 33 – 56 cm | 6 – 11 lb |
| british shorthair | 12" – 14" | 30 – 46 cm | 22" – 25" | 56 – 64 cm | 7 – 17 lb |
| burmese | 10" – 12" | 25 – 30 cm | 15" – 18" | 38 – 46 cm | 6 – 14 lb |
| chartreux | 9" – 11" | 23 – 28 cm | 15" – 18" | 38 – 46 cm | 9 – 11 lb |
| cornish rex | 8" – 12" | 20 – 30 cm | 12" – 17" | 30 – 43 cm | 5 – 10 lb |
| devon rex | 10" – 12" | 25 – 30 cm | 15" – 18" | 38 – 46 cm | 6 – 9 lb |
| egyptian mau | 8" – 10″ | 20 – 25 cm | 12" – 15" | 30 – 38 cm | 8 – 12 lb |
| european burmese | 10" – 12" | 25 – 30 cm | 15" – 18" | 38 – 46 cm | 6 – 10 lb |
| exotic shorthair | 10" – 12" | 25 – 30 cm | 16" – 19" | 41 – 48 cm | 10 – 12 lb |
| havana brown | 9" – 11″ | 23 – 28 cm | 12" – 15" | 30 – 38 cm | 8 – 10 lb |
| himalayan | 10" – 12" | 25 – 30 cm | 17" – 19" | 43 – 48 cm | 7 – 12 lb |
| japanese bobtail | 8" – 9" | 20 – 23 cm | 13" – 15" | 33 – 38 cm | 6 – 12 lb |
| javanese | 9" – 12" | 23 – 30 cm | 12" – 16" | 30 – 41 cm | 5 – 10 lb |
| korat | 10" – 12" | 25 – 30 cm | 15" – 18" | 38 – 46 cm | 6 – 10 lb |
| laperm | 6" – 10" | 15 – 25 cm | 12" – 16" | 30 – 41 cm | 6 – 10 lb |
| maine coon | 10" – 16″ | 25 – 40 cm | 19" – 32" | 48 – 81 cm | 15 – 25 lb |
| manx | 10" – 12" | 25 – 30 cm | 14" – 16" | 36 – 41 cm | 8 – 12 lb |
| norwegian forest cat | 9" – 12" | 23 – 30 cm | 12" – 18" | 30 – 46 cm | 13 – 20 lb |
| ocicat | 9" – 11" | 23 – 28 cm | 13" – 16" | 33 – 41 cm | 6 – 14 lb |
| oriental | 8" – 10″ | 20 – 25 cm | 12" – 15" | 30 – 38 cm | 5 – 10 lb |
| oriental shorthair | 9" – 11″ | 23 – 28 cm | 11" – 14" | 28 – 36 cm | 9 – 14 lb |
| persian | 8" – 10″ | 20 – 25 cm | 14.5" – 17.5" | 37 – 44 cm | 7 – 12 lb |
| peterbald | 8" – 12" | 20 – 30 cm | 12" – 17" | 30 – 43 cm | 6 – 12 lb |
| pixie-bob | 9" – 12" | 23 – 30 cm | 13" – 17" | 33 – 43 cm | 8 – 14 lb |
| ragamuffin | 9" – 12" | 23 – 28 cm | 12" – 18" | 30 – 46 cm | 8 – 20 lb |
| ragdoll | 9" – 11″ | 23 – 28 cm | 17" – 21" | 43 – 53 cm | 8 – 20 lb |
| russian blue | 8″ – 10″ | 20 – 25 cm | 15″ – 18″ | 38 – 46 cm | 8 – 15 lb |
| savannah | 13" – 15" | 33 – 38 cm | 20" – 22" | 51 – 56 cm | 12 – 25 lb |
| scottish fold | 8" – 10″ | 20 – 25 cm | 14" – 16" | 36 – 41 cm | 9 – 13 lb |
| selkirk rex | 9" – 11" | 23 – 28 cm | 12" – 15" | 30 – 38 cm | 9 – 16 lb |
| siamese | 8" – 10″ | 20 – 25 cm | 11.5" – 14" | 29 – 36 cm | 8 – 10 lb |
| siberian or siberian forest cat | 9" – 11″ | 23 – 28 cm | 15" – 18" | 38 – 46 cm | 10 – 20 lb |
| singapura | 6" – 8" | 15 – 20 cm | 9" – 12" | 23 – 30 cm | 4 – 8 lb |
| somali | 8" – 10″ | 20 – 25 cm | 11" – 14" | 28 – 36 cm | 9 – 12 lb |
| sphynx | 8" – 10" | 20 – 25 cm | 13" – 15" | 33 – 38 cm | 10 – 12 lb |
| tonkinese | 8" – 10″ | 20 – 25 cm | 12" – 15" | 30 – 38 cm | 6 – 12 lb |
| toyger | 9" – 13" | 23 – 33 cm | 20" – 24" | 51 – 61 cm | 10 – 15 lb |
| turkish angora | 8" – 10″ | 20 – 25 cm | 14" – 16" | 36 – 41 cm | 5 – 10 lb |
| turkish van | 9" – 11″ | 23 – 28 cm | 14" – 17" | 36 – 43 cm | 7 – 18 lb |
Cat size chart by weight (kittens)
| | | | | | | | | |
| --- | --- | --- | --- | --- | --- | --- | --- | --- |
| Age | in ounces |   | in pounds |   | in grams |   | in kg |   |
|   | Low | High | Low | High | Low | High | Low | High |
| 0-6 days | 3 | 7 |   |   | 85.02 | 198.38 |   |   |
| 1 week | 5 | 10 |   |   | 141.7 | 283.4 |   |   |
| 2 weeks | 8 | 14 |   |   | 226.72 | 396.76 |   |   |
| 3 weeks | 10 | 17.6 |   |   | 283.4 | 498.784 |   |   |
| 4 weeks | 12 | 20.8 |   |   | 340.08 | 589.472 |   |   |
| 5 weeks | 14 | 28.8 |   |   | 396.76 | 816.192 |   |   |
| 6 weeks | 16 | 32 | 1 | 2 |   |   | 0.45 | 0.9 |
| 7 weeks |   |   | 1.2 | 2.3 |   |   | 0.54 | 1.035 |
| 8 weeks |   |   | 1.4 | 2.6 |   |   | 0.63 | 1.17 |
| 9 weeks |   |   | 1.6 | 2.9 |   |   | 0.72 | 1.305 |
| 10 weeks |   |   | 1.8 | 3.1 |   |   | 0.81 | 1.395 |
| 11 weeks |   |   | 2 | 3.3 |   |   | 0.9 | 1.485 |
| 12 weeks |   |   | 2.2 | 4 |   |   | 0.99 | 1.8 |
| 16 weeks |   |   | 4 | 5.5 |   |   | 1.8 | 2.475 |
 Cat size chart (chest vs neck and belly)
Chest
 
Belly
 
Neck
 
l1
 
l2
 
l3
 
l4
 
l5
 
cm
in
cm
in
cm
in
cm
in
cm
in
cm
in
cm
in
cm
in
25.4
10
27.94
11
22
8.7
20
8
23
9
25.5
10
28
11
30.5
12
27.94
11
30.48
12
23
9
25.5
10
28
11
 
12
33
13
35.5
14
30.48
12
33.02
13
23
9
28
11
 
12
33
13
35.5
14
38
15
33.02
13
35.56
14
23
9
30.5
12
33
13
35.5
14
38
15
40.5
16
35.56
14
38.1
15
24
9.5
33
13
35.5
14
38
15
40.5
16
43
17
38.1
15
40.64
16
24
9.5
40.64
16
43.18
17
24
9.5
43.18
17
45.72
18
24
9.5
35.5
14
38
15
40.5
16
43
17
45.5
18
45.72
18
48.26
19
24
9.5
48.26
19
50.8
20
24
9.5
Learn more about the cat growth process (video)
Picture in this post is by Alexander London on Unsplash