Lamp Shade Size Guide – What size lampshade do I need?
This post was last updated on September 4th, 2023 at 11:27 am
Traditionally, the shade should be twice as wide as the lamp base and one-third the lamp's total height. The lampshade's height should be about half that of the lamp's base. Measure your lamp base's height first, then divide it by two. For instance, if the total size of your lamp base is 25, your shade should be approximately 12.5 inches high. A lamp shade size guide chart will help you find the correct size. How big should a typical lampshade be?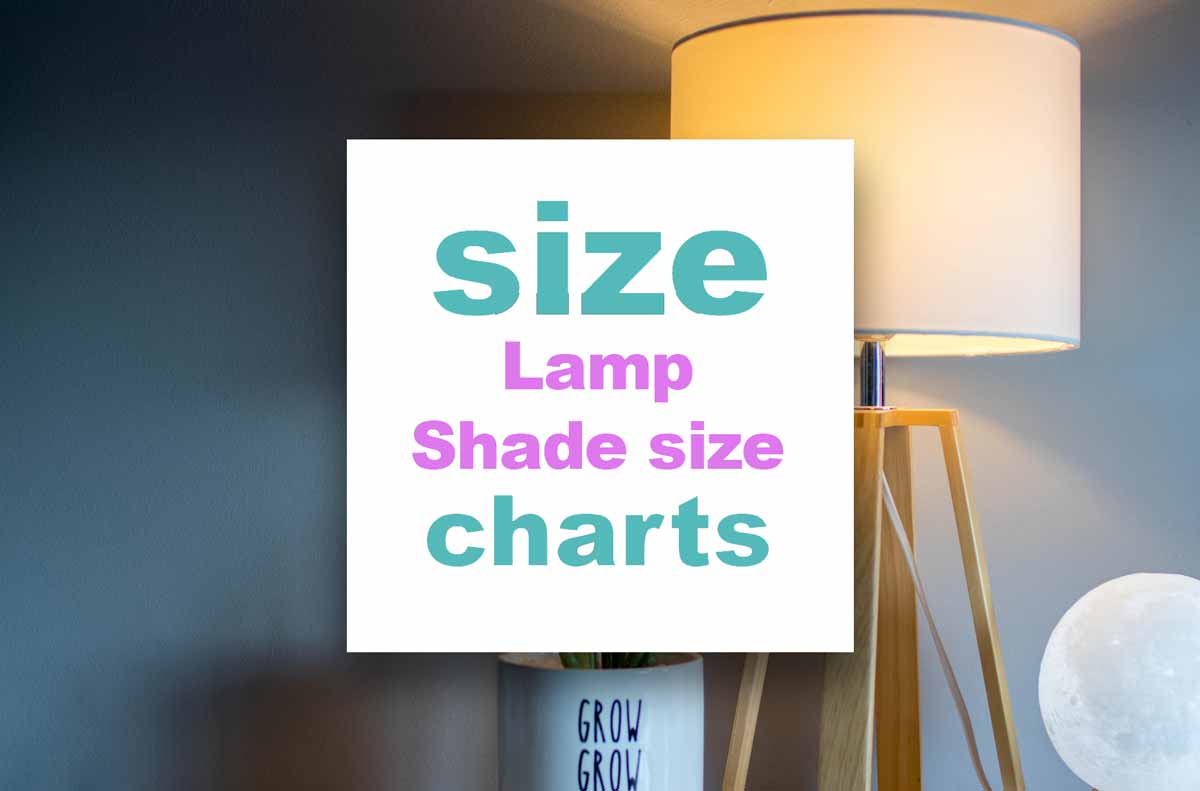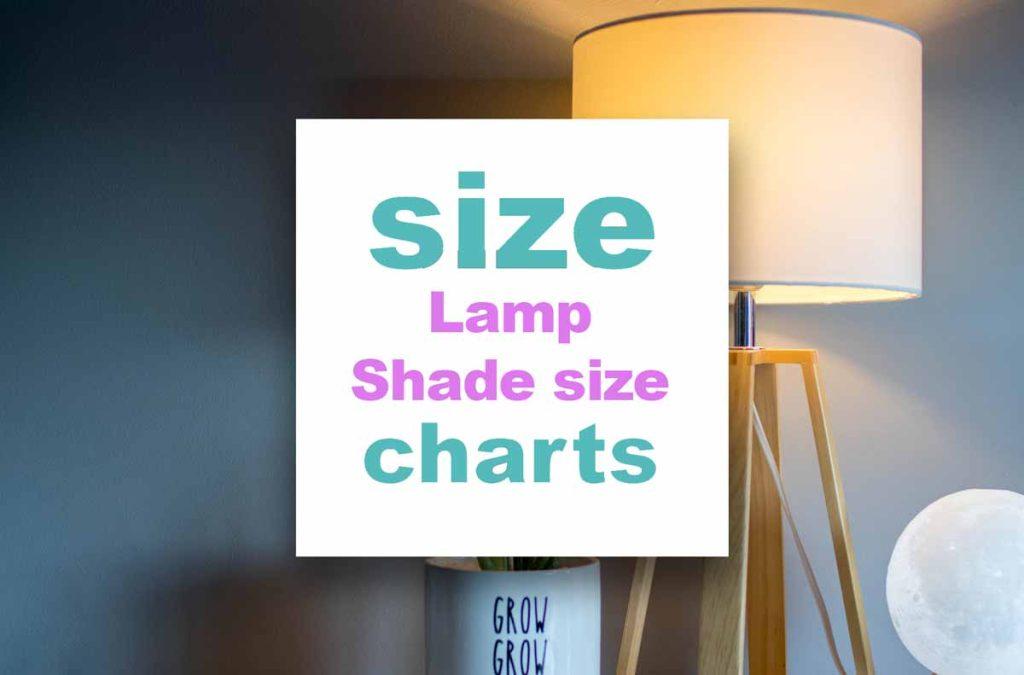 A lampshade benefits you by adding aesthetic value to the room and serves the functional purpose of acting as a shield to the direct light from the bulb in a lamp. Lampshades can work on individual light bulbs or even on chandeliers. Depending on how much light you need, lampshades can be customized to give you exactly that range.
A Standard Lamp Shade is between 40 (15,7 inches) and 50 cm (19,7″) wide is required if your lamp is a standard size.

L. Edison
Looking for Light Bulb Base sizes? Check here
Jump immediately to the FAQ section of this page.
Lamp Shade Size chart table of content
What Is the Use of a Lamp Shade
A lampshade is a decorative cover designed to diffuse or redirect the light from a bulb or a flame, making it bearable to the eye level. Lampshades can be made from various materials such as fabric, glass (glass lampshades), stone, or even paper, the most common being fabric.
The benefits of lampshades cannot be overemphasized, which is why they are popular in homes.
Lamp Shade Size Guide : How do I Choose Lampshade Sizes?
Choosing the right size lampshade (lampshade selection) can be such a headache, especially if you do not have the lampshade size guide chart with you. Well, your ultimate lamp shade selection depends on what purpose you want the lampshade to serve.
Use this chart as a guide.

The separation between Shade and Bulb


Maximum Wattage
INCHES
CM
2
5.1
25
3
7.6
75
4
10.2
125
5
12.7
175
6
15.2
122
Translucent shades of paper or sheer material are the best for reading as they provide ambient illumination. Opaque shades made of heavy fabric that match your pieces of furniture are ideal for setting a specific mood, especially in the bedroom or dining areas. If you need to redirect light in a specific direction, go for a laminated card or a thick parchment kind of lampshade.
Lampshade size guide chart and measurements
Do you want your house to scream fashion or class when it comes to lighting but do not know what type and size of lamp shades to settle for that look? The lampshade size chart guide holds your hand to it.
A professional size chart helps you to comfortably check, choose and decide on the perfect shade for your house space without making mistakes. Lampshade varieties range from plain design to playful and colorful ones.
A lampshade size chart is a tool to help you shop for the right size and shape of your lampshade, depending on factors such as your preference, room design, the purpose of the shade, etc.
Lamp Shade Measurements: How do I take the correct lamp shade measurements?
In order to get a quality lampshade, you should have the required shade size measurements prior to purchase. Here is a guide on how to go about taking the most critical measurements.
1. How to measure shade height
Depending on the type of lampshade, always measure from the top to the bottom. You can also measure from the bottom edge to the top especially if the lampshade is slanted. How high a lampshade will be, depends on the lamp height. Do not forget to measure the harp height as well.
2. How to measure the top diameter shade
Place the measuring tape across the lampshade top, then measure from one edge to another on the widest part of the top closest to the center. For rectangular shades, measure the width on the top from one corner to the other.
3. How to measure the bottom diameter
As you did with the top shade diameter, measure from one bottom edge to the other. The bottom measurements should be the same as the top measurements for square shades.
4. How to measure slant
To find the length of the slant, measure from the top edge of the lampshade to the bottom edge. A square size shade does not have a slant length.
Ceiling lamp shade size guide
The below image explained how you determining the size of your Ceiling Lampshade (in meters/Centimeters)
The length multiplied by the width of your room is the diameter of your standard ceiling lamp shade (in inches) for that specific room
Floor Lamp Shade Size guide
How tall should the shade of a floor lamp be?
For floor lamps, the shade's height should range between 30% and 50% of the lamp base's height. For instance, a 60-inch-high floor lamp base should have a lampshade between 18 and 30 inches tall.
Choosing Lamp Shades For Various Uses
Different shades are suitable for various places, and so you need to understand the key things to look at when choosing which shade should be used where. This is how to choose the right lamp shades for ceiling, table lamps, and floor lamps (floor lamp shade).
1. How to choose a shade for ceiling light
One of the most significant aspects to consider when choosing a ceiling shade is the drop length of the light. This can be achieved by measuring the light fitting then adding this to the drop height for the new lampshade. 
Remember one of the golden rules is to leave a reasonable space from the bottom. This space should be around 7 feet to allow for comfortable passing underneath the lampshade.
Glass (glass shade) makes the best lampshade for a reflective surface of the living room ceiling, while black shades are perfect for the bedroom ceiling. Go for fabrics such as cotton or linen for a softer shade. In the living room ceiling, glass makes the best lampshade for a reflective surface while black shades are perfect for the bedroom ceiling. For a softer shade go for fabrics such as cotton or linen.
2. How to choose a shade for table lamps
Generally, the size of the lampshade should be half of the lamp base height. For table lamp shades, take the base height measurements then divide them into two.
Please do not choose a very small shade for the table as it can bring the shade too close to the light source thus making it unsafe due to the emission of too much heat especially from a fluorescent bulb.
A marble or translucent hard-back shade is the most ideal for a dining table shade surface or a breakfast nook. The hardback shade is equally easy to find.
3. How to choose a shade for floor lamps
According to the rule of thumb when choosing lampshades, a floor shade should be 18 inches or more at the diameter of the base. The measurements give a realistic proportion to the lamp base.
A fabric or paper lampshade is the best fit for a floor lamp as compared to a glass lamp shade due to falls.
Choosing Designs and Colors
Here is the fun bit we all love! Do you need a replacement lamp shade (replacement shade) shade or you are totally green to lampshades?
Design
When choosing the right lampshade shape for modern homes, you need to consider aspects such as the design theme and shade styles based on the position where you will place the lamp e.g where the lamp socket is placed, the size of the room, and the lamp base. Always match the shape of the lamp base with the shade in order to achieve that cohesive look. For example, a square lamp base (square base) should go with a square lamp shade.
Circular lampshades are the most popular type but if you have limited space, then a square or rectangular shade (rectangle shade) comes in handy as compared to rounded shades. The good thing about square or rectangular lampshades is their flexibility in terms of placement, which makes it possible to place them against a wall or a mantelpiece.
Colors
Color brings life to items; this is the same with lampshades. Lampshades are one of the greatest ways to introduce a dash of color in a room, and there are popular colors to choose from. If you want to make a bold statement, go for pleated fabric bright-colored lampshades. They create that flamboyant look without necessarily breaking the bank. For that perfect lampshade with a cozy but cool look, go for a translucent shade to provide that soothing look.
Dull colors are recommended in bedrooms as they diffuse the light thus creating a somber mood for resting. However, when everything is said and done, it all narrows down to personal preference and self-satisfaction.
Remember that bright colors will always look good in the living room and darker colors e.g a navy or a beige lamp shade will look best in sleeping spaces for ambient light. If you are conscious about the environment then of course green lampshades are your type.
Frequently Asked Questions (FAQ)
How do I know my Lamp shade size?
To determine the top diameter, run a measuring tape from edge to edge and as nearly in the middle as you can. Note this measurement down. That's the diameter of the Lamp shade. To determine the top measurement of a square lampshade, measure it along its width from corner to corner.
How big is a standard lamp shade?
A Lamp shade that is between 40 (15,7 inches) and 50 cm (19,7″) wide is required if your lamp is a standard size. Anything between 30 and 40 cm may fit better if your standard lamp is smaller (like our Nayland Adjustable Reading Lamp).
How can you tell what size lampshade a certain light requires?
The lamp shade should be one-third of the whole height of the lamp and twice as wide as the base. So the shade should be at least 12 inches wide for a lamp base that is 6 inches broad. The shade should also be 8 inches tall if the lamp's overall height (including the bulb and harp) is 24 inches.
Identifying Fitters for Lampshades
A lampshade fitter is a portion of the lampshade holder where glass lampshades make physical contact with the lamp. Lampshade holders come in assorted fitter sizes.
There are several types of fitters which include:
1. Spider fitters
The spider fitter is the most common type which serves mostly on tables and floor lamps. It comes in two fits, the standard washer, and the cut washer.
2. Slip Uno fitters
The Uno fitter is specially designed to attach to the socket below the light bulb For pendants it comes when threaded to facilitate hanging and nonthreaded for table lamps.
3. Clip-on fitters
This type comes in two varieties: one is specifically made for candle bulbs for accent lighting, while the other one is large for incandescent bulbs. Bulb clip fitters are made in a way that it clips directly into the bulb with no extra hardware.
4. Reflector bowl spider fitters
The reflector bowl spider fitters  (reflector spider fitter) have notches or spider arms that fit onto glass bowls, thus clamping the lampshade perfectly into position. They are mostly suited for a floor Lamp.
Lamp Shade Size Explained (video)
Common Lamp Shade Fabrics and Shapes
You have already taken the correct measurements of your lampshade, now what about the type of fabric and shape? Fabrics are an essential consideration that you need to look at when shopping for that lampshade. Just like clothes, we are all attracted to different fabrics for various reasons,  and this is exactly what you are likely to experience as you look for lampshades.
Fabrics
We understand that many people might not be so experienced with fabric options and you might thus be at a loss of which fabric type to go with. Luckily there are various types of common lampshade fabrics to choose from, including the following;
1. Linen
Light linen is a beautiful fabric. But of course, linen is known for one obvious disadvantage: the tendency to wrinkle quite a lot. But it is still a fabulous fabric especially if you can find a way to control the wrinkles and fortunately, there are so many resources online on this.
2. Silk
Silk drapes quite well and does not wrinkle much. If you understand the field of fabrics well, then you might already know that silk is associated with a unique class of taste, the perfect fabric selection to set you apart and bring that unique feeling to your house.
3. Lightweight cotton
Cotton is like the mother of all fabrics that never disappoint. This is the type of fabric that you can choose without worrying whether or not you have made the right decision.  It blends well with most surroundings besides having those calm features that send a bold statement of pure contentment. Above all, cotton is easy to apply to the styrene hence making it perfect for beginners.
Avoid synthetic fibers as they are not resistant to the bulbs' heat. You don't want to keep doing replacements every now and then due to damages as a result of too much heat.
Shapes
The most ideal shape of shade depends solely on the shape of your room or table. Lamp Shades come in four different shapes, including:
Empire and straight empire shades, which look like a cone.
Square shaped, which looks like an empire but with a rectangular shape at the bottom.
Drum, with a cylindrical shape.
Oval, which is round in shape.
Be keen as well to check on things like brightness levels, drop size, fabric shade descriptions, shade style, etc.
Conclusion
Lampshades accentuate your space and break down that monotony in your room without costing you an arm and a leg.  You want to get a perfect size, which is best done with a lampshade size chart while shopping for one. This will help you avoid regrets and unnecessary trials. Important to note that lampshades should be accessorized with lamp harps as they are part of the functional pieces.
You can get beautiful lamp shades tips and in fact buy online but if you need a physical touch of customer service, then go to a retailer for that personalized shopping experience. You want a shade that provides convenience while ensuring you have adequate lighting for any occasion.  that We wish you the best of luck as you give that aesthetic feel to your spaces with the right size lampshades!
Picture in this lamp shade dimension guide is by James Orr on Unsplash
Other Related house size charts