Loveseat Size: small, medium, full
This post was last updated on December 30th, 2022 at 05:04 pm
Choosing the ideal loveseat size for your house is similar to choosing the perfect pair of shoes. Shoes are available in various sizes, colors, and designs.

You may also choose between a traditional style and a standout item or get a pair for regular use, as well as a pair for special events. However, nothing is most significant in choosing the ideal pair of shoes than its fit.

The same is true for a loveseat. It is a piece of furniture with many applications and styles, but the essential factor in choosing the right one for you is obtaining the one with a size that ideally fits your space.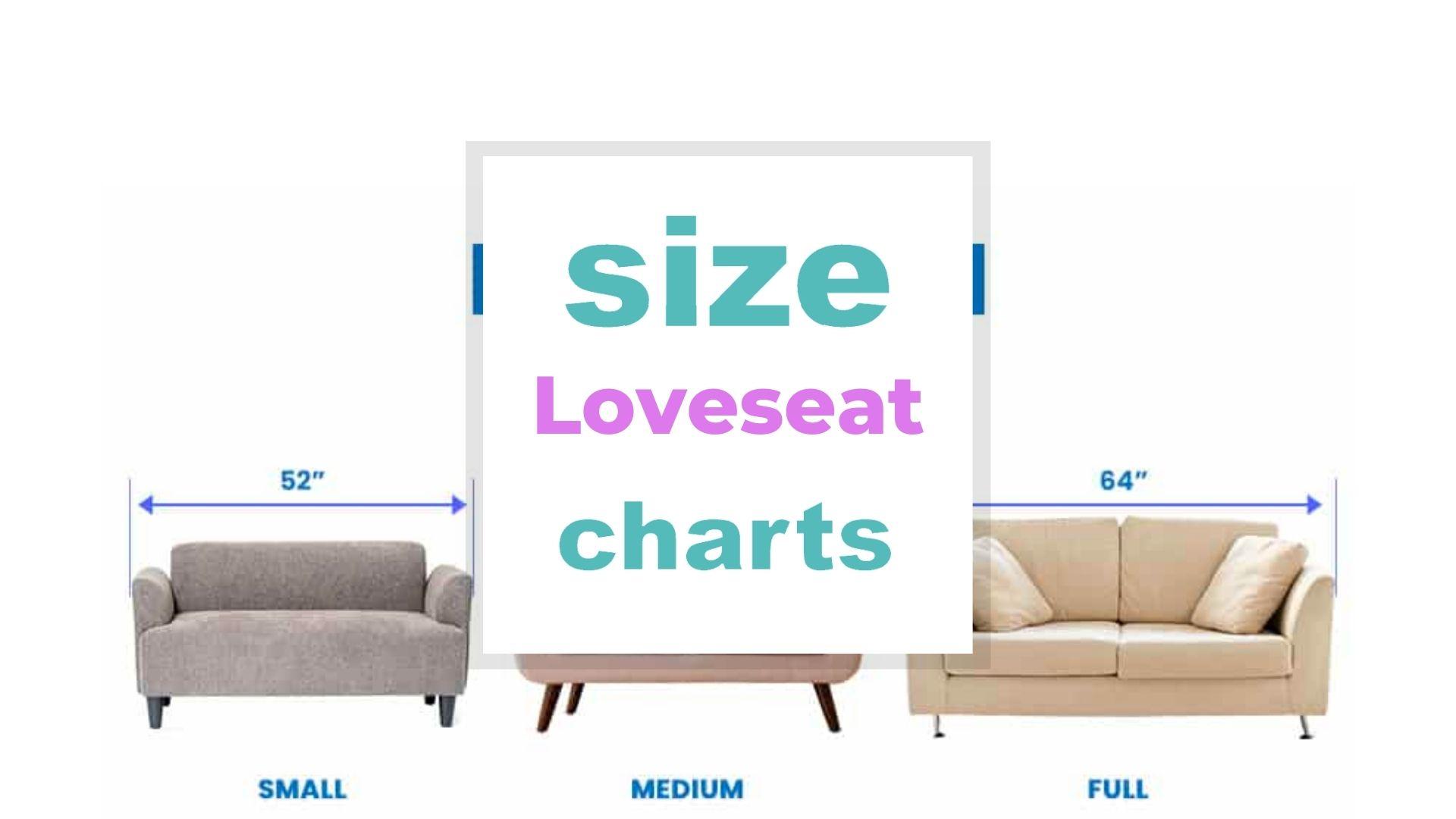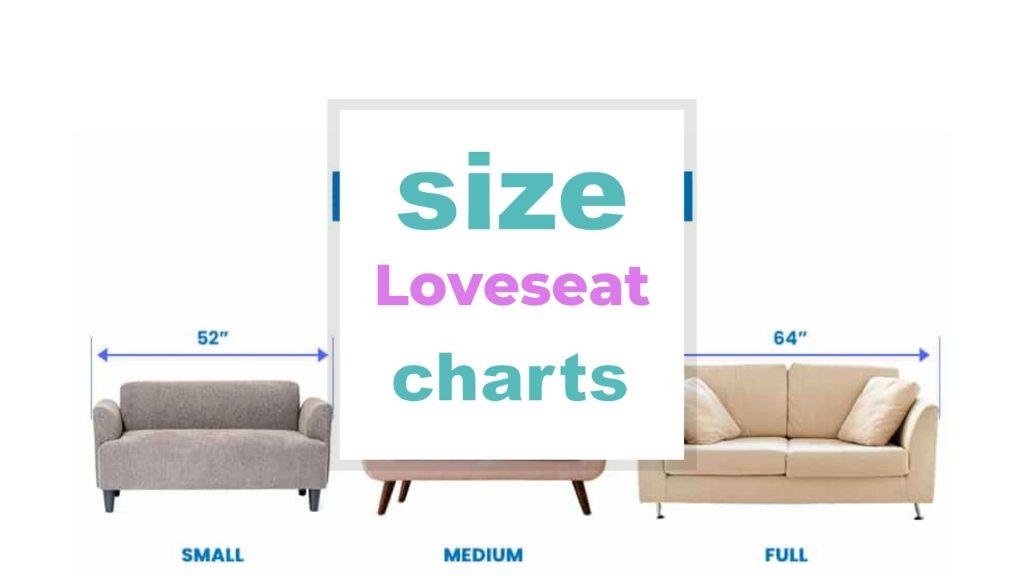 Why do many people prefer a loveseat to a couch?

Numerous individuals want a loveseat for their house since it is both practical and aesthetically pleasing. They are also an excellent way to add interest to typical sitting configurations in the living room and are frequently offered as part of a living room or couch set.

But unfortunately, most people find difficulty in choosing the right loveseat size. Nevertheless, you don't have to worry; we have created a comprehensive loveseat size chart to help you out. Explore further to learn more!
Jump right into the Frequently Asked Questions
Related: Rug Size for Living room use, compared to table and sofa size, Sofa Size and dimension guide for all kind of couches, Interior Doors Sizes: Minimum & standard dimensions, Window Sizes Chart and How to Measure window dimensions?
Loveseat Size Table of Contents
Loveseat Size Chart
Related: Sofa Sleeper Size & Dimensions: what is the size of a sofa bed?
Several individuals consider a loveseat as a little couch. However, these seats are available in many sizes: large, medium, standard, and compact loveseats.

To select the best loveseat for your room design, evaluate your favorite color and design, as well as the dimensions of your new loveseat, money to expense, and room size.
Furthermore, loveseats often allow up to two persons to sit securely. Nevertheless, a loveseat size is also available for a single person and larger settees for 3 or 4 people.

Loveseats come in various lengths, but do not base your decision on the specs. The form, design, and kind of cushion determines the seating space provided by each loveseat.

Here are various types of loveseats and their average arm-to-arm lengths:
Standard Loveseat Size
| | | | | | | |
| --- | --- | --- | --- | --- | --- | --- |
| Loveseat Type | Height (inches) | Height (cm) | Length (inches) | Length (cm) | Width (inches) | Width (cm) |
| Small standard loveseats | 22 | 55.88 | 32  | 81.28 | 52  | 132.08 |
| Medium loveseats | 24  | 60.96 | 36  | 91.44 | 58  | 147.32 |
| Full loveseats | 26  | 66.04 | 26  | 66.04 | 64 | 162.56 |
| Loveseat sofas | 28 | 71.12 | 48  | 121.92 | 71  | 180.34 |
| Compact twin-sized loveseats: | 16  | 40.64 | 32 | 81.28 | 45-51   | 114.3-129.54 |
| Loveseat Recliner | 28 |   | 48  |   | 60   | 152.4 |
Loveseat Size calculator
Enter the amount of people you need a Loveseat for and the result will be calculated
How Deep Is A Loveseat?
Related: Average Master Bedroom Size: How Big Is A Master Bedroom?
The width of a loveseat is accounted for when discussing loveseat depth. Regardless of the length of the loveseat, the depth will most likely vary from 76 to 91 cm (30 to 36 inches).

If you need additional space, choose a loveseat with a curved end. The width of the loveseat should be between 76 and 91 cm (30 and 36 inches wide). If you consider the depth of the loveseat cushion, it will often vary from 53 to 66 cm (21 to 26 inches).
What Is An Apartment-Sized Loveseat?
Related: Sofa Size and dimension guide for all kind of couches
If the loveseat dimensions are too big for your space, try the apartment loveseat size. These are suitable for smaller and older homes because they provide a traditional furniture feel but in a smaller size that enables them to pass down narrow hallways and not dominate smaller rooms.
Moreover, apartment-sized loveseats are accessible in sizes 30 inches deep and 58 inches broad and are made of durable material.

The apartment moves to retain the loveseat's design while reducing its size are having the back cushion smaller, enabling the item to be compact while maintaining a comfortable loveseat.
Learn more about Couch Vs. Loveseat (Video)
What's The Ideal Pillow Size For A Loveseat?
Related: Table Size Chart and Dimensions Guide by space and people
Incorporating a few versatile piece throw pillows into your comfortable loveseats will bring the perfect finish to your living area. Pillows for a loveseat should be 56 to 61 cm (22 to 24 inches) on either side.

You may also choose your own design, whether you like to opt for more blues and browns for a rustic cottage touch atmosphere, or you want to add sophistication with white and gold throw cushions made of polyurethane foam. 
How Do You Measure A Loveseat?
Related: Bed Size Chart – Measurements And Dimension for king, queen beds, Rug sizes and dimensions (with easy to use size-charts)
Aside from knowing the product details of a loveseat, you also need to make sure that it is fit your home. Whether you are replacing cushions or updating your living room, make sure you know how to get a loveseat's measurement. In any case, here's how to measure a loveseat.
Step 1: 
The first step is to measure the whole length of the couch. This is accomplished by getting the measurement of the chair from left to right.

You may take measurements from the leg bottom or the chair's arms, whichever is larger.
Step 2:
The depth of the loveseat will be measured next. This is accomplished by measuring the depth of the seat from front to back.

If your chair has a curving form, determine the depth from the tip up to the edge of the seat cushion.
Step 3:
The next step is to measure the height of the loveseat and its seat height; this is a simple process that measures from top to bottom, which is the floor space. When sizing for a loveseat's seat cover, 3 to 5 cm shorter can create a huge difference in breathability.
The procedure remains the same if you measure for a loveseat cushion. Moreover, utilizing a carpenter's measuring tape for precision is vital since miscalculations will result in a removable cover that is shorter or longer than the frame of the loveseat. 
What Additional Measures Should You Consider?
Related: Picture Frame Size for photos or art – standard and special sizes
The length and wide range distinguish a loveseat from a couch, but there are also additional measures and dimensions to consider while selecting one.

For instance, you want a convertible loveseat that will suit your coffee table for maximum relaxation. Some of these measurements will impact the level of comfort of the loveseat, while others will change the design.
Seat Depth
Seat depth is defined as the distance between the seat's front edge and the chair's rear edge or the front of the back cushions. Seat depths range from 20 to 24 inches on average.
However, sizes might differ. A more comprehensive seat depth typically indicates that the loveseat is more comfortable, allowing you more area to snuggle up and rest.
Seat depth on the smaller side is less comfy but may increase the design aspect, especially in spaces such as entryways.
Overall Depth
The overall seat depth of a loveseat is measured from the front to the back. Overall depth is often in the 32-40 inch range, with 35 inches becoming the standard depth.

This is an important parameter when determining what size fits your room.
Arm Height
The distance between the top of the seat cushion and the top of the loveseat arm is expressed in inches. Low arm height is 6 inches or less, while high arm height is 10 inches or taller. The ideal arm height is generally between 7-9 inches.

Arm heights have also a significant impact on both ease and elegance. Lower arm heights are unsuitable for reclining, so you could view them as a fashion statement in offices or lobbies rather than a location to lay back and chill.
Frequently Asked Questions
How big is a 2-seater loveseat?
If you want to have a loveseat for your living room or spare bedroom, a 2-seater loveseat is typically 20-28 inches in height, with a width ranging from 42-72 inches. It was named for the fact that it is a comfortable two-person loveseat.
How big is a loveseat vs. a couch?
A loveseat is a smaller version of a couch. A regular couch is typically for three or more persons, but a loveseat is for two, occasionally just one and a half-sized.

Standard couches are typically 84 inches long from armrest to armrest, while size loveseats range around 48 and 72 inches.
How wide is an average loveseat?
The width of an average loveseat may range between 48 and 72 inches. A narrow model must have room for two persons, with a minimum of 20 inches for each seat.

Armrests are frequently absent from these 48-inch broad loveseats. If the chair were shorter than 48 inches, it would immediately transform into an armchair.
What size is a large loveseat?
In terms of breadth, a large loveseat is the standard size of a loveseat that fits just between a couch and an armchair.

It must offer comfortable seating options to accommodate two individuals without forcing them to be too close together.
What is smaller than a loveseat size?
A chair-and-a-half is a smaller version of a loveseat. It is comfortable furniture with a cumbersome and lengthy name. A chair and a half are larger than a standard chair but smaller than a loveseat.

It may have a firm seat and back or a loose seat and back cushions. This versatile seat sofa may be used in various settings, such as a bedroom or small living room furniture.
What is the standard loveseat height?
Although the breadth of a loveseat cushion could differ, the height is typically the same. Most of the loveseats are 20 or 21 inches above the ground.

Meanwhile, a tiny twin-sized loveseat sits a little taller, around 28 inches high.
What should I do if I see product damage?
If you suspect a defective product or product breakdown, please discontinue use and notify a member of the Customer Service team or the firm to whom you placed your purchase.

Take videos or images of any defective products you discover. Also, retain all of the packagings that came with the product. This packing is necessary for filing a claim for damages.
Can I buy a customized loveseat size?
Whether you want a simple style loveseat with a variety of colors, a loveseat with ottomans, or removable armrests you can surely request a customized product that suits your preferences.

You just need to discuss how you want your loveseat furniture to be. Many loveseat manufacturers offer customizable design loveseat services that prioritize satisfaction for happy customers.
Conclusion
A loveseat comes in a variety of materials and designs. Prices are, of course, heavily influenced by these considerations. You may choose elegant loveseats that meet your requirements by determining the proportions of your rooms, a suitable pricing range, settling on a color palette, and a mattress cover.

Evaluating your rooms can tell you what loveseat size will fit inside the arrangement while leaving enough room for other furniture and decoration. 
Whether you are renovating or designing your bedroom or living room make sure to choose the best loveseat size that will perfectly fit in the room. If you have trouble finding a suitable loveseat size don't hesitate to leave a comment. We are happy to help you!
Picture in this post is by Ami Lisk on Unsplash
Related to Loveseat Size