Wheelchair Size Chart and Different Types
Wheelchairs of various types are available to meet the demands of patients, such as heavy-duty wheelchairs for the overweight, pediatric wheelchairs for children, as well as manual wheelchairs (skip straight to the wheelchair size charts).

What is a wheelchair, and why is wheelchair size important? 

A wheelchair is a medical tool that enables a user who is unable to move properly to do so with the help of a health assistant. Several enterprises produce various wheelchair sizes and kinds, because of increased mobility concerns and it became one of the most helpful technology nowadays.

Wheelchairs may be used by multiple individuals, especially those with mobility challenges and those unable to walk correctly.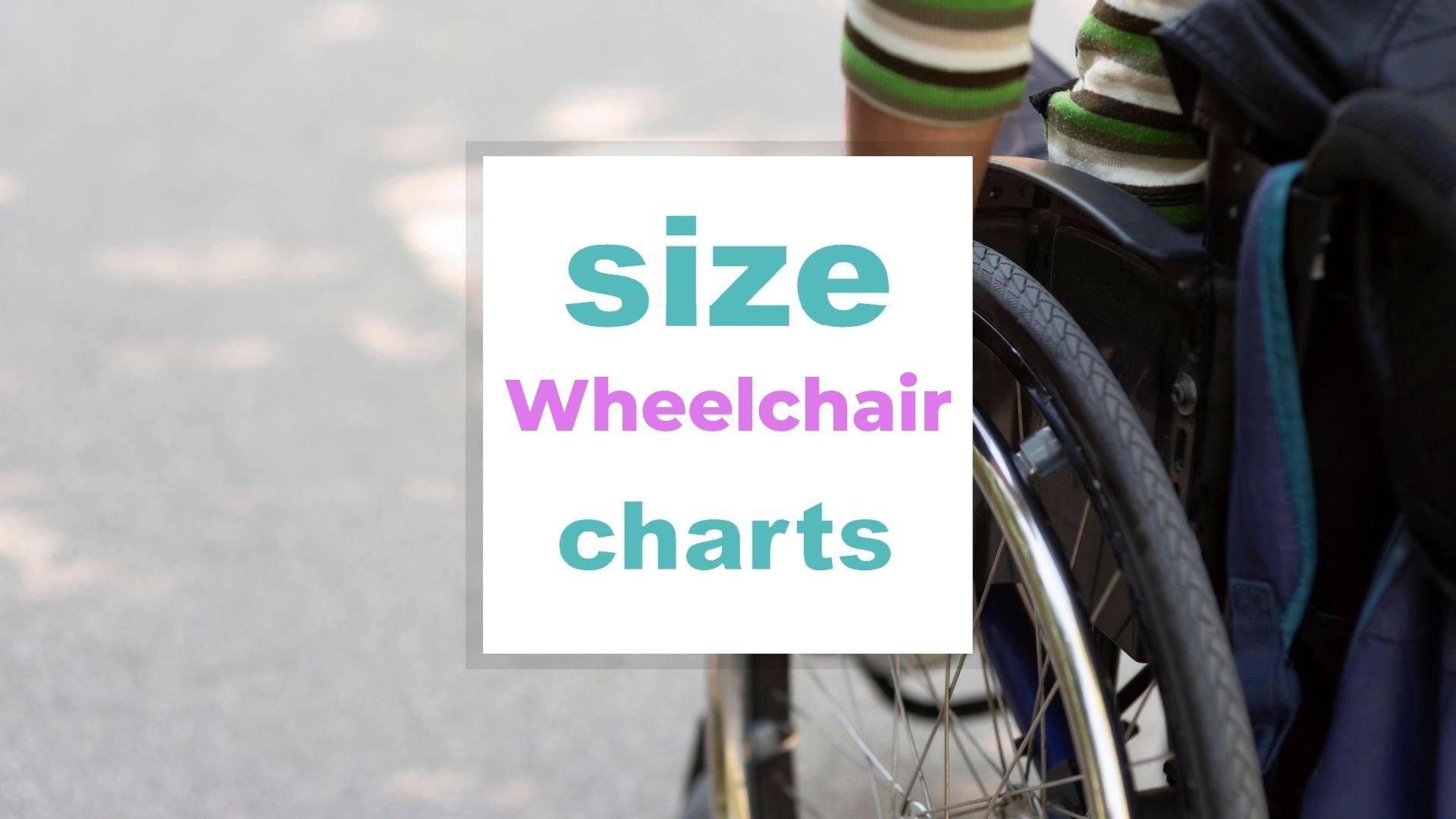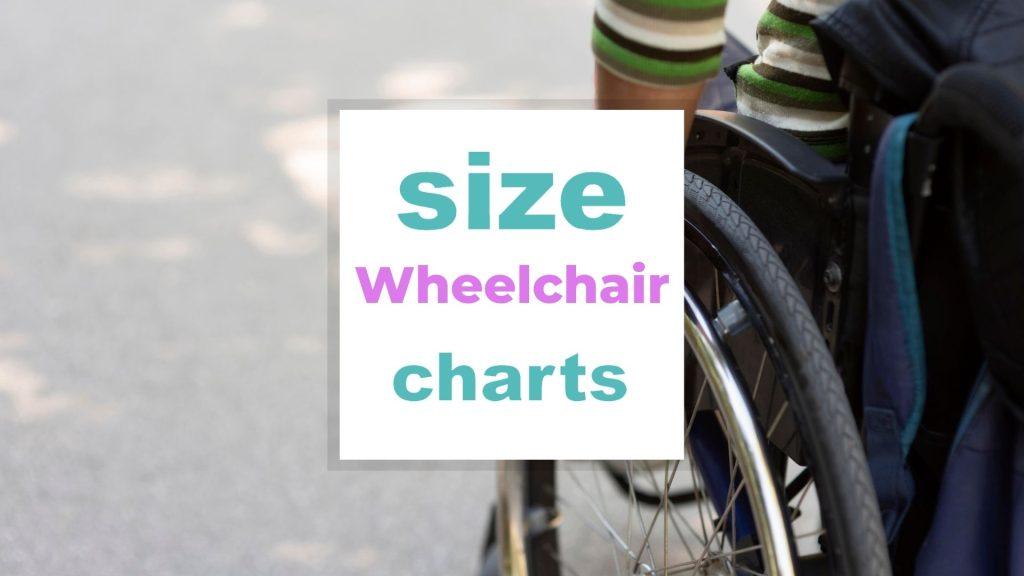 Unfortunately, having a wheelchair delivered to your home might generate a lot of issues. You may have to make changes around the home to allow the wheelchair to fit through the door and freely explore the house.
So before buying a wheelchair various requirements must be met such as your mobility, the build of the wheelchair user, the age of the user, and the location where it will most likely be used. If you're seeking a wheelchair size that fits you, keep reading this article! We've prepared a list of sizes for different wheelchairs on the market.
Jump right into the Frequently Asked Questions
Related: Ski pole size advice with easy to use size charts, Golf Clubs Size Chart
Wheelchair Size Table of Contents
Standard Wheelchair Size Chart
Related: Walking Stick Size and Fitting Guide: average sizes & types
Overall widths and other measurements differ throughout various types of wheelchairs. Anybody considering buying a wheelchair must consider fundamental parameters such as seat size, body measurements, and overall width.
So start by scoping out the terrain. Do this by determining the tiniest and narrowest entrances, hallways, lifts, or anything else that will become a part of your day. In most homes, access is restricted by a bathroom door or a tiny corridor. Heavy users on broader seats may also encounter difficulties with every movement. 
Moreover, a standard wheelchair is the most common kind of wheelchair. This wheelchair has large back wheels and tiny rear wheels, making it appropriate and self-propelling. The wheelchair has push handles that make it easier for caretakers and attendants to operate. 

A regular standard wheelchair is 24 inches in breadth, 36 inches in height, and  42 x 24 x 36 inches in length. Below is the size chart of various standard wheelchair product types.
| | | |
| --- | --- | --- |
| Wheelchair Parts Measurement | Inches | Centimeters |
| Width | 24 inches | 60.96 cm |
| Length | 42 inches | 106.68 cm |
| Height | 36 inches | 91.44 cm |
| Back Height | 16- 16.5 inches | 40.64 cm- 41.91 cm |
| Seat Height | 19.5-20.5 | 49.53 cm- 52.07 cm |
| Seat Widths | 16- 20 inches | 40.64 cm- 50.8 cm |
| Seat Depths | 16 inches | 40.64 cm |
| Armrest Height | 9 inches above the chair seat | 22.86 cm above the chair seat |
Width Of Different Types Of Wheelchair
Related: Tempur-Pedic Mattress Size Chart
| | | |
| --- | --- | --- |
| Wheelchair Type | Inches | Centimeters |
| Manual | 26 inches | 66.04 cm |
| Electrical Wheelchair | 24-25 inches  | 60.96 cm- 63.5 cm |
| Narrow Wheelchair | 21.5 inches | 54.61 cm |
| Foldable Wheelchair | 23-25 inches | 58.42 cm- 63.5 cm |
| Heavy-Duty Wheelchair | 32 inches | 81.28 cm |
| Sports Wheelchair | 24-27 inches | 60.96 cm-68.58 cm |
Average Size Of Pediatric Wheelchair
Related: Crocs at work Size Charts and Fitting
| | | |
| --- | --- | --- |
| Pediatric Wheelchair Parts Measurement | Inches | Centimeters |
| Back Height | 8-20 | 20.32-50.8 |
| Seat Height | 8-20 | 20.32-50.8 |
| Seat Widths | 10-16 | 25.4-40.64 |
| Seat Depths | 8-16 | 20.32-40.64 |
Different Types Of Wheelchairs
Related: Diabetic shoes Size Chart
Because of the many scenarios that may arise, wheelchairs have evolved into various styles for easy mobility wherever you are and whatever you are doing. 
Pediatric Wheelchair
A toddler wheelchair is another name for a pediatric wheelchair. These wheelchairs are only intended for youngsters and are typically light. In addition, the pediatric wheelchair is relatively tiny since it is built explicitly for youngsters and has a typical supporting and actual weight. 
Electric Wheelchairs
An electric or power wheelchair is well-known and among the most valuable mobility device available. Several users chose electric wheelchairs since they are easier to utilize and do not require a caretaker to push them.

Electric wheelchairs offer more functions and customizations than manual wheelchairs, but they are more costly.
Transport Wheelchair
A transport wheelchair is utilized in conjunction with a wheelchair helper. This wheelchair is intended for people who can independently use or push their wheelchairs but requires a caregiver. In addition, the transport wheelchair has tiny wheels, making it extremely portable and light ideal for tight entrances.
The wheelchair's size is set and cannot be changed, unlike the other wheelchairs. Its components, such as the armrest height, footrest, and seat height, are all set and have a constant weight. A standard transport wheelchair is 10 inches in breadth, 32 inches in height, and 27.75 x 11 x 31.25 inches in length.
Airplane Wheelchairs
Airport wheelchairs are built explicitly for aircraft types with minimal capacity. These wheelchairs are the greatest option for your movement in that little area. You cannot use your regular wheelchair to board the aircraft.

Ask the airport staff for a wheelchair, and they will give you one. The size of the wheelchair is essential in the aircraft type, but you will only be there for a short period; therefore, it is not necessary to know its weight.
Sports Wheelchair
These wheelchairs are often used manually and are built to withstand heavy weight and quick motions. There are several sports, each with its unique form of a wheelchair for its participants. Wheelchairs in basketball vary from those in hockey.

This range of wheelchairs sizes for sports is all distinct from each other, as well as the standard weight. Sport wheelchairs are simple and light to maneuver. Moreover, this wheelchair has the same dimensions as a regular wheelchair.
Heavy-Duty Wheelchair
Heavy-duty wheelchairs are available in both electric configurations. It is also known as a Bariatric wheelchair, which stands for heavyweight support. Heavy-duty wheelchairs also feature large wheels for reliability.

Heavy-duty wheelchairs are bigger than conventional wheelchairs. These wheelchairs can sustain weights ranging from 300 to 700 pounds, and they do it successfully thanks to their sturdy steel frames. This type of wheelchair is 37 x 33 x 13 inches.
Lightweight Wheelchairs
The lightweight wheelchairs are intended to allow optimum movement even without the assistance of a caretaker. The wheelchair is ideal for young people who want a lightweight wheelchair that is easy to push since it has a compact and robust construction.

It is about the size of a regular wheelchair, but its real weight and load-bearing capacity are lower than those of other wheelchairs.
How To Find Your Correct Wheelchair Size?
Related: Nike Medical Sneakers Size Chart
A wheelchair is a healthcare transportation equipment essential for many individuals unable to move correctly. Make sure you find the correct wheelchair size for you.
Get Your Measurements
Before looking at wheelchair specs, determine what the backrest height and overall measurement should be. Discovering your specific body dimensions and the measures of the regions you transit to regularly is required.

Begin by taking measurements of passageways, elevators, entrance width, and everything else you travel through daily. You wouldn't want a big chair in your entryway or elevators. Then, examine your body to ensure the chair is pleasant and offers enough assistance.
Determine The Type Of Wheelchair You Require
Decide on the wheelchair model you want to buy. There are bariatric wheelchairs, transit wheelchairs, normal wheelchairs, etc., each with its size to contemplate.
Research Wheelchair Measurements That Are Available
Take the most critical wheelchair measures, such as:
Back of Knee to Back of Heel – From where the knee is bent to the bottom of the foot, across the back of the calf.
End of Seat to Inside of Knee – Measured from where the bottom and the back connect to the inside of the thigh when the knee is bent.
Bottom of Seat to Shoulder – This measure is the same as the previous one but ends at the shoulder.
Seat to Top of Head – This is measured across the spine from the bottom of the user's bottom to the top of their head.
Hip Width – The width of the hips from the lap when the body is seated at an angle.
Shoulder Width – From shoulder to shoulder throughout the back or chest.
Obtain Precise Measurements
Related: Vegan and Sustainable sneakers: Size and fitting
You must take the exact measurements necessary to decide the optimal size. Incorrect measurements might lead to a wheelchair that does not suit you well, causing discomfort, awkward seating situations, and unsatisfactory wheelchair usage.
Always utilize a sturdy and not-too-fragile tape measure when collecting measures. Tape measures that flex easily will provide inaccurate measurements. Ensure you sit in a straight and upright stance with proper posture while taking measurements.
If you have difficulty getting up, seek help from wheelchair assistants and avoid taking measures while lying down since they will be inaccurate. Moreover, you can also have extra inches in measuring so if your width is incorrect and you are two inches too tiny, you will not have discomfort when sitting.
Learn more about how to measure for a wheelchair (video)
Frequently Asked Questions
How do I know what my wheelchair size is?
Due to the many wheelchairs available, you must choose the ideal one. To determine what wheelchair size to purchase, first measure your body and consider what kind would be most beneficial to you for comfortable and easy movement.
Can a wheelchair fit through a 24-inch door?
Most wheelchairs are 24 to 27 inches broad from wheel to wheel. Thus the entrance must be at least 32 inches wide for a wheelchair to function and travel smoothly.

If the entrance is in a corridor and needs the wheelchair to be reversed to pass through it, the door must be at least 36 inches wide.
How wide is a 22-inch wheelchair size?
Wheelchairs labeled 22 inches have a seat width of 22 inches and a seat depth of +16 inches as usual. Whenever it refers to manual wheelchairs, this is regarded very broadly.

The most frequent wheelchair seat width is 18 inches, with 16 seat depth inches chairs.
What is the minimum door width for a wheelchair?
The ADA handicap guidelines demand a minimal door width of 32 inches for wheelchair-user accessibility.

This is the minimum entrance width for wheelchair access and is considered a safe figure for most wheelchairs on the market.
What is the narrowest wheelchair size available?
The Drive Medical Lightweight Transport Chair is the thinnest wheelchair, measuring just 21 inches from both edges with a 17-inch seat width.

The Medline Excel K4 is the thinnest self-propelled wheelchair, measuring just 23.5 inches broad from wheel to wheel and 16 inches wide at the seat.
Conclusion
Several wheelchair kinds and sizes available on the market are suggested and required for various reasons. There are wheelchairs built to meet different demands and requirements. When evaluating a wheelchair, take your time and use firm, non-bending measuring equipment.

You may choose the right chair size by measuring the wheelchair's back height, footrest, seat breadth, and height. You can also choose wheelchairs with height adjustable, narrower seats, or full-length armrests. It all depends on how you want your wheelchair to be.
When done correctly, you may collect your measurement and buy an appropriate wheelchair to achieve the greatest fitting for you. Getting proper seat size can aid with stress-sore relief and general comfort. This will make utilizing your wheelchair more pleasant and stress-free for you for many coming years.

Get in touch with us if you have questions; we are ready to help you.
Picture in this post is by Hans Moearman on Unsplash
Related to Wheelchair Size