Tempur-Pedic Mattress Size Chart: All TempurPedic explained
This post was last updated on November 23rd, 2022 at 10:22 pm
Tempur-Pedic Mattresses: A Mattress like no other
Tempur Pedic is one of the world's most trusted and recognized mattress brands. Their mattress is designed to give you many years of comfortable rest with low mobility.  The premium memory foam mattress from Tempur-Pedic reduces pressure and consolidates into one long, lightweight mattress. Discover all in the Tempur-Pedic Mattress Size Chart. What are the dimensions of a king size Tempurpedic mattress and who is it best for? How deep is a tempurpedic mattress? Find out below.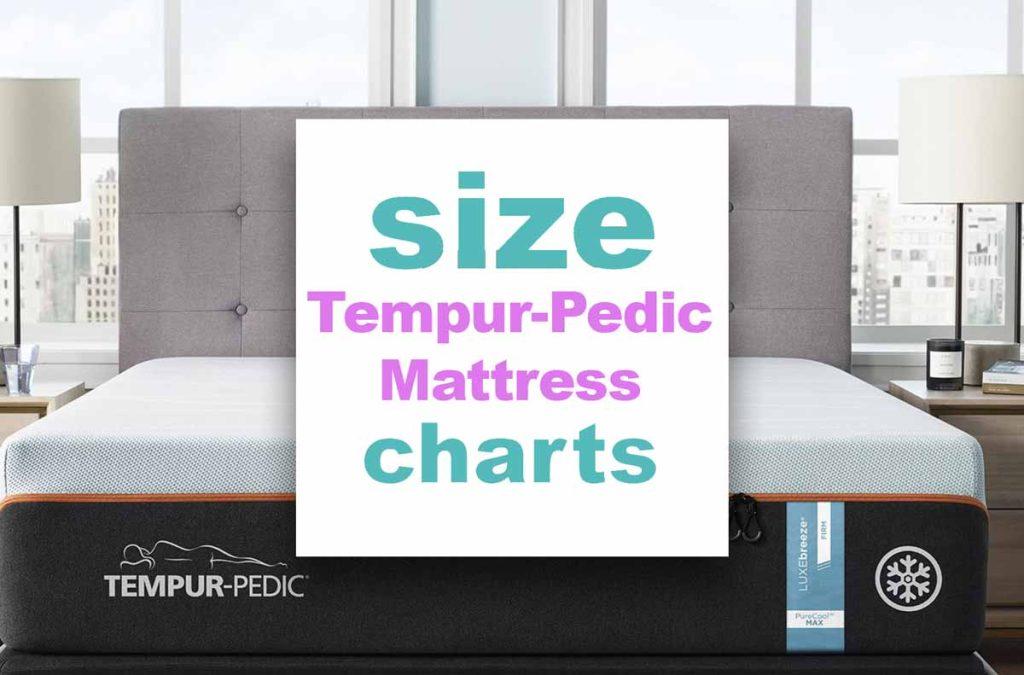 The patented technology provides a targeted expansion area for improved blood circulation, which reduces stress and eliminates soreness. Its mattress has Phase-change material for optimal surface cooling and has premium memory foam that conforms closely to alleviate pressure.
If you like mattresses that give you a truly body-conforming, pressure-relieving hug, the Tempur-Pedic brand, which has been around since 1992, is hard to beat. 

The Oprah Magazine
The full international Mattress Size Charts you can find here
The dimensions of your room for the best Mattress size is handled here
Bed sheet sizing and Pillow sizes check the links
TempurPedic Mattress Sizing Table of Content
How to Measure your Tempur-Pedic Mattress
What's the perfect Mattress Size? Start with measuring to define your preferred TempurPedic Mattress. The main reason is that choosing the right mattress size is mainly a choice based on personal preferences. Take the measurements of your room also into account when choosing your Tempur Mattress Size.
Time needed: 3 minutes.
Measure your mattress size in 6 simple steps, with extra steps to be sure you have chosen the perfect bed for your sleep
Make sure your mattress is free of blankets, sheets, and pillows

It is best to measure the correct size of your mattress when there is absolutely nothing on it. If there is a comfort layer on your mattress, feel free to leave it.

Measure the width of your mattress from left to right.

Mattresses can bend towards the ends, so be sure to measure from the ends of each side of the mattress.
Use a flexible ruler or tape measure when measuring. Write the measurements on a piece of paper so you don't forget them.

Measure the length of your mattress from the foot end to the head end.

When your mattress deflects at the head and foot end, be sure to measure the furthest point from each side.

Measure the height from the bottom to the top of the mattress

When you have a comfort layer on your mattress, feel free to leave it in your measurement. If not, only measure the height of the mattress.

Apply these measurements in the size tables below of this article

These measurements will help you choose the standard size of the mattress of your choice. The standard Tempur Mattress sizes are Twin, Twin XL, Full, Queen, King and California King

Extra: Measure the doorways and hallways in your home before purchasing a new mattress

This is a very important dimension because you have to be absolutely sure that the mattress of your dreams. Choose the width of your mattress so that it can pass through the lowest doorway in your house where you have to carry it
Pay attention to the width and height of stairs that you have to pass with the mattress

Extra: Measure the bed frame before you buy the mattress.

This sounds logical, but it is recommended that you also measure your bed frame. Or when you buy a separate bed frame, it is best to check the dimensions, as these can vary from different manufacturers.

Extra: Measure your room

Make sure there is enough space around the bed or mattress you plan to buy. This space is preferably provided along 3 sides of the mattress so that you can walk smoothly past your bed. We have written a separate article about this topic.
Remember that height/thickness varies depending on the model, so there is no universal thickness for each mattress size.
TempurPedic Mattress size chart
Factors like room size, how active a sleeper you are, and whether or not you share a bed influence which Tempur Pedic Mattresses sizes suit your needs.
Understanding the dimension and names will help you narrow down the options to help you find the right bed size to suit your specific needs.
TempurPedic Mattress sizes
Discover Tempur-Pedic range of mattresses by the comfort of reception meeting the requirements of each sleeper: flexible, medium (medium-firm), and firm. Whatever your sleeping needs and habits, you will find the quality mattress that suits you.
Tempur Pedic Mattress sizes
Tempur-Pedic Mattress dimensions in inches and centimers (Updated list)
Want to know the weight and thickness of TempurPedic mattresses?
These depend on the model, check them below
TempurPedic King Size Mattress Dimensions
A king-size bed and king mattress dimensions are 76 inches (6 feet, 4 inches) in width by 80 inches (6 feet, 8 inches) in length. The Width can be in 1 mattress, or in 2 Twin XL . This provides enough legroom for most people like couples that like more space. A tempur-Pedic King Mattress is also the favorite choice for couples sharing a bed with children and/or pets. Tempurpedic Mattress thickness varies from 10 inch to 12″
Get the best price for your King Size Tempurpedic Mattress on Tempurpedic.com
Tempur offers four ranges of mattresses, the comfort of which varies from one mattress to another. You will choose according to your preference for a flexible or firm, invigorating or reactive welcome.
Tempur-Pedic Mattress Thickness: Height of Tempur-Pedic Mattresses
The term "mattress thickness" is the same as "mattress height" and "mattress depth." The Mattress thickness is only a part of the overall height of your bed. When your mattress is on the floor it's the complete height of the bed.
Material Thickness is the vertical dimension of a mattress. (height of the mattress)
Get the best price for your TempurPedic Mattress on Tempurpedic.com
Where to buy Tempur-Pedic Mattress?
Recommended Retailers which offer Tempur-Pedic Mattress, selected by Size-Charts
Compare Tempur-Pedic Mattress Sizes
TempurPedic.com has a great comparing tool to find out your perfect type of mattress. With the above Tempur-Pedic Size Charts, you can buy the bed of your dreams.

Different regions, different Sizes
This page focused mainly on North American Sizes of Mattresses.
What size TempurPedic mattress is the right one?
The mattress size should always be the same as the box spring (or box springs), regardless of the mattress technology (foam, memory foam, latex or pocket springs). Choose a mattress and box spring of equal sizes for optimized bedding that will give you a royal sleep.
A mattress that is too large would not be fully maintained over its entire surface. Too large a box spring would be wasted space. These are two cases that we want to avoid for you. For full support, better efficiency, and optimum life, match the mattress and box spring sizes. Do you want to know the sizes most used in USA and what they generally correspond to?
What size TempurPedic mattress is the right one?
Tempur-Pedic Mattress size explained by Size
TempurPedic Twin Size — 38″ W X 74″ L Or Tempur-Pedic Mattress Single Size
All Tempur-Pedic Twin mattresses are a great choice for any individual. The standard measurements are 38″ x 74″, making it the perfect fit for small spaces and single sleepers. SHOP TWIN MATTRESSES
TempurPedic Twin XL size — 38″ x 80″
Need a little more legroom? The Twin XL is the mattress for you. Offering a few extra inches while still fitting in small spaces, the Tempur Pedic Twin XL is the standard for tall individuals. It measures 38″ x 80″. SHOP TWIN XL MATTRESSES
Tempur Pedic Full Size — 54″ x 75″
A classic mattress for guest rooms, the Full mattress is more spacious for single sleepers and can even accommodate two people. The measurements are 54″ x 75″, and it fits well in most standard rooms. SHOP FULL MATTRESSES
TempurPedic Queen Size Mattress — 60″ W X 80″ L
A popular choice for couples. This standard mattress measures 60″ x 80″. In addition to being comfortable and roomy, it is a cost-effective option compared to other larger sizes. It fits well in most bedrooms, but measure your space to be sure. SHOP QUEEN MATTRESSES
Tempur Pedic King Size — 76″ W X 80″ L
Whether you're a couple looking for more room to stretch out, need extra space for your pets, or want a bigger bed all for yourself (we won't tell), the King is the mattress for you. The standard measurements are 76″ x 80″, making it a good match for larger bedrooms. SHOP KING MATTRESSES
TempurPedic Cal King Size — 72″ W X 84″ L
If you or your partner are taller, the California King might be the best fit. Measuring 72″ x 84″, it adds extra length so your feet won't hang off the bed, while also being a little narrower than a standard King-size bed. SHOP CAL KING MATTRESSES.
Where to buy Tempur-Pedic Mattress?
Recommended Retailers which offer Tempur-Pedic Mattress, selected by Size-Charts
Explainer Video on TempurPedic Mattress sizes
Frequently asked questions (FAQ)
How do I know my Tempur mattress size?
There are two ways to determine the size of your mattress.
The first is to measure your bed and the second is to measure your mattress. It is recommended that the mattress be at least 10 cm or 4″ longer than the tallest person sleeping on it.
The dimensions of a mattress, are measured from head to foot for the length and from side to side for the width. As an extra, you can measure the depth or height of the mattress, from the bottom to the top.
What are the dimensions of a full size Tempur-Pedic mattress?
A Full size Tempur-Pedic mattress measuremes 54″ by 75″, with a thickness of 12″, weighing 55lbs. This is a classic mattress for guest rooms. A Full mattress offers more space for single sleepers and can even accommodate two people. A tempurpedic Full size mattress fits well in most standard rooms
How thick is a tempurpedic mattress?
Depending on the mattress, the Tempurpedic mattress models have a different height. Height and thickness is sometimes referred to "how deep is a tempurpedic mattress?"
TEMPUR-Cloud (Bed in a Bag) is 10 inches tall, followed by
TEMPUR-Adapt at 11 inches
TEMPUR-ProAdapt at 12 inches
TEMPUR-PRObreeze at 13 inches
TEMPUR-LuxeAdapt at 14 inches.
How wide is a king size tempurpedic Mattress?
Tempur-Pedic king mattresses are 76′′ by 80′′ in size. King mattresses are 16′′ wider than queen mattresses yet the same length.
What is the best size bed for couples?
The best mattress of your choice would be a King bed (75″ or 193 cm wide) for couples, which is the same for each person sleeping on their own Twin XL (37,5″ or 95cm wide) bed. The King bed offers each person 8" to 9″ inch of extra space than using a Queen sized bed (60″ inch or 152 cms wide)
The majority of couples choose mattress sizes 160×200 cm or 180×200 cm. With mattresses of this size, most couples have enough room for a comfortable, restful sleep without being bothered by their partner.
What are the most standard mattress sizes?
Twin or Single Mattress: 38″ X 75″ or 98 cm X 189 cm
Twin XL Mattress: 39″ x 80″ or 98 × 202 cm
Full or Double Mattress: 54″ x 75″ or 136 × 189 cm
Queen Mattress: 60″ x 80″ or 152 × 202 cm
King Mattress: 75″ x 80″ or 193 × 202 cm
California King: 72″ x 84″ or 183 × 212 cm
What measurements should I take into account in a mattress?
If you do not know which size to choose, we recommend that a mattress for individual use should not be less than 98cm or 38″ wide, for mattresses where there are two sleepers it should not be less than 152cm or 60″ wide. Regarding the length of the mattress, it is recommended that it be about 10cm or 4″ longer than the sleeper is. In the case of double beds, the tallest person will be taken as a reference.
Which mattress is the most suitable for me?
To know which mattress is the right one, you must know your preferences, take into account body weight, and above all, if you have any health problems for rest. We can find from the firmer (spring mattresses) to the softest (latex mattresses). The most recommended are memory foam mattresses, these have a medium firmness and offer good adaptability for the sleeper.
What are the most popular Mattress sizes?
Queen Mattress is the most popular mattress size. Because it is an ideal choice for many people. The 60 x 80-inch queen-sized bed offers enough space for anyone sleeping alone but is still generous enough for two people. Also spacious enough for tall people, and suitable for bedrooms of various shapes and sizes.
Is Tempur-Pedic a good mattress?
Yes, If you are looking for a specific mattress for back comfort, Saatva could be the one. Its hybrid internal spring mattress is made with layers of memory foam and coil springs for added durability and lumbar support. Each mattress is handcrafted in the USA and made from eco-friendly materials.
What is the height of a Tempur-Pedic mattress?
The Tempur-Pedic mattress is available in 10 to 15.5 inches. You can choose according to your requirements.
Do you need a box spring for a Tempur-Pedic mattress?
Tempur-Pedic Mattresses demand a solid base so no box spring foundation is advisable.
What type of mattress is best for back pain?
People appreciate Tempur-Pedic mattresses because they are well suited for pain relief and provide great sleeping comfort. Indeed, the muscles relax which allows the body to relax more easily. High-quality memory foam can also reduce pressure points in the hip, shoulder, and neck area. In addition, high-density foams adapt better to the contours of the body. They also promote optimal alignment of the spine and ensure that the back remains in a healthy and natural position while sleeping. Therefore, for those looking for a mattress that relieves pain, Tempur is a very attractive option.
Which type of mattress is best for couples?
Tempur-Pedic achieves good results in the field of vibration transfer because the memory foam has a very high density. If your partner moves around a lot at night, it will reduce the vibration of the mattress and you will be much less disturbed. It can greatly improve the quality of sleep for you and your partner.
How is the Tempur mattress different?
All conventional mattresses (spring, water mattress, foam) have one characteristic in common: the user must adapt to these mattresses. With Tempur®, the mattress adapts perfectly to your morphology.
Can I try the Tempur mattress out before I decide to buy it?
Yes, you have the option to try a Tempur mattress for 100 nights. We're sure you'll love your new mattress, but if you want to change your mind, just contact Tempur and they'll exchange it.
Tempur-Pedic mattresses have removable covers. How can I clean them?
One of the benefits of owning a Tempur Pedic mattress is that all of our models come with removable washable covers. Therefore, You can remove the cover from your mattress with the help of the zipper and machine wash it at 60 °. Tempur Pedic Elite and Luxe models have a QuickRefresh cover, just unzip the upper part you sleep on and wash it. When washing your cover, it is important that you always follow the washing instructions, which can be found on a label sewn inside. If you would like to purchase a replacement cover for your mattress, please visit Tempur's shop on Amazon for a quote.
The Best Tempur-Pedic Mattresses
It is important to take into consideration all the options when buying a new mattress, indeed to change your bedding the future mattress must meet all your expectations in terms of composition, firmness, size, and price.
Given the high price of Tempur-pedic mattresses, it is better than the latter to fully meet your expectations in terms of comfort and support. Like mattresses from other brands, the Tempur mattress must be adapted to your sleeping position, your possible back or neck pain, whether you sleep as a couple or not.
Recommended Retailers which offer Tempur-Pedic Mattress, selected by Size-Charts
About Tempur-Pedic Mattress
NASA developed the Tempur-Pedic material in the 1970s to improve comfort and support for astronauts during take-off. Their goal: to redistribute weight and pressure evenly. The Tempur material was originally designed to cushion and support astronauts during takeoff during space travel. Tempur has capitalized on this technology to enrich it for the benefit of sleep comfort.
The Tempur sleep experts have thus designed an exclusive and unique material that goes even further than memory foam. Tempur-PedicMemory foam mattresses have since been revolutionized by the Tempur innovation that has transformed the sleep of all Tempur-Pedicmattress holders around the world. Tempur-Pedicmattresses relieve pressure points and limit nocturnal movements for evermore peaceful nights. Tempur-Pedic mattresses adapt to your body while you sleep, providing you with dreamy comfort and optimal support throughout the night.
Tempur-Pedic Technology
Tempur-Pedic mattresses are part of the premium mattress category on the market. More than a feeling of a cloud, we are aiming here at the feeling of weightlessness! No wonder Tempur-Pedicmattresses are recognized as some of the most premium mattresses in the world. They are now particularly recommended for demanding people or with special medical conditions. All of Tempur-Pedic are equipped with cool touch technology. This technology allows you to get a feeling of freshness all night long by absorbing excess temperature.
With Tempura foam (TEMPUR material) the mattresses have high-quality memory foam. It is generally characterized by the fact that it adapts particularly well to the contours of the body and provides a feeling of relaxation. The pressure on the Tempur mattress, whether it is the Hybrid Tempur, Sensation Elite Tempur, or Original Deluxe Tempur model, is thus well distributed.
At Tempur-Pedic, the top of the range can be seen even in the finishes. With its custom-made cover and meticulous finishes, your mattress gains in elegance. Tempur-Pedicteam of designers has collaborated with the world leaders in design IDEO to offer you a contemporary design. The quality of Tempur-Pedic mattresses also ensures unparalleled durability and an undisputed advantage when purchasing: they are guaranteed for 10 years!
Tempur mattresses are based on 4 different technologies.
Tempur-pedic mattress, Sensation technology:
It is particularly intended for sleepers in search of an invigorating welcome, which guarantees freedom of movement. It is based on memory foam. It's paired with a CoolTouch ticking, which helps wick away moisture (we sweat around 150 liters of sweat per year!) And keeps you cool even on the hottest nights. The mattresses range from 8" to 12" thick to offer you even more comfort.
Tempur-pedic mattress, Cloud technology:
If you're looking for a mattress that balances a soft feel and nonetheless firm support, then Tempur Clouds is for you. Here again, the basic material is memory foam, which is associated with a quality filling, with a thickness also ranging from 7″ to 8″.
Tempur-pedic mattress, Contour technology:
Fans of hospitality and firm maintenance will turn to this technology. It is made up of memory foam, and an increasingly dense filling depending on the thickness of the mattress.
Tempur-pedic, Hybrid technology:
Between the unparalleled comfort of pocket springs and that of memory foam, choose no more! The former gives you more dynamic support, while the latter helps relieve pressure points.
How to Choose a Mattress for your room size? Check it here.
Related House and bed size charts