Helix Mattress Dimension Guide
This post was last updated on December 28th, 2021 at 10:32 pm
Helix Sleep is an online bed in a box brand that has been around since 2014 and has surely made its mark in the mattress market. Their makeup is what sets them apart from the rest of the competition. They have 6 separate mattresses in their traditional range and you can also choose according to your sleeping style and your taste for stability. Discovers all in the below Helix Mattress dimension guide with easy-to-use Helix Mattress size charts.
Best Mattress For Back Pain – Spine Alignment

Sleepopolis
Helix Mattress Dimensions and size table of content
The full international Mattress Size Charts you can find here
The dimensions of your room for the best Mattress size is handled here
Helix Mattress Sleep Quiz
The very first thing you might notice when seeing helixsleep.com is their sleep quiz. It is a useful tool that can help you find the best mattress for your sleeping style and tastes. This is especially useful as they have 6 separate mattresses in their range. Each version is available with Luxe update features for an additional price. If you have a moment, try the sleep quiz, it's sweet and short.
We know choosing a mattress can be difficult, but Helix truly includes a mattress for everyone. In addition to the 6 different firmness levels, they additionally have Helix Plus and Birch from Helix (sizing info on Birch is handled on this page). The Helix Plus is specially designed for heavier sleepers, while the Helix Birch is their only organic offering.
Which Helix mattress to choose?
The two main lines of Helix mattresses – Helix Standard and Helix Luxe- are divided into three different firmness options: soft, medium, and firm. Helix mattresses are available in two variants, depending on your preferred sleeping position. One is designed for side sleepers; the other for back and stomach sleepers. Once you know that, choosing the right Helix mattress is very easy. However, you can also take the Helix Sleep Quiz. This will find you the right mattress within minutes, depending on the answers to some questions about your age, height, sleep preferences, etc. (If you're sharing a bed, you can also fill in your partner's contact details.) Finding the right mattress has always been difficult. Many companies seem to be promoting themselves as a one-stop solution to sleep problems. These claims are simply not correct, as everyone has different requirements and tastes. With all the options available in the market today, finding the perfect mattress can be difficult and can take some time, if not a little trial and error at least.
We've compiled a full-size and Helix Mattress dimension guide of Helix mattresses so you can see if this specific model or brand is the right selection for you.
Helix Full Mattress size chart
Factors like room size, how active a sleeper you are, and whether or not you share a bed influence which Helix Mattresses sizes the best suit your needs.
Understanding the dimension and names will help you narrow down the options to help you find the right bed size to suit your specific needs.
The most simple and complete Helix Mattress Dimension overview you can find:
Helix Mattress sizes
Helix Mattress sizes explained
Helix Mattress dimensions in inches and centimers (Updated list)
Want to know the weight and thickness of Helix mattresses? These depend by the model, check them below
Get your Helix Mattress here:
Helix Sunset Mattress Dimension guide
The Sunset is the lightest mattress in the regular Helix Sleep collection. It is the most conventional memory foam texture and shapes around the body larger than any other normal Helix mattress, making it the best mattress for side sleepers. The Sunsets comfort cover includes soft memory foam, so you will feel hugged and lying down, especially if you sleep on your side. Helix designed the mattress to provide side sleeper assistance for short body types, but medium-weight sleepers who like an extremely plush feel might find it comfortable as well. Although it shares a similar stability setting in the Helix Moonlight.
Helix Sunset Mattress Size Chart
| | | |
| --- | --- | --- |
| Sizes | Dimensions | Thickness |
| Twin | 38″ x 75″ | 12" |
| Twin XL | 38″ x 80 | 12" |
| Full | 54″ x 75″ | 12" |
| Queen | 60″ x 80″ | 12" |
| King | 76″ x 80 | 12" |
| California King | 72″ x 84″ | 12" |
Helix Moonlight Mattress Dimensions
The Helix Moonlight mattress is promoted with the Sunset as with a soft feel. While it's soft, it doesn't have a sinking feeling that memory foam purists tend to like. It uses the manufacturer's exclusive Helix Dynamic Foam from the Relaxation and Transition layers, which collectively create neutral, soft buoyancy for your sleeper. This mattress is ideal for small back and stomach sleepers, but we also suggest it as a mattress for mixed sleepers who change mainly with the stomach and back. The Helix Moonlight can also do the job for little side sleepers who don't like a memory foam texture.
Helix Moonlight Mattress Size Chart
| | | |
| --- | --- | --- |
| Sizes | Dimensions | Thickness |
| Twin | 38″ x 75″ | 12" |
| Twin XL | 38″ x 80 | 12" |
| Full | 54″ x 75″ | 12" |
| Queen | 60″ x 80″ | 12" |
| King | 76″ x 80 | 12" |
| California King | 72″ x 84″ | 12" |
Helix Midnight Mattress Dimensions
The Helix Midnight is your brand's most popular version, using a moderate level of firmness that might be suitable for back, side, stomach, and mix sleepers. It's a traditional memory foam texture reminiscent of Tempur-Pedic mattresses, but it's responsive and inviting thanks to the pocket coil center and the dynamic Helix latex-like foam transition coating. The flexibility of this Helix Midnight also makes it one of the best mattresses for couples who fall into the midweight category. The Helix Dusk, the maker of other moderate firm mattresses, has a neutral foam feel and also a bit more support. If you're struggling to choose between the two, we recommend Midnight for people with ailments and pain.
Helix Midnight Mattress Size Chart
| | | |
| --- | --- | --- |
| Sizes | Dimensions | Thickness |
| Twin | 38″ x 75″ | 12" |
| Twin XL | 38″ x 80 | 12" |
| Full | 54″ x 75″ | 12" |
| Queen | 60″ x 80″ | 12" |
| King | 76″ x 80 | 12" |
| California King | 72″ x 84″ | 12" |
Helix Mattress Dimension Guide Size Chart Helix Midnight
Helix Dusk Mattress Dimensions
Much like the Helix Midnight, the Dusk is a hybrid mattress using a moderate level of firmness. On our mattress stability scale, we think the Midnight as well as the Dusk collapse around a 6/10 degree of hardness: moderate stability. On the other hand, the Dusk is meant to feel like a more even-handed lather than the texture of Midnight's memory foam. Helix accomplishes this by putting its own responsive and inviting Helix dynamic foam on the Dusk's comfortable liner. Despite the fact that you won't experience as much stress relief as on the softer Midnight or Sunset mattresses, you will likely feel encouraged in any place to sleep under Helix Dusk.
Helix Dusk Mattress Size Chart
| | | |
| --- | --- | --- |
| Helix Sizes | Helix Dimensions | Helix Thickness |
| Twin | 38″ x 75″ | 12" |
| Twin XL | 38″ x 80 | 12" |
| Full | 54″ x 75″ | 12" |
| Queen | 60″ x 80″ | 12" |
| King | 76″ x 80 | 12" |
| California King | 72″ x 84″ | 12" |
Helix Mattress Dimension Guide Size Chart Helix Dusk
Helix Twilight Mattress Dimensions
From the second firmest mattress in the normal Helix Sleeps line, the Twilight offers a professional feel but offers pressure point relief with the help of a top layer of memory foam. If you sleep soundly, mostly on your side, but appreciate a firmer mattress, this could be a fantastic alternative for you. The Twilight is a fantastic mattress for back and stomach sleepers who want a firm mattress but also need pressure relief to avoid aches and pains. The Twilight will feel more welcoming than the Dusk and Midnight beds (each of which have moderate firmness), but it's not likely to feel as firm as the Helix Dawn.
Helix Twilight Mattress Size Chart
| | | |
| --- | --- | --- |
| Helix Sizes | Helix Dimensions | Helix Thickness |
| Twin | 38″ x 75″ | 12" |
| Twin XL | 38″ x 80 | 12" |
| Full | 54″ x 75″ | 12" |
| Queen | 60″ x 80″ | 12" |
| King | 76″ x 80 | 12" |
| California King | 72″ x 84″ | 12" |
Helix Mattress Dimension Guide Size Chart Helix Twilight
Helix Plus Mattress Size
The Helix Plus was created for individuals "and size" (and has been called the Nightfall), is a more substantial mattress compared to Helix's other choices. It is moderately firm and should hold up well to many sleepers, including individuals weighing over 91 kg. Additionally, we believe that despite its title, it is acceptable for sleepers who are planning a lot less, as the harder construction results in a classier mattress and a feel that might appeal to a larger audience. The Helix Plus is created with three layers of foam, all denser than almost all of Helix's additional 13 mattresses. The top cover, which is generally the most vulnerable to wear and tear of almost any mattress, provides a polyfoam density of 1 pound per cubic foot, compared to two 1/2 or two 3/4 pounds per cubic foot in other offerings. from Helix. The memory foam in the next layer is real memory foam. The foam layers were held together by 968 individually wrapped spools.
Helix Plus Mattress Size Chart
| | | |
| --- | --- | --- |
| Sizes | Dimensions | Thickness |
| Twin | 38″ x 75″ | 13" |
| Twin XL | 38″ x 80 | 13" |
| Full | 54″ x 75″ | 13" |
| Queen | 60″ x 80″ | 13" |
| King | 76″ x 80 | 13" |
| California King | 72″ x 84″ | 13" |
Helix Mattress Dimension Guide Size Chart Helix Plus
Get your Helix Mattress here:
Helix Kids Mattress Sizing Chart
2-Sided Design for Growing Kids
An 8″ hybrid mattress with 5″ innerspring and custom foam layers to provide the right safety, comfort, support, and durability for growing kids with changing needs and preferences. The mattress has a soft side and a more firm side for your kids to choose from. No harmful chemicals are used.
| | | |
| --- | --- | --- |
| Helix Kids Mattress | Dimensions | Weight |
| Twin | 38 in W × 75 in L × 8 in H | 60 lb |
| Full | 54 in W × 75 in L × 8 in H | 75 lb |
How to Measure your Helix Mattress
There's no such thing called the perfect size for a mattress. The main reason is that choosing the right mattress size is mainly a choice based on personal preferences. Take the measurements of your room also into account when choosing your Helix Mattress Size.
Time needed: 3 minutes
Measure your mattress size in 6 simple steps, with extra steps to be sure you have chosen the perfect bed for your sleep
Make sure your mattress is free of blankets, sheets, and pillows

It is best to measure the correct size of your mattress when there is absolutely nothing on it. If there is a comfort layer on your mattress, feel free to leave it.

Measure the width of your mattress from left to right.

Mattresses can bend towards the ends, so be sure to measure from the ends of each side of the mattress.
Use a flexible ruler or tape measure when measuring. Write the measurements on a piece of paper so you don't forget them.

Measure the length of your mattress from the foot end to the head end.

When your mattress deflects at the head and foot end, be sure to measure the furthest point from each side.

Measure the height from the bottom to the top of the mattress

When you have a comfort layer on your mattress, feel free to leave it in your measurement. If not, only measure the height of the mattress.

Apply these measurements in the size tables below of this article

These measurements will help you choose the standard size of the mattress of your choice. The standard Helix Mattress sizes are Twin, Twin XL, Full, Queen, King, California King and Split King

Extra: Measure the doorways and hallways in your home before purchasing a new mattress

This is a very important dimension because you have to be absolutely sure that the mattress of your dreams. Choose the width of your mattress so that it can pass through the lowest doorway in your house where you have to carry it. Many mattresses are delivered in a box, so this problem occurs less these days
Pay attention to the width and height of stairs that you have to pass with the mattress

Extra: Measure the bed frame before you buy the mattress.

This sounds logical, but it is recommended that you also measure your bed frame. Or when you buy a separate bed frame, it is best to check the dimensions, as these can vary from different manufacturers.

Extra: Measure your room

Make sure there is enough space around the bed or mattress you plan to buy. This space is preferably provided along 3 sides of the mattress so that you can walk smoothly past your bed. We have written a separate article about this topic.
Remember that height/thickness varies depending on the Model, so there is no universal thickness for each mattress size.
Helix Mattress Thickness : How thick is the Helix Mattress?
The term "mattress thickness" is the same as "mattress height" and "mattress depth." The Mattress thickness is only a part of the overall height of your bed. When your mattress is on the floor it's the complete height of the bed.
Material Thickness is the vertical dimension of a mattress. (height of the mattress)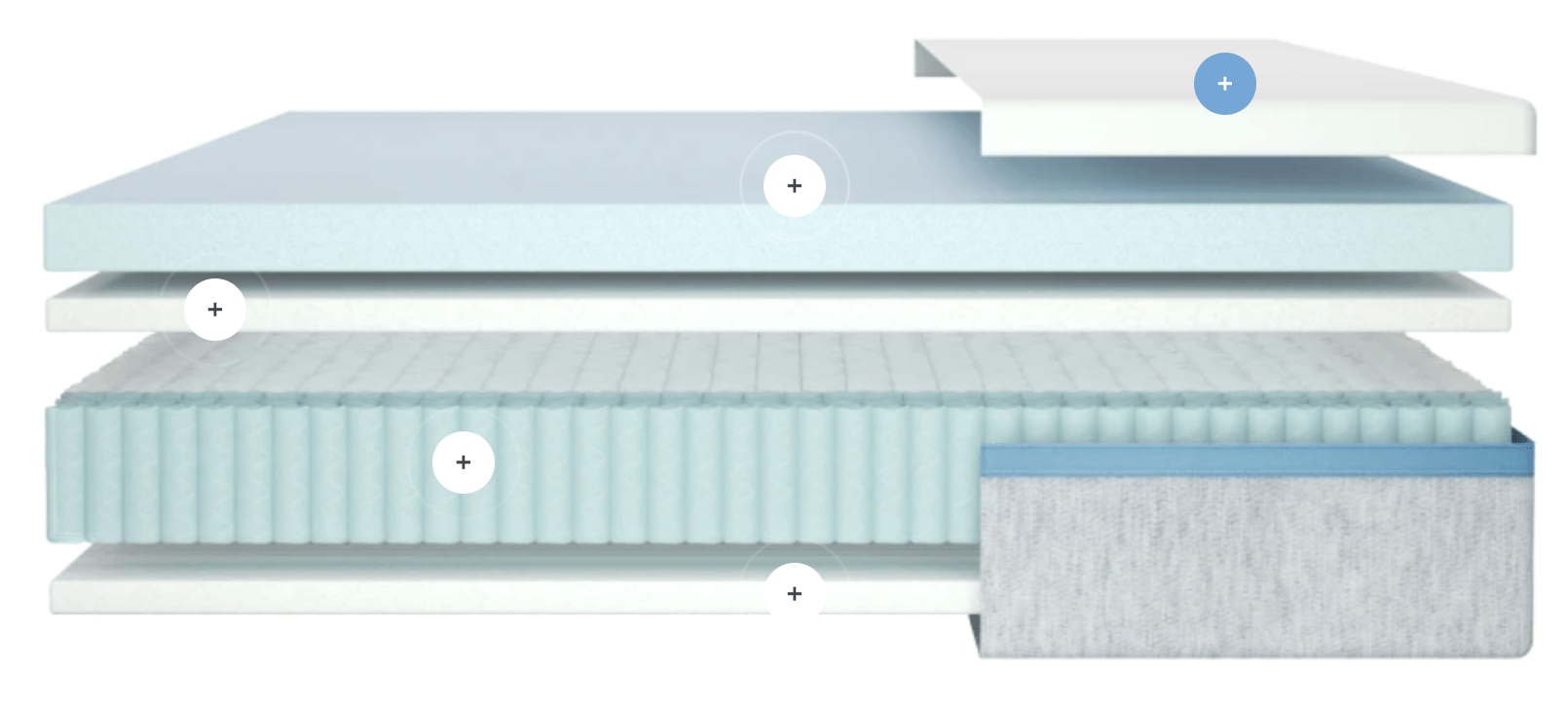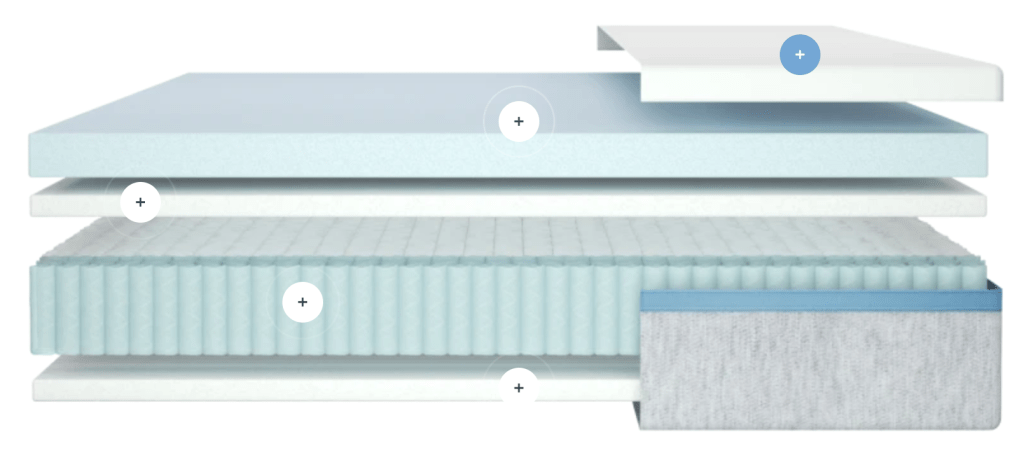 | | | |
| --- | --- | --- |
| Helix Mattress | Helix Mattress Height in Inches | Helix Mattress weight in Lbs |
| Helix Sunset Mattress | | |
| Helix Moonlight Mattress | | |
| Helix Midnight Mattress | 9.25″ | 65 – 140 lbs |
| Helix Dusk Mattress | 11.0″ | 77 – 148 lbs |
| Helix Twilight Mattress | 12.0″ | 77 – 178 lbs |
| Helix plus Mattress | 13.0″ | 100 – 202 lbs |
| Helix Kid's Mattress | 8.0″ | 60 – 75 lbs |
Check all Mattresses on Helixsleep.com
Helix Mattress by size explained
Helix Twin Mattress size 38" wide x 75" long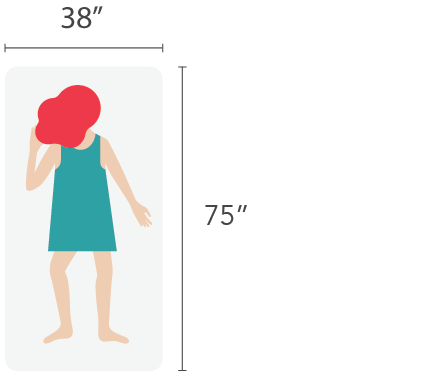 The standard mattress size for a Helix Twin mattress is 38 inches wide and 75 inches long. A Twin bed size is ideal for smaller rooms and single sleepers with limited space. SHOP TWIN MATTRESS
The dimensions of a helix Twin are equal to the Helix Kids Twin sizes in width and length, the kid's mattress is only 8″ thick. SHOP KIDS TWIN MATTRESS
Helix Twin XL Mattress dimension 38" wide x 80" long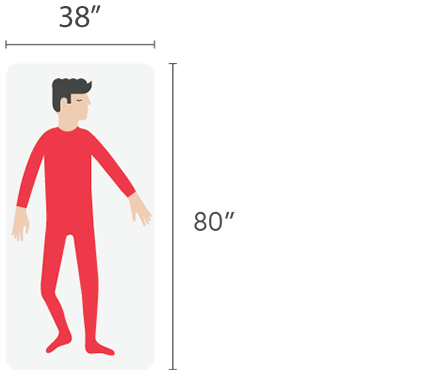 A Twin XL mattress is 5 inches longer than a twin size bed. This Twin XL mattress measures 38 inches wide and 80 inches long. Oftentimes, a Twin XL bed is used in student college dorm rooms and guest rooms. Taller individuals may prefer a Twin XL size over a standard Twin size. SHOP TWIN XL MATTRESS
Helix Full Mattress Size 54" wide x 75" long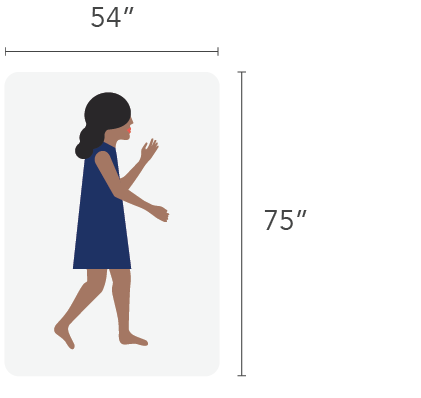 A Full size mattress can be a great choice for both single adults sleeping alone and couples sharing a bed. A Full mattress measures 54 inches wide and 75 inches in length. It's a good fit for tall people and individuals looking for extra sleeping space, which is why a full bed is one of the most common sizes people shop for.SHOP FULL MATTRESS
Helix Queen Mattress Size 60" wide x 80" long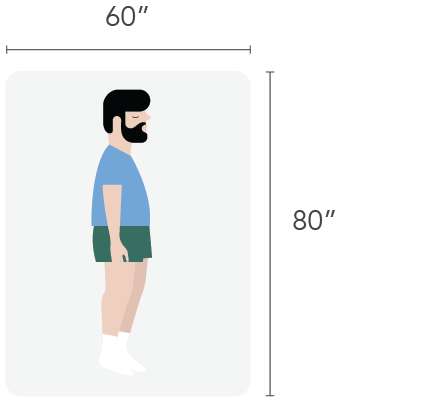 Because of its expanded dimensions at 60 inches wide and 80 inches long, a Queen bed size is often considered an upgrade from a Full size bed. A Queen size mattress is ideal for couples and individuals looking for extra space in the bed if a Full size mattress isn't quite roomy enough. If you plan to share your bed, a Queen size bed may be the best mattress size for you. SHOP QUEEN MATTRESS
Helix King Mattress dimensions 76" wide x 80" long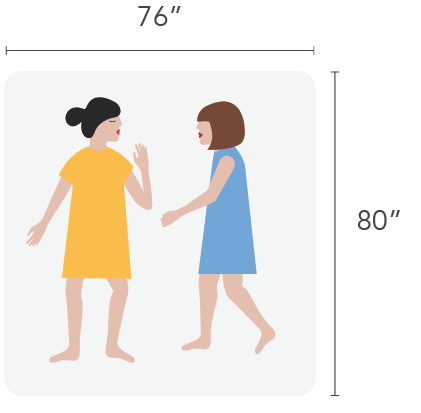 A King size mattress is a significantly larger mattress that measures 16 inches (one and a half feet) wider than a Queen size mattress. For those with enough space to spare, King size beds are a common size for master bedrooms, measuring 76 inches wide and 80 inches long.
A King bed is perfect for couples, families with kids or pets (who are allowed to snuggle in bed), or simply anyone looking for extra length, width, and leg room in their mattress.SHOP KING MATTRESS
Helix California King Mattress size 72" wide x 84" long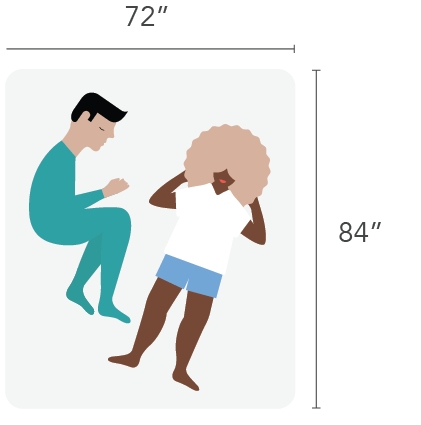 What's the difference between a King mattress and a California King mattress?
California King size bed is four inches longer than a Standard King size bed but four inches narrower, meaning these two mattress sizes don't share the same bed frame dimensions, as the California King will provide more leg room but fewer inches of space across the width of the bed for couples.
The standard size of a California King bed measures 72 inches wide and 84 inches long. Keep in mind, if you're choosing either a California King size bed or a King mattress, be sure to accurately measure the dimensions of your bedroom, as you will need adequate room size to fit these larger mattress sizes.SHOP CA KING MATTRESS
Frequently Asked Questions about Helix Mattresses
Would You Need A Box Spring Using A Helix Mattress?
While it is not essential to create a comfortable mattress, a box spring improves the durability of your mattress and also protects it from mildew. The warranty for most typical Helix mattresses takes a support base with clamps spaced no more than 13cm apart. Platform bases, flexible foundations, and box springs are acceptable as long as they provide sufficient support for your mattress.
What Is The Motion Insulation On A Helix Mattress?
None of the normal versions of Helix have thick, ultra-absorbent foam layers like those found in a memory foam mattress, but some models' ability to distill movement varies depending on comfortable foam shape and depth. For example, the Sunsets soft memory foam surface absorbs more movement and sound than its softer counterparts featuring Helix Dynamic Foam at the top.
How Long Can A Helix Mattress Go On?
We expect Helix mattresses to last seven to ten years.
How Can The Helix Sleep Quiz Work?
The quiz on HelixSleep.com matches a customer using the manufacturer's best mattress using sleep patterns and biomechanical data. To get your recommendation, you will then answer a few questions about your tastes, your body type, and your sleeping place.
About Helix Mattress
The company is well known for their high-quality mattresses at competitive prices – you will find Helix in our best mattress and best mattress in a guide box. There is a 100-night risk-free trial, so you can make sure the option you choose is the perfect fit for the safety of your own home. (If you don't like it completely you'll get a full refund.) Read on for the best prices, deals, and discounts on Helix mattresses… Helix Sleep offers the best solution for someone who can't seem to access the mattress they're looking for or even a sharing group who can't agree on what they need in a mattress. Heavier users tend to enjoy many favorable benefits when choosing a custom mattress due to their specific needs.