Crib Mattress Dimensions
Expert information About Crib Mattress Size
As a new parent or expecting parent, you'll need to buy lots of stuff for your little one, but one of the most important items is crib mattress. Let's start with this informative guide about the standard crib mattress dimensions along with tips on how to choose the right crib, and mattress. 
"The mattress should fit the sleep environment and avoid gaps. Make sure there's not more than an inch between the mattress and the crib when the mattress is pushed up against one side,"

Expert
Crib Mattress Dimensions and sizing table of content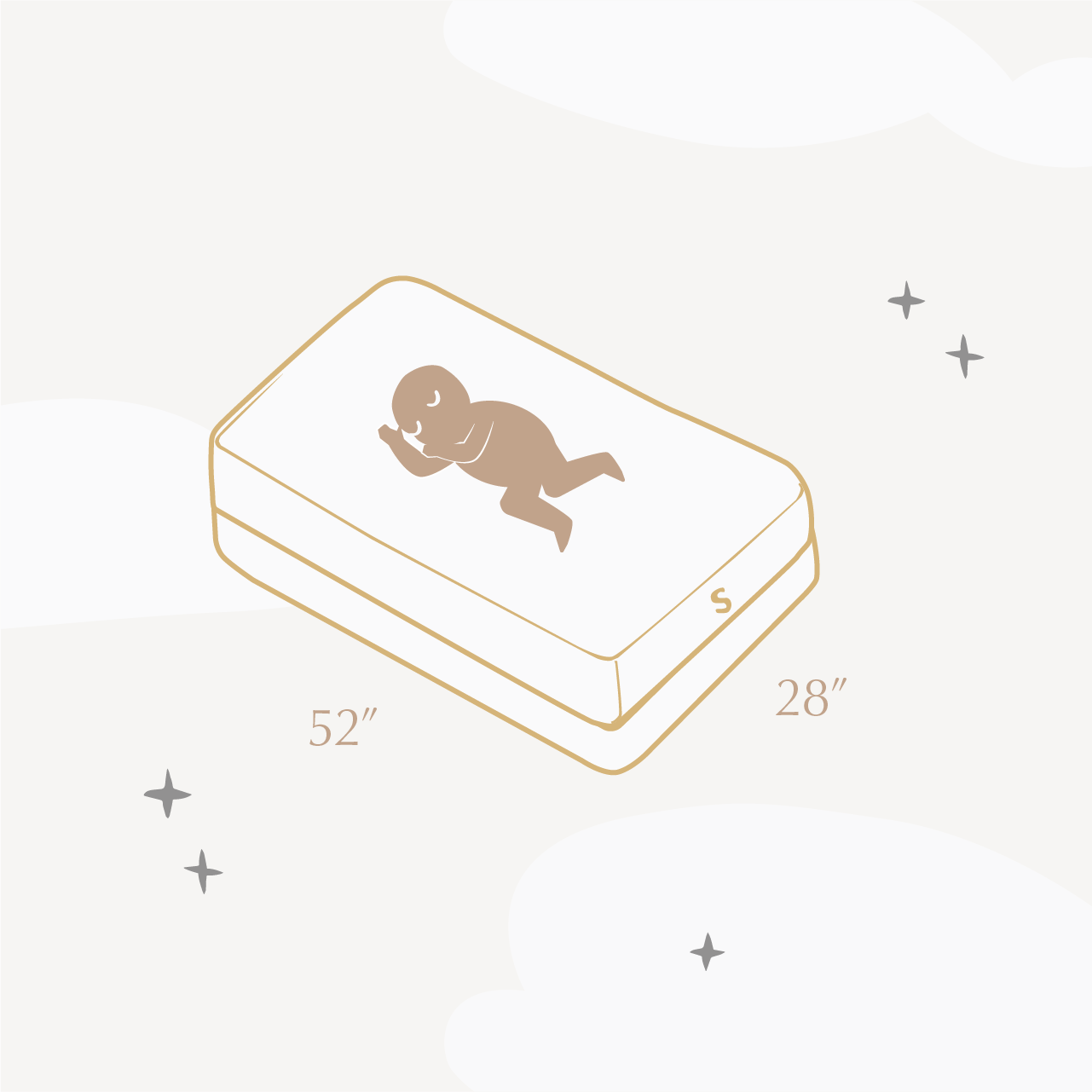 Crib mattress dimensions
A standard crib mattress size comes in at 28 inches x 52 inches. Although this is the most common crib mattress size, there are other, less-popular crib mattress sizes to note, such as the mini crib mattress, which measures 24 inches x 38 inches. 
Also, crib mattresses don't always come in customary rectangle shapes—sometimes, they'll come in circular, oval, and hexagonal shapes, which are more for aesthetic value than anything else.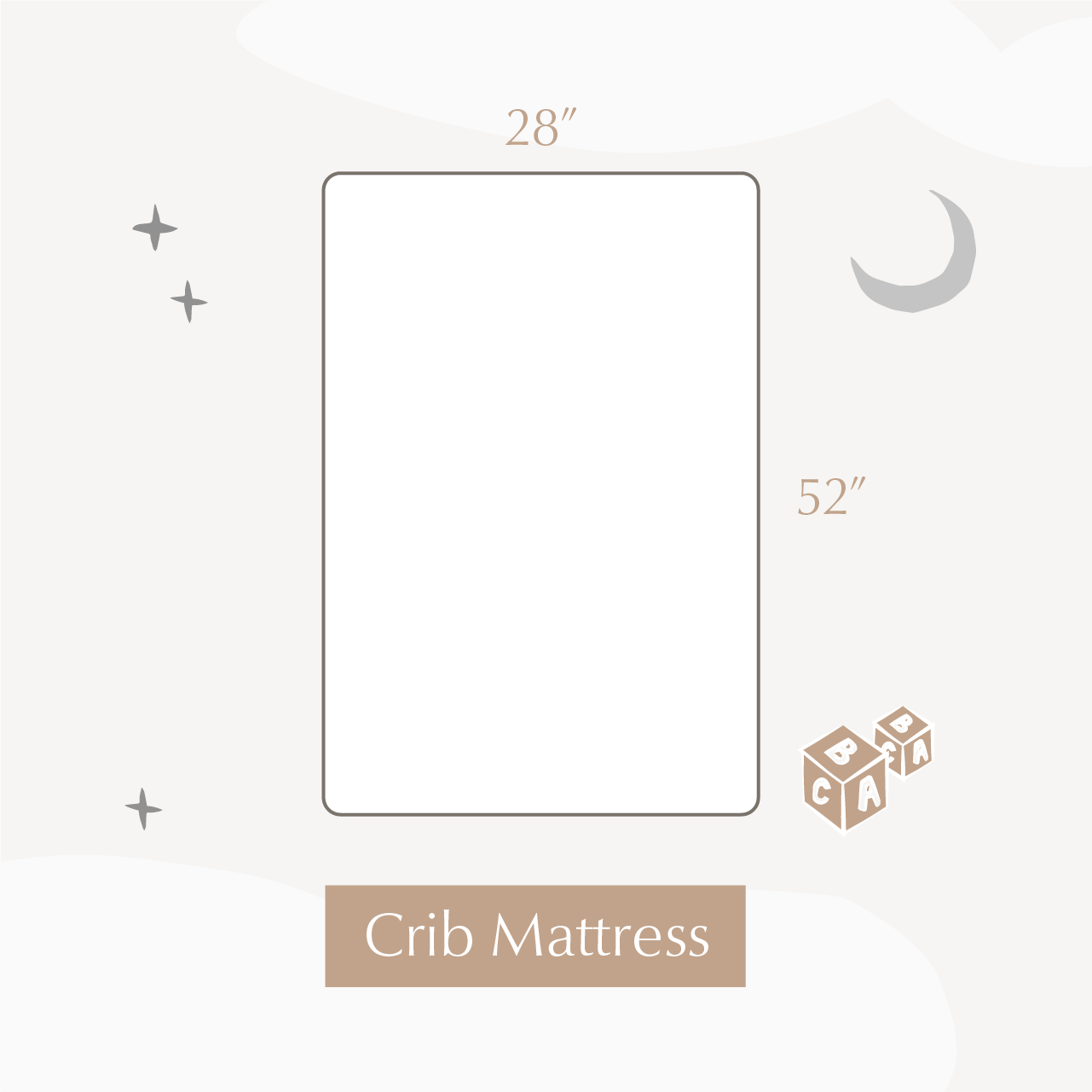 Crib mattress dimensions are regulated by the United States Consumer Product Safety Improvement Act of 2018 (CPSIA). One of these safety precautions says that crib mattresses should be no more than six inches thick to prevent accidental falls.
Crib Mattress Dimensions in inches, feet, cms and meters
Inches
28 x 52 in
Feet
2.3 x 4.3 ft
Centimeters
71 x 132 cm
Meters
.71 x 1.32 m
Other factors to consider when choosing a crib mattress
Besides dimensions, there are a few other essential factors to think through when purchasing a crib mattress.
First is firmness. Witkin notes that The American Academy of Pediatrics (AAP) recommends infants sleep on a firm, flat surface that is covered by a fitted sheet, without any other bedding or objects in the sleep environment to reduce the risk of sudden infant death syndrome (SIDS). "A mattress that is firm is better than a softer mattress," she says.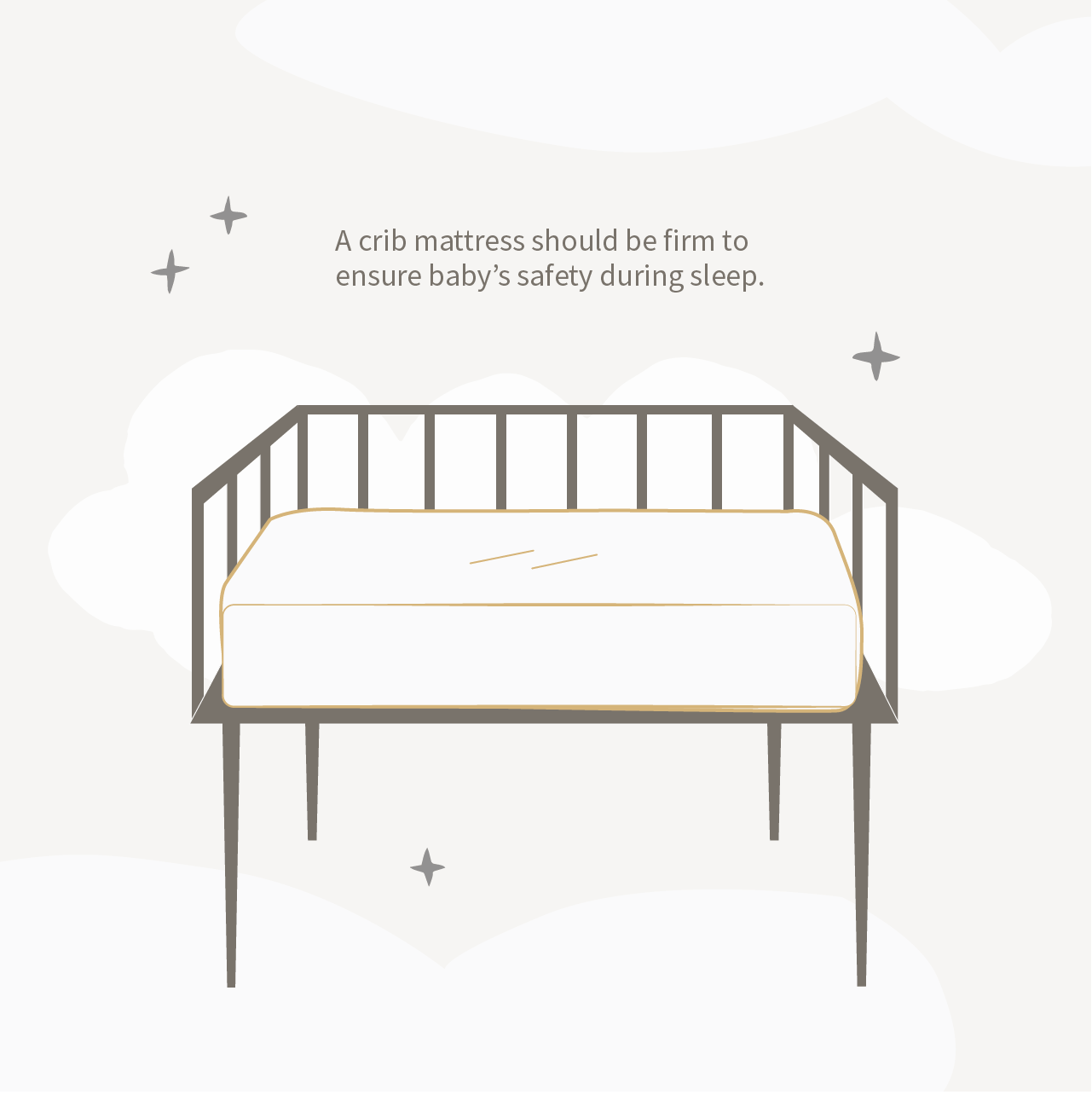 If you want to ensure some extra durability and safety for the crib mattress, Witkin likes to "recommend a mattress that is easy to clean, comes with a waterproof/machine-washable cover, is made with non-toxic and environmentally friendly material, and is flame-resistant."
It can also be beneficial to look for a crib mattress that offers breathability.  "A breathable mattress can help keep your baby cooler during warmer months," explains Witkin. Organic cotton and wool are two breathable materials to look for in a crib mattress.
Crib mattress vs. other mattress sizes
To give yourself some perspective, this section will break down the differences between crib mattresses and other mattress sizes that might be suitable for babies and children.
Toddler mattress vs. crib mattress
Even though toddlers are larger than babies, there are no perceivable differences between crib mattresses and toddler mattresses, according to Witkin. "Many cribs actually convert to toddler beds and are designed to be used with the same mattress," she says. 
Crib mattress vs. twin
A twin mattress measures 38 inches x 75 inches, making it a great deal larger than a crib mattress. You can think of it as the next step up, or the "big kid bed," your toddler will eventually graduate to. Twin beds are also best for bunk beds, daybeds, or small spaces with solo sleepers.
Crib mattress bedding sets and accessories
Once you've purchased a crib mattress, there are other things you'll need to stock up on, like bedding sets and accessories. 
Fitted sheet: "If your baby is sleeping in a crib or bassinet, you will need, at a minimum, a mattress and fitted sheet," says Witkin. "I always recommend having at least two sheets so that when the inevitable diaper explosion occurs during the night, you'll have another sheet available immediately."
Mattress protector or pad: Since those "diaper explosions" are basically guaranteed, a waterproof mattress cover can be a lifesaver.
Wearable blanket/onesie: "As it is not safe for infants to sleep with loose blankets or covers, a wearable swaddle or sleep sack is key," Witkin says. "Swaddles that have Velcro or zippers are an easy and convenient solution."
Crib: You don't need to focus on the frills when it comes to the crib itself. "At the end of the day, your baby needs a firm, flat surface that is free of objects in which to sleep," says Witkin. "For some families, this may mean a crib and a mattress, and for others, that might mean a cardboard box. From a safety standpoint, either is acceptable!"
There are also items that you should never put in a crib when a baby goes to sleep.
"Babies' cribs and sleep environments should be free of pillows, loose blankets, and stuffed animals," advises Witkin. "Additionally, you should avoid overheating your baby with too many layers of clothing and a hat. In general, babies need one more layer of clothing than you do to be comfortable."
While there should be nothing in the crib except for the baby, Witkin notes that the exception to this is a pacifier since it's been associated with a decreased risk of SIDS. Avoid pacifiers that clip to clothes during sleep, though.
Crib mattress size FAQs
What's the standard size of a crib mattress? What are the types of crib mattresses? Keep reading for answers to your most common questions about crib mattress dimensions.
What is the standard size of a crib mattress?
A standard crib mattress size is 28 inches x 52 inches.
Why are crib mattress dimensions important?
Crib mattress dimensions are important because you'll want to avoid gaps between the mattress and crib, which could pose a safety hazard for baby. Experts say there should be less than an inch between the mattress and the crib when the mattress is pushed up against one side.
Are all crib mattresses the same size?
Although there is a standard crib mattress size, there are other less popular sizes available as well. This includes the mini crib mattress, which measures 24 inches x 38 inches.
What are the types of crib mattresses?
Like mattresses geared toward adults, there are two main categories of crib mattresses: foam, which is made up of a blend of materials and doesn't use metal springs, and innerspring, the most common type of mattress that relies upon a system of metal springs.
How firm should a crib mattress be?
A crib mattress should be pretty firm, according to experts. It'll be safer for baby than a soft mattress.
How big is a crib quilt?
Crib quilts are usually measured at 30 inches x 46 inches or 36 inches x 50 inches. They're rectangle-shaped and are made to fit most crib mattresses.
When should a child be out of a crib?
"I typically recommend waiting until a child is at least three years old to transition to a toddler bed," says Witkin. "Prior to this time, it is difficult from a developmental standpoint for children to understand the concept of staying in their bed." The only exception to this is if your toddler is climbing out of the crib and there are safety concerns about falling, she adds. 
Also, note that the AAP recommends placing an infant's crib or sleep area in the same room as their caregiver for at least the first six months of age.
Pictures by Ömürden Cengiz on Unsplash , illustrations by Saatva, a luxury mattress brand which offers crib-sized mattresses and is handled on the Saatva Mattress size post
Additional mattress sizes
To learn more about other mattress sizes, check out our additional mattress size guides.
Mattress sizes
Twin bed dimensions
Full bed dimensions
Queen bed dimensions
King bed dimensions