Bed sheet size and dimensions by type of bed (with size chart)
This post was last updated on May 25th, 2022 at 03:34 pm
A bedsheet is what covers your bed before you lie on top of it. A duvet or quill cover is the topmost cover or at most the one right below the blanket. The Bed sheet size is mainly determined by the size of your bed, and the height of your mattress
Bedsheets and bed linens are the primary bedding accessories and their sizes in inches vary greatly. Starting with cloth type which affects comfort level let us inspect the slight size variations. Bed sheet fabric will decide how much of the height of the bed the sheets should cover and ultimately decide the bed sheet dimensions. Mattresses with a lot of mattress pad will require a larger size sheet than their own dimensions and sometimes a set of bed sheet might include twin sheets for a Queen size or King size mattress. 
You can top of your bed wit a nice quilt: check out the complete quilt size charts here
Bed Sheets Size Chart by standard bed and mattress sizes
Discover in the below size chart the mattress and bed sizes which will inform you about the correct bedsheet sizes
Bed Size
Mattress
size (in)
Mattress
size (cm)
Fitted
sheet size
Flat
sheet size
Duvet
cover size
Twin
38" x 75"
96.5 x 190.5 cm
Twin
Twin
Twin
Twin XL
38" x 80"
96.5 x 203 cm
Twin XL
Twin,
Twin XL
Twin
Full
53" x 75"
134.5 x 190.5 cm
Full
Full, Queen
Full, Queen
Queen
60" x 80"
152.5 x 203 cm
Queen
Queen
Queen
King
76" x 80"
193 x 203 cm
King
King,
Cal-King
King,
Cal-King
California
King
72" x 84"
183 x 213 cm
Cal-King
King,
Cal-King
King,
Cal-King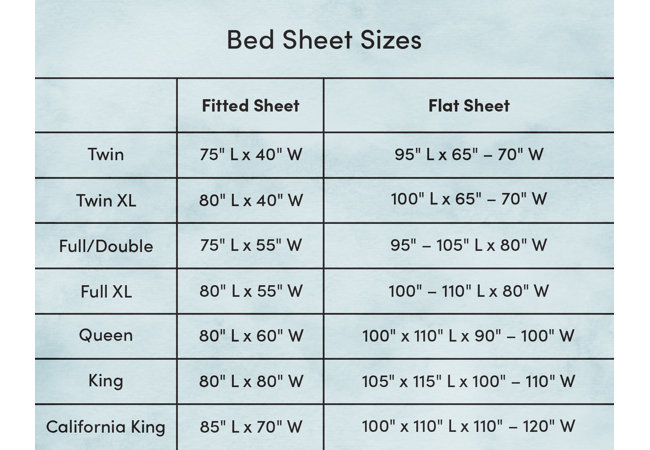 How To Choose The Right Bedsheet Size
Mattresses with extra padding or a mattress topper may require a change in the depth of your sheets. Read on to find out how you can determine which bed sheet size you need. Standard bed sheet sizes vary between linen producers, but they tend to be close to the sizes found in the chart below. Fitted sheets will usually have the measurements of the type of mattress they are supposed to fit – they are typically measured as they fit across the top of a mattress. 
Remove any sheets from your bed and measure the width, length and height of your mattress. Write these dimensions down. A fitted sheet should match or be slightly larger than these dimensions. However a flat sheet must definitely be larger than the dimensions. The mattress depth and the required bed skirt will help you decide how much your sheet measurement should be.
A step by step process to measure your bedsheet size
Step 1: Take off the sheets and pillows.
Make sure that all linens are removed from your mattress so you can measure accurately.
Step 2: Measure the width of your mattress.
Using a tape measure, measure across your mattress. Take this measurement from the middle of your bed to find the widest point.
Step 3: Measure the length of your mattress
Measure from the top to the bottom of your mattress to determine the length. Once again, do this in the middle of your bed.
Step 4: Measure the depth.
Start at a corner of your mattress and measure vertically from the top seam to the bottom seam. If you're using a mattress topper, measure from the top seam of the topper to the bottom seam of the mattress. The depth is important because some mattresses are much deeper than others and require special deep-pocket sheets.
Compare your measurements with the chart below and choose the size closest to your measured dimensions.
Bedsheets size chart
| | | | | |
| --- | --- | --- | --- | --- |
| Bed Size | Flat Sheet (Inches) | Flat Sheet (Cm) | Fitted Sheet (Inches) | Fitted Sheet (Cm) |
| Single | 71×110 | 180×280 | 35×75 | 90×190 |
| Twin | 66×96 | 168×244 | 39×75 | 100×190 |
| Full | 81×96 | 206×244 | 54×75 | 137×190 |
| Queen | 90×102 | 228×260 | 60×80 | 152×203 |
| King | 102×105 | 260×267 | 72×84 | 182×213 |
Non-standard mattress sizes might be more tricky and may require extra fabric and additional mattress toppers, but for the standard mattress size refer to the bed sheet sizes chart below. Standard sheets with common bed sheet measurements will always show up on a bed sheet chart of classic bed sheet sizes. In case the mattress is custom made or just out of regular size, then a wise choice is to buy a larger sized bedsheet and tuck in the extra sheets under the mattress. This will ensure that the entire mattress has been properly wrapped up.
Which sheet is bigger queen or king?
A king size bed is wider than a queen bed. While a queen size bed is 60 inches (152 cm) wide, a king size bed is 76 inches (193 cm) wide. Both bed sizes are 80 inches (203 cm) long.
Can full bed sheets fit a queen size bed?
Full and double size sheets won't work on a queen-size mattress. Using queen-size sheets on the smaller bed will result in loose-fitting sheets that will move around on the bed while you move around in your sleep.
Common Fabrics That Affect Bed sheet Size
Breathable sheets are generally made of a mesh-lined material. These sheets allow body heat and moisture to float upwards and are best for a hybrid mattress. They help maintain homeostasis without disturbing the adult sleeper, hence their popularity in hospitality.
Traditional cotton sheets are great for large areas like king bed sized mattresses. This is because they have been existing for so long that they are easy to maintain. Egyptian cotton has been around for centuries and no laundry expert won't know how to keep it clean. Cotton bedsheets are soft and light, you doze off for several hours soundly and sound sleep means a happy morning the next day. Blue or white shades scorching summers keep you cool.
Satin sheets are usually used for bunk beds that are several feet tall. Satin is known for being slippery and you don't want your sheets all over the frame. The bed frame helps in holding it up. Sometimes you may wake up to find rashes on your skin. Bad quality bedsheets or materials may be rough on your skin and may cause rashes. Since satin is soft and smooth in nature, satin bedsheets are soft on your skin and thus you can sleep without worrying too much about friction.
Bedsheets that are the exact size of the standard sizes of beds are usually made of natural fiber. These range from synthetic cotton to bamboo rayon. These sheets are popular among single sleepers who just need approximate bed sheet sizes.
Microfiber sheets are expensive thus generally popular for small beds and as crib size sheets. Meanwhile, polyester sheets and synthetic fiber are the exact opposite and available for many different bedding sizes. Microfiber is a light material, and a microfiber bedsheet is good for summers. It keeps the temperature comparatively cooler and lower than other bedsheets that are rather warm. They are also easier to design and come in a wide assortment. You can also choose designs of your choice for the bedsheets- triangular pattern , circles etc.
Larger bed sheet measurements like a king-size bed sheet or a Queen fitted sheet size usually come in bed sheet sets. They may include standard pillowcases measured to approximate pillowcase sizes, duvet inserts and a few additional items.
Bedsheet sizing explained
Conclusion
The perfect sheet does a lot more than make the bedroom attractive. It provides more comfortable sleep options, especially for restless sleepers. The comfort features of cozy bedding equipment begin with the bedsheets and don't necessarily include decorative linens. It is very important to consider pocket depth before buying fitted sheets. Quality bedsheets must be comfortable for both the person and the mattress. If the fitted sheets are too shallow for the mattress, they will not be able to tuck under the sides and stay in place. Keep in mind that pocket-size varies between manufacturers, and you should always check both your mattress's dimensions and the sheets' pocket size before you purchase. Also, make sure you think about how much you want your flat sheets to hang off your mattress. You can determine how wide and long you would like your sheets to be by adding a few inches or several centimeters to your mattress dimensions. This extra sheet is called sheet overhang. 
There are different types of sheets and we hope that the common bed sheet sizes won't give you a hassle. Tag your friends and share the article as you go sheet shopping.
Picture in this post by Erick Palacio on Unsplash
Related Bed Size Charts