Sofa Sleeper Size & Dimensions: what is the size of a sofa bed?
What are sofa sleepers, and why are they crucial for comfort? A sleeper sofa is a sofa that can be converted into a bed by pulling out the mattress. The standard sofa sleeper size is for a queen sofa bed mattress 60 by 72 inches, a full sofa bed mattress 52 by 72 inches, and a twin sofa bed mattress 35 by 72 inches. The mattress can either pop out or fold out and is typically hidden (skip straight to the Sofa sleeper full size chart).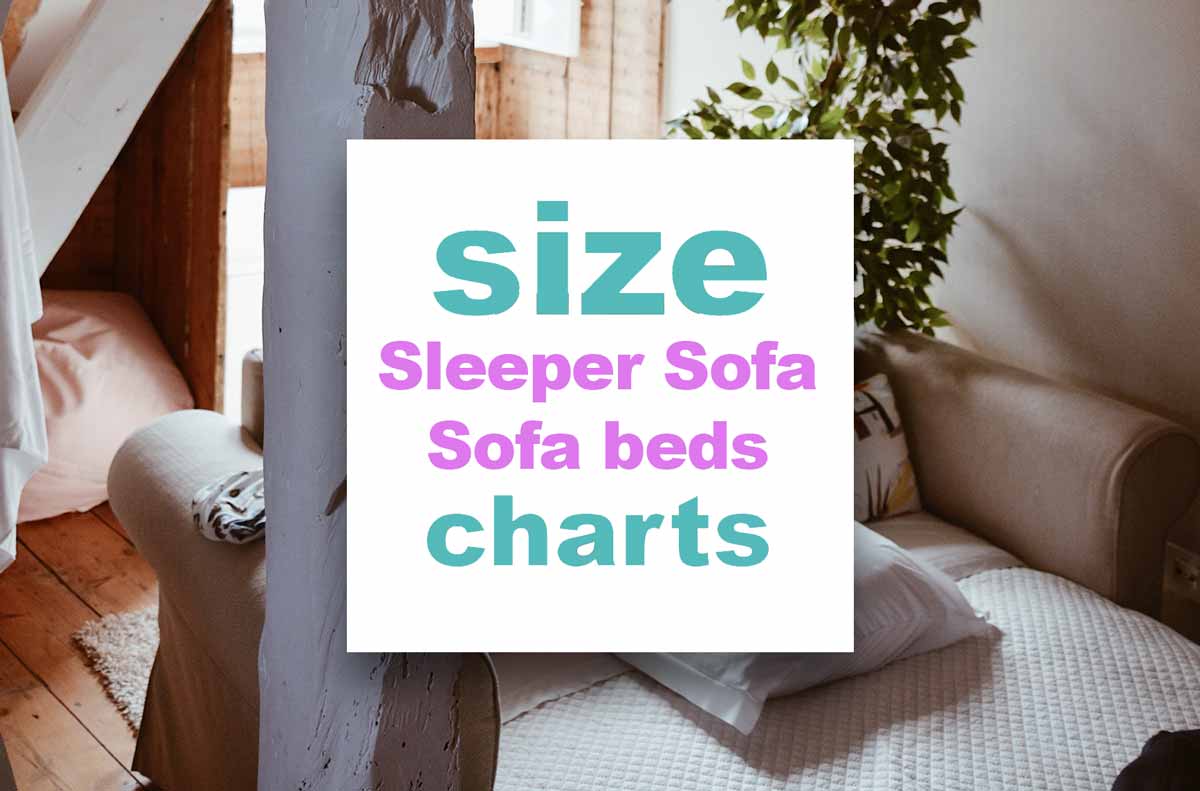 A sleeper sofa's comfort and design can vary, and the mattress can be anything — from an inflatable to a Tempur-Pedic.
This is one of the most useful furniture you can have, regardless of whether you refer to it as a sleeper sofa or a sofa bed. If you have limited space, one solution would be to use a sleeper rather than a sofa in your living area.
Living in a small apartment enables you to convert any space into a guest room or even a room for yourself.
Before purchasing a sofa sleeper size for your home, consider the following information.
Jump right into the Frequently Asked Questions
Related: Rug Size for Living room use, compared to table and sofa size, Sofa Size and dimension guide for all kind of couches, Interior Doors Sizes: Minimum & standard dimensions, Window Sizes Chart and How to Measure window dimensions?
Sofa Sleeper dimensions Table of content
Sofa Sleeper Size Chart
Related: Average Master Bedroom Size: How Big Is A Master Bedroom?, Table Size Chart and Dimensions Guide by space and people, Sofa Size and dimension guide for all kind of couches
Choosing which size to start shopping in may be the first step to discovering your ideal sleeper. Dimensional ranges between one size and the next-closest alternative frequently overlap. The size of the mattress inside a sleeper sofa determines its size. 
Any given sleeper sofa's dimensions will mostly depend on two elements. Of course, the size of the beds inside will come first. The type of your sofa will determine its size after the size of the mattress, as it will have a slightly smaller footprint than a sofa with a larger arm.
The following table displays the ranges for sleeper sofa sizes in terms of total dimensions:
Average Measurements of Sleeper Sofa 
| | | | | |
| --- | --- | --- | --- | --- |
| Type | Arm-to-Arm Sofa Size | Arm-to-Arm CM | Mattress Width | Mattress CM |
| Twin/Chair/Cot | 49" to 65" | 124.46 – 165.1 | 30" to 39" | 76.2 – 99.06 |
| Ottoman | 44" to 68" | 111.76 – 172.72 | 30" to 54" | 76.2 – 134.16 |
| Queen | 75" to "96 | 190.5 – 243.84 | 58" to 66" | 147.32 – 167.64 |
| Full | 67" to 83" | 170.18 – 210.82 | 52" to 55" | 132.08 – 139.7 |
| Sectional | 113" by 87" to 125" by 65" | 287.02 – 220.98 /317.5 –  165.1 | 52" to 66" (can change) | 132.08 – 167.64 |
| King | 84" to 98" | 213.36 – 248.92 | 74" to 76" | 187.96 – 193.04 |
| Sectional with Chaise | 99" by 59" to 132" by 86" | 251.46 – 149.86/ 335.28 – 218.44 | 52" to 66" (can change) | 132.08 – 167.64 |
Ashley Sleeper Sofa Full Size
Jarreau Sofa Chaise Sleeper
| | |
| --- | --- |
| Weight | 141 lbs. (63.96 kgs) |
| Width (inch/cm) | 83.00"/210.82cm |
| Depth | 53.00" |
| Height | 36.00" |
Bladen Full Sofa Sleeper dimensions
| | |
| --- | --- |
| Weight | 201.94 lbs. (91.6 kgs) |
| Width (inch/cm) | 90"/ 228.6cm |
| Depth | 36" |
| Height | 38" |
Yantis 2-Piece Storage Sleeper Sectional dimensions
| | |
| --- | --- |
| Weight | 268 lbs. (121.56 kgs) |
| Width (inch/cm) | 100.00"/254cm |
| Depth | 64" |
| Height | 40" |
Ethan Allen Full Size Sleeper Sofa
Spencer Roll-Arm Sleeper Sofa
| | |
| --- | --- |
| Interior seating area |   |
| Twin Sleeper | 45" w x 24"d / 114.3 x 60.96cm |
| Full Sleeper | 59"w x 24"d / 149.86 x 60.96cm |
| Mattress Dimensions |   |
| Twin Sleeper | 37"w x 72" I / 182.88 x 93.98cm |
| Full Sleeper | 53"w x 75" I / 134.62 x 190.5cm |
| Seat back | 15"h |
| Seat height | 20" |
| Arm height | 25" |
Conor Queen Sleeper Sofa
| | |
| --- | --- |
| Interior seating area | 68"w x 21"d / 172.72 x 53.34cm |
| Mattress Dimensions | 60"w x 72"d / 152.4 x 182.88cm |
| Seat back | 17"h |
| Seat height | 21" |
| Arm height | 26" |
You can finish your sofa with pillows and quilts, check their sizes in the links
How To Choose The Right Sofa Sleeper Size
Related: Bed Size Chart – Measurements And Dimension for king, queen beds, Rug sizes and dimensions (with easy to use size-charts), Picture Frame Size for photos or art – standard and special sizes
You might believe purchasing new furniture is the best way to renovate your home. Online furniture shopping makes it more enjoyable and convenient to browse for furniture, but you still need to make sure the pieces you buy are the right size for your room.
The functionality and aesthetic appeal of your living area can be significantly improved by selecting the ideal size for your sofa sleeper, but how do you know what that size should be? Well, that depends on the space.
Every room in a house is unique, and every family has particular requirements for each one.
Here are the best suggestions from professionals to help you determine what furniture size is ideal for your space:
Recognize the Function of Each Room.
Knowing what you will use each area for initially will help you make the most of the space in your home. If you frequently host large family gatherings in your living room, you might decide on a durable sectional sofa that can accommodate plenty of people.
Measure the Area.
Knowing the dimensions of each area you purchase furniture will enable you to shop precisely.
Identify Your Layout.
Furniture buying will be much easier if you already know what you want and where you want it to go. Once you've got all the furniture in the room, planning the arrangement will help you know what to look for and how the space should feel.
Select Your Style.
You can choose from a wide variety of furniture styles to match your home's decor, including modern, contemporary, industrial, farmhouse, and bohemian. The size of your furnishings for each room can vary depending on your selected style.
Learn more about sleeper sofas (video)
How To Measure Sofa Sleeper Size
Related: Coffee table Size Chart – Coffee table dimensions
Don't just measure the length or width of a couch sleeper because that won't give you the entire picture, and the measurements may be off. The proper way to measure is as follows:
Since the arm-to-arm of the sofa is often where it is the widest, measure that distance.
The height measurement comes next; measure the back at its highest point.
One of the most crucial dimensions to make is the sofa's depth.
The sofa sleeper's diagonal depth must be measured next. You can measure with straight tape from the top rear to the bottom front of the frame.
The Best Sofa Sleeper Size For You
Related: Bath Size Chart and Sizing Guide, Fridge Size Chart – dimensions and Buying Guide,
How much space you have depends greatly on the size of the sofa sleeper you need. Have a compact area? Your best bet is a twin bed. A twin sofa bed is small but useful. It features a modern, elegant bench-style couch that is quickly convertible to a bed.
We advise selecting the largest sleeper mattress if you have extra space. For guests, the most comfortable option is a queen sleeper sofa. Standard queen-size sleepers or reversible chaise sleeper sofas are your finest options if you want the greatest queen sleeper.
You may adjust these functional, fashionable components to suit your needs by pulling out the bed and moving the chaise ottoman to one side or the other.
A two-piece sleeper sectional is also an upgrade option, albeit some couch beds only come with a full-size mattress.
Frequently Asked Questions
What are the dimensions of a full-size sleeper sofa?
A full-size sofa sleeper has dimensions of 67″ to 83″ arm-to-arm, or 170.18 to 210.82 cm, with a mattress width of 52″ to 55″, or 132.08 to 139.7 cm.
What is the smallest size sleeper sofa?
The twin/chair/cot sleeper sofa is the smallest. Its arm-to-arm dimensions are 49″ to 65″ and 124.46 to 165.1″ in centimeters. Mattress sizes range from 30 to 39 inches and 76.2 to 99.06 centimeters.
Can you convert a regular sofa into a sleeper?
No, You can completely transform a sofa sleeper into a conventional sofa, but not the other way around. There are certain actions and a procedure involved. Before beginning the removal procedure, it is important to comprehend the sleeper-construction sofas to know how to turn them into a sofa completely.
Why are sleeper sofas so uncomfortable?
Sofa bed mattresses are known for being poorly built and unpleasant. Complaints about coils poking and jabbing through the padding can be linked to various factors, including using poor materials, designs, inadequate support, and cheap foam.
What is the difference between a sleeper sofa and a sofa bed?
Like futons, sofa beds are often made to fold flat into beds. They don't supply conventional mattresses. On the other hand, a sofa sleeper has a mattress concealed within its frame that may be opened for use.
Conclusion
Measure the sofa before paying for it every time you acquire a new one. You must take precise measurements to ensure that the sofa fits in the room, is in proportion to the other furniture, can enter the entrance, and can turn around tight hallway corners to fit in the designated space.
Measure the area where you intend to install it as well. Be aware of all these parameters before making an online purchase. The dimensions of length, depth, height, and diagonal depth are all significant.
Always keep in mind that size matters. Make sure to select the ideal sleeper sofa size for both you and your house. Check out the chart above if you require additional assistance selecting the ideal sofa sleepers.
Do you have any questions? If you do, don't hesitate to leave a comment below!
Picture in this post is by Inside Weather on Unsplash
Related to House and bed sizes